1920-1930 Wedding Fashion of Real People
Fashion History - 1920s Wedding Photos
These are original family wedding photos of ordinary people in special occasion clothes taken between 1920 and 1930. They include weddings of 1921, 1923, 1924 and 1930. My special thanks to Carol Morgan of Cardiff who went to considerable trouble to send me these images. Like many people who inherit boxes of old photos, Carol was fascinated by her finds. She had never seen some of these old photos until a relative died in her ninetieth year. All old wedding photos on this page were taken in the Cardiff area of UK.
These wedding photos should not be published/used elsewhere -
© Copyright www.fashion-era.com 2005-2009.
Plenty of lower calf leg is on show compared to the longer lengths of another era in 1910, but the skirts are still not truly short. That came in 1926 when skirts reached the knee. You can see some flapper photos here. You can read more detailed text about 1920s fashions in flapper fashion.
Old photos can be useful when tracing family members and narrowing down search dates, but mystery can surround them too. In this old photo below both women carry bouquets, but it is not known which woman here is the bridesmaid and which the bride or it may be that both were bridesmaids. The woman on the left wears a more pastel dress and her hat does have some veiling evident. But the woman on the right carries a much larger more elaborate sweet pea bouquet and it is traditional that the bride has the most ornate flowers. Perhaps the couple on the left are an older sister or brother. Both women wear typical 1920's style Mary Jane ankle strap shoes.
You can see more twenties line drawings at the silhouette's page on the 1920s here - 1921, 1922, 1923, 1924.
Immediately below - October 1930, Hilda's Wedding photo. Click for an enlargement of this delightful photograph. Hilda's dress has a hemline covered in feathers. The dress is much longer than through the 1920s and after a sudden drop in hemlines in 1930.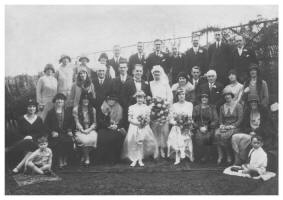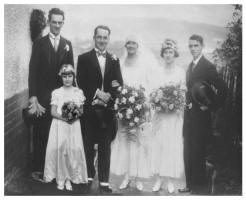 Directly below is Hilda as a young woman circa 1920.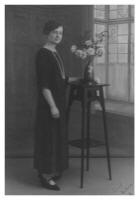 Click thumbnails
See more late 1920's line drawings here.
You can read more about 1920's fashions in flapper fashion. You can read how to date an old photo in this section here.
Ω
Page added 2 June 2005
These 1920's wedding photos should not be published elsewhere -
© Copyright fashion-era. com 2005 - 2009.
If you like this page then please share it with your friends
---
For more information about the Era 1920-1930 click below:-
Other Eras
Custom Search
About Fashion-Era.com
Fashion-Era.com looks at women's costume and fashion history and analyses the mood of an era. Changes in technology, leisure, work, cultural and moral values. Homelife and politics also contribute to lifestyle trends, which in turn influence the clothes we wear. These are the changes that make any era of society special in relation to the study of the costume of a period.

Fashion-Era.com can take no responsibility for any information on the site which may cause you error, loss or costs incurred from use of the information and links either directly or indirectly. This site is owned, designed, written and developed by author: Pauline Thomas and Guy Thomas. This site is designed to be viewed in 1024 X 768 or higher.
ALL RIGHTS RESERVED. Fashion-era.com reserves the right to add or delete information, graphics and links. Copyright © 2001-2014 on all content, text and images in Fashion-era.com. Images and text in this website may not be used on other websites.
Before you write to me for costume/fashion help or information please, please consult the extensive sitemap which lists all our pages. If you still cannot find the answer after searching the site, then before you email me, please consider if you are prepared to make a donation to the website.
Donations
Reader's donations help this site flourish, in particular donations encourage me to write more articles on fashion history as well as current trends. PayPal allows anyone with a credit card to donate easily and securely. You may donate any sum you feel appropriate.