1920s Fashion Icons
Communication both spoken and visual was very good in the 1920s and 1930s and a new set of film stars who also became admired fashion icons emerged. Consequently fashion ideas passed on quickly across the world. Hollywood was producing silent films that entranced cinemagoers and by the time of talking films, even more cinemas sprang up in towns across America and Europe. For a few coins escapism to a world of glamour was possible. Movie stars in addition to royalty became adored fashion icons.
Going to the movies was a night not only for the pleasure of seeing a romantic film, but also a journey to glamour and the inevitable role reversal that watching a film engendered. Women wanted to look like their fashion icon screen idols, wear the hairstyles, make up and clothes that their favourite star, who obviously belonged to a very modern advanced world wore. Film goers wanted modern looks like their 1920s icons on screen and the royal idols in the papers.
Famous screen icon idols of the early years of movies included Louise Brooks, Greta Garbo, Marlene Dietrich, Claudette Colbert, Ginger Rogers, Katharine Hepburn, Rudolph Valentino, Cary Grant and Clark Gable. Dietrich and Hepburn in particular gave credence to women wearing trousers as they both enjoyed wearing them so much. The similarity between Claudette Colbert shown here and Louise Brooks is noticeable, whilst men everywhere donned the moustache so favoured by Clark Gable.
In the 1920s and 1930s American fashion began to assert itself and soon gained world recognition. Hollywood was instrumental in providing the world with the latest looks for concepts of dressing with feminine allure and glamour. Women demanded the same exciting new fashions and beauty tricks and products as the film icons and stars wore and so costumers and beauty experts became important in their own right.
The signature fashion and beauty looks of both Joan Crawford and Greta Garbo are credited to MGM's Gilbert Adrian, then head of costume at Metro Goldwyn Mayer. Elsa Schiaparelli for example designed clothes for over 30 films with many costumes being worn by movie fashion icons of the day. These designers were all icons in their own right as well as serving the elite of society of the day. Schiaparelli along with Vionnet and Chanel are mentioned on relevant pages on site.
Along with movie stars famous personalities set fashion examples. In both the UK and the USA royalty was feted and filled newsreels with their appearances at events whatever side of the Atlantic they photographed. The Duke and Duchess of Windsor, Princess Marina and the Duchess of York, later Queen Elizabeth consort of George VI all attracted news and views on what and when they wore certain clothes. In their day they were thought every bit as much fashion icons as Princess Diana, Princess of Wales was in her era. One of the social highlights of 1920 was the Olympic Games in Antwerp.
‡‡
Louise Brooks is one the most famous fashion icons of the 20th century and of the 1920s. You may not know her name, but you will know her face. Her distinctive black helmet like bob cut hair often worn with bangs or a fringe as we would call the curtain of hair today was her trademark.
Louise Brooks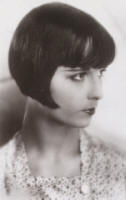 This picture is typical of the appearance of the Louise Brooks hairstyle still popular among fans today, as it is so easy to style whilst looking crisp and modern.
The silent camera loved her freckled pale face and the dramatic physical features of her head were well suited to movies made only in black and white. Likewise Louise Brooks suited silent films best, as one look from this 1920s icon could convey more than a thousand words. Louise Brooks made only one talkie.
She was a gifted actress and appeared in 24 films between 1925 and 1938 starring with names such as W.C. Fields, Jean Arthur and William Powel. Her best known role was as Lulu in Pandora's Box in 1929. Her parallel stage career enabled her to have a social life with the wealthy. Louise Brooks mingled with the socially eminent and the artistic and glamorous elite of the day. She mixed not only with movie stars, but also intellectuals such as F Scott Fitzgerald who brought attention to the sophisticated aspects of a new post war society that emerged in the 1920s.
When her film career waned Louise Brooks had years of poverty and was disregarded as an actress. In later life through the 1950s to 1970s she became a well known thought provoking essayist, often writing for film magazines as Louise Brooks.
Louise Brooks was the famous flapper of her era. She was a model as well as an actress and frequently appeared in advertisements. Louise Brooks had short hair, a short skirt and wore make up. She bore no resemblance to anything vaguely Edwardian and embodied the spirit of the Jazz Age. The flapper era worshipped young people and Louise Brooks was the Madonna of her day with her signature image of the perfect flapper look.
A complete contrast to Louise Brooks is Greta Garbo who was one of the most prominent and best loved stars of all the 1920s and 1930s icons. Many a costume history book touts her as an intriguing fashion icon of mystery and allure. Her softer look was total different to Louise Brooks, yet was full of femininity and captivation that sat happily alongside that of the flapper.
Greta Garbo was born in 1905 as Greta Lovisa Gustafsson in Stockholm. Born of impoverished parents she first went to work at age 14 in a barber's shop, but later became a model. Keen to act after featuring as a bathing beauty in a film Garbo studied acting from 1922 to 1924 at the Royal Dramatic Theatre, Stockholm.
Mauritz Stiller an important Swedish director gave her a role in Gösta Berling's Saga along with the stage name Greta Garbo. He ensured she could act for cinema screen using her instinctive playing to the camera. Then in 1925 Garbo was also given a contract at Metro-Goldwyn-Mayer in the USA when Stiller went to work for MGM. She made 27 films, but her greatest success was as a talking actress because of her smooth feminine seductive voice. Garbo is remembered for not only her great and unusual ethereal beauty, but also her voice.
...(v4r)
She continued to make successful films until 1941 when after the flop film Two Faced Woman she retired at 36 to become a virtual recluse. Greta Garbo lived out a secluded life in the city of New York where anonymity was easy.
The abdicated King Edward VIII, later Duke of Windsor revived le beau monde or the refined beautiful world of 'fashionable society,' in the 1930s. The British monarch King Edward the VIII abdicated his throne to his brother who became George VI and who was also the father of the present Queen Elizabeth.
After his marriage in 1937 to American divorcee Wallis Simpson, as his wife as the Duchess of Windsor, he lived in high style. He was already a fashion icon and had been for many years noted as always being immaculately groomed by choice rather than by position. As a couple they both loved fashion and being thought fashionable. He had strong preferences in dress and was a fussy immaculate dresser who led many styles of the era.
On the wedding day of the Duke and Duchess of Windsor, Wallis wore a dress designed by Mainbocher. The rest of her trousseau was designed by Mainbocher too although she wore clothes form many designers including Schiaparelli, Chanel, Molyneux, Vionnet and Givenchy.
Duke and Duchess of Windsor 1936

In this wedding day image the Duchess of Windsor, Wallis Simpson wears a full length gown in palest blue (said to match her eyes) and designed by Mainbocher.
Photographers followed the couple across America and Europe to catch a glimpse not only of any interesting happenings between the couple, but also because they both wore fabulous clothes and jewellery and with improved communications a world audience eagerly awaited their every move.
The Duke changed rules about clothing simply because individuals followed fashions he set which were often for his own practical purposes. He had a tuxedo made in dark blue as the construction and cut details showed up better in photographs.
Wallis Simpson
Paris based artist Elsa Schiaparelli invented the concept of the 'evening suit' consisting of a plain simple gown worn with a heavily embellished or elaborately decorated evening jacket. The jacket sometimes sported appliqué or beadwork or even hand painted unusual joker motifs. An example of this is the famous dress worn by Wallis. Dali hand painted a quirky lobster on a gown made for Wallis Simpson. Both Wallis and the Duke were international fashion icons and feted in Europe and America.
‡
The Queen Mother
Lady Elizabeth Bowes Lyon was born in London, UK in 1900 and died in 2002 as Queen Elizabeth, The Queen Mother.
She married the Duke of York on January 13 1923. On marriage she became the Duchess of York and fulfilled her first marital duty by bearing him two girls in the early years. When her husband was crowned George VI in 1937 after the abdication of Edward VIII she became his crowned Queen Consort. Her first daughter Elizabeth became Queen of Great Britain and the Commonwealth in 1952 and was crowned in 1953.
This is the wedding photograph of the Duke and Duchess of York on their wedding day. The dress was designed by Madame Handley Seymour a former London court dressmaker to the dowager Queen Mary. The dress followed the essential fashions of the day.
Duke and Duchess of York's Wedding 1923

The wedding day 1923

If you like this page then please share it with your friends

---

For more images on 1920s go to:-
1920s Fashion
In 1923 the fashions of the day were not only straight and fairly shapeless, but had also cast aside the frills, fabrics and bows of a lost era. The classic simplicity of the much copied designs by Chanel did not suit the rounded curvy figure of the duchess. She looked far better in softer more feminine clothes as many other women did than the boyish fashions of the day. Motherhood rounded out her figure even more and although she was charming, pretty, captivating and the right material for a wife of the grandest sort, she was not a naturally glamorous chic woman compared with picture perfect contemporaries of the era.
The continental Princess Marina the Duchess of Kent (shown below) exuded a classy style that was hard to beat. Likewise early on comparisons were made between the then Duchess of York and Wallis Simpson, the amour of the Prince of Wales. The latter woman made the famous remark 'you can never be too rich or too thin', which is one the Duchess of York would certainly have felt directed at her.
In an effort to establish a distinctive fashion style the new King and Queen soon summoned Norman Hartnell into royal service. Norman Hartnell had a dressmaking business operating from four small rooms in Bruton Street in London. On his first visit to Buckingham Palace in January 1937 the new King showed him several Victorian Winterhalter paintings leaving Hartnell with a strong an impression that they should be the source of inspiration for designing the new Queen's evening gowns.
The Queen's new crinoline style evening gowns were first seen in public in November 1937 and they flattered her enormously, bringing an elongation to a body not as model like in real life, as sketches by Hartnell suggested.
In the summer of 1938 Queen Elizabeth's mother, Lady Strathmore died. A state visit to Paris was already planned and after a brief delay it went ahead a few weeks later. In that time Hartnell and his team worked around the clock to to reproduce a new wardrobe based on more than 30 designs already prepared in a range of colours. The new order was now made up totally in white, an alternative royal mourning colour.
...(v4r)
The Queen Elizabeth charmed the Parisians with her fresh perfect complexion and the layered white floaty dresses in styles that suited her and made her look a picture of assured confidence in the French sun. The theatrical sentimental styles suited her well and she never abandoned them once their success was well established. She became a fashion hit and once Paris applauded her she never looked back. Her style was established and she thrived on it.
Parisian approval and a realization that the calculated sentimental look had worked, was more than enough for any Queen. She understood public relations and thereafter continued to dress in a style that suggested wholesomeness, steadfastness, warmth, sweetness and lovability. She became what she invented, a picture that said goodness and stability.
Inevitably photographs of her by Cecil Beaton wearing the Hartnell creations helped create a more enigmatic vision in the public's eye. It is alleged that she was not averse to a little airbrushing to help define her waistline in the cause of good public relations. She may not have fitted the same mould as other fashion icons but even in her 100th year people loved to see what outfit she would be wearing at an event.
The continental Princess Marina the Duchess of Kent exuded a classy style that was hard to beat. Here is Princess Marina in her elegant wedding gown, which is so classic in fashion style it could easily be worn today.
My Ebook
If you like this page then please share it with your friends
---
For more information about the Era 1920-1930 click below:-
--Link--
Other Eras