Pictures of Ordinary People
These are original family photographs of ordinary people in everyday clothes and taken between 1922 and 1955. They show fashion as it was worn and are an accurate record of fashion history of the early and mid twentieth century.
These photographs must not be downloaded or used without permission from Fashion-era.com.
Family Picture - Caerphilly South Wales 1923
The group on the right were photographed in 1923 - four sisters and one brother. Later another eight brothers and sisters joined them, but with one being a stillborn baby.
The simple everyday clothes were changed for velvet outfits on Sundays, when the children attended church three times a day. Their mother made the clothes using an old singer sewing machine.

Sylvia, the baby in the picture above right, now at age 17. She is wearing a wool coat with astrakhan trim. This photograph was taken at the start of the Second World War, shortly before Sylvia was married.
During times of crisis, or when people knew they would be parted they would visit a local photographers studio for a professional portrait. Mostly this was simply because they did not own a camera.
‡‡
School Group - South Wales 1945
Here on the right, is a primary school photograph of children taken in South Wales UK in 1945. Bows were used to keep the girls' hair tidy and a fresh hair ribbon was a treat when new clothes were unlikely.
These children grew up in a time of food rationing and utility clothing restrictions.

Click for an enlargement of these delightful photographs.
Here on the left, are two of the children playing 'walking with sticks and poles'. Note the crispness of the girl's starched cotton pique frock. Probably taken about 1946.
This was an era when of austerity, the government had yet to implement a policy of free school milk.
Assorted Pictures of the Late 1940s
On the right is a picture of Phyllis wearing a fashionable wool crepe dress circa 1940.

Florrie with her brother Will taken in the 1940s. Note Will's very wide leather belt called a Sam Browne belt. Florrie's wet-look shiny top has a look about it that says it could be worn today.
The First Siren Suit 1940
This is an old photograph of the first siren suit. Site visitor Myra wrote to tell me about her friend Veronica and here mother.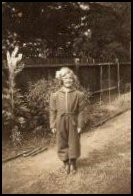 She wrote to me :- The little girl in the photo is Veronica Mason - my Best Friend in School. My name then was Myra George. A note on the reverse of the photo says "To Myra with love and best wishes for your birthday July 1940". What a stroke of luck - that puts us as 7 years of age.
The story as I remember it is as follows - Veronica's mother, Mrs Laura Mason worked at the London store, Bourne & Hollingsworth, I imagine as a dress designer or tailoress. However, I believe she designed the siren suit which Veronica is wearing in the photo and it is the first one ever made - I was lucky enough have the second one! They were made in a lovely clover coloured wool material, lined with a champagne coloured silky material.
I remember my Mother saying that one day she and Mrs Mason were out walking with Veronica and myself (wearing the suits) when a man started following them. They were very perturbed when the man caught up with them - but he explained that he was a producer of shows and was interested in using the suits in a show. Whether this was true or just "a tale", I have no idea.
What a fascinating little tale. Many old photographs have an interesting story to tell.
Pictures of Ordinary Teenagers in the Early 1950s
1951 - Pat and Irene are teenagers, but their drab clothes are functional. Pat wears a thick warm wool Melton coat and Irene wears her Grammar school gabardine Burberry and school scarf. Both girls wear socks despite being old enough to wear stockings. Shortages continued well after WWII finished.
The little girl wears a matching hooded wool windcheater and trousers and hand knitted fair isle mittens. The short windcheater jacket became popular after the American short jackets worn by servicemen popularised the style.
§
Mothers out Walking in the 1950s
Lorraine and her sister Sylvia in 1951. Lorraine looks very severe, but well-groomed in her black, tailored, hard wearing, Utility wool suit. With little spare money to spend on herself and feeling the deprivation after the war her hair is scraped back and simply parted.
Sylvia wears a two tone coat popular at the time. Her hair is much softer and follows her version of the Veronica Lake hairstyle. The children wear hand knitted cardigans and little dresses.
Young Cousins Having Fun in the Early 1950s
In the picture to the left, the girls are wearing gathered skirt dresses typical of the era. On the right they wear simple little skirts. Note the shoulder straps on skirts in both pictures. Tartan was always popular and was used often. These groups are the children of the infants in the top image taken in 1923.

The boy wears a fair isle sweater and short trousers. His hair was probably economically cut using a pudding bowl as a guide.
1951 - The little boy on the left wears a traditional warm woollen hooded coat.
The 1951 child's coat is typical of the neat "nanny" style coats as worn by Prince Charles and Princess Anne.
On the right, the little girl is wearing a hand-knitted cardigan over a liberty bodice.
Fireworks at Porthcawl in South Wales 1953
Here are a family wrapped up warm for a night at a 1953 Porthcawl fireworks display. Lorraine (second from the left) is dressed in quite a glamorous way, whereas today such an event would be considered sporty and call for functional more casual clothes.
‡
A Wedding of 1954
Note the Juliet cap half hats.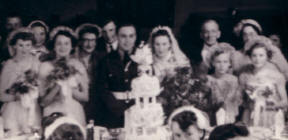 These photographs must not be downloaded or used without permission from Fashion-era.com
For more information about the 1950s Era and main links to 1920s, 1930s and 1940s sections click on the titles below:-
--Link--