1950s Fashion History - The 'Look' of 50s Glamour with Fashion Dressmaking Patterns
The Growth of a Media and Consumer Influence on Society
In the 1940s and 1950s American culture became very dominant in Europe. The influence of movie films and the prominence of film stars set the fashion in manners, make-up, hair and clothes. Women, girls, men and youths all desired look-alike copies of outfits, accessories and jewellery worn by the most popular screen idols. It was widely believed that Hollywood glamour would rub off on you if you had the clothes and developed the look. One way to achieve the look was to make your own clothes and customise them so they had a similar look to fashions worn by celebrities of the day.
You can see how stylish and elegant some of these c1951 fashion designer sketches for garment patterns are in this image below. This 1951 pattern collage I've made below is from images allcourtesy of Michelle Lee and who features some of them for sale at her http://www.oldpatterns.com/ website Patterns from the Past.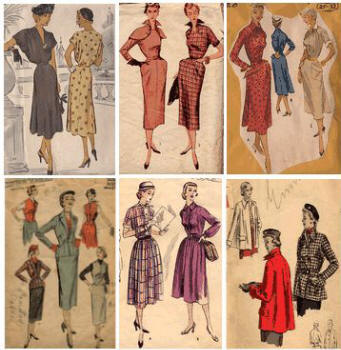 The McCall Company in their autumn quarterly magazine dated August 1925 in an article on Paris Fashions had stated that the magazine 'shows the latest importations of Jenny, Lanvin, Patou, Vionnet, Premet, Renee, Drecoll, Chanel, Lelong.' Each pattern shown, was also numbered with a by-line of the designer's name.
The 50s was no different. Since 1949 Vogue had contracted with 8 famous French Couturiers including Schiaparelli, Paquin, Balmain, Fath, Molyneux, Lanvin and Heim to provide a couture pattern service. However these were often quite complex patterns for the average home sewer and so evening classes were a way of getting expert assistance to make a fashionable garment.
1950s Dressmaking Patterns
Made in an expensive fabric such as shot silk home dressmakers could save pounds by making her own dresses. When trimmed with a fashionable fake flower and a matching stole added, the outfit offered an element of originality amid mass produced goods. A dress pattern could just as easily be made up in a washable cotton as a summer dress.
The Second World War left women craving for glamour which they were able to recreate themselves. Dressmaking Pattern manufacturers such as Butterick, McCall's, Simplicity, Vogue along with magazines such as Woman, Woman's Own and Woman's Weekly all responded by creating stylish dress patterns.
‡‡
By the mid 50s dressmaking patterns made by pattern companies like Butterick, McCalls, Simplicity and Vogue were vastly improved. The little dressmaker had all but vanished, so middle class women began to take up dressmaking as a useful hobby.
In this set of sewing patterns below from c1950, you can almost visualize Doris Day wearing the trim tidy precise check dress and the neat 'pure' white yoke and collar with that pert little hat. These examples of old pattern covers are also all courtesy of Patterns from the Past, and if you look carefully you'll notice they all feature check, stripe, plain or spot fabrics.
Just like now checks, spots, stripes, abstract designs, small flowers and large florals all came in and out of fashion and as the styling that followed on from Dior's New Look survived for 10 years and more, change was shown mostly by the fabrics used. You can see a wide range of skirt styles existed too, but almost always the top was darted and fitted to show off a small waist but with the skirt varying from flared to full and roomy to straight. Two skirt versions were given on many sewing patterns as the last image shows.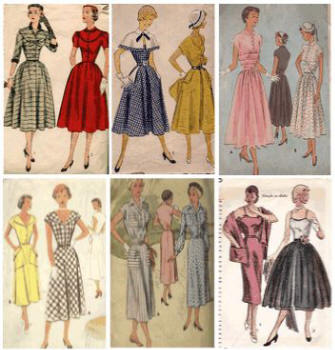 By the late fifties guaranteed sewing success was more certain, as new fabrics like Crimplene, better quality zips, all coupled with improved patterns made straightforward dresses very easy to sew.
For the 50s, simpler, "Easy To Make" sewing patterns were also promoted. Once the late fifties and shift dresses arrived, the shapes were so easy to construct, that many women simply read the sewing instructions and taught themselves the necessary skills, running up a dress in an evening on their new consumer durable - an electric sewing machine. If they were very lucky the sewing machine would have a zig zag stitch feature which speeded up the neatening process and enabled them to make machine buttonholes by manually adjusting the zigzag width as they worked. At the same time individuals could take their all but complete garment along to a Singer Sewing Shop. There were many Singer shops then throughout major towns of Britain and for a small charge women could have the buttonholes made at the shop.
Many garments made then were fully lined in true couture style and turned through at the shoulders as the construction method enabled raw seams to be covered and also encompassed a neat way of completing tiny shoulder straps. The only equipment some women had was a needle and thread, others would have used hand sewing machines, some used treadles and some had treadle machine converted into electric models. As a toddler I recall my grandmother buying a 'new' electric sewing machine from a man who worked for National and came hawking at the door. The same man sold my father a 'modern' vacuum cleaner!
Since the 1950s many names to suggest quickness such as the 3 Hour Jacket or Jiffy pattern have been used to highlight how fast a garment could be made into the latest fashion item.
§
These old sewing and dressmaking patterns are much sought after today, under phrases such as vintage ephemera. They offer an insight into past fashion styles worn by real people and also accurate pattern drafts for re-enactors who make clothes for re-enactment functions.
These 1955 pattern covers of suits remind me so much of fashionable suits my mother wore. They would often be finished off with a brooch or even a small corsage of fabric violets or acorns and foliage or cheerful red cherries. Getting the whole 'groomed' look was important and included a smart over arm handbag and gloves. These formal straight skirted suits and jackets have little finishing touches such as side vents, back half belts, flap pockets, and seven eighths or three quarter sleeves.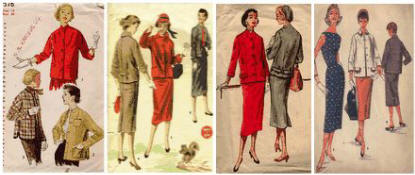 The images used on this page were all used with permission from and courtesy of Michelle Lee from her website Patterns from the Past. Michelle sells original, dress and vintage costume patterns as well as original recently out of print and vintage sewing and craft patterns of all kinds. You can visit Patterns from the Past here.
These 12 pattern covers below both show styles of 1959. You can see how the bouffant skirt was at its peak and contrasted with slim sheath dresses. The straighter less shaped styles are beginning to emerge in the bottom row and looser less fitted over blouse tops, less focused on the natural waist, are a developing fashion line that would take off in the 60s.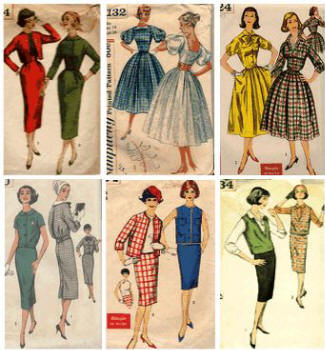 Straight shift dresses like these were economical on fabric too and as the bodice became less fitted it developed a more relaxed air as the new 1960s decade beckoned. The bottom end image is a wonderful example of a duster coat of the era. Duster coats were great cover ups over full skirted dresses, but also were used as maternity wear. They could be made in a wide range of fabrics from brocade, to shantung silk to cotton poplin. There are many old images of Her Majesty Queen Elizabeth II wearing this style of fashion coat to events in the 1950s and early 60s. You can see more patterns like these and some of these in more detail at Michelle's site on old patterns at Patterns from the Past at http://www.oldpatterns.com/ .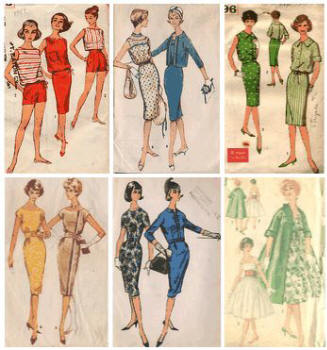 My very sincere thanks to Michelle Lee and her website http://www.oldpatterns.com/ for the use of these wonderful images. Do visit her site for a feast of old patterns spanning the best part of the 20th century.
-------v6-------
Page Added 10 June 2005
For more information about the 1950s Era and main links to 1920s, 1930s and 1940s sections click on the titles below:-
--Link--