1950s Petticoats, Stockings & Stocking Adverts
C20th Fashion History 1950s
The Second World War saw the use and development of new materials like nylon. This fact combined with utility restrictions on usage of materials and improved methods of mass produced factory clothing techniques was instrumental in revolution.
Along with freer, more liberal attitudes choice in undergarments changed radically so that women began to wear much less under their top layer of clothing.
One real development throughout those war years was the rise of the light and very fine sheer nylon stocking. This superbly informative advertisement, shows some of the stocking varieties available in 1953 and explains about gauge and denier, terms fairly new to the population.
Right - Informative Nylons Advert -1953
Nylon was being used in all sorts of new ways from toothbrushes to bowls to lace although most people in the early days thought of it only in terms of hosiery. Early adverts were informational and used to inform people of the latest use of the nylon material.
This advert below shows an explanation and comparison of seamed and seamless stocking which were slow to take off in the 1950s. The lack of seam line on a leg was associated with bare legs. Bare legs in the 40s and 50s were considered undignified and common. Gradually women adopted the seamfree stockings.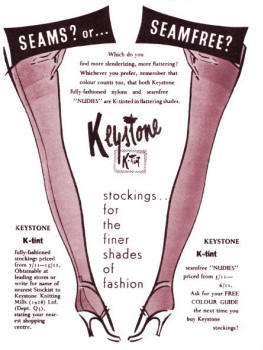 ‡‡
1953 Petticoat Slip by Gossip
By 1953 petticoats were often made from this new wonder fabric nylon which had been around for years, but was production and distribution restricted during world War II.
Many petticoats still continued to be made from good quality cotton poplin or broderie Anglaise cotton. Cotton could be boiled to help it stay white, whereas early nylon had a tendency to yellow quickly and that was reinforced by most individuals drying their laundry in sunlight rather than using an indoor drier or drying indoors on a hanger. Sunlight attacked the molecular structure of nylon and caused it to yellow.
Nylon also created a static build up, something quite new to users previously unaware that natural fibres holding so much moisture helped body static leak away easily. Even so the use of nylon revolutionised underwear, making it easy care for the masses. The advert right for Gossip underwear offers styles in pure silk, nylon and rayon.
The petticoat has slowly lost ground. So much ground in fact that they form only a very small section in any lingerie department compared to exotic bras, panties, strings and camisoles, bustiers and bodysuits/teddies. Usually now they are available in limited. very basic ranges of black, white and natural flesh tone Tactel bias bound slips.
Their demise is interesting. In 2003 I was contacted by a Radio station to speak on the disappearance of the petticoat slip from the UK retail price index. It seems the average UK consumer does not buy petticoat slips anymore on a regular basis. When I thought about this I realised I had not bought a new one myself for several years. In my wardrobe though languished half a dozen slips or so in different dress lengths in black, white, cream, blue and natural beige. All were more or less redundant as I realised I hardly ever wore them, but kept them in case that certain new item needed a solid under slip. The reasons for their demise are accounted for in several ways.
Women generally wear trousers a great deal today so need only the top camisole for a little extra modesty. Many wear a t-shirt vest top instead of that and many just wear a bra. Many clothes are fully lined now, even the cheapest items, so why wear a petticoat if the dress foundation is good enough. Also slips became less decorative about 10 years ago and they began to resemble a very plain undecorated sheath lining of Tactel without lace trim. Slips in shops today look nothing like the sexy lace well cut petticoat Elizabeth Taylor wore in 'Cat on a Hot Tin Roof'. Whether or not they will ever return is debatable, but in 2005 I found myself buying a white half slip to go under an unlined linen skirt. As the noughties decade progressed I also noticed a lot more skirts in my wardrobe than in 2004.
§
1950s Petticoats and Stockings Conclusion
One fact is certain, women will always seek lingerie for both practical functional reasons and for erotic reasons as well. Indeed many of us already have a variety of undergarments spilling from drawers because some of it is as desirable as French confectionary and just like the Edwardians we cannot resist it because wearing special pretty lace items makes us feel good about ourselves.
-------v6-------
Page Added 10 June 2005
For more information about the 1950s Era and main links to 1920s, 1930s and 1940s sections click on the titles below:-
--Link--