1950s Swimwear Fashion History
In the 1940s corset manufacturers saw a gap in the undergarments market. Corsetry was losing ground, but the new more revealing swimsuits really needed experts to design garments that hid faults in a woman's shape. Manufacturers achieved this by adding stretch tummy control panels to hold in the stomach. Most also used bra cups and boning to give bust support.
Fashion swimming costumes could then be worn either strapless or with small straps that buttoned onto the inside or worn halter style as in this example. Even then women were not keen on lighter body marks that may have made a strapless dance dress look less attractive.
Right - Pat my sister in her 1950s Swimsuit - Mad Men eat your heart out.
Women still continued to wear all in one swimwear in the 1950s, rarely wearing a daring two piece bikini.
Zips were still used in the centre back of swimsuits retaining the corset like appearance until the early 1960s. Sometimes zips were put in the side seam. The swim suits of the 50s and early 60s were cut straight across the top of the leg in the form of a modesty apron that hid the separate matching fabric crutch. Subtle changes occurred in a few years and the modesty apron style soon looked old fashioned. Take a look at these lovely one piece bathing suits and playsuits so typical of the 1950s.
Apron Style Swim Suits and Play Suit of the 1950s
‡‡
Each one of the late 1950's swimsuits above had detachable straps and almost very woman appears to be wearing what we would view as the equivalent of a beach corset! This is particularly noticeable in the mustard version which seems to almost be a coloured corselette. Some of these swim suits were from Marks and Spencers who still make one piece swimwear today.

A wide range of fabrics including lined cotton, stretch Lastex and elastic ruched waffle nylon were popular for 1950s swimwear.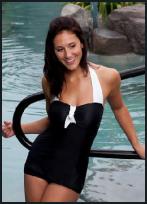 You can see a floral version of a waffle elasticated swimsuit on the far left above. Immediate right is an example of a ruched swimsuit similar to the floral one above. Such swimsuits were even more popular among children.
The legs on the floral and red swim costumes are also the 'high cut' leg of the day. Today such legs cuts would be described on the label as low cut as suits have become cut much higher up the leg in an effort to make the leg seem longer and of course exposing more body at the same time. For similar retro swimwear you may find something suitable at Popina. Try Poppiswim Retro Swimwear Boutique for retro styles like this one called Grace and shown left. It really is superb reproduction swimming costume and figure flattering suit. With Mad Men all the rage how can you resist.
In the fifties the bikini was still thought of as risqué and best suited to film stars and strippers, but a tame version of the fashion a two piece playsuit was often seen as were skirted 1950s swimsuits.
Two piece suits had sturdy patterned fabric bras with secure wide straps which were set atop shorts with modesty skirts were popular. They were especially favoured by women who wanted to hide their lumpy thighs or hide varicose veins. These were usually made in satin cotton and printed with exotic vivid prints.
§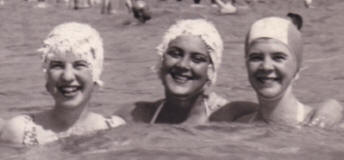 Hair was so important to the fifties look that no woman wanted it to get wet when swimming, so lavish bathing caps covered in flowers, petals and rubber spikes became essential beach accessories.
This bathing suit fashion also moved onto fashionable occasion hats as decorative clusters of flowers that smothered the hats creating a cloche festooned totally with flowers.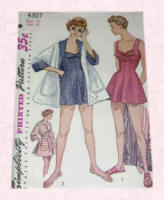 For the beach women liked wrap shirts or button through dresses or simple towelling dresses as cover ups. Sarongs, kangas or pareos only really gained popularity 20 years later.
This vintage dress pattern cover courtesy anothertimevintageapparel shows the typical cover up of the era and a playdress which follows the exact lines of day dresses of the era but allows for tanning the legs.
Think of those old fifties films with women by the pool and you see the chic glamour taken to the beach swimwear.
Fifties Teenagers and Teddy Boys
-------v6-------
Page Added 10 June 2005.
For more information about the 1950s Era and main links to 1920s, 1930s and 1940s sections click on the titles below:-
--Link--