Images from 1970s Pattern Fashion History
1970s Pattern Fashion History - Dress Pictures 1977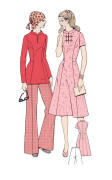 This set of pages looks at pictures of fashion designs from a 1977 dressmaking magazine. The pictures in the main chart all enlarge to A4 size when clicked.
For a detailed analysis of the 1970s read the 1970s fashion history page.
These images are taken from a 1977 dressmaking pattern magazine of unbranded dressmaking patterns from a weekly paper of the era. In my opinion the majority of styles shown are actually more typical of fashion worn 4 to 6 years earlier from 1971 or so.
These dress and trouser patterns were aimed at an older market of women 40 plus, who did not wish to wear some of the briefer fashions of the day and were not then as concerned as many 40+ women are today about being ultra 'trendy'. They followed the general line of the day and are the sort of styles ordinary women wore to work in the early/mid 1970s. The fashion styles also feature popular 1970s long maxi evening dresses and some 1970s dress and trouser patterns for girls. The children's patterns are very representative of clothes girls wore in addition to jeans and T-shirts.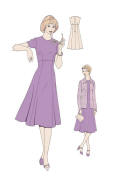 I bought this pattern book when I was in my twenties and it was to show my mother so that I could make her some new dresses. But when I glanced through it I recall the styles were rather dowdy for me or someone younger than me. Even my mother was not that impressed. We felt there were only 2 or 3 patterns that reflected a style fashionable enough that either of us would consider wearing. Seeing the patterns now I do however think they are very representative of certain trends within the 1970s and I can see lots of styles very typical overall of the 1970s decade.
Looking back at them I see how strongly the magazine highlighted real fashions of the 1970s and it is real costume history as many women wore it. All too often fashion history books record highlights from fashion shows, whereas in fact dressmaking patterns and catalogue books are often far more a real record of what the average women wore. I believe those preparing fashions for theatrical or costume set events of the 1970s will find these fashion pictures very useful.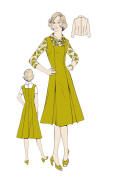 The princess line dresses and A line dresses also reflect the era. Notice that on these three pages of pattern pictures there is not one straight skirt line among these patterns. The only way you would see a straighter skirt was as a long empire line maxi dress. The pencil straight skirt did not come back into mass fashion until around 1978/79. Throughout the 1970s the skirt style was A line. So too, the mini of the 1970s was also A-line. Anyone who goes to a 1970s fancy dress party wearing a straight line 1990s mini skirt style has missed the point. 1960s and 1970s mini skirts were all cut with flare and a shaped. They were A-line, flared princess seamed or based on a circle with flip. The A-line was achieved by cutting extra flare on the side panels or built into princess seams. This dress was also commonly worn as a pinafore with a shirt, tie blouse or polo roll neck finely ribbed sweater beneath it.
A-lines or princess seams, yoke seams at the chest or hips, keyholes, empire yokes, raglan neck yokes, inset side panels, ties or tie necks, white collars and white cuffs, contrasting colours, big square patch pockets, self fabric belts, tie belts, frills or ruffles are all strong 1970s costume points.
The 1970s trouser suit fashion history pictures on the next page are typical of flared pants fashions of the early 70s as are the tunics, tabards, straight loose or flared jackets and waistcoat effects.
Pictures from 1970s Pattern Fashion History

The thumbnail pictures in this main chart all enlarge to A4 size when clicked.

Pinafore dresses were very popular in the early and mid 1970s. They were often a princess line panel style like the green dress left above or waisted with a fitted bodice and very flared skirt like the red maxi pinafore.

Maxi pinafores would be worn out at night and were dressed up with masses of jewellery such as long gold chains or pearls and chains.

Shirts teamed with them were made from lustrous satin polyester new to the marketplace or crinkled cotton shirts. Fine polyester georgette blouse with tie bows were also teamed with pinafores. Mock pinafores like the last image right above were also popular.

Princess line dresses easily gave added flaring fullness and could be useful to introduce sudden extra skirt swing. Sometimes dresses were two tone panelled with a light centre and dark side panels. Floral and abstract bold prints were usual as were strongly coloured plain fabrics. Oranges, browns and purples were all very strong fashion colours of the seventies. Strong colours were a good foil for a classic brooch, aurora borealis crystal tassel, gold tassel pendant or fob watch pendant.

‡

Many princess line dresses were finished at the neck with ties, ruffle frills or contrast collars. This popular style was also used for tunic shapes to team with flared trousers. Chinese mandarin or granddad stand collars were used in the sixties and seventies. Frog fastenings helped create an oriental feel which was inspired by all the Boho and ethnic influences of people travelling abroad so much.

‡

The princess line was very versatile as it gives good figure. It was worn sleeveless, short or long sleeved and often plain simple round necked making it perfect to team with large pendant necklaces or long ropes of pearls. It produced a classic dress that could be worn with various jacket styles such as the loose cerise jacket above or the bomber rust jacket.

Yokes were also exceptionally featured through the 1970s. Above you can see 3 versions of yokes and two are teamed with princess line skirts. The 2 mauve and lime dresses above are exactly like dresses I recall wearing in 1972. The princess line could also be used in skirts like the cerise one above right.

An alternative to princess seams were side panels which are drafted on a similar principle. These dresses above have contrast collar and cuffs or a tie neckline.

Contrast white collars and cuffs like those above were popular since Mary Quant featured them so much in her designs. They created a fresh youthful look. Mostly they were detachable and washable. people were happy to remove the detachable collar and cuffs, launder them and hand stitch them back into place. This is something you hardly ever see today. Yet we were all happy to have the items detachable rather than have to clean the whole dress. To keep a dry clean only dress pristine, protective underarm pads were sewn into the dress so they could be detached, laundered and reinserted without the dry cleaning expense and at the same time protect the outer fabric.

The two shift dresses with side darts to the right above are simple lines typical of seventies styles.

Flared A-line dresses were also cut with a central seam and a front zip with a decorative ring pull zipper end could be made into a feature of a dress. Large patch or gently rounded pockets made for a utilitarian dress.

These last 2 styles above are very much like dresses I recall of 1974/5. The skirt has begun to reach its maximum fullness for 1970s flared skirt fashion. Four panels which basically made a circle, gave the required lower volume at the hemline. The blouson sleeves have a lot of bloused flop at the cuffs. Narrow belts sharpened up the waistline.

Please note - I do not have the full patterns, just these cover pictures. I do not know where you might buy these particular paper patterns, so please do not write asking for extra information on them.

See more fashion history pictures of 1977s patterns including 1970s skirts styles, long dresses and dresses for young girls on the next page. See fashion history pictures of 1970s trousers suits here.

For a detailed analysis of the 1970s read the 1970s fashion history page.

See fashion history pictures of 1970s trousers suits here.

See more fashion history pictures of 1970s ladies skirts, maxis, coats and children's dresses.
-------v6-------
Page Added 30 April 2006
This site offers a DVD about the music of the 1970s www.rememberthe70s.com.
If you like this page then please share it with your friends
---
For related fashion eras of the 1970s and 1960s click below:-
--Link--
Ω
---
---
For superb Victorian or Edwardian
re-enactment costumes in USA, try the reproduction costume range at:
recollections.biz
---
G
Custom Search
About Fashion-Era.com
Fashion-Era.com looks at women's costume and fashion history and analyses the mood of an era. Changes in technology, leisure, work, cultural and moral values. Homelife and politics also contribute to lifestyle trends, which in turn influence the clothes we wear. These are the changes that make any era of society special in relation to the study of the costume of a period.

Fashion-Era.com can take no responsibility for any information on the site which may cause you error, loss or costs incurred from use of the information and links either directly or indirectly. This site is owned, designed, written and developed by author: Pauline Thomas and Guy Thomas. This site is designed to be viewed in 1024 X 768 or higher.
ALL RIGHTS RESERVED. Fashion-era.com reserves the right to add or delete information, graphics and links. Copyright © 2001-2014 on all content, text and images in Fashion-era.com. Images and text in this website may not be used on other websites.
Before you write to me for costume/fashion help or information please, please consult the extensive sitemap which lists all our pages. If you still cannot find the answer after searching the site, then before you email me, please consider if you are prepared to make a donation to the website.
Donations
Reader's donations help this site flourish, in particular donations encourage me to write more articles on fashion history as well as current trends. PayPal allows anyone with a credit card to donate easily and securely. You may donate any sum you feel appropriate.