Images of Fashion Designs from Early 1970s Dresses
1970's Dress Pattern Fashion History Pictures 1971
This page looks at pictures of fashion designs from a 1971 dressmaking magazine.
For a detailed analysis of the 1970s read the 1970s fashion history page.
These fashion history designs are taken from some pages saved from an old dressmaking pattern magazine winter 1971/72. The styles are a good reflection of fashion styles worn by the average woman between 1970 and 1972.

Dressmaking patterns and catalogue books are a great fashion history records of what the typical women wore. Indeed, in the 1970s many women still enjoyed dressmaking as a hobby. Quality dress patterns always picked up on nuances of all the latest styles. Individuals seeking fancy dress inspiration, or those who are wardrobe assistants will find these fashion pictures invaluable guidelines. Theatrical, carnival, re-enactment, or costume productions set in the early 1970s always need designs which realistically portray the era. These are preferable to the extreme fashions that a limited number of people wore, and which are often used to encapsulate the era.
The 1971 dress far left has many of the elements of an early 1970s dress. It has the all important floppy bloused long sleeve, a deep 'V' neck empire line bodice, which is almost bra like in shape and a flared above-knee skirt. But best of all it's in a ditzy small print fabric so popular for granny print dresses of the era.
You could probably find a similar dress in the stores today, but what makes the picture look so 1970s, is the choker velvet band accessory at the neckline and the way the hair is styled.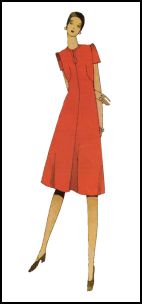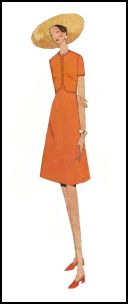 Strong clear, primary and secondary colours were important in the 1970s.
The block-colour shift dress was a favourite that continued from the looser shapes developed in the 1960s. However, as an A-line shape it was simple - too simple for some.
To make the style seem more novel, complex centre seams often featured a zip as a focal point, as in the red dress far left. Designers introduced yoke construction lines in no end of combinations with lines above, or below the breasts. The yoke became an area for bold statement designer jewellery pieces. Scandinavian jewellery of the 1970s era was fresh and very forward looking with its clean modern lines.
Attention was drawn to the seam detailing by heavy use of topstitching or saddle stitching. This gave a fresh twist of 1970's individuality to dress styles.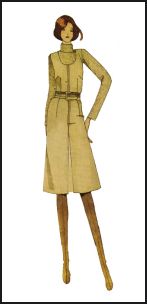 Pinafore and shirtwaist styled dresses were an everyday choice for young working girls in the early and mid 1970s.

Pinafore shift styles like this beige dress left, frequently closed with a centre front zip, or a long line of buttons.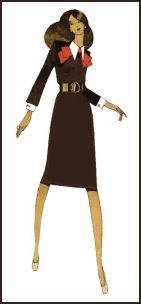 Many of the shirt dresses with their battle dress pockets had a safari feel to them with. Shirtwaisters with long or short sleeves were accompanied by elongated long collars. In the green dress right the collar has rounded edges.
The extended collar became such a hallmark of 1970s fashions, that years later it also became a cringe factor on old clothes lurking at the back of a wardrobe.
If you are looking at costume history because you going to a 1970s fancy dress party, a close fitting darted skinny shirt or dress with an elongated collar with rounded edges, will ensure you are hot on trend.
Other dresses of 1971/1972 had contrast white collar and cuffs. Sometimes the shirtwaisters, or plain A-line shift dresses had big strongly coloured artist bows at the neckline. Red, emerald green or yellow bows were also frequently seen. The main dress fabric was often in check material and the bow would be picked out in one of the check main colours.
‡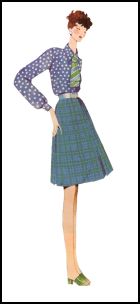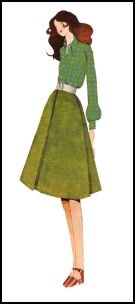 Later 1970s dress skirts were cut with flare and were A-line shaped until 1979. The skirts of all 1971 dresses even, straighter styles like the two above, had enough wearing ease for leg movement.
1971 skirts generally had flare or pleat fullness like these left and right. The inverted pleat skirt style was one of the most popular of the decade.
Bloused sleeves were a dominant fashion throughout the 1970s, but varying cuff style depths and widths kept them updated season by season.
These skirt fashion designs of 1971 are all flared and the bloused sleeves all have 2inch cuffs. Later cuffs became much longer until it was necessary to shape them to the increasing girth of the lower arm.
All of these fashion designs were worn with quite low shoes, the square block heels were about 2 or 3cm. The most interesting item shown in these 3 skirt designs is the argyle tank top right. Tank tops became a symbol of typical 1970s clothing for both women and men.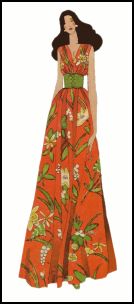 The alternative to some of the shorter dresses of the 1970s, was the long evening dress or maxi dress. Long maxi dresses were commonly worn for evening and day wear in the 1970s dependant on the woman's mood. Short dress one night, long dress the next. All in one cat suit the night after, skimpy mini dress or hot pants the night after that.
Some of the the most popular elements of the early 1970s fashions were the caftan, either full length or as a tunic top; the halter neckline and the peasant girl folkloric effect. The flowing caftan (often called a Kaftan) with generous wide sleeves and covering roominess was almost always trimmed with metallic braid, contrast fabric or gold embroidery.
Folkloric peasant styling was used with traditional Swiss/Austrian style embroidered braid finishing off garment edges. Eyelet laced belts tied up with shoelace fine ties or satin rouleaux drew on folkloric elements found not only in Europe, but also in India. All that foreign travel, because of the availability of cheap airfares, was bringing a mixed bag of ethnic ideas into mass market fashion.
This red long dress of 1971 shown right, has a peasant style eyelet and string tie belt. The exotic tropical print was also a very strong fashion fabric of the early 1970s era. Flower power at the most striking level of design.
§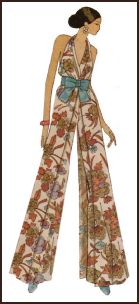 The halter neckline was used in all fashion clothing styles including swimwear, skimpy tops, catsuits/jumpsuits and slinky evening gowns. Cutaway armholes were often the most revealing part of an all encompassing maxi dress. Skirts with splits to the thigh meant that no woman was outdone if her contemporaries had selected a shorter dress instead. The halter top neckline resurfaced most recently as a high fashion style of autumn 2007.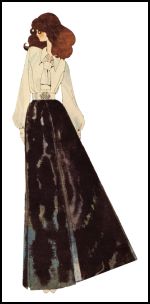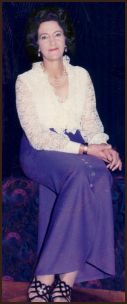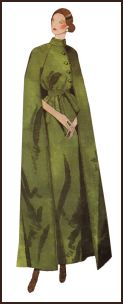 The maxi skirt worn with a ruffled or frilly blouse was a very easy option in 1971. A woman bought a long skirt in velvet, crepe or courtelle jersey and then teamed it with no end of blouses. Lace was a favourite fabric for blouses and the photo above shows an ordinary woman wearing a lace blouse with long maxi skirt at a famous 1970s nightclub in south Wales, Caerphilly and called The Club Double Diamond.
The maxi cloak shown far right offered a glamorous outdoor cover up for floor length fashions.
These 2 trouser suit fashion designs left were patterns on offer to dressmakers.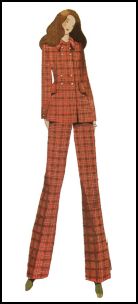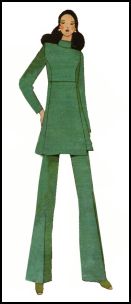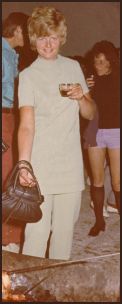 The trouser suit really established itself in the 1970s. In the 1970s trouser suits with matching jackets and trousers were considered suitable office wear. Remember that jeans were not considered suitable office wear in 1971.
The rust suit left looks quite formal to us today, but at the time it would have been considered exceptionally relaxed looking.
The hip length tunic was practical and in this centre photo above taken in 1971, two girls wear contrasting fashion outfits at a barbecue in Spain. Each outfit was quite high fashion that year. Barbara wears a sage green lightweight Crimplene trouser suit, and the woman in the background, Francesca wears hot pants. You can just see that the man has a ruffle frill on the centre front of his colourful shirt. The fashion design image of the far right print dress worn over trousers, was a more exotic feminine take on the trouser suit.
See more fashion history pictures of 1970s trousers suits.
Other alternatives for business women of the early 1970s were the tailored jacket and skirt. These two styles are representative of 1971. The inverted pleat skirt shown in both fashion patterns remained popular for years.
See more fashion history pictures of 1977s patterns including 1970s skirts styles, long dresses and dresses for young girls on the next page.
For a detailed analysis of the 1970s read the 1970s fashion history page.
Please note - I do not have the full patterns, just these cover pictures. I do not know where you might buy these particular paper patterns, so please do not write asking for extra information on them.
Page Added 3 November 2007. Ref P656.
This site offers a DVD about the music of the 1970s www.rememberthe70s.com.
-------v6-------
If you like this page then please share it with your friends
---
For related fashion eras of the 1970s and 1960s click below:-
--Link--