© Copyright www.fashion-era.com 2005+
+My original detailed fashion history text information on the 1930s can be found in the main section 1914-1955 here.
Consider making them into 1930's costume history timeline wall displays - perhaps place each costume silhouette in an oval. Or cut out the black image to create a stencil timeline of fashion history of the 1930s.

You can also find them as original more detailed fashion line drawings here. All are suitable for colouring in or costume history timelines.
You can also cut out the shape of the silhouette and place fabric and trims behind it for easy collage guides. See how to make classroom costume collages here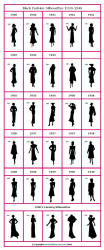 You can also print them out as one A4 sheet of fashion silhouettes here using this thumbnail above of a screenshot of this page or go to the page which deals with the same outline, but which saves on printing ink.
Later this year these images will appear in a more convenient offline storage format in a fashion-era ebook sold here and which will be also available in Microsoft Word and PDF format.
Click individual thumbnails to create A4 sized enlargements.
You may use these fashion history silhouettes above and below in personal school or college class projects, but they must not be reproduced in printed book form matter, as greetings cards, gift wrap etc., or as part of any electronic material such as a CD, DVD, TV show, videos, ebook, websites or similar item.
Costume re-enactors will find great costumes at the recollections.biz site below. From crinoline dresses to Gibson girl styles and small under accessories such as hooped crinoline petticoats, small bustles, over petticoats, trained petticoats, camisoles and long drawers.
© Copyright www.fashion-era.com 2005-2013.