3 to 6 Years After Head & Neck Cancer Radiotherapy
November 29 2005
On this Head and Neck Cancer Diary page 7 you will find:-
Although I closed my cancer diary pages in January 2004, I still get odd letters from both cancer patients and carers all over the world. They write to tell me how knowing what to expect before and after head and neck radiotherapy, helps them to cope or to assist loved ones. So three years on (Nov 2005) I now know making the effort to record the cancer treatment and the after effects of radiotherapy for my occult (hidden) primary head and neck cancer (SCC), was a worthwhile effort.
How am I now 3 years on?
Well being alive has been really good! I am truly grateful, especially as I have seen three cousins of my generation pass away in the past year. I have come to the conclusion that not one of us knows the day we will be chosen to go. So live every day as makes you personally happy the way you like best, whatever way that may be.
I have shopped until I dropped and felt happy. I've worked long hours on my website and seen a plan for the website come to fruition. These are my two favourite activities and nothing apart from being with my husband makes me happier. I've no desire to cruise aimlessly around the world on a luxury liner for weeks on end. A week would be fine, but I'd probably take the laptop too! I am far too hyperactive mentally and need to be busy using my brain, learning and creating new ideas.
Physically there are a few long-term problems post radiotherapy cancer treatment that will probably always be with me. This includes electric shock like spasmodic stabbing shooting shoulder pains, occasional mouth ulcers a more or less immediate reaction to tart foods or even a sip of white wine and post radiotherapy reflux. The latter is a major daily problem and requires long-term daily medication to prevent further oesophageal damage. Sore throats and oral thrush happen when least expected, but can knock one back as they come with the inevitable fear baggage!
But in the main, I feel much better than I did 5 years ago.
I am now on 6 monthly check up oncology clinic hospital appointments, with the proviso to ring for an appointment within a week if I suspect problems. The consultants have since deduced my 'occult' primary cancer was most likely in the area known as the tonsillar crypt. My tonsils were removed when I was 20. For those who have already had a tonsillectomy years before, the general area where the original tonsils would have been is what cancer oncologists mean when they say it was probably in the tonsils. I was also told that cancer biopsy protocols have changed and now instead of doing a minute tonsil biopsy all the flesh in the tonsil area is automatically removed.
‡‡
Mercifully as time has moved on I have gained a little more saliva, but I still like to take water with me everywhere I go. Small portions are still best when eaten with fluids, but some wet foods do go down without fluid now, as my swallow is better. My swallow improved a year ago. This has made a huge difference to eating and eating out which was for some time 'difficult'.
I also started to take Boots Pharmacy one a day 15mg Zinc tablets and my taste buds improved by about 50% in less than 2 weeks. The tastebud ability does go in fits and starts, but obviously there are tastes that are good enough, so much so that I have to watch my weight. I've gained 10lbs in the past 2 years. At one point I had no bottom and looked fragile and skeletal, but in 2005 I also noticed that muscle and fat returned. Now I'm trying to maintain this present weight as I like being more slender. With age I had forgotten how so much easier it is to shop for clothes when stones lighter. (I lost 64lb in year 1)
Mainly I live on a vegetarian diet with probably too many Danish pastries! Meat holds no interest as it is difficult to masticate and tastes nondescript. Some foods do taste OK, with some days my taste still being better than other days. For me nothing tastes quite as it did before radiotherapy and that is as much to do with texture as taste. I hardly ever cook full meals now, although I do bake cakes and pastries. I think making occasional homemade soups, roasted vegetables, apple or plum tarts and cakes for my own 'odd' diet, plus granary bread for my husband, is about the most cooking I ever do now. Gone are the days when I would spend all day Saturday preparing gourmet feasts for friends and relatives.
One problem is that the heat of the cooker inflames my tender treated facial and neck skin. I just don't want to be near infra red heat as it is so uncomfortable. When I open the oven door I almost run to the other side of the room, so that first flush of fiery heat escapes into the air not onto my neck and face. For this reason I don't like cooking any foods that involve long stirring, steamy saucepans or wok cooking. Sitting in the car on a very sunny day has a similar effect on my facial and neck skin.
One after effect that gets very little mention is the long-term aftermath of broken thread veins in the field of radiation therapy. In the past 3 years these tiny red thread veins have increased substantially on both sides of my neck, with clumps in some areas, but so far staying on my neck and cleavage area. One side is much worse as the left side had extra electron treatment. My face is still clear of this thread vein damage and I discuss the thread vein problem further down this page.
After radiation therapy treatment the hair condition was poor, so I waited 6 months before having any chemical treatment on the hair. During that 6 months I also had facial lymphoedema. Every morning I would wake and my face, but especially my neck was 'puffy'. After 2 hours or so the super puffed up effect of swelling would go down, but I still had some puffiness in my neck even in the evening. It used to look as if my neck was one continuation of my chin with no curving indentation.
Slowly this subsided, but this lymphoedema lasted for about a year or more after radiotherapy. As with every aspect of this treatment look for weekly or monthly improvements rather than daily improvements. Often it has been three steps forward and one step back.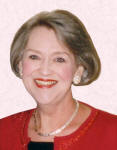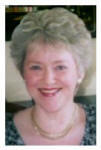 This photo left, with very short hair, was taken when I was 50, some 4 years before cancer treatment and you can see I had no excessive swelling in the neck then. I am several stone heavier in that image than any others on this page.
The last time I visited the hospital for my check up, I met a woman who had had a similar treatment and her face and throat was plumped up with lymphoedema swelling even more than mine is in the picture right (wearing red). She was full of anxiety about the swelling and desperate to know if the lymphoedema would ever go down. I believe the answer is that for some patients it does go away, or does reduce as time passes. If it does not, seek medical help as exercises and massage can be given. Even now, most mornings I give my neck a few massage strokes downward to get the neck 'working'.
This picture (wearing red) was taken in the evening in February 2003 and the lymphoedema was actually subdued, but you can see how firmly it pushes out the skin under the chin. I am the same weight now as I was when this photo was taken and now I don't have the daily lymphoedema. Thankfully I only get this neck lymphoedema now when I have a sore throat or oral thrush. But it is nothing like it was in the early months after radiotherapy. So reader please take heart that it is likely to improve.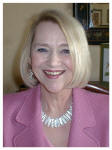 One thing I have done is grow my hair a little longer. This picture (pink jacket) was taken at Easter 2005. During my radiotherapy treatment I did lose a small amount of hair. For about a week I had some shedding and I recall thinking 'this it, it will all come out now'. But reader it did not.
I never had chemotherapy, which seems why most people have hair loss. My hair loss was strictly at the back of my head and in the field of radiation. But I do know what a terrifying experience it feels when hair comes out in great swathes in your comb or when you just touch it. Enlarge the thumbnail and see how my neck has a strange texture and on the one side you can make out the mass of thread veins. In this photo I was wearing some Max Factor Adaptive foundation make up on the thread veins and face. Sometimes I wear an Estee Lauder waterproof foundation on them.
Recently I added pages to my fashion-era website about my search for clip-in human hair extensions with a view to using them as one cosmetic and medical solution on occasion. I am always on the lookout for methods of disguising this red vein radiotherapy damage. On this page you can see just the pictures and my comments about the trauma of living with post radiotherapy red thread veins. You can read details about choosing human hair extensions or clip in extensions more fully on my hair extension pages in the main fashion-era website.
Photographs of Pauline Weston Thomas taken 1 September 2005 before the hair extensions were cut. No make up has been applied to the neck and décolletage radiotherapy induced red thread veins or surgery neck scarring, which is mainly covered by the basic clip-in 18" hair extensions. No lymphoedema visible.

See the original photos of the cut hair extensions on this page
Later, my hairdresser cut and styled the hair extensions so they were graduated around my face and shoulders as shown below.
Photographs of Pauline Weston Thomas in cut clip in hair extensions taken October 2005. No make up on the radiotherapy induced red thread veins or surgery neck scarring which is mainly covered by the hair. No lymphoedema visible.
My neck and face skin is now super sensitive post radiotherapy to the sun, cooking heat and scratchy fabrics so I am reluctant to cover the skin up other than occasionally. Cashmere is the only warm winter knit I can wear now with any degree of comfort for a few hours. Labels have to be removed on everything especially back necks as I was treated on the back neck too and the skin is just super sensitive to the slightest irritation.
Because of this, the area is often visible to others. I have been told by my consultant there is no remedy for these radiation induced broken veins and it has been very difficult to find answers to my concerns even on the internet. I do know that many other people who have had the same radiotherapy treatment suffer with these red veins too. Most people feel like I do - we are just thrilled to be alive after the treatment whatever the skin damage.
So when you next see someone with red thread veins on their neck don't jump to the conclusion that they have not cared for their skin, have over sunbathed or over indulged in alcohol. They may simply have had treatment to save their life. Magazine articles never tell readers that radiotherapy causes tiny red spider veins.
Sometimes I find people such as cosmetic and fashion clothing assistants, looking sideways at my neck at these broken thread veins probably thinking to themselves 'silly woman, too much sunbathing,' except I never sunbathed as I always burnt! I feel obliged to explain to them why I have the red thread veins. More than one close relative has made unkind remarks about the red veins and such ignorant comments can be hurtful. However I wear my daily reminder 'badge of survival' with pride. Survival is what it's all about.
My face which has less treatment has remained thread vein free and combined with the weight loss more than once I have been asked if I have had a face lift. Technically I think the radiotherapy acted like a chemical peel, but it's not a treatment I'd recommend for that purpose!
For the benefit of those who have had similar radiotherapy treatment or those with 'life' thread veins, I chose not to apply foundation and a basic cover up stick to any part of my neck or décolletage in the hair extension pictures on this page. You can see the red veins in detail lower down this page.
I do on occasion use a cover up stick and/or foundation base make up on the red vein 'neck to cleavage' area of damage. I have also used green cover up red vein cream with a flesh tone on top of it. Frankly I prefer some normal foundation, plus on severe damage, extra No7 cover stick from Boots to anything else I have tried.
I find ordinary make up sufficient to soften the red veins lightly on days when I wish to disguise them. In my opinion, thicker make up products draw even more attention to the area. One make up which is particularly good at covering them is an Estee Lauder Doublewear foundation with a waterproof finish. You would need to check with an Estee Lauder consultant for your own individual case and matching skin tone. Waterproof skin foundation products do not come off on clothing so easily.
So as you can imagine I am always looking for a fresh approach to find a solution. I would not say that the clip in hair extensions have solved the problem, but it is a different approach to living with something like red veins or other scarring on the neck.
Mainly it can just make you feel glamorous for a few hours whatever your age.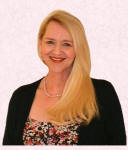 I am not really worried about these red veins as I know all too well my lot could be so much worse.
I am fully aware that many people have had far more extensive neck and/or oral surgery and much more radiotherapy treatment. If this is your case you may find hair extensions give you the courage to go and have some makeover photographs taken with, or for your loved ones. I think as far as possible it's important to try to get some normality back into your life after this treatment and seeking ways to do it is the first step.
In this photograph the extensions were wrapped to the neck side most damaged by cancer treatment. The hair effectively covered most post treatment scarring. If you dear reader have a similar problem I empathise. Cancer can eat into your soul as well as your body. This is why I write this here so you know you are not alone. I expect you are probably like me, just glad to be alive with or without red veins or taste buds!
‡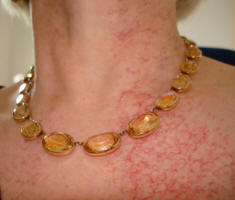 These last photos below and right, show me 4 years after radiotherapy finished. On the right you can see the current extent of the uncovered red vein damage without make up. The side that is most affected was the site of lymph node removal and had extra electron treatment in the last 2 weeks of the 30 treatments.
With careful application of Estee Lauder Doublewear make up using a sponge I am able to soften most of the red vein décolletage damage, enough to feel confident to go out wearing low cleavage tops and wear jewellery like this antique citrine necklace a birthday gift from my husband.
As for those hair extensions, it's now September 2007 and I have never worn them more than once or twice since I wrote up the original site article.
I continue to work and plan, using the methods suggested by Tony Robbins in his motivational tapes.
Life is good.
I attended the oncology clinic for my six monthly check-up and was discharged from the hospital, almost 6 years after my initial medical examination in June 2002. If all is well this discharge usually happens at 5 years, but some complications such as becoming hypothyroid and neck/shoulder pain needed assessing. I am now officially a cancer survivor.
To help me remain a survivor I also ensure I have regular dental check ups at my dentist Peter Davis. Both the oral hygienist and Peter give the mouth a thorough soft tissue oral examination at any check up appointment. Early detection of head and neck cancers is vital and of course this disease is so often first spotted by a dentist or hygienist. Don't cut corners by neglecting to see your dentist every 6 months. If you have doubts about the condition of your mouth a dentist will soon put you in the clear or on the hospital track.
Radiotherapy and surgery have given me extra years I never expected and I thank all those involved at Cheltenham and Worcester UK hospitals. I thank all of you around the world who have prayed for me and continue to do so. I thank God for his abundant generosity in giving me more days than I ever once thought possible. End of Diary
See my first page of the cancer diary radiotherapy treatment here. More pages are listed below and on the sidebar navigation buttons.
Footnote 1:- The unit of radiation measurement is the Gray (Gy), other units include the centiGray (cGy) and the rad. One cGy equals one rad. One hundred cGy equals one Gray and so, 60 Gy equals 6,000 cGy. Although the term rad isn't used now, 6000cGy equals 6000 rad which is why people who have had radiotherapy refer to it as having had rads. The radiotherapy is delivered in fractions. For example I had 30 days of treatment of 2Gy or 200cGy for 5 days a week which totalled over the six weeks (minus rest weekends) 6000cGy or simply 60Gy.
Link to compassionate article of 5 page PDF file about long term effects of the head and neck cancer SCC treatment. See more links below.
Page added November 28 2005. Updated October 2007.
To Top of Page
--Link--
Head & Neck Cancer Diary & Radiotherapy After Effects
Click below to go to other related pages:-
Links