Victorian Christening Fashion
Christening Fashions in the Victorian Era
Whilst pregnancy and birth were quiet private occasions for the Victorians, the whole family looked forward to the public occasion of the christening as an event of celebration. The Church insisted that babies were christened in a white garment, a symbol of purity and innocence.
Christening robes of the 18th century were made of embroidered and trimmed silk or satin. However, by the 19th century white embroidery on fine cotton lawns, or fine linens was the fashionable, tasteful garment of choice.
Large families were popular in the Victorian era, and therefore a mother might make one very beautiful gown when she had the time whilst awaiting the arrival of her first born child. Although many women had access to a sewing machine in mid-Victorian England they preferred to hand-sow the Christening gown. One reason was that because the gown was small and compact, it could be easily moved around the house from room to room in a young matronís needlework bag. Victorian pregnant women, even if barely 18, would as expectant mothers have been considered to be young matrons.
Once used and admired along with the new baby, the same christening robe would then be packed away and carefully kept for the next occasion, and would probably be used for every baby a mother bore. Well made Christening gowns were even handed down through the generations. The robe as a result, became a family heirloom.
Mid-nineteenth century christening robes were often decorated with fine white embroidery known as Ayrshire work. Ayrshire work consisted the embroidery worked with extra needlework fillings and cutwork.
In the mid to late Victorian era the christening gown skirts were lavishly ornamented with fine pin tucks and lace insertions. The bodices of this era were also decorated with white embroidery too. Unlike today, every baby would have worn a cap with the christening gown.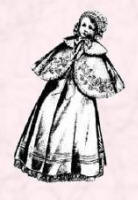 Ľ
A mother may also have carried the baby to the church using a mantle or beautiful shawl.
The picture right shows an Edwardian illustration for a cashmere baby cape which would have been very suitable for such a special church and family gathering. Right - Baby Cape 1910
Very special christening robes ensured that any baby wearing one looked picture perfect for the occasion and the event of having a family photograph taken to record the day.
Christening robes are one of the few pieces of costume history that have seemed to survive across a broad range of society, probably because they launder well, are small enough to store easily and another baby may get a one off use for it.
Step back in time and look toward the future with exquisite, Victorian-style christening gifts and clothes from a distinctive fashion era.
Alternatively make your own christening robe using a Vogue sewing pattern, a Butterick, Simplicity or McCalls dress Pattern. All make christening robe patterns with heirloom sewing techniques.
The Edwardians were lucky enough to be able to buy ready made embroidered yokes to which they added skirts in fabrics of their choice enabling them to make easy dresses or gowns. such yokes could also be used as a top fresh cover up over a dress just like a bib was used for protection. If the baby dribbled food a fresh yoke could be used over a simple gown.
Right - Edwardian ready made decorative yoke for a baby gown.
Costume History Section On Cloaks, Mantelets, Pelisses, Redingotes, Paletots etc.,
If you like this page then please share it with your friends
---
For more information about the Victorian Era
1837-1901 click on the title links below:-
Home TO TOP OF PAGE To Next Page
Custom Search
About Fashion-Era.com
Fashion-Era.com looks at women's costume and fashion history and analyses the mood of an era. Changes in technology, leisure, work, cultural and moral values. Homelife and politics also contribute to lifestyle trends, which in turn influence the clothes we wear. These are the changes that make any era of society special in relation to the study of the costume of a period.

Fashion-Era.com can take no responsibility for any information on the site which may cause you error, loss or costs incurred from use of the information and links either directly or indirectly. This site is owned, designed, written and developed by author: Pauline Thomas and Guy Thomas. This site is designed to be viewed in 1024 X 768 or higher.
ALL RIGHTS RESERVED. Fashion-era.com reserves the right to add or delete information, graphics and links. Copyright © 2001-2014 on all content, text and images in Fashion-era.com. Images and text in this website may not be used on other websites.
Before you write to me for costume/fashion help or information please, please consult the extensive sitemap which lists all our pages. If you still cannot find the answer after searching the site, then before you email me, please consider if you are prepared to make a donation to the website.
Donations
Reader's donations help this site flourish, in particular donations encourage me to write more articles on fashion history as well as current trends. PayPal allows anyone with a credit card to donate easily and securely. You may donate any sum you feel appropriate.