Christmas Customs - Old Christmas Soap Advert
This lovely picture of a girl in a red coat in the snow advertising Sunlight Soap is one from my collection of costume prints. It has everything I love about the diverse nature of costume history.
Such a print can be used as part of room decoration at Christmas to give a nostalgic turn of the century with a Victorian or Edwardian feel and help create a themed atmosphere in your home with perhaps Victorian girls in red coats.
‡‡
Washing was a big feature of Victorian and Edwardian lifestyles behind the scenes and little girls clad in snow white pinafores were always popular in pictures. Laundry was a never ending chore. A whole day would be spent just washing and boiling clothes especially white goods. Another day would be spent drying the washing and a third day ironing it. In winter it was doubly hard and clothes were mangled to remove excess water before drying an arduous task demanding some strength. Laundry was therefore big business and then as now appealing advertisements such as these were essential to capture the growing soap market.
Sunlight Soap was invented by William Lever and by the Edwardian era, he sold 40,000 tons of soap made from a formula of tallow, palm oil and resin all in a year. Later he moved from his Warrington premises to found the world famous Port Sunlight site. The Lever Company is world renowned today and a giant manufacturer of soaps and other products. Sunlight Soap is not sold in Britain anymore, but it can be found in places such as Sri Lanka and India.
Here is another soap advert, but referring to dolly blue for clothes whitening, the original optical illusion whitener and also to aniline synthetic dyes which were colourfast. Laundry blue and optical whiteners are still used today, but are now incorporated into detergent products.
This picture courtesy of alldressforms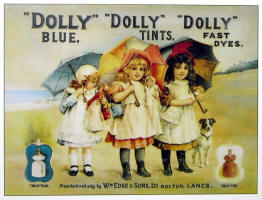 -------v6-------
See Topics Below for More Ideas on Christmas Traditions, Customs, and Recipes
--Link--
Christmas Crafts

Seasonal Humour

Christmas Traditions
Custom Search
About Fashion-Era.com
Fashion-Era.com looks at women's costume and fashion history and analyses the mood of an era. Changes in technology, leisure, work, cultural and moral values. Homelife and politics also contribute to lifestyle trends, which in turn influence the clothes we wear. These are the changes that make any era of society special in relation to the study of the costume of a period.

Fashion-Era.com can take no responsibility for any information on the site which may cause you error, loss or costs incurred from use of the information and links either directly or indirectly. This site is owned, designed, written and developed by author: Pauline Thomas and Guy Thomas. This site is designed to be viewed in 1024 X 768 or higher.
ALL RIGHTS RESERVED. Fashion-era.com reserves the right to add or delete information, graphics and links. Copyright © 2001-2014 on all content, text and images in Fashion-era.com. Images and text in this website may not be used on other websites.
Before you write to me for costume/fashion help or information please, please consult the extensive sitemap which lists all our pages. If you still cannot find the answer after searching the site, then before you email me, please consider if you are prepared to make a donation to the website.
Donations
Reader's donations help this site flourish, in particular donations encourage me to write more articles on fashion history as well as current trends. PayPal allows anyone with a credit card to donate easily and securely. You may donate any sum you feel appropriate.