Mrs Beeton's Food Plates
Food is considered important by many to set the tone of an occasion such as Christmas. During the Victorian era the mass publication of books and weekly periodicals drew attention to domestic skills. In the Victorian era, Mrs. Beeton's book of Household Management was important in setting down some written rules on how to cope with domestic duties. A skilled organiser and businesswoman, cooking was just one of the arts that Mrs. Beeton explored.
I have a 1923 edition of Mrs. Beeton's Family Cookery. (See accurate cover book naming below.) In this 1923 edition, there are no less than five recipes for variations on Xmas pudding. The recipe for one is given on another page here.
On the flyleaf, the book states that it contains ' Nearly 3000 Practical Recipes' . It has other sections too on menus, servant's duties and includes a chapter on napkin folding. In addition it has 20 full colour plates and they display food in a delightful way. This was probably much as the Edwardians and late Victorians in wealthy families expected their food to look like when taken to the table. Food was presented as ornamentation to the table. I include 9 of the better colour plates as thumbnails on this page and all enlarge to a nice size for more detail. I have spent hours cleaning up the age marks on these images and they should not be reproduced for sale elsewhere. You are reading an original Mrs Beeton food history article by Pauline Weston Thomas at www.fashion-era.com ©.
Game - Poultry and Game is a traditional aspect of Christmas foods and can often bring applause when taken into a dining room set atop a large platter and surrounded by interesting accompaniments. The antique colour food plate here shows how the meats when dressed might have looked in the 1920s or earlier eras

From left to right.
Mrs Beeton's Food Colour Plates 1923 Edition
Fish
Game
Chaudfroid Dishes
Hors d'Ouvres
Vegetables
Cold Entrees
Dessert Fruits
Sweets & Gateaux
»
Many of Mrs Beeton's original recipes were untested and sometimes quantities given were enough to feed 12 people and alarm people today when they read the old recipes. Yet that was not so very terrible - for festive occasions and family gatherings 12 portions might well have been required. In many cases servants also ate the remains of food and this would have been taken into consideration during preparation.
Please do not confuse this Mrs Beeton's Family Cookery book with her Household Management book. My copy of the 1923 cookery book contains 896 numbered pages plus some nineteen additional end piece advert pages. This is the cookery book version that has the Mrs Beeton Christmas Pudding recipes I have printed here.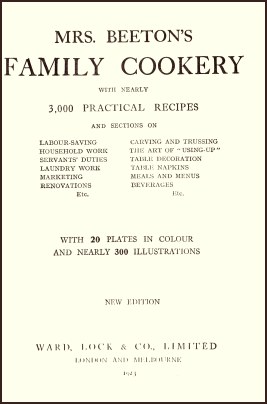 The Mrs Beeton's Household Management book contains 1676 pages and the frontispiece is shown below. BUT.... a site reader told me they had bought this version of the book since it does state it is A Complete Cookery Course. They found it did not contain the Christmas pudding recipes - so please be warned in your searches for the book at sources like EBay or Abebooks.
If you want the version with her Christmas Pudding recipes then buy The Mrs' Beeton's Family Cookery version. Or read them on my Beeton pudding page here. And remember in credit crunch times then both of these books, as well as luxury foods will be full of old fashioned thrifty tips that make the best use of ingredients in season.
Ω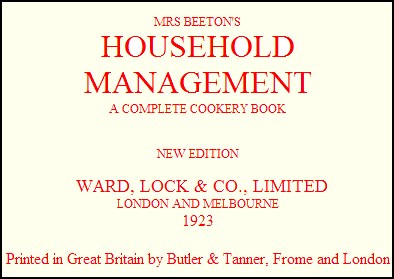 Happy cooking. You have been reading an original Mrs Beeton food history article by Pauline Weston Thomas at www.fashion-era.com ©.
See Topics Below for More Ideas on Christmas Traditions, Customs, and Recipes
Christmas Crafts

Seasonal Humour

Christmas Traditions
Page Added October 2006, Updated Feb 2009.
Custom Search
About Fashion-Era.com
Fashion-Era.com looks at women's costume and fashion history and analyses the mood of an era. Changes in technology, leisure, work, cultural and moral values. Homelife and politics also contribute to lifestyle trends, which in turn influence the clothes we wear. These are the changes that make any era of society special in relation to the study of the costume of a period.

Fashion-Era.com can take no responsibility for any information on the site which may cause you error, loss or costs incurred from use of the information and links either directly or indirectly. This site is owned, designed, written and developed by author: Pauline Thomas and Guy Thomas. This site is designed to be viewed in 1024 X 768 or higher.
ALL RIGHTS RESERVED. Fashion-era.com reserves the right to add or delete information, graphics and links. Copyright © 2001-2014 on all content, text and images in Fashion-era.com. Images and text in this website may not be used on other websites.
Before you write to me for costume/fashion help or information please, please consult the extensive sitemap which lists all our pages. If you still cannot find the answer after searching the site, then before you email me, please consider if you are prepared to make a donation to the website.
Donations
Reader's donations help this site flourish, in particular donations encourage me to write more articles on fashion history as well as current trends. PayPal allows anyone with a credit card to donate easily and securely. You may donate any sum you feel appropriate.