If you just wish to make a simple one off Christmas Pudding, then this is an easy recipe because you probably already have every ingredient in your store cupboard. It's a great recipe when you just want one pudding. Some of you will have used my Christmas pudding recipe page to make a 6 pint mix of Christmas pudding mixture for gifts. You may also have read my pages on Christmas pudding recipes from Mrs Beeton and from her 1923 cookery book of Household Management. If you need to know more about the technique of pudding making, just check out my other pudding pages. This simple low cost basic Christmas pudding was from a friend who made it so her diabetic sister was able to eat a small portion on special occasions such as Christmas day.
'Stir-Up-Sunday' is the last Sunday before Advent in late November. Advent is the month leading up to Christmas. Anglican prayers said on Stir-Up-Sunday start with the line 'Stir up we beseech thee' and are intended to activate people into preparing for a month of activity, preparation for celebratory worship and later feasting. Traditionally the whole family should be involved in making the pudding, giving the Christmas pudding mix a stir and making a wish. This is a tradition you can develop with your family. It brings the first smells of Christmas into the home on a cold November day and fills everyone present with anticipation of the festivities of the month to come. Christmas memories like these live with us forever.
In 2012, Stir-Up-Sunday is on November 25, but this pudding is just as good made the week of Christmas.
Method and Recipe for 1x 2 Pint or 2 X 1pint Christmas Pudding
This simple Christmas pudding recipe instruction is different from those on my other pages. In fact it is a recipe that becomes easy to recall and throw together at anytime of the year. But Stir Up Sunday in late November is as good a day as any.
Ingredients
4 oz/100g currants
4 oz/100g raisins
4 oz/100g sultanas
4 oz/100g candied peel
1/4 pint milk
1 lemon zest and juice
1 egg
1 dessert apple
1/2 teaspoon mixed spice
1/4 teaspoon nutmeg
A pinch of salt
1 oz/25g self-raising flour
2 oz/50g shredded suet
2 oz/50g caster sugar or soft brown sugar
3 oz/75g day old white breadcrumbs from a quality loaf
The above recipe makes a good pudding for a 2 pint pudding basin. It is non-alcoholic and also low cost. To titivate this recipe please see the luxury additions below.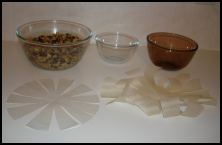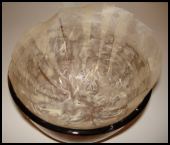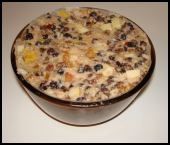 ‡
Method
Butter and then line your selected pudding basin with some greaseproof paper. Butter inside too.
Make your fresh white breadcrumbs.
Put suet, breadcrumbs, sugar, flour, salt and spices into a large mixing bowl. STIR.
Pick over your dried fruit and put in with the dry mix.
Dice the apple including the peel and add to the fruit mix. STIR.
Grate a lemon for the zest and squeeze out all the juice directly onto the fruit.
In a jug measure a 1/4 pint of milk and lightly beat with the egg.
Add the liquid to the fruit mix. Add any optional ingredients mentioned below.
STIR WELL. MAKE A WISH!
The mixture should drop off the spoon.
Spoon your Christmas pudding mixture into the basin. The pudding mix image above right is without treacle.
Cover the basin top with a pleated sheet of greaseproof paper, then a pleated piece of foil. This allows for any rising of the pudding.
Tie with string and make a string handle to assist lifting. Leave to mature overnight if you wish. When left to stand 6 hours the breadcrumbs swell to help make a lighter pudding.
Steam simmer for 6 hours in a steamer, remembering to top up with water at least every 2 hours.
Allow the pudding to cool in the steamer with the lid left on.
When cool enough to handle, rewrap the pudding in fresh greaseproof paper and foil.
Store in a cool place.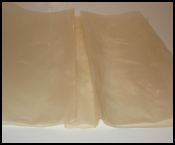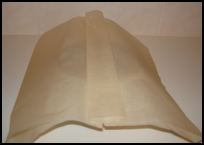 Greaseproof paper (above) note the pleats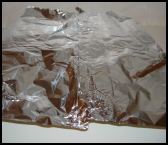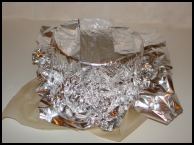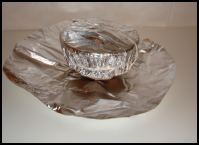 For faster pudding bowl preparation use a sealable lidded plastic pudding bowl. Simply butter the inside surfaces of the plastic pudding bowl and domed lid, then spoon in the mix level to the top and place on the lid. Next either cook in a steamer or place in a lidded saucepan of boiling water with boiling water halfway up the sealed basin. When cooked store in the same plastic basin used for cooking and reheat using the same pudding bowl.
Brown Colouring Options
NB:- The pudding baked in the oven turns out light coloured, but tastes just as good, so I would add 1 tablespoon of black treacle or add instead just about half to a level teaspoon of Crosse and Blackwell's Browning. In USA a similar product is Blackjack or bakers caramel. Note well, that browning is different from savoury gravy mix granules such as a Bisto granules. If you have no browning or treacle, simply slowly caramelise a couple of tablespoons of sugar in a deep pan until it turns dark brown. Then add a little water to make a coloured brown liquid. Warning - when the sugar is very hot, it may spit, so do this carefully and make sure the saucepan is a deep one.
Pre-heat the oven at gas mark 2 or 150°C.
Boil the kettle with water.
Use a deep Pyrex lidded casserole and put a shallow layer of crumpled foil on the base.
Stand the covered pudding basin on a large square of foil. Draw the foil up the basin sides.
Put the pudding in the Pyrex casserole.
Place the casserole on a flat tray for easier handling.
Add water to the casserole from a just boiled kettle, until the water is 2 inches deep.
Cover with a Pyrex lid that fits or make an aluminium foil tent if you have no lid. You now have a water bath.
Oven steam in the oven for 4 -5 hours.
Remove the pudding and leave to cool in the lidded casserole.
When cooled, remove old wrappers.
Wrap the Christmas pudding in clean greaseproof paper and then aluminium foil.
Store in a cool place or the fridge.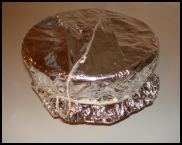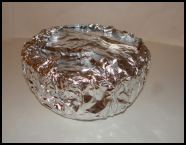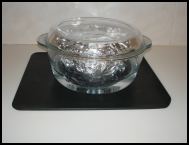 Do not use a plastic bowl for the oven method above.
Alternatively, pressure cook the Christmas pudding for 11/2 hours at 15lb pressure.
Christmas Day
If the pudding was stored in the fridge bring it out the night before, or first thing in the morning so it is at room temperature before cooking.
Steam or boil for 2 hours. Or, pressure cook for 20 minutes at 15lb.
Turn the pudding upside-down onto a hot wide plate or generous dish.
It can of course be served flaming.
Flaming/flambé
To achieve the flambé effect at the table, first turn the lights low, then put 1-2 tablespoons of brown spirits such as rum or brandy in a metal (not non-stick) ladle and warm it over a low table candle. As the candle ignites the ladle, pour the liquor over the pudding. TAKE EXTRA CARE AS YOU DO THIS.
Serve with custard, white brandy sauce, rum butter or cream.
Tips for a Luxury Christmas Pudding
For a pudding with a bit more bulk, luxury and alcohol add:-
2 to 4 oz/50g to 100g mixed dates, cherries, apricots, prunes, chopped walnuts, 1 small grated raw carrot if already in your store cupboard. If you want alcohol in your pudding, add 1 to 2 tablespoons of either brandy, sherry, whisky, rum, port or stout These optional amounts would retain balance.
Top Christmas Pudding Tip - For a darker pudding, use brown sugar and add 1 tablespoon of black treacle.
If you are a diabetic you are probably fully aware of any red flag ingredients you should omit.
Stencil header - for stencils see my Christmas stencil pages.
§
This page has been about making a single traditional British Christmas pudding recipe which is easy cook too. You probably have every ingredient already in your store cupboard. The basic recipe above is also non alcoholic.
If you want a more complex 6 pint gift Christmas pudding recipe mixture see my special Christmas pudding mix page for food gifts.
For faster pudding bowl preparation use sealable lidded plastic pudding bowls. Simply butter the inside surfaces of the plastic pudding bowl and lid, then spoon in the mix to about half an inch from the top and place on the lid. Next either cook in a steamer or place in a lidded saucepan of boiling water with boiling water halfway up the sealed basin. When cooked store in the same plastic bowls used for cooking and reheat using the same bowl.
Final tip, make your puddings when the family is around so they can stir up the bowl and make a wish for the new year. In 2012, Stir-Up-Sunday is on November 25, but this pudding is just as good made the week of Christmas.
Please note we cannot take any responsibility for your mishandling of any flambé.
See Topics Below for More Ideas on Christmas Traditions, Customs, and Recipes
Christmas Crafts

Seasonal Humour

Christmas Traditions
Custom Search
About Fashion-Era.com
Fashion-Era.com looks at women's costume and fashion history and analyses the mood of an era. Changes in technology, leisure, work, cultural and moral values. Homelife and politics also contribute to lifestyle trends, which in turn influence the clothes we wear. These are the changes that make any era of society special in relation to the study of the costume of a period.

Fashion-Era.com can take no responsibility for any information on the site which may cause you error, loss or costs incurred from use of the information and links either directly or indirectly. This site is owned, designed, written and developed by author: Pauline Thomas and Guy Thomas. This site is designed to be viewed in 1024 X 768 or higher.
ALL RIGHTS RESERVED. Fashion-era.com reserves the right to add or delete information, graphics and links. Copyright © 2001-2014 on all content, text and images in Fashion-era.com. Images and text in this website may not be used on other websites.
Before you write to me for costume/fashion help or information please, please consult the extensive sitemap which lists all our pages. If you still cannot find the answer after searching the site, then before you email me, please consider if you are prepared to make a donation to the website.
Donations
Reader's donations help this site flourish, in particular donations encourage me to write more articles on fashion history as well as current trends. PayPal allows anyone with a credit card to donate easily and securely. You may donate any sum you feel appropriate.
For superb Victorian or Edwardian
re-enactment costumes in USA, try the reproduction costume range at:
recollections.biz
--x2--