This recipe instruction is for enthusiastic beginners or for cooks who give food gifts at Christmas.
The full Christmas Pudding recipe check is at the bottom of this page.
With 6 pints of pudding mix you can make these pudding or your own combination
1 X 2 pint pudding using a rounded Pyrex basin
2 X 1 pint puddings using a rounded Pyrex basin
1 X 1/2 pint pudding using a tall ceramic basin
6 X 1/4 pint mini puddings (equivalent to 11/2 pints and using 1/4 pint metal pudding tins)
Stage 1
Weigh the dried fruit
20 oz currants
20 oz raisins
20 oz sultanas
4 oz best quality candied peel you cut yourself
4 oz apricots
2 oz dates
Tip - You'll need a 'large' bowl or container for 70 ounces of dried fruit.
A. Preparation of the dried fruits.
Clean and prepare your currants, raisins and sultanas by washing each batch in a clean bowl of hot water. Drain for a minute or so using a sieve.
Place, first the currants, on a clean tea towel covered in 2 layers of kitchen roll paper. Roll the currants in the tea towel/paper. Discard the mucky kitchen paper which will be covered in bits even if you bought pre-washed currants. Roll the currants yet again in the tea towel alone. You will be amazed how many more picky bits of twig are removed and which makes eating any fruit dessert much more pleasant.
This is faster and just as effective as picking over the currants individually. Repeat the process on the raisins and sultanas. Generally the worst offenders are the currants. Due to their smallness, the stalks often retract into the berry.
Next prepare your fruit soaking liquids.
Fruit Soak Fluids
½ cup of sherry (8 tablespoons)
½ cup of port (8 tablespoons)
½ cup of whisky or brandy (8 tablespoons)
Grating and Squeezing
3 lemons, use all the finely grated zest. Do not include the bitter white pith. Squeeze out the juice of the three lemons. Warming them in a microwave for 20 seconds helps release more juice.
1 orange, use all the finely grated zest plus the juice of the orange.
B. Now SOAK the cleaned dried fruits in the alcohol, orange and lemon zest plus the citrus juices, for about 4-8 hours before mixing the puddings.
Give all the fruit and liquid ingredients a big stir.
Cover the bowl with cling film or a lid.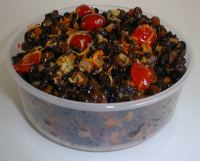 Reminder Tip - Make sure you have a 'large' enough bowl for 70 ounces of the dried fruit.
Sometimes I just put all the fruit/alcohol/juices in a closed Tupperware style container like this shown right. Just turn it over a couple of times a day for a few days until the right moment comes for the next stage. Having a container lid enables you to turn the bowl upside down and stops evaporation of the alcohol.
You could start this soaking in the morning and make up the recipe in the evening, leaving the raw mix to marinate further overnight before 6 hrs of steaming. The soaking helps plump and hydrate the fruit and absorb the flavour of the alcohols.
C. Prepare your basins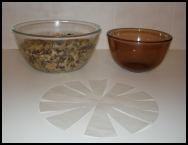 Butter either 4 x 1 pint pudding basins and 1 X 2 pint basin, or any other combination your prefer.
Butter your selected basins well using one of the following methods.
Line the base with a buttered circle of greaseproof paper and then an inner band of greaseproof paper which has been split every two inches almost to the base. Shape it to the basin with overlaps.
Or - an easy way to do this, is to take cake liners from a packet of mixed 'Lakeland' cake non stick paper circles, or just cut a large circle. Then cut small wedges from it to make it fit in the basin.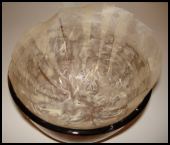 Butter will help it shape to the basin. Trim the excess paper away from the basin top edge.
Another method is to cut long greaseproof paper strips and lay them buttered one, by one, across the basin in an asterisk shape.
Once your basins are prepared you can begin the big stir.
Stage 2 - Approx 6 to 8 hours later
Grating and Chopping - Use a large bowl and prepare the following
8oz dark glace cherries halved
2 oz blanched almonds chopped
1 large raw carrot, finely grated - about 3 or 4 oz
1 large proper Bramley cooking apple, cored, peel left on and in small cubes. Do not grate the apple. Alternatively use 2 large Granny Smith eating apples.
5oz day old white breadcrumbs made from a quality loaf.
Make the breadcrumbs in a food processor using day old bread.
DO NOT USE packet coating breadcrumbs.
Mix all these ingredients with the pre-soaked fruits.
Stage 3
In a jug, mix with a fork all the remaining wet ingredients.
4 medium eggs, beaten
4 tablespoons milk (or ale or stout)
1 heaped tablespoon black treacle - dip the spoon in boiling water and dry it first to enable the treacle to slip more easily from the spoon.
Add this liquid mix into all the fruits.
Give it all a big stir again.
Stage 4
In a large separate bowl mix all the dry ingredients together
Measure your spices, flour, ground almonds, suet and salt mixing all the dry ingredients together.

8oz shredded suet
8oz dark muscovado or a one third molasses and two thirds white caster sugar mix
6oz self-raising flour
3oz ground almonds
1 rounded teaspoon mixed spice
1 rounded teaspoon cinnamon
½ teaspoon ginger
½ teaspoon freshly grated nutmeg
1/4 teaspoon powdered cloves
A pinch of salt.
Stir all these dry ingredients into the wet fruit mix. If your mix seems too sturdy add a drop more milk, alcohol or ale.
Call the family to stir the pudding mix very well and ask them to make a wish.
Stage 5
Spoon your mix into your selected prepared pudding basins. Fill to within half an inch of the top of the pudding basin.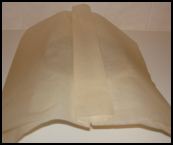 Now cover them. Each basin must be covered with a double layer of buttered, greaseproof paper which has a deep pleat in its middle. This pleat enables the greaseproof paper to expand if the pudding rise much during steaming. I generally twist and turn my paper cover forming a rim edge. This is best demonstrated, but you can simply use a string tie. Over that I place some pleated aluminium foil and tie that on with some string.
It is useful to make a string handle, but not essential. Wearing thick rubber gloves will enable you to lift the hot puddings if needed.
At this stage I usually leave my pudding overnight so that the flavours mature even more. The following day I cook them.
Using Plastic Pudding Bowls & Lids
For faster pudding bowl preparation forget about greaseproof paper and use sealable lidded plastic pudding bowls. Simply butter the inside surfaces of the plastic pudding bowl and lid, then spoon in the mix to about half an inch from the top and place on the lid. Next either cook in a steamer or place in a lidded saucepan of boiling water with boiling water halfway up the sealed basin. When cooked store in the same plastic bowls used for cooking and reheat using the same bowl.
Steaming Method
The best way to cook the puddings is by steaming them in a proper steamer for 6 hours. Some people steam their puddings for 7 or even 8 hours. I think 6 hours is ample time for any pudding of 2 pints or less, especially when they are left to cool in the pan in which they were cooked. If you decide to make 2 larger puddings at 3 pints then steam those bigger puddings for 8 hours.
Saucepan Method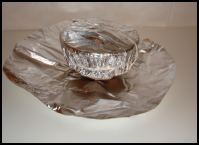 For steaming any pudding in a saucepan without a top steamer, put an upturned saucer or plate inside a large saucepan. To protect your pudding from water seeping inside it, I like to add another layer of foil, but this time stand the covered pudding on a circle of foil and bring the foil up the basin sides as far as possible. Now sit 1 pudding on top of the upturned saucer. A slice of lemon in the saucepan water will help prevent discoloration to your pan. Pour boiling water into each pan to come halfway up the basin. Cover and bring to the boil. Reduce to a simmer for 6 hours, topping up with boiling water if necessary. Top up with boiling kettle water regularly, so that the pan does not boil dry.
Another old fashioned method of cooking a pudding with a steamer, is to wrap the covered pudding in a clean, square white cloth. An old clean damask table napkin is very suitable for the purpose. Then tie the ends of the cloth and support the basin in the saucepan by threading either two long skewers or a wooden spoon through the tie end handle. Rest the crossed skewers or wooden spoon across the top of the saucepan, so that the basin hovers at the top of the hot water. Cover the pan and keep a close eye on the boiling water, to ensure the pan does not boil dry.

For a darker pudding I always leave my Christmas puddings in the steamer, or saucepan for a further two hours without lifting off the saucepan lid. The pudding continues to cook as the water and saucepan cools down.
The photo right shows a pale mix where treacle was not used. To get a dark colour that mix would need steaming for 8 hours.
Oven Steaming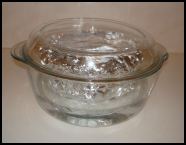 It is possible to create a small steam bath in your oven if you are very careful. I sometimes make the mini Christmas puddings this way. The large roasting deep dish by Lakeland is a good choice and can easily be covered with tinfoil. A chicken roaster tin, a large Pyrex casserole or fish kettle can also be used this way. The photo left shows a full size 2 pint Christmas pudding prepared for oven steaming in a casserole filled with 2 inches of boiling water. Read more about oven steamed puddings here.
For the mini puddings: preheat the oven to 150C/gas 2. Place the filled tins in a deep roasting tin or covered casserole. Next fill the vessel with boiling water until it comes halfway up the sides. Cover the casserole/tin with aluminium foil or a lid and bake mini puds for 4 hours, the full 2 pint pudding for 5 hours.
Leave to cool in the oven or eat immediately!
N.B.Do not use plastic lidded bowls with the oven casserole method.
Pudding Removal and Storage

I like to remove the puddings from their basins when they are still just slightly warm. This makes the job much easier when wrapping with 2 layers of clean fresh greaseproof wrap. When the pudding is left in the basin to become totally cold, it is a less easy, or pleasant task to remove it even when the basin was well buttered. The cold greasy pudding wrappers may become more firmly stuck to the Christmas pudding and then the job gets fiddly and takes longer.
Do not omit wrapping in fresh greaseproof paper as puddings can go mouldy if the original damp greaseproof is left on them for more than a few days.
The following day assuming you have double greaseproof wrapped your pudding and when the puddings are quite cold, I wrap each pudding in a final layer of aluminium tin foil and then put them in a freezer quality polythene bag.
Store the Christmas pudding in the fridge or a cold place. Many of us today also have a garage fridge, and 6 well wrapped puddings can easily take up a shelf there. If you intend to keep the puddings for a long time then feed them with alcohol. For me what really makes the pudding flavour is the muscovado sugar and zesty citrus lemon, whilst the texture is helped to stay light rather than stodgy by the mix of self raising flour, fresh white breadcrumbs and suet.
Cooked Christmas puddings for gifts can be titivated with coloured tissue or holly gift wrap and bows.
Top Pudding Tip - If they are special gifts make sure you add an instruction tag or label with reheating information. As with all cooking and preparation you must do as fits your own personal time schedule. I have never seen the gift of a home made Christmas pudding in a blue freezer bag straight from my refrigerator ever rejected by any friend or visitor calling on me!
But you might like to add a correctly sized new Pyrex basin to the gift, especially if it is someone who does minimal cooking other than at festive times. A pot of Brandy Butter or some of my home made ginger truffles could complete this home style gift.
To Reheat Your Christmas Pudding
Re-steam any pudding over 1 pint in size for a minimum of 11/2 hours preferably 2 hours. 35 minutes is sufficient for the mini puddings.
Microwaving puddings.
I am not keen on Christmas puddings being microwaved. It can be done, but the results are not as good as re-steaming your pudding. If you must do it you will improve the microwaving by adding 1 tablespoon of water to the surface of the Christmas pudding. Make some holes in the Christmas pudding using a skewer and cover the pudding with Clingfilm (Gladwrap). Make a few holes in the film.
Microwave on high for 2 minutes, rest for 2 minutes and then microwave 1 or 2 more minutes more according to your oven wattage. Do not microwave the pudding for more than 5 minutes. The sugar in it will start to burn, the fruits will overcook as they are sugary and soon the pudding will get toughened.
For a funny story on this read the Microwave Christmas pudding story page at my husband's clean jokes site where you can find stories, urban myths funny pictures and jokes suitable for your maiden aunt or grandma.
To Serve Your Christmas Pudding
Simple - Decorate with holly and dust with icing/confectioner's powdered sugar. The pudding can be served with brandy butter, Grand Marnier butter or double cream. Sweet white sauce flavoured with brandy is also very nice.
Crunchy - Toast some flaked almonds in a little butter in a pan and sprinkle over the pudding. Dust with icing sugar.
Theatrical - But the final flourish to any Christmas pudding is the 2 or 3 tablespoons of warmed brandy poured over the pudding and ignited to burn off the alcohol. First make sure your pudding is in a large serving dish so the alcohol can float around the Christmas pudding. NEXT - dim the lights in anticipation of the flambé.
For successful brandy/alcohol ignition you must first use sufficient brandy and secondly warm your brandy lightly in a small saucepan to aid flambéing. But do not boil the brandy. I have found 20 seconds in the microwave is an alternative and quick method. Since flaming a Christmas pudding can be a hazard, make sure the pudding is placed on an ample dish. Anyone wearing hair spray or hair shine products should stay out of the way as this becomes a moving blue flame and hair spray does ignite almost as easily as the flambé.
Economy Tips
You may also use whisky just as successfully for flambé as brandy, but instead will have a distinctive warm whisky flavour. If you like Baileys you'll like whisky on your Christmas pudding.
The credit crunch means you may be economising and not adding to that drinks cupboard this year, making do with what it contains already.
If you are on an economy drive and have no grand Marnier, but have some basic drinks in the house, try adding the zest of an orange to a small jam jar of gin or vodka, leaving it for 2 or 3 days and then using that instead. It is a thrifty solution.
Pouring whisky over raisins and leaving them in a jar for a week creates a dark rum type liquor you could also use. The soaked raisins are delicious too on plain vanilla ice cream.
Non Alcoholic Citrus Squeeze
If you love citrus desserts, squeeze or skewer the juice of a lemon or an orange over the cooked pudding and have an extra citrus tang, but which is non alcoholic. If you have sweet tooth add some icing sugar to the fresh citrus juice.