Christmas Tradition - Sugar Modelling‡ Paste
‡ In the United Kingdom Modelling is the correct spelling, however, I realize that in the USA there is only a single 'l', modeling paste.
Following on from the theme of A Child's Christmas in Wales, here is a recipe I have used for years to make modelling paste for sugarcraft Christmas decorations for the cake and other items. The recipe can of course be used to model items of sugarcraft for weddings and other special occasion cakes.
If you plan to do fancy decorations on the iced cake then start early and prepare your sugarcraft items so that they dry off to be very hard and can be coloured without damage in good time.
In latter years when making the cakes for friends as gifts I have adopted the plaque method in the picture below, which involves covering a thin or medium thickness cake board of the same size or smaller size than the finished cake. I completely cover the plaque board with fondant icing sugarpaste or modelling paste. It needs to be left for a few days to set really hard and can be trimmed with narrow ribbon or braid or if to be fixed on the cake edged with shell piping or lace work or whatever pleases you.
I then place the sugarcraft Xmas arrangement on the plaque and this can be set atop the iced cake. A dab of icing will secure it and it can simply be removed from the cake before it's cut, keeping the decoration intact to be admired and to be available for use another time or reassembled with slightly different flora.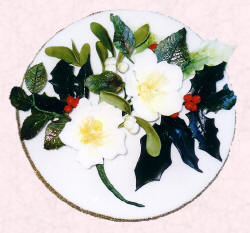 The holly leaves and very shiny berries on the plaque decoration above, have been glazed with a special glaze for the purpose, giving them the glossiness that real holly leaves and berries have.
The recipe for modelling sugar paste below was given to me by an expert in sugar craft. This is not the same paste as fondant paste used to cover the cake. I always simply buy Renshaw's fondant from the supermarket for that. Whitworths also make a similar paste. True modelling or Mexican paste is harder to find and you may need to visit specialist shops. The internet is a good source for online supplies of sugarcraft materials.
This modelling paste recipe is made in the Microwave and I like it for items where a large number of bases such as buds for roses need to be prepared or figures or bigger items or moulds need to be made. It is ideal for snowmen for example, where using Squires professional sugarpaste might become prohibitive cost wise.
...(v4r)
Why? Well it works out much less expensive than the commercial version and can be made at home on hand at convenience once you acquire the more unusual products like gum tragacanth and liquid glucose. You can use it for modelling flower petals, but usually when doing sugar craft I also have on hand some Squires sugar paste and the latter makes exceptionally pure white petals for lilies and stephanotis etc. This though is perfect when the petal is coloured either in the paste or by colour dusting.
Likewise I always have a packet of the Squires Xmas red and holly green sugar paste in my workbox as it is difficult to get depth of colour with rich deep colour pastes such as these. The best holly looks like dark green lacquer and the nicest ivy is variegated from pale to dark. Once for a very special big '0' birthday, I made a chess board cake for my husband using this paste to make the chess figures as it was so much more economical than buying the Squires paste. With time it set very hard. I could not colour it black enough directly in the paste without getting it more than a charcoal or a too wet paste, so I used black food dye to paint each piece twice.
For pure white flowers you cannot in my opinion beat Squires flower paste, but for flowers that need to be white, yet not crystal white and are likely to be tinted this paste recipe is marvellous. The cake plaque in the header with a poinsettia has been made using a combination of commercial red paste and the mistletoe and berries made with this paste recipe. The poinsettia is on a double plaque and the cake sides were made to appear quilted using an impression mould. Dragees were added to appear as stitches. Very fine green coated wires twisted around tubes can create the ivy tendrils that trail. This modelling paste is also economical for items such as the spadix in the calla lilies on this cake. By the time they are coated with coloured sugar the paste need not be the purest of whites.
You are reading an original How to Make Sugar Modelling Paste for Sugarcraft Flowers and Cake Decoration food article by Pauline Weston Thomas at www.fashion-era.com ©.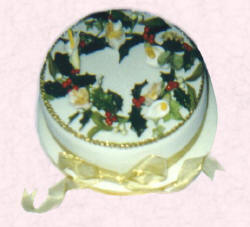 Microwave Method

Time 15 minutes standing, 15 minutes making, 1 Hour Resting

Ingredients

1lb (500gm) of icing sugar (Confectioner's dusting powder)

4 teaspoons of powdered gelatine - in the UK this is one packet

50 ml water exactly

2 teaspoons liquid glucose

2 level teaspoons gum tragacanth or use CMC (Carboxy Methyl Cellulose) instead

1 teaspoon of Trex, Spry Cookeen or White Flora vegetable type fat

Note the glucose is essential for elasticity and the gum tragacanth gives hardness and strength.

1 wooden Spoon - use for all stirring sieving

I Pyrex jug

1 sieve

1 large mixing bowl

6 strong polythene freezer bags

A teaspoon or so of extra white fat.

Method

Prepare the gelatine by putting the water into a Pyrex jug and sprinkle on the powder gelatine. Stir to mix then allow to stand for at least 15 minutes.

Next sift the icing sugar and gum tragacanth into a large bowl.

Now after the 15 minutes put the gelatine mix in the microwave oven and heat on medium/low setting dependant on oven for 15 to 20 seconds until lukewarm.

Make sure the gelatine is fully dissolved, if it isn't give it a little more heating if required.

Now add the glucose and the white fat and rewarm for 30 seconds ensuring all is dissolved and fully melted.

Mixing up the Modelling Paste

Metal spoons cause greying so use a wooden spoon to make this.

Make a well in the centre of the icing sugar mix and add the warm liquid, pouring it all in at once. Initially mix it with a wooden spoon and then your hands.

The mixture will look all wrong at first sight like threads of cooked poached egg. BUT keep mixing by hand now until it draws together.

Put some white fat on your hands (more than once if required and knead really well. All of a sudden it will come together and seem like a fondant paste.

Shape it neatly and now cut it into 4 or 5 pieces. Put each piece into a separate strong polythene bag, wrapping the bag around it well, then put those bags into another polythene bag and finally put them all into a strong plastic sealed container.

DO NOT USE CLINGFILM (GLAD WRAP) AS IT MAKES IT WET.

Leave the paste to rest for 1 hour at least, preferably 24 hours before use. When you make it in sections this paste can easily be frozen 2 hours after making. You can also keep it in the fridge for 2 weeks for normal use. But I have had best results with this paste by using it within 48 hours of making it.

If you know you intend to keep the paste for a fair time smear the thinnest layer of hand warmed white vegetable fat over the surface of each paste section before wrapping up.

Use the paste to make fine flower petals, leaves and holly, snowmen, boxes, stars.

These autumnal leaves, chestnuts, acorns and hypericum (St. John's Wort) berries, maple leaf, wheat stalks and oak leaves were all made by me using this modelling paste recipe. All items have been dusted with food powders, steamed and when dry glazed with sugarcraft glaze for extra shininess.

Click for enlargement details.

This straightforward cake I made for millennium night uses the simple theme of crosses for Christianity plus a single large celebratory candle which was lit at midnight as the bells rang in the new millennium. Omit the crosses, and the silver coated star decoration on the built up cake board base and random squiggle work would be easy to do all over a Christmas cake.

You have been reading an original How to Make Sugar Modelling Paste for Sugarcraft Flowers and Cake Decoration food article by Pauline Weston Thomas at www.fashion-era.com ©.
‡ In the United Kingdom Modelling is the correct spelling, however, I realize that in the USA it only has a single 'l', modeling paste.
§
Page Added October 2006
See Topics Below for More Ideas on Christmas Traditions, Customs, and Recipes
-------- Link Pink ---------
Christmas Crafts

Seasonal Humour

Christmas Traditions
Custom Search
About Fashion-Era.com
Fashion-Era.com looks at women's costume and fashion history and analyses the mood of an era. Changes in technology, leisure, work, cultural and moral values. Homelife and politics also contribute to lifestyle trends, which in turn influence the clothes we wear. These are the changes that make any era of society special in relation to the study of the costume of a period.

Fashion-Era.com can take no responsibility for any information on the site which may cause you error, loss or costs incurred from use of the information and links either directly or indirectly. This site is owned, designed, written and developed by author: Pauline Thomas and Guy Thomas. This site is designed to be viewed in 1024 X 768 or higher.
ALL RIGHTS RESERVED. Fashion-era.com reserves the right to add or delete information, graphics and links. Copyright © 2001-2014 on all content, text and images in Fashion-era.com. Images and text in this website may not be used on other websites.
Before you write to me for costume/fashion help or information please, please consult the extensive sitemap which lists all our pages. If you still cannot find the answer after searching the site, then before you email me, please consider if you are prepared to make a donation to the website.
Donations
Reader's donations help this site flourish, in particular donations encourage me to write more articles on fashion history as well as current trends. PayPal allows anyone with a credit card to donate easily and securely. You may donate any sum you feel appropriate.