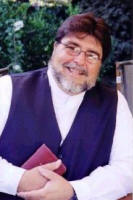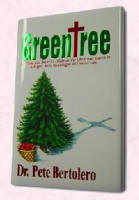 Father Peter Bertolero first wrote last year to tell me of his book GreenTree. I think many visitors who find themselves browsing my Christmas pages may well be seeking the kind of observational information Dr. Bertolero writes about in his book GreenTree. The book captures the essence of many Christmas traditions and celebrations.
He wrote 'Should you be interested in more information on Christmas traditions, and if there is any chance that Jesus was born on December 25th, for instance, or if the use of Christmas greenery such as holly, and evergreen trees is ok ....interesting stuff like this, not argued for over the past 50 to 100 years, is in the book. It is very empowering for those families who want to deepen their Advent and Christmas observations, and helps them celebrate the birth of Christ more festively. '
So, yes I was interested in Dr. Peter Bertolero's thoughts and observations and here below with Peter's permission, is a copy of his article describing his GreenTree book.
GreenTree by Pastor Pete Bertolero
Have you ever wondered if Christmas trees have any place in the celebration of Christ's birth? Is there evidence to prove that Jesus was actually born on December 25th or did the early church really borrow that date from a pagan celebration, as many believe? How can we avoid the materialistic influence of our world during the Advent season and yet still enter fully and joyously into the celebration of Christmas?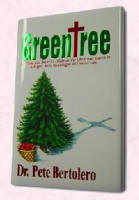 The answers and truths presented in GreenTree might surprise you. It gives the reader a deeper understanding of the traditions and symbols of Advent, Christmas and Epiphany, as well as a 'how to' manual for those desiring to observe the Christmas holidays more meaningfully.
GreenTree is a rich and practical resource that will bring lasting meaning to the observance and celebration of Christmas. The glossary alone is a wealth of information, citing the history behind many beloved Christmas carols, decorations, and holiday traditions. GreenTree welcomes you to a world of Christmas hospitality and joyous truths, helping you keep the light of Christ burning more brightly in your home this Advent season, and for generations to come.
Dr. Pete Bertolero is both a theologian and Pastor of 25 years of a dynamic and growing church, in Fresno, CA. His three doctorates include theology, philosophy and Christian leadership. His GreenTree writing style is enjoyable yet unique as is also evident in the family devotionals and valuable pastoral resources he has created.
Pastor Pete's Advent, Christmas and Epiphany sermons have sparked a renewal in many families toward making their 'Christmassing' more Christ-centred, Biblical, and fun.
Dr. Bertolero and his wife, SueJae, live in Fresno and are the proud parents of three teenagers.
‡
How to make Advent and Christmas Celebrations more meaningful, festive and Christ centred.
An easy to follow format for weekly devotions to deepen a family's understanding of Christmas
The real meaning of Christmas traditions, decorations and the ancient OT metaphor for curse - breaking and restoration - the Evergreen tree!
Valuable glossary and resources for parents, pastors, and Bible study leaders.
'A wonderful book to own, an even better gift to give!'
I think Dr. Bertolero captures the essence of many Christmas traditions and celebrations in his book GreenTree.
Countess Maria Hubert von Staufer - a world historian on Christmas and author of Christmas Archives International has recently reviewed Pastor Pete's book - GreenTree. There is virtually no other more respected or knowledgeable authority on International Christmas Traditions than the Countess.
The comments below on GreenTree are by Countess Maria Hubert von Staufer a world authority on Christmas...
'I rarely review Christmas books by other authors. I suppose, having studied the Festive Season in all its facets for some thirty years or more, I have become a little particular in my choices! Call it inverted snobbery if you will! Many books are re-writes of information which has been previously published, just taken from the previous generation of books, and without any new or original research to verify the old facts.

Our Victorian fathers were great historians and innovators. Many wished to get down the facts of Christmas (and other festivals of course) before they died out. The Reformation and the later Civil War in the 16th-17th centuries meant that many of our customs were banned as 'pagan'. Sacramentals, that is, church ceremonies which became customs, were forgotten for several generations, their religious significance lost and only the bones of a tradition left which no-one knew the reason behind. This then was the noble desire of the late 18th and early 19th century gentlemen, many of them clerics. They wrote books on customs, music, costume, dances, everything imaginable to prevent so much of our colourful history and custom being lost forever.

However, in several instances, facts were erroneous, taken from a scanty reference, and with no means available to them to cross-reference, these facts stood for all time as true. I have spent half a lifetime catching up on all the cross-referencing! And even then it is impossible to get all the facts right!

So this is why I am sceptical about recommending books. But so many have asked me to do so that I have begun to look for suitable titles to recommend.

So, here is the first of my recommendations: GREENTREE - A book about Christmas for those who desire to celebrate the Christmas season in a deeper, more meaningful and festive way by Dr Pete Bertolero.' End of Countess Maria's GreenTree book review.

My thanks to Father Bertolero for his help in introducing you to the Christmas book GreenTree.
§
The GreenTree
To buy the book read the information in this box directly below.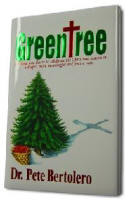 We DO NOT sell this book from this website. You can obtain it from details shown below.
ORDER THE BOOK GREENTREE FROM:-
The Legacy Christian Church and the address is:

The Legacy Christian Church (Admin. Office)
1788 N. Helm Ave. Suite 106
Fresno, CA 93727

Phone: (559) 225-0489
Website: www.thelegacychurch.net
PLEASE NOTE:- This is a review page of the worthwhile book GreenTree and you must contact the telephone numbers or details in this box to obtain the book which is priced at $19.95.
We DO NOT sell this book from this website.
You can obtain it from the details shown above
Page added 10 December 2006. Ref P619 Updated 19 Feb 2009
See Topics Below for More Ideas on Christmas Traditions, Customs, and Recipes
Christmas Crafts

Seasonal Humour

Christmas Traditions
Custom Search
About Fashion-Era.com
Fashion-Era.com looks at women's costume and fashion history and analyses the mood of an era. Changes in technology, leisure, work, cultural and moral values. Homelife and politics also contribute to lifestyle trends, which in turn influence the clothes we wear. These are the changes that make any era of society special in relation to the study of the costume of a period.

Fashion-Era.com can take no responsibility for any information on the site which may cause you error, loss or costs incurred from use of the information and links either directly or indirectly. This site is owned, designed, written and developed by author: Pauline Thomas and Guy Thomas. This site is designed to be viewed in 1024 X 768 or higher.
ALL RIGHTS RESERVED. Fashion-era.com reserves the right to add or delete information, graphics and links. Copyright © 2001-2014 on all content, text and images in Fashion-era.com. Images and text in this website may not be used on other websites.
Before you write to me for costume/fashion help or information please, please consult the extensive sitemap which lists all our pages. If you still cannot find the answer after searching the site, then before you email me, please consider if you are prepared to make a donation to the website.
Donations
Reader's donations help this site flourish, in particular donations encourage me to write more articles on fashion history as well as current trends. PayPal allows anyone with a credit card to donate easily and securely. You may donate any sum you feel appropriate.