Christmas Fancy Dress for Kids
It's so easy these days to buy ready made inexpensive fancy dress costumes for children. Gone are the days when parents struggled for hours with a wire coat hanger attempting to make 'wings' for a fairy or to make a magic star wand. I recall many years ago my sister having to sew two striped towels together with holes for the arms and head to create a biblical costume for a disciple for an an Easter story play.

My advice is just buy ready made low cost Christmas fancy dress costumes online from Marks and Spencers, Next, Peacocks, John Lewis, Woolworths or other UK high street stores.
Specialist costuming firms like Recollections and buycostumes.com have adult re-enactment items plus 'festive' velvet clothes for children too.
The fairy dress right was from Next. Debenhams, Marks, Woolworths and John Lewis all sell fairy dresses worthy of the finest fairies.

John Lewis had this lovely pink Disney Princess outfit of top and skirt shown right.
One of the very best selections of dress up, role play or fancy dress costumes I have seen is on the Woolworths UK website. Some stock is still arriving. I urge you to check out the broad range of role play costumes at Woolworths. They have animal costumes such as sheep, camels and reindeer, plus nativity costumes for the main characters.

In addition there is a great Snow White, plus a variety of fairy costumes, Darth Vadar, Batman, a gorilla, an elf and even a Policeman are typical of their selection. Most role play costumes at Woolworths are priced around £10 to £15. You can check their latest stock by visiting their online website.
They also stock Star Wars Lightsabres. For adults there are Santa suits for Father Xmas and Mother Xmas.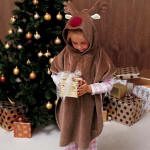 I noticed Marks and Spencer had many different dressing up fancy dress character outfits for children online. All the items were ranged between £8 and £20 and were quite varied including Harry Potter outfits for several male and female characters, a fairy outfit at £10, Batman, Superman, Mr Incredible, and a pirate suit.

Babies were not neglected and there was a wonderful baby Santa outfit at £8 and a baby reindeer outfit too.
You can check the latest stock selection by visiting their online website.
Next.co.uk also has a great toddler reindeer wrap shown left. This is perfect for a wandering toddler on Xmas morning who just refuses to dress when engrossed in Xmas toys. The toddler would be safe and warm and there will be no fuss about getting covered up as the reindeer item is a fun outfit to wear. The Xmas pudding hat for baby is also from NEXT - love it.
»

For little ballerinas use this Simplicity Tutu and Ballet dress pattern and make an outfit exactly as your little prima donna ballerina sees herself!! It is Simplicity pattern number 5136 and is available from Simplicity.com . Or you could use this Bella ballerina tutu from Woolworths.
In the UK you can get great low cost ballet wear tutus and fancy dress at thetutushop.co.uk. In particular they have variations of net tutus that are perfect for current looks of visible net petticoats showing beneath skirts. Various lengths and colour mixes of net are available.
If you need a wand or wings in a hurry this may be a good choice. A hair ornament I ordered on a Monday over the internet arrived promptly Tuesday morning. Great service.
If you are seeking theatrical standard custom made costume items for children, you could check out my page on Shirley Eborn.
Ω
You can see more sewing patterns for Christmas fancy dress costumes on this new page. Meanwhile, below are a few styles for all year outfits you could easily run up if you like sewing. The Harry Potter ensembles are especially good and you will find Star wars patterns and other fun fancy dress patterns for children, adults and men at the Simplicity.com website.
You can see more sewing patterns for character fancy dress costumes on this new page. It includes Wizard of Oz costumes and other fancy dress all suitable for children.
All sewing pattern images courtesy of Simplicity.com
Page Added 19 November 2005.
See Topics Below for More Ideas on Christmas Traditions, Customs, and Recipes
Christmas Crafts

Seasonal Humour

Christmas Traditions
Custom Search
About Fashion-Era.com
Fashion-Era.com looks at women's costume and fashion history and analyses the mood of an era. Changes in technology, leisure, work, cultural and moral values. Homelife and politics also contribute to lifestyle trends, which in turn influence the clothes we wear. These are the changes that make any era of society special in relation to the study of the costume of a period.

Fashion-Era.com can take no responsibility for any information on the site which may cause you error, loss or costs incurred from use of the information and links either directly or indirectly. This site is owned, designed, written and developed by author: Pauline Thomas and Guy Thomas. This site is designed to be viewed in 1024 X 768 or higher.
ALL RIGHTS RESERVED. Fashion-era.com reserves the right to add or delete information, graphics and links. Copyright © 2001-2014 on all content, text and images in Fashion-era.com. Images and text in this website may not be used on other websites.
Before you write to me for costume/fashion help or information please, please consult the extensive sitemap which lists all our pages. If you still cannot find the answer after searching the site, then before you email me, please consider if you are prepared to make a donation to the website.
Donations
Reader's donations help this site flourish, in particular donations encourage me to write more articles on fashion history as well as current trends. PayPal allows anyone with a credit card to donate easily and securely. You may donate any sum you feel appropriate.