Christmas Paper Dolls & Books - Ideas
Christmas Customs - Ideas for Xmas
Christmas is a time when people are looking for Xmas gift ideas not only for others, but the fulfilment of ideas for themselves. Whether child or adult when you know someone loves crafts, drawing, art related textiles, software or fashion design, it's nice to find a gift suited to their personality.
For many years Bonnie Holden was a fashion illustrator and later became a painter of Victorian themed paintings. You may already be familiar with her nostalgic work which is sold by stores such as Nordstrom and Disney. She has also created images of Victorian ladies for Avon Cosmetics.
Bonnie now also writes stories and creates the paper doll artwork for a young Victorian lady called Rebecca. Rebecca is a very special young Victorian lady who grew up in Charleston, S.C. before, and during the post Civil War period. Rebecca's early years were in a period when Charleston a wealthy city, but the Civil War changed all that. Rebecca has many adventures in her youth, but the sixth and last book of the series is 'Rebecca's Christmas'. The images are quite magical and if you love paper dolls this series is a must for you.
Bonnie Holden's
Paper Dolls Sample
Paper Doll Images Courtesy of
Bonnie Holden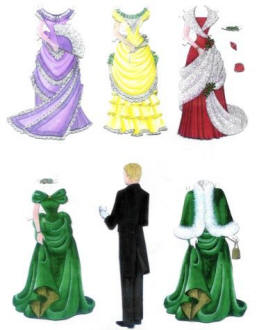 One particular feature I wanted to tell you about is the personalization of these paper doll creations that Bonnie can do for you if you want the products custom-made.
Bonnie Holden can change the paper doll's hair colour in any scenes and can also change the complexion so that people of any race can have a culturally friendly gift.
Amazingly she does not charge extra for this service. There are other features that Bonnie can add or subtract to her work especially for you to make it a very personalized gift. You can read much more about paper dolls at Bonnie's site called victoriancollection.com
‡
A Selection of Christmas Paper Dolls & Books

Most of these paper doll books feature Christmas themes or may interest young girls who like ballet and fairies. Some books are stickers and a few are pop up books. Use the search facility to find many more paper doll fashion pages on this site.


Santa Claus Paper Dolls in Full Color


Winter's Tale: An Original Pop-up Journey

Christmas in Camelot (Magic Tree House Series #29)

Teddy Bears Trim the Tree: A Christmas Pull-the-Tab Book

Snowmen at Christmas

Polly Pratt Paper Dolls

Fashion Angels - A Heavenly Wardrobe

Papercrafts Around The World

Three-Dimensional Victorian Doll House

Felicity Wishes Snowflakes and Sparkledust

Nutcracker Ballet Paper Dolls

Flower Fairies Paper Dolls


My Book of Little House Christmas Paper Dolls: Christmas on the Prairie (Little House Series)

Nutcracker Sticker Paper Doll


Christmas Angel Sticker Paper Doll


Paper Doll Christmas: Holiday Fun for Creative Kids
§
Page Added 19 November 2005
See Topics Below for More Ideas on Christmas Traditions, Customs, and Recipes
Christmas Crafts

Seasonal Humour

Christmas Traditions
Custom Search
About Fashion-Era.com
Fashion-Era.com looks at women's costume and fashion history and analyses the mood of an era. Changes in technology, leisure, work, cultural and moral values. Homelife and politics also contribute to lifestyle trends, which in turn influence the clothes we wear. These are the changes that make any era of society special in relation to the study of the costume of a period.

Fashion-Era.com can take no responsibility for any information on the site which may cause you error, loss or costs incurred from use of the information and links either directly or indirectly. This site is owned, designed, written and developed by author: Pauline Thomas and Guy Thomas. This site is designed to be viewed in 1024 X 768 or higher.
ALL RIGHTS RESERVED. Fashion-era.com reserves the right to add or delete information, graphics and links. Copyright © 2001-2014 on all content, text and images in Fashion-era.com. Images and text in this website may not be used on other websites.
Before you write to me for costume/fashion help or information please, please consult the extensive sitemap which lists all our pages. If you still cannot find the answer after searching the site, then before you email me, please consider if you are prepared to make a donation to the website.
Donations
Reader's donations help this site flourish, in particular donations encourage me to write more articles on fashion history as well as current trends. PayPal allows anyone with a credit card to donate easily and securely. You may donate any sum you feel appropriate.