Women's Fashion History - Coats 2006 - 2007
Coats Fashion History 2006
The Return of Women's Coats
In fashion history terms, at the start of the noughties decade neither the knee length winter coat, nor the full length winter coat was a force in fashion. But slowly the woman's winter coat, like the dress, returned as a stylish winter fashion option. By the mid noughties many attractive coat styles emerged. Gold tones like these in the Miss Selfridge coat right added a new sunny colour and complimented metallic and brocade fabrics of the same period.
Dries Van Noten created fabulous print duster coats for 2006. Alberta Ferretti and Burberry also opted to go with sumptuous silk dusters too, bringing brocade coats to fashion. Right - A golden coat fashion look from Burberry.
The duster coat was originally a plain Edwardian cover up coat to protect finer clothing on dusty motoring car journey of the 1900s. Later the duster coat became a 1950s and 1960s fashion mainstay. The duster coat always been a faultless lightweight, easy wear cover-up useful on chilly spring days or summer evenings. The 1950s duster coat helped create a clean and groomed finish. This fashion look of 2006 owed much to the houses of Burberry and Dior.
For 2006 the House of Dior created double breasted 60's coats with a wide set collar in pure Jackie Kennedy style. Many of the new style 2006 coats shaped with a 60s cut, had the fashionable three quarter or seven eighths sleeves. Some styles were a little more fitted.

The fabrics used are the trademark of a good duster coat. Simple in cut and often edge to edge, with three quarter sleeves, these duster coats are mostly worked in sumptuous fabrics. Materials such as rich gold brocade, duchess satin, tapestry style brocade, ribbed ottoman silks, cloque, twilled silks, plisse and textured cotton pique perform well. It was the rich materials the designers used that created the royal princess real lady debutante effect. This was the real start of more ladylike dressing for the noughties decade and sophisticated way beyond the womanly, but careless look set by the Boho gypsy skirt
For Spring 2006 fashion designer Christopher Bailey, working for Burberry, captured the nostalgia of Princess Margaret. In her heyday she looked youthful, worldly and sophisticated. To cap this, she also owned a couture wardrobe and elements of this wardrobe influenced the Burberry Prorsum collection shown in September 2005.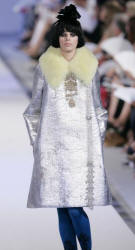 Duster coats soon became a strong directional trend for 2006. The looser easy duster styles sat easily over new volume and fuller skirts and fuller dresses. The more voluminous lower silhouette began to need a fuller, easier more elegantly cut coat.
Christian Lacroix uncharacteristically used simplicity as the golden rule for his textural silver-metallic trapeze coat and trimmed it with a bold, shoulder-defining fox fur collar and decorative metallic-beading accents. Taking modernism to the extreme, designers mixed fur and fabric in sculptural silhouettes with subtle details.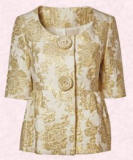 Naturally there were brocade jacket coats too. Gold, yellow and mustard clothes were very much a seasonal must-have in Spring 2006.
Right - Dorothy Perkins - Gold brocade jacket.
The jacket had all the features - elbow sleeves, shaped waist, big saucer buttons and soft volume to the jacket skirt.
Ironically it took several years for this look to become more mainstream with matching/coordinating dresses and coats for occasion wear, ladies days and very formal dress up events.
In 2006 this look was worn primarily as a buttoned up coat kept firmly buttoned and worn like a coat dress, making it ideal for evening functions, theatre and dinner events. But by 2010 this was a staple look found in the collections of every high street fashion retailer who specialised in occasion wear. Brands like Zara, Planet, Windsmoor and Hobbs all lined up their version of a brocade coat on their racks.
In 2006 the metallics broke new ground and golden looks in general gained momentum appearing across dresses, coats and jackets adding elegant glamour. In addition to golden brocades used for coats in 2006/7, there was a noticeable rise in honey toned, blush and camel fabrics for outerwear. In retrospect its easy to see that a main trend has been the adoption of camel and blush champagne tones in the latter noughties.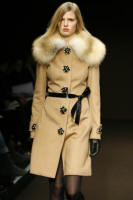 .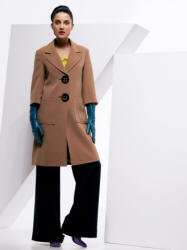 Gold as a colour was featured in every autumn 2006/7 collection. Gold ranged from expensive looking honeyed camel and caramel tones through sunshine yellow to true mustard gold to the deepest amber tones. Large fur collars, oversized buttons, checks and three quarter sleeves all gave coats a 50s fashion feel.
Mid decade the proper grown up coat was back on the racks.
This classic camel coat right was from Wallis and was part of their new 'W' Limited Edition range. What made it bang up-to-date for autumn 2006 were the oversized, contrast, large saucer buttons and the just-below-elbow sleeves. The finish below elbow sleeve fashion trend had been seen in jackets for several seasons, but only really reached major mass produced women's winter coats in autumn 2006. You are reading an original women's coats of 2006 article by Pauline Weston Thomas at www.fashion-era.com ©. Left - Image courtesy of IFTF.
‡‡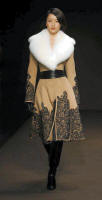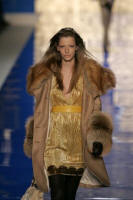 Hot on the heels of opulent looks was fur. Luxurious fur, both faux and real continued to have a following. It was used in innovative ways to create whole garments from shrugs to capes to the skirts of coats. Fur trim details were very important. Smartly tailored and volume coats were all highlighted with fur collars and cuffs.

Fur shawl collars were also larger than ever in their width.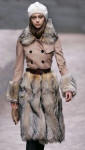 The shapely collars were often teamed with roomy coats of cocoon volume as this photo right shows. Big collars made the biggest statement, but neat 60s influenced contrast white or cream Peter Pan collars were another way to update.
Abundant fur trim was used on jackets and styles like Burberry trench coats had fur trims including collars, cuffs or hems. Sometimes part of a whole skirt of the trench coat was made in fur as shown near left. Images courtesy of IFTF.
From June 2006 designer brand Polo Ralph Lauren stopped using fur right across its product range. They do however still use Shearling leather deer and goat skins.
Deep Shades of Purple - Designer Clothes
Purple was one of the jewel colours of autumn 2006. These designer belted thigh skimming mini coats in rich purple made a statement that said opulence.
Designer Fur Images courtesy of IFTF.
Further below can see the Sixties influence in these stylish women's winter coats. These mini-coat styles here all cropped up again and again and were across all the high street shops in the winter of 2006. Being mini and basically thigh length, this style was also perfect for car use, making it a fashion 'must have'. This retro dollybird fashion style displayed between four and eight large buttons on the chest line of these coat. The buttons were arranged with military precision in a double breasted alignment.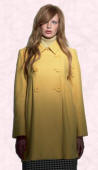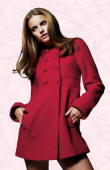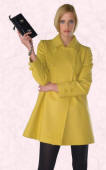 The coat hemline swept into a typical sixties A-line swing. These 2006 mini winter coats were by Matalan, French Connection and Debenhams. Red and yellow emerged as a new bolder bright hues and the silhouette was modified only slightly to create yoked and waist versions in 2007.
In 2006/7 necklines had an air of volume about them. They were larger, wider or higher. De la Renta showed snug cropped Shearling jackets with huge bertha collars. The high street followed with large wide set bertha or face framing picture collars and super high funnel neck collars.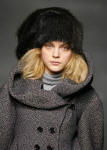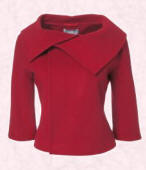 These big wide set collars gave non fattening volume and drew attention to the face without over bulking the body. The big collar made a strong fashion statement. One very attractive red jacket on the high street was this one right from Wallis. It had an especially wide collar and shaped cinched in waist. It captured the mood of the shorter fitted jacket of 2006/7 as opposed to the swing jacket style below.
A few designers began using much, much wider lapels 70s style. Matthew Williamson used oversized 1970s collars and lapels in his shows and Valentino created a layered coat over a double coat effect, so there appeared to be two collars of contrast coordinating fabrics.
§
Plenty of jackets were short and skimming with modern clean boxy, sixties lines. They were ideal to team with wide cut leg trousers creating an overall effect of snappy elegance. The look was of fuller sleeves and swing back little jackets intended to be paired with narrower jeans or trousers. Yellow jacket Image courtesy of Miss Selfridge.
Volume in short jackets soon led to more volume in coats and cocoon volume coats gained followers. The new volume look became more accepted as women began to understand how to wear just one volume piece and balance the rest of the silhouette with a slimmer contrast line.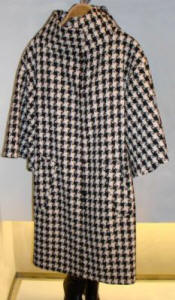 In autumn 2006 the most important new sleeve shape was a revived style from the house of Balenciaga. Balenciaga first showed a collection in Paris in 1937. For 30 years Balenciaga dominated fashion as the most influential couturier. The Balenciaga style cutting on coats and jackets reintroduced us to a fulsome easy sleeve design Balenciaga used 50 years ago.
Zara was good at catching the fashion moment. Volume was big news and two of the easiest ways to add volume was with a fuller sleeve and the picture collar or interest collar.
This cocoon coat was displayed in my local Zara store in 2006 was their terrific take on the latest look in coats. The fashionable shorter coat played heavily on black and white dogtooth or hounds tooth checks or other plaids.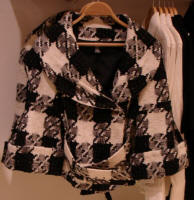 Sleeves became one of the most forward looking areas of fashion interest. The sleeve style for 2006 defined often the most minute small changes, but which instantly updated a garment. A garment with a just below elbow balloon sleeve or a bell sleeve looked correct for autumn 2006.
The fuller balloon sleeve and the shorter fuller bell sleeve in all its forms was new to a generation. This was a refreshing new fashion look when the jacket or top was teamed with a fitted hip and waist defining garment.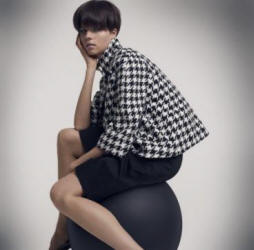 This black and creamy white, large check, short jacket above left at Zara 2006 was hot on trend with its large collar, belt for a cinched in waist and three quarter cropped bell sleeves with deep cuffs.
All the elements were there to add long gloves, or visible contrast knits beneath the cropped bell sleeves.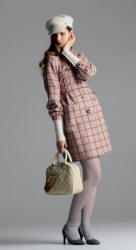 Dorothy Perkins (right) sold this cropped, hound's-tooth check, swing jacket. It had similar basics to the Zara coat above left and both jacket would have been easy to team with slouchy trousers.
Plaid fabrics were bold and although many were black and white or charcoal/cream/grey mixes, every size of check variation was available and many colour combinations.
The pink windowpane check coat was from New Look. It captured the 2006 young spirited sixties mod look and was especially youthful and cute style wise. The long buttoned cuff of the skinny knit sleeves beneath it created an interesting meet between the two sleeve styles.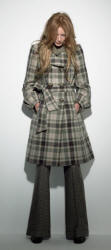 The belted tablecloth check plaid coat right in dusty greens was from Debenhams. The sleeve volume was reined in with a cuff band. The wide lapels gave it a retro seventies styling, but the belt and 70s flare effect was the point of the coat.
Easy lines and simply shaped plain coats that fitted in with everyday wear lined the clothing racks.
A fashion staple of 2006, the belted trench coat was made in several lengths and acted as a versatile easy throw on coat or Mac suitable for all situations.
The trench coat was a practical cover up fashion garment throughout 2006. Newer style trenches had more voluminous lower flared skirts. There were also short belted trench coats and wrap style jacket coats with turn back lower lapels, but no back collar stand.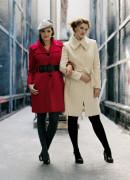 Grey coats were an easy urban foil to brighter reds and purple coats. This grey coat mixed several trends of trench style, big volume sleeves and bold big buttons.
For plus sizes, Evans had some updated, but classic women's winter coat styles. These two examples to the left are both from Evans. Styled as tie-belt trench coats notice how much wider the collars were and that both coats were above the knee line. Such coats were ideal for layered looks and went well with contrast opaque tights or leggings. Each coat had all the essentials of the fashionable women's winter coat of autumn 2006 and the colours red and cream were of the moment. You are reading an original Fashion History of 2006 Coats article written by Pauline Weston Thomas© at www.fashion-era.com ©
‡
Bright red coats were fashionable in fall 2006.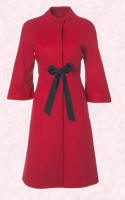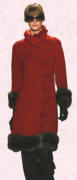 This red coat near right by Wallis, was trimmed with a black grosgrain ribbon at the raised waistline band. The kimono bell sleeves were a fairly new style and because they accommodated sleeve layers well, were easy to wear. The new fuller skirts meant women were looking for coats to wear over the greater bulkiness of fuller skirts.
The mini red coat far right was from Dorothy Perkins and it captured all the youthful easy wear facets of the sixties modern look. It looked good teamed with laced up or bow trimmed ankle bootie shoes, leggings or snazzy tights like the tartan tights the model wears in the photograph. This red coat near left with sable fur cuffs and hemline trim, was by fashion designer Oscar de la Renta. I believe this coat was the source of inspiration for several high street versions.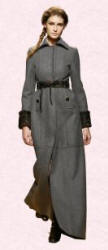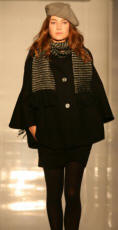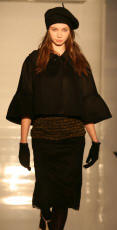 In Autumn 2006 women were spoilt for choice between short mini-coats, cape like jackets, Balenciaga style volume coats or full length maxi coats.
Right - Grey Military Line Catwalk Maxi Coat.
Left - Coats in 2006 from Oasis.
The trends for coats in winter 2006/7 were towards sixties A-line, empire line, or a combination of these elements. They swung with volume, or were wrapped and belted.
Whatever a woman's shape there was a coat to suit her figure.
Coats Fashion History 2006 - Sleeve Lengths
One important recurring feature to note were the three quarter and elbow generous wide bell sleeves. Both these coats from Oasis shown above right were just the coats to pair with short and fingerless gloves and especially long leather gloves.
Long leather gloves began a revival as an essential fall 2006 fashion accessory. Coats and jackets were teamed with berets or baker boy hats, making for a practical easy to wear look for colder days.
Right - Wallis 2006 camel coat with three quarter sleeves.
Short jackets with metal buttons and military embroideries, à la Imperial Army, complemented perfectly designed coats and fitted jackets. These were all in new proportions and intended to be worn over high-collared shirts.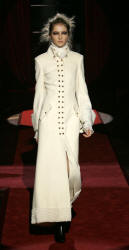 One of the most most important styling looks of the noughties was the military look. In autumn winter 2005/2006 there had been a strong trend of a Russian Look which used military elements to create a Russian style double breasted and military Cossack coat of Doctor Zhivago leanings - see left.
Left - Photo courtesy of IFTF of Dolce & Gabbana, Black coat/mink fringe.
The styling was from military severe long and straight revolutionary to softer and more feminine waist nipping Cossack inspired versions. Of course nothing could be further from the practical requirements of a military coat than this catwalk cream military maxi coat. White coat photos courtesy of IFTF.
The military look took inspiration from military coats and officer's dress uniform. Jackets cropped or lightly tailed from the waist were all richly balanced with body braiding, cuff and epaulette trims.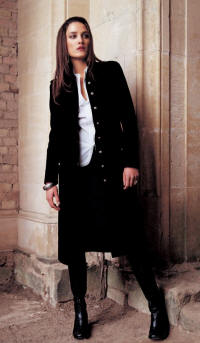 Retail shops Wallis of UK drew inspiration from the distinctive military trend for Autumn/Winter 2005, fusing old-world Russian style with their take on grown-up Edwardian elegance.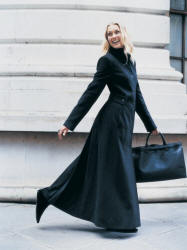 The military line coat far right is not just a black coat, but is made in luxurious velvet the fabric of autumn 2005.
Wallis image courtesy of Arcadia.
Rich metallic or self coloured matching braids, tonal frogging, soutache braid decoration or contrast colourful piping all added a military air to winter apparel and outerwear.
This maxi coat left and from Long Tall Sally was every bit as fashion forward as the designer coats shown above.
The high street brought a catwalk fashion coat to every woman who sought one in the autumn of 2006. I suspect there was hardly a woman who did not buy some form of military influenced garment in that decade. Military became one of the true fashion trends of the noughties decade.
Read more about 2007 or 2008 Fashion History of Women's Coats.
Images all courtesy of Matalan, Oasis, New Look, IFTF, Long Tall Sally, French Connection. Evans, Dorothy Perkins, Miss Selfridge and Wallis at Arcadia UK . Header image courtesy of
You are reading an original fashion history of 2006 coats article by Pauline Weston Thomas© at www.fashion-era.com ©
Fashion History Coats Page 2006 - Date Added July 2010. Page.777.
If you like this page then please share it with your friends
---
For more information about coats and cloaks click below:-
--Link--
Custom Search
About Fashion-Era.com
Fashion-Era.com looks at women's costume and fashion history and analyses the mood of an era. Changes in technology, leisure, work, cultural and moral values. Homelife and politics also contribute to lifestyle trends, which in turn influence the clothes we wear. These are the changes that make any era of society special in relation to the study of the costume of a period.

Fashion-Era.com can take no responsibility for any information on the site which may cause you error, loss or costs incurred from use of the information and links either directly or indirectly. This site is owned, designed, written and developed by author: Pauline Thomas and Guy Thomas. This site is designed to be viewed in 1024 X 768 or higher.
ALL RIGHTS RESERVED. Fashion-era.com reserves the right to add or delete information, graphics and links. Copyright © 2001-2014 on all content, text and images in Fashion-era.com. Images and text in this website may not be used on other websites.
Before you write to me for costume/fashion help or information please, please consult the extensive sitemap which lists all our pages. If you still cannot find the answer after searching the site, then before you email me, please consider if you are prepared to make a donation to the website.
Donations
Reader's donations help this site flourish, in particular donations encourage me to write more articles on fashion history as well as current trends. PayPal allows anyone with a credit card to donate easily and securely. You may donate any sum you feel appropriate.