Coats Fashion History 2008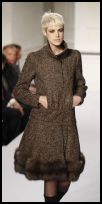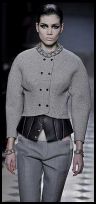 In the last years of the noughties decade there had been a major silhouette change in catwalk fashion and especially in coat fashions. Pyramid A-line trapeze shaped coats, armorial futurist space age jackets, and cocoon fashions were all ways to manipulate volume looks. Softer versions hit the high street, but the influence was visible in styles available at the mall.
In 2008 the new coat silhouettes developed a more architectural sculptured contour. Designers played with fabric folds, the fit, flare and shaping of garments in novel ways.
These new architectural silhouettes created striking new shapes which often have the appearance of moulded forms. 2008 Looks - Centre - Nicolas Ghesquiere for Balenciaga, moulded silhouette look. Far Right - Louis Vuitton - Geometric tailoring and biker zipper features on this winter white coat. Far Left - Fashionable dropped waist coat by Oscar de la Renta.
Of course there were many other coat styles that made their mark. What each style illustrated was a leaning toward a more sculptured coat structure with folded fabric and geometric cutting, flared squared corner panels, and high proud or wide collars. The resulting look was an exaggerated three dimensional style. Fabric wrapped about the body creating a cocoon and this redefined the body contours and created the 2008 fashion silhouette. Observe this trend in the four coats below:

The above photo line-up shows coats from the British company Aquascutum and their 2008 Collections. For autumn 2008, Aquascutum created a silhouette that was balanced superbly with innovative womanly shaping, but with control over loose volume. This created a soft roundness. Sculptured collars and hemlines, shapely sleeves were all the 2008 features for the latest coat look.
Newer garment styles had an unfamiliar structure, with theatrical elements that added exaggerations more akin to historical costumes of earlier eras. Collars stood large, proud and high; excess fabric was folded into 3D configurations. Materials frequently looked as if they have been deliberately sculptured to make the onlooker focus on the more unusual display zones of the fashion silhouette. Sleeve shapes became intriguing with overlong skinny sleeves, cropped bell sleeves, gigot sleeves and Bishop sleeve blouson looks. The photos below show Autumn 2008 Catwalk outerwear coat and jacket clothing from designers Jil Sander, Rick Owens and Armani and highlight some of these fashion history changes in outerwear apparel.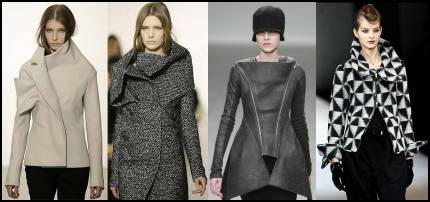 Jackets became playful and very quirky. The garments themselves made a fashion statement. Little else was required in the way of accessories to remain concentrated on the original fashion message.
One of the strong looser silhouettes in autumn 2008 was the pyramid coat which had gained prominence in the previous year. The House of Dior did this well, but other fashion houses also used the pyramid to create young at heart looking swing coats, especially when the waist was lowered or dropped. You are reading an original winter coats 2008 fashion history article by Pauline Weston Thomas at www.fashion-era.com ©
Trapeze Pyramid Coats
Loose Coats with Undefined Waistlines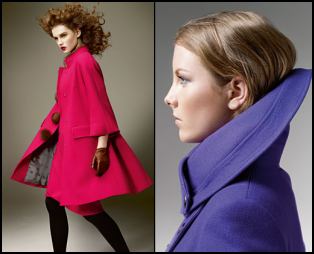 In autumn 2008 pyramid coats exhibited a strong sixties/seventies swing feel. These swing coats flowed like an A-line pyramid from the shoulders and they had matching A-line flared sleeves. Many dresses followed similar silhouette lines. This trend had been gaining momentum for some time and along with cropped jackets left a notable fashion history silhouette for the latter decade. This was a statement-making shape, in a bold look-at-me colour.
Looser coats frequently had an easy shoulder line and capacious sleeves. This loose style was also perfect for fur materials. Trends in collars gave us high funnel stands, shawl collars, large flat collars, geometric cowls, or fur trims which gave this style its precision.
In this coat silhouette near right Aquascutum used the pyramid trapeze to create a youthful looking coat but with a hint of vintage.
Far left - Autumn 2008 Aquascutum Diplomatic coat in pink.
Near left - Fall 2008 Aquascutum coat in purple.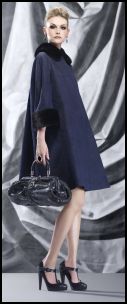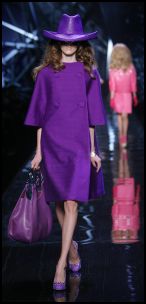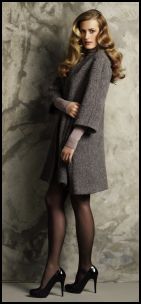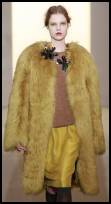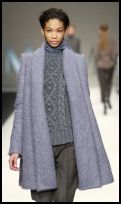 The House of Dior also did this really well and you can see more swing coat styles on the relevant key fashion trends page and on the winter coats fashion trends page.
Above Left - Dior navy pyramid line coat.
Centre Right - Dior Purple coat and accessories.
Above Right - Episode at House of Fraser - Greyed taupe coat.
The looser coats above, were sometimes cinched in with a belt.
These fashion coats really were perfect for wearing with flared dresses or prom style fuller skirts. Trapeze pyramid shapes morphed into more shapely cocoons than those of 2007. These two styles stood side-by-side and both could have had bulky sleeves. Near Left - Max MaraBlue grey swing flared coat with fall shawl and turn back collar also had a cocoon wrap yourself up quality. Far Right - Marni golden fur coat.
The cocoon barrel-line coat edged itself into fashion by developing a cut that introduced curvy balance with volume. The application of fur or velvet banding at the hemline and sleeves made the silhouette more interesting.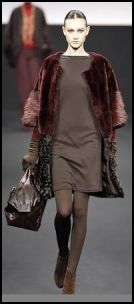 Left - Maurizio Pecoraro.
Centre - Narciso Rodriguez.
Right - Reem Acra.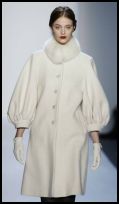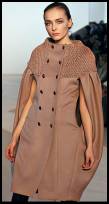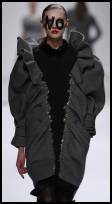 Left - Winter white wool felt coat, dyed fox collar, with gigot sleeves - Verrier.
Centre - Cocoon coat - With semi-fitted cape like shaping - Viktor & Rolf.
Far Right - Mink trimmed jacket by Viktor and Rolf.
There were many coats with large collar variations especially fur collars and lots of fur coats.
‡‡
In 2008 when designers wanted to add a touch of luxury to coats, they used genuine or fake fur collars to create an eye-catching fashion. By using Mongolian fur and collars made from feathers, designers added a contrasting looser Boho texture.
The first three coats below had an easy straight line. Each was trimmed with a flat fur collar, and the coat on the right had the extra trim of deep fur cuffs.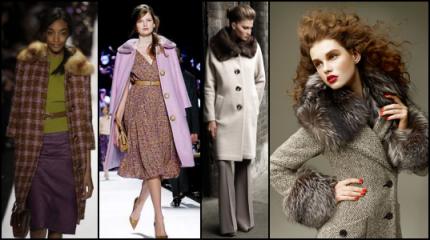 Above Far Left - Michael Kors. Centre Left - Michael Kors. Centre Right - Wallis. Far Right Aquascutum - 2008.
Here are more examples of the Autumn 2008 fur trimmed coats. Fashion designers used fur along hemlines, and also as decorative trims to open-front coats.
The tweed coat right by Pollinini used leather cleverly to create a faced outer top cuff, matched with a wide belt. The leather trim on the coat belt and cuffs was very decorative, as was the raised embellishment on the coats below.
Images courtesy of Swarovski.
Sleeves had been getting the designer treatment in the late noughties and in 2008 huge deep fur cuffs were used on these luxury coats below as well as on puffa style jacket coats; note also the matching fur hood on the right. Posh Parkas live to see another season.

Above - Coat by Dennis Basso, suit by Monique Lhuillier and puffa white coat by Blugirl. You are reading an original winter coats fashion history 2008 article by Pauline Weston Thomas at www.fashion-era.com ©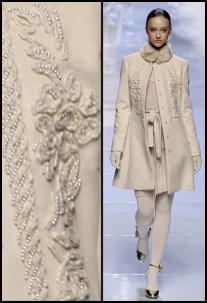 Winter white was a favourite base colour to show off textural embellishments of coats on the 2008/9 catwalk. White on white, cream on cream, taupe on taupe, black on black created an expensive look that the high street picked up quickly.
A high street cream version of embroidered Shearling coats was made by chain stores such as Marks and Spencer.
This beautiful coat right and the pearl bead appliqué detail of the embellishment shows the gorgeousness of the garment the Blugirl design house created.
Far Right - Coat by Blugirl. Near left - Detail of embellishment on Blugirl coat.
Right - Givenchy winter white coat.
§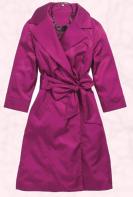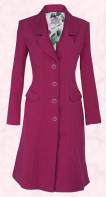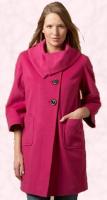 Creamy white was perhaps less popular than this hot pink. It would have been difficult to miss the many colourful and cheerful colours that were in the stores in Autumn 2008. Bold bright colour had really become a notable fashion trend in itself.
Key colours for autumn 2008 and winter 2009 included many berry tones, from pinks through to the purple orchids and inky aubergine blues.
But there were also reds, crushed damson, dusty pink, orchid pink, magenta, rose petal, claret, maroon, rich aubergine, blackberry and puce.
Above Left - Coats of 2008 - Boden satinised coat which could be worn unbelted or open. Centre left - Marks & Spencer Molly Coat in Fuchsia. Right - Marks & Spencer Perfect Collection Cocoon Coat.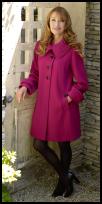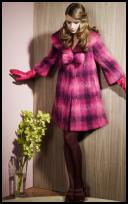 Check designs were an ongoing strong trend, and each mass retailer had examples. The Dorothy Perkins pink check coat near right was unusual in that it was a brushed fluffy yarn window check plaid. It was cute, feminine and youthful. Big buttons, bows and cowl necks were a common sight in 2008.
Centre Left - Dorothy Perkins pink check coat.
Centre Right - CC magenta coat modelled by Jane Seymour.
Opaque Tights in 2008
One seemingly subtle trend at the time was the teaming of these coats with black/dark opaque tights. What had started slowly a couple of years earlier as contrast dark leggings became a huge fashion trend for the next few years. Fake tans had lost their kudos and were by then frowned upon so main retailers started to stock dark and coloured tights. Women used them as an alternative leg enhancer with shorter clothes. Dark shades of full contrast pantyhose hosiery in black, grey, chocolate, aubergine, purple, mauve and bottle green were worn with coats, skirts, tunics and dresses. After wearing trousers for years it enabled women to wear shorter dresses and coats with greater comfort whatever their age.
‡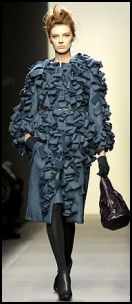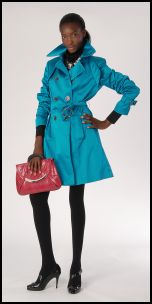 Belted trench styles in satinised fabrics and eye popping colours were among the statement making coats that dominated the catwalks of Autumn 2008 collections.
Luxury materials such as cashmere and satin helped create opulent effects with plenty of pastel coat variety in soft ice cream colours. The fashion trend for rich damask and glossy metallic finishes continued as did fur trims on hems and cuffs.
Blues were a strong colour trend for Autumn 2008.
The Bottega Veneta coat far left with its origami like folds of fabric made a very bold statement, as did the Celine coat centre left.
Right - The high street Marks and Spencer Autumn 2008 version of the Celine coat.
The more intricate the catwalk construction of a piece, the slower the design is to reach the high street. Something has to give, and its usually the quality of finish, yet this high street coat really did bring this particular fashion look to the masses. It was shorter than the Celine version, and the skirt had less fullness, but was hot on trend as teal blue was a strong fashion colour of Autumn 2008. 2008 had huge variety of colourful coat styles not seen since the late 1980s.
Focus on the waist also brought dropped waist lines. Dropped-waist coats had skirts that fell from softly controlled, gathered fullness as below.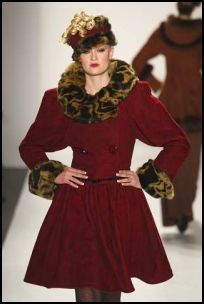 Above - Catwalk coats with dropped waists. Left - Blue coat - Karen Walker. Centre - Berry red coat Kati Stern for Venexia. Right - A sumptuous golden embellished coat with dropped waist and funnel neckline by Christian Lacroix.



These short button feature coats were very influenced by late 60's above waist mini coats and military pea coats. The navy blue coat, far right was a fashion trendsetter from Burberry and was in tune with all the inky midnight blue shades of autumn 2008. Far right - Burberry coat by Christopher Kane.
The military pea coat had made its mark the previous autumn 2007 and the exuberant fun coat lived on in 2008.
Designer Karen Walker showed these influential blue single breasted and the scarlet red double breasted coats.
The mustard coat was the River Island high street version, but with a military influenced majorette high collar. Far left - Blue coat - Karen Walker. Centre - Red coat - Karen Walker. Right - Gold coat - River Island.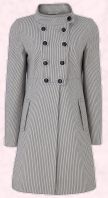 The grey striped mass produced coat right was from Freemans Catalogue and like the River Island mustard coat clearly had been influenced by catwalk trends of funnel stand necklines and regimented button arrangements. Right - Freemans 2008 - Striped grey coat.
Despite all the variety of other fashion coat styles in 2008, the military coat still held our attention. A military shaped and contoured coat like the version left instantly knocked some shape into the wearer, made the wearer stand up straight, and gave an individual a better bearing to face the world.
Right - Coat by Wallis Autumn/Winter 2008.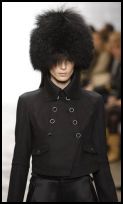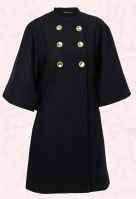 In the recessionary era of 2008 women were beginning to shop a little differently and had begun to buy into the idea of investment dressing. The coat was a great investment piece that could cover up a less than new outfit beneath it.
The coat was also a practical cover up for the dress which had increased in popularity with women everywhere.
A more innovative coat look was of this coat with cropped cape sleeves by Principles for Autumn 2008. The cape look was a trend set to bloom more fully in 2010. 2007 and 2008 both saw many short cropped jackets and every trend especially the military look got a cropped jacket version. Right - Designer Vanessa Bruno cropped military jacket.
If colour was important so were fur effects. Bolder, fashion forward, women opted for a full length leopard or fur effect coat. The still popular short cropped coat looked even better worked in fur as it was not so overwhelming as a complete full length fur coat.
A key fashion in winter 2008/9 was the leopard or ocelot print short or long coat, either faux or real fur. Leopard print fur was a great alternative to leathers and the biker look. The shorter jacket shown here was from River Island Clothing Co. Ltd, Autumn 2008/9 and could be worn as a short snappy everyday winter jacket with jeans.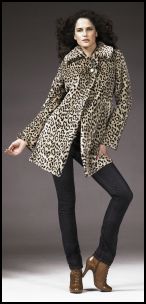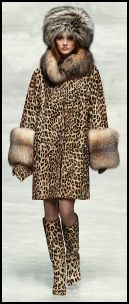 The majority of main high street shops were stocking leopard print or cheetah in faux fur, so finding a coat to suit was very easy especially as many chain store prices were well under £100. The faux fur coats were all simple in line, but could be worn loose or belted for that autumn 2008 styling.
Leopard print clothing of every type including accessories, bags and shoes even bangles, was a fashion trend that grew throughout the noughties decade. It continued to be prominent through the autumn and winter of 2008/9 and remerged in autumn 2010.
One way that the animal print trend developed was that it began to include other animal skins. Zebra, cheetah, ocelot, jaguar, cow, giraffe and tiger all got the fashion fabric treatment.
Another way that this trend grew was to use more and more accessories with animal print textures. By 2010 this trend was full on in every colour mix imaginable and featured in every garment especially beach and underwear. Right - Faux Fur Coat - BHS 2008 Womenswear.
Left - Catwalk Fashion IFTF.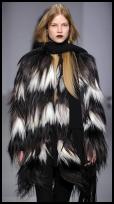 Animal print was the phrase rather than the named animal skin. The Blumarine coat and boots by Anna Molinari shown above left were made from stencilled goat and then trimmed with a silver fox fur trim.
The black and white long hair Shearling chubby coat left was from Jaeger catwalk show.

If not an expert or wearer of real fur, it is hard to tell if the regular pattern of the animal print is leopard, ocelot, jaguar or cheetah. Unless you have skin references from real animal images then animal prints can be confusing. In the animal world there are different breeds and the skin markings vary.
Fake furs today and stencilled skins of domestic animals offer a sustainable alternative to the killing of such beautiful animals. Types of fur markings are shown here.
Faux fur fabrics are made from similar man made material as fake hair extensions.

Leather was also a material used extensively in jackets and coats in 2008 coats. Marks and Spencer used the sculptural cocoon shape with leather to create the skin coat right that used several trends in one garment - funnel neck, cape-like sleeves and cocoon shaping. You are reading an original winter coats fashion history 2008 article by Pauline Weston Thomas at www.fashion-era.com ©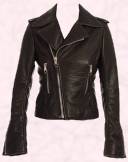 The biker jacket was one a strong short coat trend throughout the noughties decade and had a must-have moment in Autumn 2008/Winter 2009. One of the most inspired biker jackets was from the House of Balenciaga where zips were not just functional, but used for eye catching decorative effect.
Right - Balenciaga biker jacket.
Left - ASOS biker jacket 2008.
Almost all the main brands and high street shops had their version of a cropped leather biker bomber jacket. The collar on biker jackets was often of fur or faux fur.
Folksy Jackets in 2008
There were alternatives to a short biker jacket in the form of skin fur faced jackets in Shearling, Mongolian fur, velvet or leather. The styles fitted seamlessly into Russian Doll/Boho/Folkloric fads. The examples shown were also real winter warmers.
Far Right - Oscar de la Renta coat.
Near Right - Hermes coat and bag.
Not quite a coat, but the importance of the gilet as outerwear in the noughties cannot be underestimated. The fur/Shearling based gilet vest was a fast way of adopting a plainer Folk Boho look.
This butter colour fur gilet was very typical of gilets on the high street in 2008. This was from Oasis Autumn 2008/9 range. This particular garment was made from Mongolian fur including the curly trim. The gilet was great for a layer of warmth outdoors and recurring outerwear fashion each winter.
Left - New Look A/W 2008 Gilet.
You have been reading an original fashion history 2008 coats article by Pauline Weston Thomas at www.fashion-era.com ©
Copyright of fur images courtesy of IFTF. Special thanks to prshots with images courtesy of Country Casuals, Boden, Aquascutum, Marks & Spencer, Dior, Wallis, Swarovski, Debenhams, Dorohy Perkins, and New Look. Header image courtesy of Swarovski and featuring Louis Vuitton coat.
Fashion History Coats Page 2008 - Date Added July 2010. Page.779.
../footer/footerfootcoats.htm
Custom Search
About Fashion-Era.com
Fashion-Era.com looks at women's costume and fashion history and analyses the mood of an era. Changes in technology, leisure, work, cultural and moral values. Homelife and politics also contribute to lifestyle trends, which in turn influence the clothes we wear. These are the changes that make any era of society special in relation to the study of the costume of a period.

Fashion-Era.com can take no responsibility for any information on the site which may cause you error, loss or costs incurred from use of the information and links either directly or indirectly. This site is owned, designed, written and developed by author: Pauline Thomas and Guy Thomas. This site is designed to be viewed in 1024 X 768 or higher.
ALL RIGHTS RESERVED. Fashion-era.com reserves the right to add or delete information, graphics and links. Copyright © 2001-2014 on all content, text and images in Fashion-era.com. Images and text in this website may not be used on other websites.
Before you write to me for costume/fashion help or information please, please consult the extensive sitemap which lists all our pages. If you still cannot find the answer after searching the site, then before you email me, please consider if you are prepared to make a donation to the website.
Donations
Reader's donations help this site flourish, in particular donations encourage me to write more articles on fashion history as well as current trends. PayPal allows anyone with a credit card to donate easily and securely. You may donate any sum you feel appropriate.