Women's Winter Coats in Fashion Autumn 2006
Trends in Female Fashion Trends 2006/7
In fashion history terms, at the start of this decade neither the knee length winter coat, nor the full length winter coat was a force in fashion. But slowly the woman's winter coat, like the dress, has returned as a stylish winter fashion option. By the mid noughties many attractive styles emerged.
In Autumn 2006 you are spoilt for choice between short mini-coats, cape like jackets, Balenciaga style volume coats or full length maxi coats. The trends for coats this winter 2006/7 are towards sixties A-line, empire line, or a combination of these elements. They can have swing with volume, or be wrapped and belted. Whatever a woman's shape there is a coat to suit her figure.
You can see the Sixties influence in these stylish women's winter coats. This mini-coat style below crops up again and again, you will see it across all the high street shops in the winter of 2006. Being mini and basically thigh length, this style is also perfect for car use, making it a fashion 'must have'.
On the chest of the coat, the retro fashion style displays between four and eight large buttons, which are arranged in double breasted alignment. This winter coat is often yoked or empire cut and the coat hemline sweeps into typical sixties A-line swing.
From left to right this selection is typical of sixties women's fashion coats on the high street for autumn 2006. These mini winter coats are by Matalan, French Connection, Debenhams and Oasis.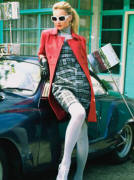 Matalan yellow wool mix coat £40, patent quilted purse £4.
French Connection flame red gently fitted heavy weight double breasted wool coat with side pockets £140 - 100% wool, sizes 6 to 16.
Debenhams yellow coat on far right (TBC - no price).
Main picture far right - Oasis red sixties coat.
You are reading an original fashion article by Pauline Weston Thomas at www.fashion-era.com ©
‡‡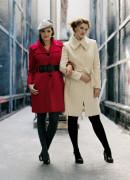 For plus sizes, Evans shows some updated, but classic women's winter coat styles. These two examples to the left are both from Evans.
Styled as tie-belt trench coats notice how wide the collars are and that both coats are above the knee line. Such coats prove perfect for layered looks and go well with contrast opaque tights or leggings.
Right - Evans Autumn/Winter 2006, Red coat £65/€99 Ivory coat £75/€114, Belt £12/€18 Beret £8/€12.
Each coat has all the elements of the fashionable women's winter coat of autumn 2006. Evans stock clothing from size 16 to 32 and also have some check versions of coats.
Red is a strong colour for winter 2006/7.
This red coat far right with sable fur cuffs and hemline trim, is by fashion designer Oscar de la Renta. I believe this coat to be the source of inspiration for several high street versions.
When out browsing the shops, I saw more than one very similar version of this red coat in a main city high street. This Marks and Spencer Autograph Wool Blend Trapeze Coat
below sells at just £99.
The belted tablecloth check plaid coat right in dusty greens is from Debenhams. The wide lapels give it a retro seventies styling.
Checks, monochrome black and white, charcoal, grey and off white schemes, make mixing and matching easy. Look out for every variety of check from puppy, dog's-tooth, hound's-tooth and shepherd's check.
Check winter coats are a big fashion look this autumn. You can also see my page which concentrates on tartan plaids and checks, especially black and white dog's tooth.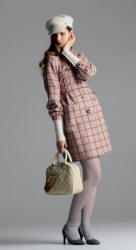 The pink windowpane check coat right is from New Look. It captures a young spirited sixties mod look and is especially youthful and cute style wise.
The long buttoned cuff of the skinny knit sleeves beneath it create an interesting meet between the two sleeve styles.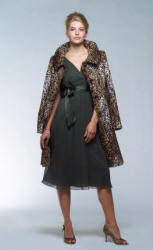 New Look Autumn/Winter 2006-2007 Womenswear Collection pink check wool coat £70, roll neck with button sleeves £16, angora baker boy hat £8, leather driving gloves £12, quilted bowling bag £12, shoes £20.
Just as check fabrics are popular this winter 2006/7, so you will notice a great deal of faux fur effect fabrics and brocade fabrics.
This Helene Berman Faux Leopard print fur coat at £170 is from House of Fraser. It is shown here worn with a dark green satin sash crinkle chiffon dress by Linea £95 and gold mesh stiletto shoes from The Shoe Studio. You are reading an original fashion article by Pauline Weston Thomas at www.fashion-era.com ©
§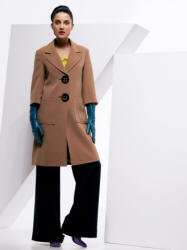 One feature that is a certain trend for winter coats is sleeves that are three quarter or cut at, or just below the elbow.
This sleeve fashion trend has been seen in jackets for several seasons, but is only really reaching mass produced women's winter coats this autumn 2006.
This classic coat left from Wallis is part of their new 'W' range. This is a Limited Edition, a unique collection of thirty statement pieces, launching September 2006. Exclusively available in their top 10 stores and from the website. Wallis will only produce between 100 and 300 of each style. What makes it bang up-to-date for autumn 2006 are the oversized, contrast, large saucer buttons and the just-below-elbow sleeves.
A Limited Edition, camel big button coat £80/€120 with chartreuse silk satin smock top £40/€60 from the 'W' range. Black wide leg trousers £45/€65, teal long leather gloves £22/€33. Accessories from a selection at Wallis.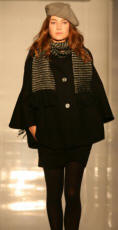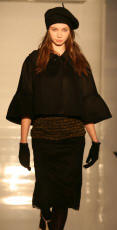 For autumn 2006 swing jackets with bell sleeves come cropped, hip length and knee length are most fashionable. Grey coats and check coats are the main alternative to black coats.
Most of these Oasis coats and jackets are teamed with berets or baker boy hats, making for a practical easy to wear look for colder days.
Notice the three quarter and elbow generous wide bell sleeves on these Oasis garments. Those long leather gloves shown above with the Wallis coat are an essential fall 2006 fashion.
This shorter sleeve look is a fashion trend to buy into if you haven't already started.
Mid decade, we find ourselves spoilt for choice when it comes to women's coat lengths. We can choose maxi or mini or not even go for a coat, but choose a cape or cloak instead.
This season winter coats are great value for money with many mini coats here starting as low as £65. I think of such coats shown above as fast fashion coats, destined probably just for one winter, after which the item will be worn to death.

If you want a coat that will see you through several seasons, then the high street offers plenty of women's winter coat versions from £150 to £300. For the latter price range you can expect to find coats with a good percentage of cashmere and wool.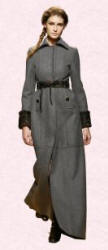 Always opt for an investment coat in either high quality pure new virgin wool or cashmere, or a mix of cashmere and pure wool with perhaps a very small amount of nylon (5% polyamide) to help with wear. Typical investment coats are well over £500+, along the lines of a classic style such as those by Max Mara and similar brands like Aquascutum.
If you are able to afford a coat in finer fabrics consider one made from vicuna or alpaca fabric. If you can afford a more expensive coat and are able to find a maxi coat by Gucci left, or this Alberta Ferretti grey maxi coat right, then lucky you. I think a maxi coat, like any of these, is a good choice for at least one of your winter coats. For the coldest of winter days when the wind is cutting, it will wrap around you like a blanket keeping you cosy and warm.
Because you will wear a heavy maxi coat less than a regular winter coat, only donning it on really cold 'Russian Steppes' days, it will last several winters. Every woman should have at least one maxi coat. It's also perfect over evening wear when you have skirt lengths of indeterminate length.
If you need a coat to double as evening wear, consider one with a detachable fur collar which can be removed and added as you please for extra glamour. Black is always a good choice when the coat needs to doubled for evening wear, whilst both camel and grey are subtly expensive looking. You are reading an original fashion article by Pauline Weston Thomas at www.fashion-era.com ©
‡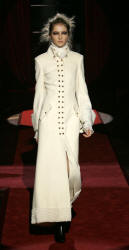 Try to think what you want from your coat. If you are buying the winter weight coat as a purchase to combat winter weather, then you may need to forgo some fashion elements. But your choice does not have to look like you are about to set off mountaineering with padded bits and pieces and safety whistles!
From a functional point of view - to keep you seriously warm in inclement weather, a woman's winter coat serves the purpose best if:
It is double breasted
High collared
Has long close fitting at wrist or cuffed sleeves
Is buttoned at least to mid thigh.
For out of doors wear, a centre front area which is double breasted, will then have four layers of fabric (including coat front button facings). If you keep the torso warm, chances are you will stay warm all over.
When you shop for your coat, wear the type of clothes beneath it you might wear on a typical winter day. If you need to wear a suit to work and have the bulk of a jacket to consider then wear a jacket when you shop, then you can check that the coat size you buy, will truly accommodate the shoulders of the jacket layer.
Always fully button up the coat when you try it on at purchase. You may think you will never wear it buttoned up, but you will regret poor fit on a day when the wind is cutting and the air is icy with snowflakes.
If you use public transport for most of your journeys, think seriously if off white or other fashion pastels are for you when you choose the colour. Classic colours include camel, grey, charcoal, navy, chocolate brown, black and taupe. Light fine tweeds like Donegal are always acceptable if tailored smartly.
The best coat choices and sizes are always available at the start of a season and the bonus is you get maximum wear from your coat all season.
This maxi coat is a good women's winter coat at £99 that will keep out the cold and wind. It's from Long Tall Sally and is every bit as fashion forward as the designer coats shown earlier.
Long Tall Sally specialise in clothes for the woman who is at least 5'9". There you will find women's coats and jackets perfect for a longer length in both arms and body. NEXT UK also have limited range of garments in tall fittings.
NEXT also do a similar range in petite lengths.
Other specialist petite ranges are at Principles, Dorothy Perkins, Evans, Wallis, Marks and Spencer, Debenhams and Petite Affair all online supplier of petite fashions.
A longer winter coat may not be for you. If you mostly travel in a car and spend hardly anytime outside waiting around for buses or trains, you may be able to wear some of the more fun fashion winter coats shown above. You might also consider the versatility of a cape. You are reading an original fashion article by Pauline Weston Thomas at www.fashion-era.com ©
-------v6-------
Footnote: Mid-September 2006.
Now here is a coat I have just bought, but I do not regard this as an investment coat. It is a fast fashion coat that I intend to wear as a specific look with either black opaque tights, leggings or boots. Beneath it I plan to wear a black knee length trapeze pinafore dress, plus a fine knit polo neck cashmere sweater in emerald green, black, or red. I have my eye on a little red handbag I saw in Russell and Bromley that would compliment it perfectly.
I tried on quite few of the fast fashion, black and white, hound's-tooth coats, which I discussed on the checks, plaids and tartans page. The one that suited me best and had an attractive quality to the fabric was this knee length coat shown just below and from Wallis (also available online).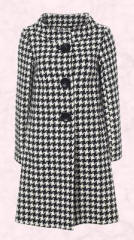 My feeling is that this coat and the similar jacket will sell out quickly. My local store was already out of some sizes. Not only is it well cut on the shoulder line and collar stand, but also it has delightful bell shaped sleeves that hang beautifully. At just £85 and with 50% wool it is incredible value. Despite being a classic check, individuals including myself, often tire easily of such strong patterning. So this is a great price for a fabric which may have limited life due to the colour and memorable nature of the pattern.
I suggest you try a size down for this coat as it is cut generously. It looks so sixties on, yet somehow manages to look very classic and on-trend too. The best aspect of this purchase was that whilst some of these dog's-tooth checks can add 20 pounds to your silhouette, this coat manages to stay neat and is craftily tailored for a good line. More than one bold check coat/jacket that I tried on made me feel elephantine. So just keep trying on hound's-tooth and dog's-tooth check fabric styles until you find a check fabric and style that does not bulk you too much.
If you like swing sixties coats you'll like this version, especially if you are not quite ready for the newness of a cocoon coat. Wallis have used this style of silhouette on several of their coats including a black coat. Wallis are currently featuring this coat and plain fabric versions on their site here. You can read more about coat styles here in my web page on checks. You are reading an original fashion article by Pauline Weston Thomas at www.fashion-era.com ©
Images all courtesy of Matalan, Oasis, New Look, House of Fraser, IFTF, Long Tall Sally, French Connection, Evans and Wallis at Arcadia UK . Header image courtesy of New Look.
Page Date 04 September 2006, Updated 21 Sept 2006.
If you like this page then please share it with your friends
---
For more information about coats and cloaks click below:-
-------- Link Pink ---------
Custom Search
About Fashion-Era.com
Fashion-Era.com looks at women's costume and fashion history and analyses the mood of an era. Changes in technology, leisure, work, cultural and moral values. Homelife and politics also contribute to lifestyle trends, which in turn influence the clothes we wear. These are the changes that make any era of society special in relation to the study of the costume of a period.

Fashion-Era.com can take no responsibility for any information on the site which may cause you error, loss or costs incurred from use of the information and links either directly or indirectly. This site is owned, designed, written and developed by author: Pauline Thomas and Guy Thomas. This site is designed to be viewed in 1024 X 768 or higher.
ALL RIGHTS RESERVED. Fashion-era.com reserves the right to add or delete information, graphics and links. Copyright © 2001-2014 on all content, text and images in Fashion-era.com. Images and text in this website may not be used on other websites.
Before you write to me for costume/fashion help or information please, please consult the extensive sitemap which lists all our pages. If you still cannot find the answer after searching the site, then before you email me, please consider if you are prepared to make a donation to the website.
Donations
Reader's donations help this site flourish, in particular donations encourage me to write more articles on fashion history as well as current trends. PayPal allows anyone with a credit card to donate easily and securely. You may donate any sum you feel appropriate.