Mourning Clothes - Fashion History
This page will help you date old photographs, which show mourning clothes.
To read about fashions in mourning clothes and fabrics in Victorian and Edwardian eras see the Mourning Fashion web page. See also the Old Mourning Dress Photo 1919
I was recently sent this wonderful photo from 1913 with the request to research information about their costume and occupation from the photograph. The sender thought the women were wearing some kind of uniform related to their religion. All I was told about this old photo was the known date of 1913.
It's always good to have a known date to the picture, but the sender needed to clarify ideas about the people in the old photo.
My first reaction was women in mourning dresses and that this was a family photo taken after the death of perhaps the mother in the family. Since they are fully grown women it does not seem unreasonable that their mother had become ill and died. At this point I was not aware of their identical family surnames, neither did I know the birth dates of all three characters.
Both women wear identical dresses of the era and this may be because mourning styles were limited in order to keep them fashionable. On close inspection they also both appear to be wearing a simple and limited tasteful amount of mourning jewellery.
Itís interesting in that the young women have personalized the dresses Ė one has removed, or turned-in, the contrast shiny fabric waistband belt.
The dresses also have some decorative elements such as small pattern guipure lace neckline yokes and deep cuffs of lace, plus decorative button trim. The mourning dresses have moved beyond the untrimmed plainest of mourning gowns, indicating that this photo was taken more than six months after first stage mourning. You can read more about Victorians and mourning fashion on the mourning dress page.
I also thought one other interpretation was that the two women were shop workers or reception staff or schoolmistresses and had to wear the same gown for uniformity. For example, they could have been the main housekeepers in a large manor house or hotel.
Ľ
Mourning jewellery was an important part of mourning dress. On the left we see a dark possibly jet brooch and on the right a black necklace made of black beads with a black cross.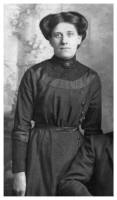 It is unlikely that young women of that age would wear such a totally black 'day' dress if they were not in mourning.
Their mourning dresses are unlikely to be one piece dresses, but as was the custom at the time, consisted of two pieces of garments, but still described as a dress. After 1908 the fullness in dresses became reduced as narrower fashions emerged. As a result over the next five years more dresses began to be constructed as one piece gowns. When skirts also shortened c1915/16, frocks were more usually just one piece especially as waists were elevated. When made as two pieces the bodice top was often called a waist and was worn with a fabric matched skirt.
The skirt style is quite fashionable with all those side buttons, but not as narrow as many dress images of 1913. The blouson bodice style was seen many years before, but the narrow straight sleeves are of the later Edwardian era. By 1913 many women were wearing under-the-bust empire line gowns. These dresses are only very slightly above the waist if at all.
By 1913 a V-neckline was the most fashionable neckline and the V-neckline was denounced from the pulpit for its vulgarity. This neckline suggests a respectful, demure and serious approach to the nature of the event with such an all occasion dress rather than desire to be fashion conscious with limited use occasion dress.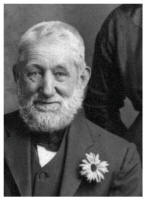 The manís flower is probably pinked stiffened silk fabric Ė it has a black button in the middle which would make it a mourning accessory. For him it was a significant outward sign of mourning garb. The photograph may even have been taken as a family effort to show other family members that this nuclear family was strong in its unity to the rest of their family wherever they were in the world. If the family was large they may also have been the most important and significant family members. These women may have acted as mothers to younger children.
Note that the man has a large volume of black fabric - a cravat or tie at his neck. From these facts I thought it fair to assume the sitters were all in mourning dress.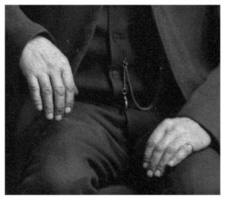 The manís fingers and fingernails are dirty. The marks on his fingers suggest permanent scarring such as the blue black marks a coal miner picks up when he cuts himself and can never rub them clean of coal dust when he washes and thus gains a permanent 'labour' tattoo.
From this I concluded he must have been a worker in manual trades rather than say a full time religious preacher or doctor despite his clean respectable attire.
Look closely at the enlargement of the photo far right and you will see he also wears a gold wedding band on his little finger which might be the only finger his recent wifeís ring would fit.
Ω
A few days later I was told that this old photo is of Newton Weddell (1849-1921), Hannah Weddell (1878-1942) the lady on the left, with Mary Weddell (1889-1961) the lady on the right.
Other information I received later about these sitters was that Newton Weddell was from Newcastle upon Tyne, UK. He was a slater and tiler by profession (which helps explain those permanent black marks on his fingers). Despite his working class background he was a Freeman of the City due to his grandfather being a member of the Tanners' Guild. His wife Jane, with whom he had ten children, died in 1912.
The photograph was sent to his son William in Australia - the message on it reads "A Merry Xmas and a Happy New Year from your loving father and sisters."
Page added 12 November 2006 Ref P617
If you have any pictures of your family wearing mourning dress I would be interested in seeing them to add to this page or another page. I am also seeking volunteered wedding photos/paintings of the era 1800-2000.
For more information on Dating Old Photographs go to:-
Find more old photos discussed in other fashion-era sections:-
Other photos
Custom Search
About Fashion-Era.com
Fashion-Era.com looks at women's costume and fashion history and analyses the mood of an era. Changes in technology, leisure, work, cultural and moral values. Homelife and politics also contribute to lifestyle trends, which in turn influence the clothes we wear. These are the changes that make any era of society special in relation to the study of the costume of a period.

Fashion-Era.com can take no responsibility for any information on the site which may cause you error, loss or costs incurred from use of the information and links either directly or indirectly. This site is owned, designed, written and developed by author: Pauline Thomas and Guy Thomas. This site is designed to be viewed in 1024 X 768 or higher.
ALL RIGHTS RESERVED. Fashion-era.com reserves the right to add or delete information, graphics and links. Copyright © 2001-2014 on all content, text and images in Fashion-era.com. Images and text in this website may not be used on other websites.
Before you write to me for costume/fashion help or information please, please consult the extensive sitemap which lists all our pages. If you still cannot find the answer after searching the site, then before you email me, please consider if you are prepared to make a donation to the website.
Donations
Reader's donations help this site flourish, in particular donations encourage me to write more articles on fashion history as well as current trends. PayPal allows anyone with a credit card to donate easily and securely. You may donate any sum you feel appropriate.