Batik Fashion Fabrics
An Indonesian site visitor who sells batik fabric made in Indonesia sent me this information on batik fabrics and some batik fabric images. The supplier link for these batik fabrics is at the bottom of this page.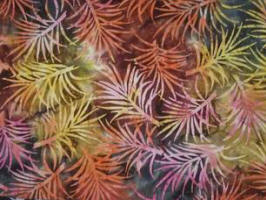 Batik fabric is generally thought of as the most quintessentially Indonesian textile.
Batik is an art form. Motifs of flowers, twinning plants, leaves buds, flowers, birds, butterflies, fish, insects and geometric forms are rich in symbolic association and variety.
There are about three thousand recorded batik fabric patterns and many are considered to be antique fabric designs.
The patterns to be dyed into the cloth are drawn with a canting, a wooden 'pen' fitted with a reservoir for hot, and liquid wax.
In batik workshops, circles of women sit working at clothes draped over frames, and periodically replenish their supply of wax by dipping their canting into a central vat. Some draw the art designs directly on the cloth from memory and others wax over faint charcoal lines.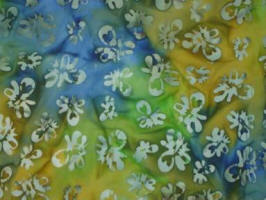 This method of drawing patterns in wax on fine machine-woven cotton was practiced as a form of meditation by the female courtiers of Central Java. Traditionally, batik tulis (tulis means 'write' in Indonesian) is produced by women.
‡‡
In the 19th century, the application of waxed patterns with a large copper stamp or cap saved the batik fashion industry from competition with cheap printed cloth. You can still find these batik stamps sometimes in antique shops.
The semi-industrial nature of cap work allows it to be performed by men. Batik motifs recall characters from the Hindu epics, plants, animals, sea creatures and gamelan melodies.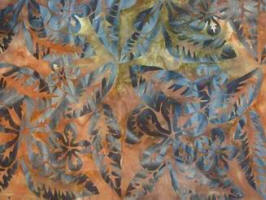 In Surakarta rich creams and browns are juxtaposed with tinges of yellowish gold.
White, undyed cloth is left to contrast with the sombre opulence of brown and blue dyes in Yogjakarta.
The colour palettes of the north coast were influenced by lively marine-trade and the textile traditions of the Chinese and Arab mercantile communities living in port and coastal towns.
As in other fields of Javanese tradition the motifs of Batik material especially with older antique patterns symbolizes something. This might be one of the reasons why people still adore batik fabrics up to present date. Some of the Motifs are:
Sido Mulyo

Sido Dadi

Satrio Wibowo

Tikel Asmorodono
All these antique motifs have great meaning. Just as with crystals and gem stones it is thought that the woman or man wearing batik fabrics bearing these motifs will be furnished with what she or he wears.
§
Yogyakarta and Surakarta are the art centres of traditional antique designs of batiks, whilst the north coastal town of Pekalongan is the centre of more modern batiks, using more floral and birds motifs.
There are some well-known artists of batik design in Jogya and Surakarta, as well as some big batik manufacturers with famous trademarks. The growing production of batik makes way to the establishment of mori (woven cotton fabrics) factories in Jogya and Central Java.
The Batik Research Institute was founded in Jogya.
Tie and Dye is also a resist method of decorating fabric whereby material is tied or sewn in random or specific pattern arrangements sometimes using stitching which is removed after dyeing. Wherever a resistance to the dye was leaves a pattern. These examples of tie dye fabric are from the same supplier.
The effects are generally more random as the dye penetrates areas which are not tied or stitched. (Check back soon for a page on how to do the tie and dye craft.)
Batik fabric is ideal for making into clothes, especially ethnic influenced women's fashions and holiday wear.
‡
Images and text for this page were supplied by Ms Vita at batik@wisnumurti.com There you can buy typical antique batik fabrics by the roll as well as a range of other Indonesian specialist products such as authentic coconut oil products and other craft goods of Indonesia.
Please note we have no connection with this supplier and any goods you purchase from them are at your own risk.
Page Added 28 July 2006
For more information on Fashion Fabrics go to:-

Custom Search
About Fashion-Era.com
Fashion-Era.com looks at women's costume and fashion history and analyses the mood of an era. Changes in technology, leisure, work, cultural and moral values. Homelife and politics also contribute to lifestyle trends, which in turn influence the clothes we wear. These are the changes that make any era of society special in relation to the study of the costume of a period.

Fashion-Era.com can take no responsibility for any information on the site which may cause you error, loss or costs incurred from use of the information and links either directly or indirectly. This site is owned, designed, written and developed by author: Pauline Thomas and Guy Thomas. This site is designed to be viewed in 1024 X 768 or higher.
ALL RIGHTS RESERVED. Fashion-era.com reserves the right to add or delete information, graphics and links. Copyright © 2001-2014 on all content, text and images in Fashion-era.com. Images and text in this website may not be used on other websites.
Before you write to me for costume/fashion help or information please, please consult the extensive sitemap which lists all our pages. If you still cannot find the answer after searching the site, then before you email me, please consider if you are prepared to make a donation to the website.
Donations
Reader's donations help this site flourish, in particular donations encourage me to write more articles on fashion history as well as current trends. PayPal allows anyone with a credit card to donate easily and securely. You may donate any sum you feel appropriate.