Part 9 - Thicker Waistlines
More people have thicker waistlines than in times past and so adjustments may need to be made to individual blocks.
Part 9 - Thicker Waistlines
When you mark the points for the waistline in stage 7 you can adjust this stage to accommodate a thicker waist.
Stage 17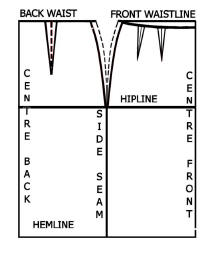 So for example instead of marking points 5 cm in from the side construction seam as instructed you might mark them 4cm cm in, allowing the waist on your block to be 1 cm larger on each side.
Bearing in mind the principles of symmetry this will make the waistline a total of 4cm larger overall when the item is constructed as a toile or straight skirt garment.
So use the instruction given in Stage 7 to make the gentle curve to the hipline, but with your wider waist measurements in mind.
Click thumbnails.

‡
For more information on Skirt Pattern Drafts go to:-
Picture and Text Stages of
Skirt Pattern Drafting with Pictures

Fabrics
Custom Search
About Fashion-Era.com
Fashion-Era.com looks at women's costume and fashion history and analyses the mood of an era. Changes in technology, leisure, work, cultural and moral values. Homelife and politics also contribute to lifestyle trends, which in turn influence the clothes we wear. These are the changes that make any era of society special in relation to the study of the costume of a period.

Fashion-Era.com can take no responsibility for any information on the site which may cause you error, loss or costs incurred from use of the information and links either directly or indirectly. This site is owned, designed, written and developed by author: Pauline Thomas and Guy Thomas. This site is designed to be viewed in 1024 X 768 or higher.
ALL RIGHTS RESERVED. Fashion-era.com reserves the right to add or delete information, graphics and links. Copyright © 2001-2014 on all content, text and images in Fashion-era.com. Images and text in this website may not be used on other websites.
Before you write to me for costume/fashion help or information please, please consult the extensive sitemap which lists all our pages. If you still cannot find the answer after searching the site, then before you email me, please consider if you are prepared to make a donation to the website.
Donations
Reader's donations help this site flourish, in particular donations encourage me to write more articles on fashion history as well as current trends. PayPal allows anyone with a credit card to donate easily and securely. You may donate any sum you feel appropriate.