Pauline's Diary - Page 4
Later Radiotherapy - Weeks 2-6 - Treatment Days 11-30
On this Head and Neck Cancer Diary Page 4 you will find:-
Sunday 8th Sept 2002
The weekend break from the first week of radiotherapy to treat my occult (hidden) primary head and neck cancer (SCC) has left me feeling almost normal apart from the burning tongue tip. Skin feeling better after 2 days off the radiotherapy.
Week 2 progressed much as week 1. After treatment on Monday I felt as bad as ever. I found myself eating less food. So little was edible. Meat in particular had become like stringy cardboard. Sweet foods were still Ok at this stage. At night my throat was raw and the dry burning tongue easily wakened me. Drinking half a pint of water in the night made all the difference to how I felt the next morning, as does drinking a pint or two of water before the treatment session. By the end of the week Co Codamol had been prescribed.
During this week we saw a dietician who prescribed Ensure plus yoghurt style drinks - 220 mls equals 330 calories. At first these were palatable, but after taking 3 a day for all the third week I realised I had cramping stomach pains and they were related to these drinks. As soon as I stopped taking them and turned to porridge as my staple food I felt much better. Only porridge, milk and yoghurt tasted ok by this stage.
The dietician told me that some people lost their sweet tooth whilst others lost their salty tooth. Some suggestions she made were frozen melon balls, pineapple cubes and ice cubes to suck. I found all these suggestions of no use.
By Wednesday I lost my ability to enjoy sweet foods. This was a real blow as it had enabled me to keep my weight stable. Now the weight loss began. Down 3 pounds the first week. By November 2002 I would be down 28 pounds and by late January 2003 I'd have lost a total of 50 pounds. By Thursday simply everything tasted the same and that was metallic in flavour. Additionally the taste was also soapy.
By the end of the week I had the sore throat from hell and I also noticed a small amount of hair coming out at about 20 hairs a time when I combed the back section. Nothing excessive, but there was a very, very small hair loss, just a few combings in my hairbrush. Bed rest for about 6 hours after treatment was essential.
Nystatin was prescribed prophylactically for oral thrush mid week.
Decided to wear eye make up and lipstick as they say its ok. It did my morale a great deal of good. It seems it's Ok also to wear perfume on the wrists, but not on the neck. However I've read that perfume use just adds to the toxin load to be flushed out, so it was worn only occasionally.
Felt very low by the end of the week, with 4 weeks to go. Throat very, very sore and tongue was etched white and was so burnt and craving water constantly.
‡‡
Week 3 came and my only thought was at the end of the week we'd be half way there. I say we as my husband was as involved as anyone in my daily travel routine which is a rigour in itself. The sense of elation for both of us at reaching the half way mark was enormous.
Food no longer interested me and even drinks like tea or cocoa were now disgusting too. Lived on Ensure plus style yoghurts and the odd very small portion of scrambled egg. Lost 8 pounds since starting radiotherapy.
The only thing that relieved the throat and burning roof of my mouth were copious glasses of water. I think this was the most difficult week as I felt depressed and low being unable to eat. Looking back the symptoms of the week seemed worse this week even than later, when they actually were worse. Until you reach half way it's a struggle to go on. I got up to go to treatment, had the treatment and immediately returned to bed.
This week I gave up the Chinese medicine on Monday. It had become so disgusting to me that I could not bear to drink it. Amazingly it was the only thing I could still taste properly, but the association was now one of disgust, it almost made me want to vomit just smelling it.
The throat pain during this week by day 14 of treatment was like having knives at the base of my tongue and back of my throat. It felt as bad as a tonsillectomy, but longer lasting. Several ulcers appeared on gums and by Wednesday my throat felt closed up. Despite having difficulty with all food I could still drink milk which tasted almost normal. Tap water was disgusting and the taste of chlorine unimaginably heightened. Only bottled Evian was acceptable, but the metallic taste still strongly evident in my mouth.
By Friday I felt motionless and didn't want to go for treatment I felt so ill. I don't think I ever felt so ill as at the end of the third week of radiotherapy.
That day I saw the consultant who said I was unfortunate to get the metallic taste so early in the treatment. She prescribed Co Codamol and it was more effective that the paracetemol alone. She confirmed my throat was very ulcerated. It and my glands felt so very swollen and I kept thinking I might choke at any time.
...(v4r)
By the end of the 15th treatment I was exhausted physically and mentally low. As I had done every other day I went straight home to a minimum of six hours bed rest. But I was half way through.
On the Saturday I decided I could not take another Ensure plus drink, so asked my husband to make me a plate of porridge. I struggled to eat it, but I managed a few tablespoons and bland porridge along with cold milk drinks soon became the mainstay of my diet. I had been curious to discover if the Ensure was giving me stomach cramps, twinges and pains. Just a day off of the Ensure and my stomach felt back to normal. What with all the aggro going on my mouth I didn't need it in my stomach too. I just knew I'd feel happier on the porridge and milk.
Over the weekend my husband tried to tempt me with all sorts of tasty tit bits which I rejected almost instantly. It made me feel so guilty, but there was nothing I could do as it all tasted disgusting. One mouthful and I would spit it out into a tissue. Phlegm was also a problem that can only be understood by experiencing it. Phlegm becomes your spit! Phlegm is an issue during and post radiotherapy as is dry mouth and a dehydrated tongue!

I coped with this week much better, despite needing my daily bed rest after the treatment.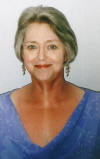 The photographs here were taken on treatment Day 19. Left - Unbroken skin after radiotherapy treatment 19.
Right - Note central white column of protected spinal column

On treatment Day 20 my skin broke down revealing several areas where a superfine layer of skin had come away. This is far more seriously painful than sunburn peeling because of the depth of the radiotherapy burn. The skin weeps and forms a green ooze that tries to crust to a green scab and also smells slightly when warm from body heat. For those of nervous disposition please note I am very fair skinned and you may not burn to the extent I did.
The hospital started to dress the wound which at the early stage was just weeping on my upper/middle neck.


That weekend I nearly went spare with the neck burn pain. All I had was pharmacy prescribed higher dose Solpadol (Co-codamol) to take and it was not enough.
Left and right - Broken skin after radiotherapy treatment 20
When the skin breaks down the finest layer peels off leaving raw red skin areas. It's a bit like sunburn peeling, but far worse because of the burn penetration. Over the weekend I felt as if I was going off. I could smell the exudate coming from the raw flesh and the green sticky goo that built up. Nothing relieved the pain and on two occasions I wept heartily the pain was so dreadful.
On Monday the hospital immediately prescribed slow release Morphine and breakthrough self medicating liquid Morphine which I was able to take in between Solpadol. This was a blessing and made the difference to being able to tolerate the awful pain as gradually the whole of my neck peeled over a 4 week period.
This medicine was combined with regularly dressing the wounds twice daily and using a then fairly new product called Intra-Site gel which keeps the burn area hydrated. Once an area of the burn is wet aqueous cream must not be used. I believe the use of the intra site gel has prevented my neck skin from becoming woody. Aqueous cream was still used on the dry areas.
Right - Simple dressing with Intra- site gel on wounds.
There was a change in my treatment this week and electron treatment was added making me have 6 bursts of treatment. The mask was also adjusted and holes drilled into it so that the electrons did not react with the material.
‡

There was another change in my treatment this week and electron treatment was continued and 3 treatments omitted, making it just 3 bursts of treatment. Everyday I would have to wait for my wound to be dressed. This added to the stress of it, as by now the only place I wanted to be was in my bed. What a relief when Friday came and the 30 treatments were completed.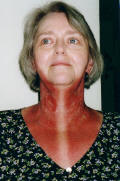 Left - The new mask with holes drilled out to help prevent a skin reaction with the shell mask.

Left - The skin as it continued to weep.
Right - Looking very burnt in the sixth week.
At this point I noticed people looking at me and asking what had happened to me! This really affected my self esteem and I now confined my visits to the hospital only.
Click here to go to the immediate weeks after radiotherapy, many photographs of the burns and taste recovery
Footnote :- The unit of radiation measurement is the Gray (Gy) Other units include the centiGray (cGy) and the rad. One cGy equals one rad. One hundred cGy equals one Gray and so, 60 Gy equals 6,000 cGy. Although the term rad isn't used now, 6000cGy equals 6000 rad which is why people who have had radiotherapy refer to it as having had rads. The radiotherapy is delivered in fractions. For example I had 30 days of treatment of 2Gy or 200cGy for 5 days a week which totalled over the six weeks (minus rest weekends) 6000cGy or simply 60Gy.
-------v6-------
--Link--
Head & Neck Cancer Diary & Radiotherapy After Effects
Click below to go to other related pages:-
Links