Pauline's Diary Page 6 - Post Radiotherapy Taste Problems
One Year after Head and Neck Radiotherapy
On this Head and Neck Cancer Diary page 6 you will find:-
Recovery from Radiotherapy
Recovery from radiotherapy to treat my occult (hidden) primary head and neck cancer (SCC) has been a slow job.
I began this page 6 months after I completed my head and neck radiotherapy treatment in Oct 2002. On this page I detail some of the taste recovery experiences I have had until January 2004 which I have decided will be the last entry about my cancer experience. The function of these pages was initially to show head and neck radiotherapy burn photographs not found anywhere on the internet when I looked in August 2002. That has now been fulfilled and frankly I do not see my taste recovering much more than it has to date.
I know the pages with other details have been useful to others as I have had many letters from carers and patients and well wishers and thank you all for your prayers and kind thoughts. Now I just want to get on and live as well as is possible in the circumstances keeping any further progress or problems private.
Well we have been very busy. Since I last updated I have put the finishing touches to 3 fashion-era ebooks I've been working on since the new year. So my energy levels have been quite good and I do feel ok most days and less tired than before.
In April we managed to take a week's break to north Mallorca to the Hotel Molins at Cala San Vincente. I write about it here to tell you about new food challenges and the problems of even a Mediterranean spring sun on radiation treated facial skin. I can recommend the hotel as being very civilised, with nice quality interiors, in a great spot with superb sea views and good service. It's about 15 Km from Formentor the famed north Mallorca beauty spot.
My husband snorkelled daily in his wet suit whilst I looked on and we toured right round the island. We drew the same conclusions as after a visit 12 years ago. The areas to go to are still Porto Cristo and Port de Soller, Valldemosa, Deya and Pollensa. Cala d'Or we thought horribly changed and Palma full of sirens blaring. We also visited Read's Hotel at Santa Maria and hope one day to go back after the owner showed us around. Read's was the perfect inland hotel in our opinion. If you like luxury, a child free setting with fine antiques, a great cup of Earl Grey tea, gourmet food and a feeling that time has stopped consider staying there.
‡‡
The Hotel Molins had a good buffet which enabled me to try various savoury foods that to be frank I can no longer be bothered to even try to cook at home. Every evening the chef cooked fresh fish and meat and it was delight to discover I could eat lightly pan fried fresh lemon sole and it did initially have some flavour. The texture of the lemon sole was also just right, soft and moist with good flavour. I have cooked very small portions since at home and enjoyed it enough to think wow real brain cell protein! In the mornings I somehow managed part of a fried egg and a small slice of fatty streaky bacon if I had copious fluid with it. Lean bacon was no good at all - too dry and stringy.
My husband gave the Hotel Molins food seven out of ten - I gave it six out of ten because my taste buds are dodgy and I seem to eat far more dessert these days than any other food. Sadly the Spanish don't make the world's greatest desserts in my opinion. To be fair there was plenty of variety of fresh fruit on offer, but I can't eat it still because of the dominant chlorophyll taste. I did discover I could eat cooked peaches and tinned mandarin oranges though. Obviously cooking eliminates the chlorophyll taste.
One great aspect of eating buffet food when you have this problem, is that you can put very small amounts on the plate, take one mouthful to taste it, hate it and leave virtually all of it without a waitress thinking anything is wrong and commenting. Then you just try something else until eventually all the odd mouthfuls add up.
Food is always such a disappointment now after that initial tablespoon. This is because I still have the same problem as earlier on - I can taste certain tastes only for a flavour burst, for a very short time. Food simply no longer tastes as good as it used to.
This is hard to explain to someone when they see me eating, but I eat now to live whereas before I lived to eat. I still watch UK food programmes just as before and I can in my mind taste how delicious something like a dish with fresh basil strewn over it might taste. The reality is that it tastes quite ghastly to me now, yet I know the basil hasn't changed - it's me and my taste buds that have changed.
Anyway the holiday and access to a wide range of foods already prepared was helpful and we have since eaten out twice at local restaurants. Eating out will never be the same though and my recent choice of pan fried cod with risotto was good, but for only about one third of the portion before taste pall set in.
We chose April for many reasons, partly it was the first time I had felt like even packing to go away somewhere and partly because the sun would be less harmful than in high summer. I used a factor 25 every time we went out in the sun, covered fairly well at the neck and also wore a sun hat.
...(v4r)
One day I think I might have had a little too much exposure to the sun and I could see what would happen - the burn would have reappeared as a tan, but in the contoured shape of the mask marks with a central white area - lovely! I was very careful the following days I can tell you. When we got home I think I looked a little as if the mark had come up in faint tan shadows. I think a month later it has worn off. A neighbour said I should be using factor 60, but quite honestly that stuff is so greasy I suspect I would leave it off, whereas factor 25 is tolerable grease wise and I did use it.
Last week I also had a check up with the consultant and we agreed that although my diet was not the healthiest it was good that I was able to eat enough to have stabilised my weight. For 2 months it has fluctuated up or down a pound or so a day just as most people do. I feel now I will survive if I can eat just like this, whereas at one point I did think I would melt away from lack of nourishment. My main foods at home are still pancakes and apple tart with double cream - it gets a bit boring after all these months, but is much better than having a nasal drip or daily porridge!
It's a year now since I had my fine needle biopsy. What a year! Yet I am very content.
I thought I hadn't lost very much hair during treatment, but I must have at sometime since last September. There are hairs sprouting up all over my head that are about one, to one and a half inches long, amid a bobbed hairstyle. It's taken me 18 months to grow a short cropped style out into a straighter bob and now I have these strange "extra" tufts especially along my hairline. The hairdresser says it's new baby hair. Hair spray controls it and marvelling at the tufts gives me the odd laugh.
On a good day I manage a little fresh fruit. I can now eat a fresh ripe pear and in season sugared strawberries smothered in double cream. Sadly they do not taste anything as nice as before and both still have that slightly green taste, but it's better than a few months ago and I can now eat a bowl up and get more roughage. Potatoes are still a problem and go just like glue in the mouth, as does bread. I have given up on the coca cola as I was worried about the long term effect on my teeth, but I can drink water again a blessing in this warm weather. I also discovered how passably pleasant elderflower cordial or elderflower lemonade tastes again. My thirst was never like this in other summers. Thirsty yes, but not taking continuous fluids to ease the dried out mouth.
It is hard to maintain weight in the warmer weather as no one eats so much then and I have now lost about 4 stone 4 lbs in total since last June 2002. This week I have been upping my double cream intake and that's helping me hold my own. I realise now that all those years I dieted if only I had cut out meat I probably would have shed pounds. In a week the main protein I eat is minimal and is no more than a couple of small slices of streaky bacon say 2 or 3 ounces max, some eggs, about an ounce of fish such as kipper, a little runny goat's cheese on a rice cake and milk. Small frequent meals are a help.
But whereas it did initially bother me that food tasted grim, I no longer care about the poor taste problems as long as I'm alive and can hold my own weight wise.
I thank you all again for your continued prayers. Those of you going through this as a relative, carer or as a patient about to face radiotherapy in particular, have courage, it may hardly touch you as not everyone is so affected by the burns. You may get a very slight blush mark only. Try to look forward, still making plans and setting goals, but resting well and being kind to yourself too. In the meantime I hope you also get pleasure from other aspects of my costume website and maybe even think of setting up your own web pages. Yesterday I ordered Poser 5 from Curious Labs and am greatly looking forward to the challenge of learning some new software. We all need to stimulate our brains by doing and learning new things as well as planning for the future, however short or long it may be.
I'd like to quote from Vinod's rdoc site below a saying printed there -
"Doctor, doctor, will I die?" "Yes, my child, and so will I."
‡
For some time I have had 2 cysts on my head that have irritated me. OK, they have not only irritated me, but worried me with 'what if' thoughts. One was about 18 years old, but the other now just as large as the first was only 2 years old and I kept knocking the younger cyst behind my ear with my spectacle arm. Also, because of what I have been through I began to fret about these so called cysts, so my consultant happily said ' I'll remove them. I can understand how you feel and if it were me I would have them removed too.' So arrangements were made to take them out within 2 weeks of that meeting.
On Tuesday 22 July I went into hospital to have the 2 sebaceous cysts removed from my scalp. This was done as a day patient at Worcester NHS hospital and I was given a day bed at 7.30 in the morning. I had been the day before for various tests including an ECG and blood tests etc.
By 10 am I was in the operating theatre and my scalp was shaved for about a 2 inch circle around each cyst. Next the thin layer of flesh on the scalp was injected with local anaesthetic about 7 to 9 times in a circle around each cyst. The needle stung quite a bit. I did not enjoy the experience, but where possible they prefer to use local anaesthetic. After that the cysts were cut out and the incisions stitched up. I was glad it was done and finished. The cysts were sent to the lab for diagnostic analysis.
All this took about 40 minutes and there was quite a bit of blood in my hair, which I had been warned about the day before as the head has lots of blood vessels. The nurse on the recovery ward tried to clean the blood out of my hair with plain water. You could smell the blood as she did this. At first I had thought the rusty orange colour on my blonde hair was some type of iodine, but no it was blood. At that point I realised the wetness I had felt on my head during surgery was a lot more blood than I had first thought. I had thought the blood wetness was some kind of cleansing agent they were mopping the head with. But now I realise they were mopping up spurting blood.
After I was returned to the ward and rested for 2 hours whilst they ensured the blood had clotted. Later in the afternoon my husband took me home by 2pm.
I felt a bit off colour all week as if my head had been banged with a metal object. I just went with the flow and have been kind of aimless. It has made me a bit short tempered as the hair pulls when I try to rest my head and the nerve endings jangle still. I found being told not to wash my hair for a week because of the risk of infection a bit of a tall order. It nearly drove me mad and so on the fifth day I washed it and I felt so much better. By then I felt the risk of infection was much less and the following day I was having the stitches out.
...(v4r)
Back to the hospital and the stitches were removed. The doctor said the scars had healed well. He really had to tug at those stitches to get them out and my head jangled and jarred for several days. All week I have literally been like a bear with a sore head. Only today as I write this does my head feel as if it is calming down a bit. The good news was that they were just cysts. Just 1% of cysts are dangerous, but having had an occult primary cancer in the head region diagnosed last year I feel happier that they are gone. The hair has already grown enough to cover the raw scalp circles and my longer bob covers up the patches well.
Food and eating problems still exist, but I have moved on to being able to eat Heinz beans on toast another welcome change, but not exactly riveting for the old former gourmet taste buds. The toast tastes like very dry Ryvita, but at least it has stopped going like glue and the beans taste - well like rather dull beans!
Those of you who can eat enjoy it; you never realise how marvellous taste is until you lose it.
My cysts healed well and my hair soon covered the shaved patches. Evidence of poor nutrition though has shown itself in the condition of my hair which is still showing strange shorter sprouts particularly along the hairline.
My taste has improved a little again and I can manage a wider range of foods, but nothing like before. I always thought it bad manners to eat walking along the street. Now I secretly envy those who can march down the high street with a bag of potato chips or other fast food in their hand and manage to consume the lot without a drop of liquid passing their lips and only the power of their own saliva propelling that food down the gullet. I really do look on with a kind of hidden envy and feel sheer wonder at what is such a normal activity for most citizens.
My energy has been good. Between August and October I redecorated every room in our house myself, as well as recovering two sofas, making new curtains for 4 of the rooms and tiling the kitchen floor as well as having 3 lots of visitors to stay. DIY interests me as much as fashion history and fashion sewing.
All year taste improvements have been monthly rather than daily. I really think any further improvements will be bi monthly or quarterly. The texture of food has improved very slightly and I think I am swallowing better so can eat more at a sitting. I have managed regular helpings of Christmas pudding and also now enjoy well cooked softened vegetables, a spoon of prawns with cream cheese, blueberry muffins and also muesli with grated Gala apple all in half portions.
My weight hovers up or down 2 pounds or so daily, but has been stable since the summer. I still shop for clothes a lot as the summer wardrobe needed replacing by an autumn winter wardrobe. Any excuse!!! This of course is one chore I enjoy. Christmas was interesting I found shopping for new clothes such a delight.

Here is a photo of me taken at my friend's house at Christmas 2003 and fifteen months later the neck is much more mottled with the broken veins that developed after the radiotherapy.
Some photos show this more than others and some days the mottling just seems much worse, especially if caught in the sun for even 10 minutes.
A severe sore throat at the beginning of November was made worse by taking antibiotics and this meant I developed oral thrush and an even worse sore throat. It took about 6 weeks to get rid of the oral thrush using liquid Nystan continuously along with 2 weeks of Fluconazole capsules.
I now take extra Probiotic with Prebiotic tablets, along with yoghurt drinks to maintain a healthy flora of friendly digestive bacteria. I decided positive long term action was required by me to keep control of oral thrush rather than it control me. It is made harder to control by my eating sweet foods as they are still the best tasting foods to me and of course they help yeasts survive longer. Couple this with the lack of saliva balance in the mouth and the oral thrush becomes more frequently possible as an after effect of head and neck radiotherapy.
...(v4r)
Last week I decided that this would be the last entry I made in this diary. This is because I feel I have said what I set out to say and have enabled others to see pictures of head and neck radiotherapy burns that were missing from the internet. Now I want to move on with my life, and by the grace of God whether I am cured or not I feel that any further health events that happen to me, good or bad, is my business alone and not for further recording.
At present I am well enough - much, much better than I felt two years ago at Christmas and am busy working to develop my main website.
I have some post radiotherapy problems like shooting stabbing pains in the shoulder of the most radiated neck side. These pains happen suddenly often when I am out shopping and am standing for several hours. Sometimes the pain stabs so fiercely that it brings tears to my eyes. I have to find a cafe or bench to sit down fast as standing exacerbates the stabbing pain. That offers some relief and usually I take some Soluble prescription quality medication such as Solpadol which has more codeine in it than over the counter versions. After 20 minutes I can usually move comfortably enough to make my way home.
I still have a rather dry mouth which is drier some days than others so a bottle of Evian water in the handbag is always required in case of sudden dryness for no reason at all, unpredictable choking or sudden drying up when speaking too long. I need to take out a little less fluid with me than before and discovered that it is possible to buy 33cl size bottles which are a little more practical for emergency use. My daily taste changes continually - either better or worse tastes emerging for a few days. Hoarse throats which will always likely be with me now. That is not an exhaustive list of the little ailments you get after this treatment, but is typical of daily symptoms.
This is the price I paid for taking the chance to live. I still feel it was worth having the treatment however rough it made me feel at the time and immediately after. I am convinced that whatever the outcome in the future, that if I had gone on without medical intervention I would not have seen this Christmas, nor the last.
14 months after radiation treatment finished I can vaguely taste many more foods than I ever imagined would be possible again. The quality of that taste is very impaired. Taste pall STILL sets in quickly, but the texture of food has improved slightly, especially in the past 6 weeks. In the main I am still living off the same foods mentioned earlier. A few new discoveries that have small portion success include Marks and Spencer pannacotta, beetroot, boiled cabbage and other well cooked vegetables, mince pies, Philadelphia cream cheese with a little smoked salmon on a thin Crackerbread.
An ordinary cream cracker would be out of the question, but the Crackerbread is a reconstituted biscuit and not as hard as it sounds. The texture reminds me of those old slimmer's Energen rolls of year ago and that were like puffs of air, but more fattening than the calories in them due to the fact that everyone smothered them in butter! These crackers easily soften with liquid and area palatable vehicle for other foods.
I have gained about 5 pounds of the lost weight as some days I now manage much more food and seem quite ravenous. I think that's on days when food tastes better, so the old urge to eat returns.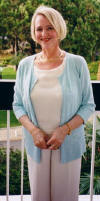 Christmas was particularly difficult emotionally when I saw supermarket trolleys piled high with foods I used to really enjoy. But I knew there was no point in even trying them as there are still texture difficulties with eating meats and certain dishes. After a year I wisely choose foods that promise likely success. I no longer enjoy food like I did and have remained a UK size 12 most of the year, which has been the only bonus for someone interested in fashion as I am. I know now the true secret of weight loss and weight maintenance - you can eat any food you like if the portion is tiny.
Left - A photo of me taken April 2004.
Thank you for following my diary. If you are a patient or wondering about symptoms you have, my advice is to trust your gut instinct and get to a doctor or dentist so that fears can either be eliminated or treatment can be started. If you are unhappy with the diagnosis get a second opinion.
If you are a doctor, nurse, radiotherapist, dietician or friend and you have helped me, please accept my sincere thanks. Extra special thanks to Mr. Johnson, Dot, and Dr. Cook for doing their best.
Have a happy life dear reader, as I have to date.
UPDATE - 28 November 2005
See my latest personal photos of the condition of the red thread veins on my neck and décolletage in my clip in hair extensions pages.
Footnote 1:- The unit of radiation measurement is the Gray (Gy) Other units include the centiGray (cGy) and the rad. One cGy equals one rad. One hundred cGy equals one Gray and so, 60 Gy equals 6,000 cGy. Although the term rad isn't used now, 6000cGy equals 6000 rad which is why people who have had radiotherapy refer to it as having had rads. The radiotherapy is delivered in fractions. For example I had 30 days of treatment of 2Gy or 200cGy for 5 days a week which totalled over the six weeks (minus rest weekends) 6000cGy or simply 60Gy.
-------v6-------
--Link--
Head & Neck Cancer Diary & Radiotherapy After Effects
Click below to go to other related pages:-
Links