Major Fashion Looks Spring & Summer 2005
(Page Date Jan 2005)
Last autumn it was obvious that texture and colour dominated the runways. In short, female trends for Summer 2005 will see a very feminine approach to summer fashion styles.
There are about a dozen main looks that have emerged from designer's spring summer shows, but the key is in the quirky edgy details. Those little differences. Choose carefully to suit your figure and personality. The key pieces I'm opting for myself are shorter boxy, cropped jackets, with just below elbow or three quarter sleeves. I bought my first shorter, bracelet sleeve jacket a year ago and am now convinced the closer neater shorter jacket as a fashion piece will get more and more cropped in the next year through Edwardian bolero styles to the ultimate snug cut of the Spencer jacket stage.
Nearly every designer included some cropped jackets in their shows in a wide variety of materials and they will work well with fuller, soft gypsy skirts as well as trousers or over dresses. The cropped jacket will be a highly wearable item and is set to be one of the biggest fashion choice trends of 2005. It can be anything from a cropped Chanel line jacket to a skinny shorter bodied blazer.
As a bonus it's also perfect as a cover up in summer air conditioning or cooler evenings. Designers will merely take it a step further at some point this year and by next winter I predict we will be wearing spencer jackets in force, perfect under cocooning capes or jackets with cape like backs.
Whilst the pencil skirt is a designer must have for this year too, panel and A line gypsy skirts will be the way to go. Fuller width means maxi in length or just above ankle. If you like shorter lengths to show those legs then cropped trousers or knee shorts or the pencil skirt is great alternative, but it puts bodies on show which may of course be your intention. The pencil skirt looks so much better with high heels, but wedges may be an option.
Whichever skirt or trouser style you choose, stay in tune with the eclectic ethnic look and add chunky tribal jewellery. That will be the fastest way to update your personal look. Failing that add a scarf or bag or shoe style in the latest texture, print or colour. You are reading an original fashion article written by Pauline Weston Thomas© at www.fashion-era.com ©
Fashion Trends 2005

The Gypsy Look

Probably the next most important look of 2005. Lots of white or coloured gypsy skirts and petticoats that give a bottom half which is wider and fuller.

The Volume Look

The Volume look is new so avoid extremes as you adapt to it. Much of the volume is focused on the lower half of the body.

The Skinny Look

The skinny look is of severe pared down minimalism, giving a lean silhouette. Elements have a neat sharp edge that says zeitgeist moment.

The Empire Look

Raised high empire waists should be strong look for dresses and tops which may feature bohemian, tribal, Kaftan styles or other fads.

These looks below are different looks, but all easily mixed together under the guise of 'ethnic'.

African Tribal Look

Pick an aspect like African tribal jewellery, tribal prints, faux animal fur fringe or choose native American symbols - any would work well for moving fluidly into these ethnic and folkloric themes.

The Bohemian Look

You could work the gypsy look in with this, but it's vital to understand the importance of the silhouette of the gypsy look.

The Clunky Arts 'n Crafts Look

Likewise if you are not keen on jewellery start with wooden heeled cowboy or ethnic boots. Try though to avoid looking like a walking collage.

The Botanical Look

Vibrant to soft colour with femininity. From Miami to Madrid to Milan, flower prints are favourites. Sprigs to bi-coloured toile de jouy to full exotic blossoms in landscape colours and bird scenes coexist. Sometimes the prints are covered up with enveloping cardigans or capelets or neat cropped jackets to keep to the layered theme.

‡‡

Perennial Classics

Empire line dresses that are feminine also feature in this look.

The Nautical Look

A naval theme easy to achieve with classic striped pieces such as sweaters or T-shirts, sailor collars and navy and white flowing pants.

Military and Safari Chic.

For those who love classic looks

Colour and Brilliance

Read all about spring/summer 2005 colour, fabrics, texture, prints here
The Skinny Look - Spring Summer Fashion Trends 2005
The Skinny Look includes commercially sharp collections and snappy sharp tailoring for women. The skinny look with boyish styling is ideal for skinnies. It's the snappy chic look with perhaps a skinny cropped close fitting blazer, a safari jacket and shorts or skinny jeans tucked into boots.
§
The Volume Look - Spring Summer Fashion Trends 2005
This is a really new look which makes the body seem as if cocooned in fabric. Like fashion of the 1870-80s, dresses are covered in an abundance of swags, layers, bows and pleats, ornamentation and sheer volume of fabric.
Full bubble skirts (in the past called the puffball skirt), hooped skirts and small panier styles show how the trend to volume in clothes will progress with some movement of the waist rising above the normal waistline. Volume will be supported by the correct under petticoats being available. To get the look you will need the correct under petticoats and often the petticoats will be intended to be seen. This is a look that might take a while to surface. The public will either love it or loathe it.
A more acceptable volume look for most of us will be the big cardigan look that envelopes and cocoons as we use it with other layers to achieve the perfect personal eco environment. There's volume and volume. Take your pick.
Most of the looks under eclectic ethnic, pay homage to global elements that create a bohemian look borrowed from many sources and derived from many countries and highlight tribal, African, peasant, folkloric, Indian, Japanese, Polynesian, Romany, Moroccan, Puerto Rican, Mongolian and native American Indian traditional decorative embellishments. The theme is go native.
This look borrows features like Nehru collars, sari fabrics, embroidery, ikat and Aztec or primitive pattern, excessive bangles and beads, shisha mirror work, batik and tie dye printing, obi sashes to macramé knotting, all to achieve an eclectic mix that makes us feel we have seen it before, but are not quite sure where. Then it dawns on us the characteristics are ones we've either seen on holiday somewhere or on TV when all the Miss World contestants line up in what passes for national costume! You are reading an original fashion article written by Pauline Weston Thomas© at www.fashion-era.com ©
The Gypsy Look - Spring Summer Fashion Trends 2005
The 'gypsy' look will be next years most widespread trend when topped off with disproportionate bling with rococo elements such as shells or spangles, metallic lustre sandals and an excess of accessories. The look is not peasant poor, but with tones of tempting Rita Hayworth in exotic mesmerizing gypsy mode, sultry and seductive. Skirts are fuller than they have been for years and billow with fabric.
A fascination with hand crafted looks is a strong theme for 2005. Individuality is the name of the new fashion game. Identikit fashion is out and you can express yourself with individually crafted looks. Choose your style, make your statement, make it yourself or buy it from an independent lone worker. Express yourself and be you. 2005 will be the year to dig out those knitting needles, that knitting machine or long underused crochet hook or get your macramé knotting skills up to scratch. But this is craft with a difference - the yarn is cashmere, angora, silk or linen with silk and ramie.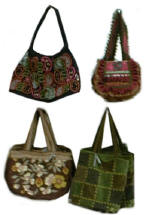 The commercial look will consist of layers of texture and embellishment with perhaps a hem of sequin decoration overlaid or underlain with more layers of perhaps a second and even third embellished appliquéd hem.
Garments that look as if they have been clumsily recycled will appear with decorative cut outs and will strongly feature badly applied appliqué. This clumsy, roughly worked appliqué with a clunky effect that is intended to be a naïve, folksy and amateurish will be easy to apply as a custom finish to your own garments.
Already high street stores have honed in on this texture with clunky hand crafts look and here are some bags from the Marks and Spencer Per Una range I photographed last week.
Click for closer detail
The Garden Look - Spring Summer Fashion Trends 2005
Hand painted Watercolour paint effects are part of the garden/botanical theme. Dreamy pastel printed florals, tropical vibrant hothouse flowers and Toile de Jouy fresh prints all sit side by side. The latter have that clean rain washed summers past quality. Some prints have flowers so large they easily cover half a skirt and become abstracted. Others feature as garlands of roses, using impressionist to cubist paint techniques.
The Wrist - The New Attention Zone a Fashion Trend of 2005
The wrist is the next new attention zone, some have even called it the new erogenous zone. The nakedness of a lower arm against a covered up torso will be the new area of interest. Women and girls at long last rapidly abandon the low slung naked bellies now so passé and so it seems so disliked by many.
The three-quarter sleeve or bracelet length sleeve will maintain it's positions as a modern looking sleeve on garments. Many sleeves will have flounces to finish them and draw even more attention to the wrist. Because of this, gloves will be the perfect 'new' accessory to cover the area of wrist flesh lending a new interest and variety to clothes, adding chic glamour styling when overdressed with cuffs and charm bracelets.
After fashions set in the film The Aviator some will adopt boldly contrasting gloves for outfits and use them in the way shoes have been used as symbols of desire in the past decade. Some sleeves at the elbow will be finished with ruffles making them evoke memories of C18th Watteau Pleat dress.
The shorter sleeves in general will encourage an old style technique of turning back the sleeve edge on longer garments to show a contrast lining.
To compliment the attention on the hands and wrists large cabochon rings and rings reminiscent of the 1960s dress rings will soon emerge as the next must have piece of jewellery. Plenty of rings such as the latter can be found in the back rows of jewellers display cabinets of second hand rings.
Other sleeve styles include the short angel sleeve as shown by Matthew Williamson and bracelet sleeves with flounces. You are reading an original fashion article written by Pauline Weston Thomas© at www.fashion-era.com ©
Asymmetric large cowl like bertha side collars and oversized decorative non functioning buttonholes will feature on cropped jackets. Zips that don't fully zip up, but act as decorative hardware show a new attention to fasteners as facets of embellishment that are purely decorative rather than utilitarian.
Trouser shapes are changing. There is a whole range to choose from. These are the main styles of trousers to emerge for summer 2005 - shorts to cut off cropped trousers, rolled up trousers, knickerbockers, culottes and skinny drainpipes to straight cut thirties bags often with turn ups and which flop over the shoe almost obliterating the shoe upper. The rolled up trouser look will get its look from the fabric used.
After the boot cut trouser, shapes can always go two ways. They can either go much narrower and skinny jeans have already done this. Skinny jeans can be worn inside boots or used as stiletto jeans. Choose some skinny jeans such as those by James Jeans from designers Siun Kim and James Chung who make jeans designed to slim and flatter the inner thigh. In the UK you can get these from Matches from approx £130.
Or the upper leg can widen until it reaches the outside of the flare and morph into the Oxford bag shapes of the 1930s. Look to the 1930s for inspiration and the film The Aviator for classy well cut trousers, with length, style and grace.
Some trousers have turn ups, others flop well over the shoe and it is these little differences that are important. All should be cut in quality fabric and worn with well cut smart tailored shirts or blouses. Being waisted and looped these trousers can be finished with either a tie dyed scarf threaded through the belt loops or use a great belt. The belt really can be the designer item that gets worn time and again. The use of a tie dyed or hand crafted silk scarf means you can follow one of the season's hot looks without going over Boho. Alternative fashion belts you could use are macramé or bead encrusted belts.
Embroidery is abundant on dress now and will be even more in fashion trend terms this spring and summer 2005. Varying from coarse and rustic to fine and delicate, to multi coloured wools or silk threads to single tones of silver and often combined with beading or sequins or other sparkle effects. Every variation is there and often in skirts specifically intended for daytime, but which are perfect for dancing.
Knitwear - Spring Summer Fashion Trends 2005
Knits are jazzier than for many seasons.
Traditional fair isle circular knitted yokes, Missoni style zigzags or Argyle patterns make an interesting change from plain and textured knits.
Remember garter stitch garments of a decade ago that replaced picture knits and intarsia sweaters. Well after the zigzags and stripes of this spring look next for jacquard and fair isle knitting both back on the scene.
You'll probably be buying some once you see film The Aviator. Contrast colour schemes like pink and black, turquoise and browns, lime and lilacs or rust and creams bring new vibrancy to knits. Accessorise your knit cardigans with skinny belts or replace buttons with pearl or diamante buttons for the latest fad.
Spencer style cardigans will be the knitwear version of cropped jackets.
Hand knitting is back in style with a vengeance, as knitters across the globe take up their knitting needles and create gorgeous confections using textured and beribboned yarns, that add 'original' looking hand crafted appeal with ease as individuals strive to connect with their creative side and pass away time relaxing and cocooning at the same time. Crafts in general will see a resurgence as original novelty in dress takes hold.
Other looks worth mentioning that can take off include those with witty quirky styling that looks fresh and inspired.
Nautical/military look

Kaftans from hip length to floor length.

New emphasis on the higher waistline.

Halter neck dresses with baby doll empire lines.

Smock looks.

Apron dresses.

Narrow cut swing coats with cuffed sleeves and cuffed pockets.

Sashes on garments especially coats with sashes.

Flared and draping skirts.

Shantung silk bag trousers with rolled up self made turn ups.

Trousers with turn ups.

Coin decoration.

Beaded and jewel encrusted sandals.

Charm bracelets.
You are reading an original fashion article written by Pauline Weston Thomas© at www.fashion-era.com ©
New Fashion Look for Fall and Winter 2006/7
If you like this page then please share it with your friends
---
For more information on women's and teens fashion trends go to:-
Custom Search
About Fashion-Era.com
Fashion-Era.com looks at women's costume and fashion history and analyses the mood of an era. Changes in technology, leisure, work, cultural and moral values. Homelife and politics also contribute to lifestyle trends, which in turn influence the clothes we wear. These are the changes that make any era of society special in relation to the study of the costume of a period.

Fashion-Era.com can take no responsibility for any information on the site which may cause you error, loss or costs incurred from use of the information and links either directly or indirectly. This site is owned, designed, written and developed by author: Pauline Thomas and Guy Thomas. This site is designed to be viewed in 1024 X 768 or higher.
ALL RIGHTS RESERVED. Fashion-era.com reserves the right to add or delete information, graphics and links. Copyright © 2001-2014 on all content, text and images in Fashion-era.com. Images and text in this website may not be used on other websites.
Before you write to me for costume/fashion help or information please, please consult the extensive sitemap which lists all our pages. If you still cannot find the answer after searching the site, then before you email me, please consider if you are prepared to make a donation to the website.
Donations
Reader's donations help this site flourish, in particular donations encourage me to write more articles on fashion history as well as current trends. PayPal allows anyone with a credit card to donate easily and securely. You may donate any sum you feel appropriate.