This page features more latest releases of spring summer 2005 fashion press images from the UK store TopShop which is owned by Arcadia. The text of this press release is on the previous TopShop page and covers the whole of the Top shop spring summer range. These images relate more to holiday and beach wear.
According to their press information office celebrity customers who wear their fashion garments have included Gwyneth Paltrow, Madonna, Kate Moss, Liberty Ross, Chloé Sevingy, Claudia Schiffer, Erin O'Conner, Lizzie Jagger, Liv Tyler, Kelly Osbourne, Beyonce, Scarlett Johanssen.
Since these celebrities also favour top couture fashion wear this is an acknowledgement of the great fashion edge Topshop has to produce affordable fast fashion easily in tune with the zeitgeist.
Little jackets, tops and short skirts at TopShop 2005.
Little Tops, wedges and tribal jewellery at TopShop summer 2005.
About TopShop
TopShop's customer profile is a 16-34 year female with 70% being in that age group. It's worth noting that many shoppers there are well over age 40, but they tend to do their fashion shopping there midweek.
‡‡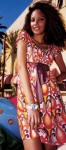 Since TopShop first appeared in 1964, but within the Peter Robinson group this is understandable. Many who shopped there for the latest fashions as teenagers still take a quick look around.
They do it out of old loyalty and also know a bargain may be found there. TopShop came out of the Peter Robinson stores as a stand alone shop in 1974. One of TopShop's best hot fashion sellers for some years has been the simple vest they call the Kate Vest. Many of the simple Tshirt vests can now be bought online from the TopShop website. Top Shop is well known for their innovative, affordable hot off the catwalk fashion designs.
Right - Ethnic print dresses, little tops, cropped denims and shorts at TopShop this summer 2005.
Shop at www.topshop.co.uk
Click thumbnails - All Images courtesy of Arcadia
TopShop Press Release Images Ends
You can see more Miss Topshop Images and the original text showing the spring summer range 2005 here.
Arcadia who own TopShop also own Miss Selfridge. You can see the Miss Selfridge press report and images here and tropical summer images for the beach here.
Page addition on 25 May 2005
If you like this page then please share it with your friends
---
For more information on women's and teens fashion trends go to:-
Custom Search
About Fashion-Era.com
Fashion-Era.com looks at women's costume and fashion history and analyses the mood of an era. Changes in technology, leisure, work, cultural and moral values. Homelife and politics also contribute to lifestyle trends, which in turn influence the clothes we wear. These are the changes that make any era of society special in relation to the study of the costume of a period.

Fashion-Era.com can take no responsibility for any information on the site which may cause you error, loss or costs incurred from use of the information and links either directly or indirectly. This site is owned, designed, written and developed by author: Pauline Thomas and Guy Thomas. This site is designed to be viewed in 1024 X 768 or higher.
ALL RIGHTS RESERVED. Fashion-era.com reserves the right to add or delete information, graphics and links. Copyright © 2001-2014 on all content, text and images in Fashion-era.com. Images and text in this website may not be used on other websites.
Before you write to me for costume/fashion help or information please, please consult the extensive sitemap which lists all our pages. If you still cannot find the answer after searching the site, then before you email me, please consider if you are prepared to make a donation to the website.
Donations
Reader's donations help this site flourish, in particular donations encourage me to write more articles on fashion history as well as current trends. PayPal allows anyone with a credit card to donate easily and securely. You may donate any sum you feel appropriate.