Womens Fashion Trends Autumn 2005 Winter 2006
1a. Major Fall Fashion Trends & Looks Autumn 2005 Winter 2006
Savvy fashionistas have been quietly, but consistently adding carefully selected new clothing items and accessories to their wardrobe that will fit in with the new season's latest autumn 2005/ winter 2006 fashion trends. Fashion styles for Autumn/Fall 2005 - Winter 2006 are here. Fashion-era.com regularly takes a realistic look at the hot female fashion trends and simplifies these differing fashion trends and looks coming from all directions into clear categories that you can easily comprehend, whatever your age group or income. As usual there are a dozen fashion themes, yet only a few items from within those themes will emerge as key looks. The main looks to choose from are detailed below.
Ethnic styling along with shorter non nineties cropped jackets will I predict will go down in fashion history as important aspects of costume history of the masses from 2000 to 2010. Elements of ethnic styling have been cropping up for some years and are a true fashion trend of the decade as opposed to a one month fad. Realistically let's acknowledge that whilst some fashion magazine editors and some web sites may say Boho has passed, street and forum evidence suggests that both women and girls love wearing it and many will continue to wear it a little longer yet.
However, moving into decorative Russian/Military/Victorian looks will make it all very painless and easy to achieve a fresh fashion feel with just minimal tweaking of wardrobe items. With the Russian Look you'll breeze through the transition from Boho to Babushka with ease.
In Autumn 2005/Winter 2006 the overall fashion trends feature components that echo the drama of historical costume and the glorious glamour of screen starlets. There are even more opulent embellished fabrics than previously seen. These fashion looks mostly emphasise women and their hour glass curves, feminine ladylike attributes and a longing for the chic sophisticated grooming combined with a yearning for the more romantic clothes of decades past. Black of course is back - as if it ever went away!
By contrast the Sixties Beatnik/New Mod Look is aimed at the 15-25 year old group. The Tomboy Look is for those who seek practical everyday, but masculine influenced clothes. The Tomboy Look focuses on waistcoats, trousers, mini-shorts and tailored cropped shorts or the newer item called skorts (mini skirts with modesty shorts underneath) that adapt to active urban working life. Coming up behind it, is a close friend the androgynous Aviator Look.
Don't be overwhelmed by the constant changes in fashion. Instead glean what knowledge you can about the newest style fads here and then work light heartedly from there putting your own fashion look together. Self style by selecting a few key elements of all the autumn winter 2005-2006 looks available and make it your own personal fashion statement. Provided you have regularly upgraded by a few key items EVERY season you need only ever buy a few major items as the latest new season dawns. Check the wardrobe tips fall 2005/6 page for extra information and cherry pick the trends that reflect your personality as well as the mood of fashion.
You are reading an original fashion article by Pauline Weston Thomas© at www.fashion-era.com ©
‡‡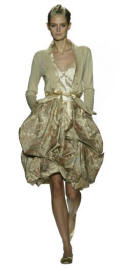 There is something for everyone with two major silhouettes.
The latest silhouette this year shows a new focus on lower volume.
Amid almost every designer theme is the persistent desire to introduce more volume into the silhouette as in fuller puffball skirts, lavish fulsome collars and enlarged sleeves.
Will we adopt the puffball skirt en masse? Maybe yes, maybe no! At first it will seem strange, but odds are on we will eventually adapt to the look. Perhaps the tulip skirt or onion skirt will be a half way choice. TopShop have a purple version of a yoked (therefore more flattering) puffball skirt at £45.
Autumn may see the focus of volume also shifting to the upper half of the body as more volume is introduced into fuller/wider sleeves and tops.
The second look has been with us this past season and is of a leaner silhouette with lean trousers or pencil slim straight skirt and cropped jacket or an elongating empire line dress.
Be careful to add volume only to your top or bottom half in preference to both halves of the body silhouette.
If you do add volume top and bottom try to ensure the waist is cinched in to avoid appearing swamped.
If you have fullness and more volume in the garment top, such as a smock top or puffed or angel sleeves or a cape, then make sure the bottom is skinny and narrow as in skinny jeans or a pencil skirt or long narrow Edwardian style skirt.
Likewise if you have a voluminous skirt keep the top half of the body very neat and tight favouring cropped jackets, shrugs, Spencers and fitted knits. Create some body definition so that some part of the torso is noticeably slim by highlighting the hips or under bust with a tie or belt. You are reading an original fashion article by Pauline Weston Thomas© at www.fashion-era.com © Image courtesy IFTF
Designers still continue to plunder costume history and vintage clothing shops for fresh ideas. Near Eastern Slavonic inspiration, Victorian and Edwardian elements all combine to give this season a huge costume drama fillip. To ensure chic fashion success don't slavishly copy the catwalk looks, have some sense and pare the look down to the more subtle aspects otherwise you may all too easily fall into the trap of appearing to be in re-enactment costume or about to take to the stage!
The Russian Look - Russe Looks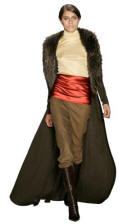 Probably the next most important styling look of autumn winter 2005/2006 is the Russian Look which will suit many age groups. Also called the Russe it has several strands from the embroidery of Slavonic Peasants, the ornament of the marching Cossack or Hussar to the aloofness of a Romanov Tsarina or mysterious Lara of Dr. Zhivago. Each theme from Russe Luxe Baroque to Revolutionary pays homage to Russian heritage.
Imperial Russia of yesteryear with its crisp military lines will be contrasted against traditional embroidered wool peasant style inspired clothing of the Russian Steppes.
Empire line dresses are kind and flattering to those with thicker waistlines drawing attention to decorated sleeve, neck and hemlines.
New volume skirts set on a yoke are frequently made up in velvet with lush baroque brocade fabric and embellishment beyond Boho style. This is best teamed with eyelet lace up or fur trimmed boots all capturing the spirit of this newest fashion trend. Roberto Cavalli does this look really beautifully.
Russian style double breasted and military Cossack coats feature strongly as does the late Edwardian (c1910-14) raised waist empire look from Doctor Zhivago. Fur is a big trimming feature and coats are long, calf and knee length, so take your pick. The styling is from military severe long and straight revolutionary to softer and more feminine waist nipping Cossack inspired versions. Lets hope it's chill enough to wrap your hair up with an extravagant fur Cossack hat and pair it with the correct boots and the Russian look is instantly yours.
§

This Russe fashion moves into richer more textural fabrics such as velvet adorned with folkloric decoration perhaps in suede appliqué over volume making skirts and tops. The embroidery decoration has a geometric feel often found in Slavonic work.
The look is frequently combined with fur trims on both garments and accessories and continues to oblige the consumer with its fantasy of romantic folkloric girly dressing.
Principles in UK has done the Russian Baroque look very well in its skirt section and some of the skirts have gorgeous floral detail. These decorated skirts are a snip at around £40 to £45.
An interesting approach to these skirts is the yoke or waist banding. Look out for satin waistbands about 4 inches deep or even deeper contrast hip yokes, before soft fold pleats or gathers. Smocked yokes also highlight the area.
Eclectic ethnic will not lie down and is still everywhere as the folkloric style on the high street filches from different designer collections and so can also move into Peruvian/Inca/Tibetan elements especially on knits and prints. You are reading an original fashion article by Pauline Weston Thomas© at www.fashion-era.com ©
The military look has been very popular this past summer and the autumn trend will pick up on this with cording and emblematic enhancement lifting garb into the realms of Sergeant Pepper. The military look jacket is a must have this season.
This fresh take draws inspiration from military coats and often an officer's dress uniform especially of the Russian Cossack era. Think of European Hussar uniforms of the Regency era, Little Drummer Boy or Circus Boy jackets, then imagine coats of every length from ankle to knee.
Jackets cropped or lightly tailed from the waist are all richly balanced with body braiding, cuff and epaulette trims. Such trims might be rich metallic or self coloured matching braids, tonal frogging, soutache braid decoration or contrast colourful piping and all capture the look.
Military jackets were seen at Michael Kors and Burberry. The high street retailer TopShop have called their version of this look the Admiralty Look. TopShop Admiralty shows naval influenced officer jackets and equestrian touches. The Nautical look moves into Military with ease and so does the appearance of navy blue often teamed with black, a once frowned upon colour combination.

As the season draws on, the military jacket has developed more Victorian touches. This is not surprising as a great deal of Victorian costume was decorated with frogging, cords and braids in complex patterns as in Garibaldi blouses. It was also used on decorative mancheron epaulettes especially those found on mantelets and capes.
Costume Drama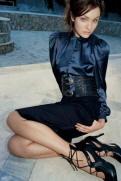 Victoriana is a trend to watch. It has Gothic hints and combines to recreate nuances of styles worn in Victorian England. Victorian and Edwardian fashion elements highlight the importance of hourglass shaping and waist definition. The Gothic dramatic feel to this look will appeal to all age groups, but don't get too swamped by adopting the complete catwalk look.Image courtesy Arcadia
Think of Mid/Late Victorian high necked blouses with ornate deep cuffs and lace inserts all teamed with full dirndl taffeta skirts often with ruffles or flounces. The main instant piece to capture this look quickly, is the neck accented Victorian blouse.
It may fall from a circular yoke and have large puffed sleeves either very early Victorian Romantic beret sleeves (c1835) or leg o' mutton sleeves of the 1890s. Some designs also showed cape and mantelet effects that were popular in the late Victorian era.
It can be a blouse of the finest white lawn or silk with rows of carefully placed tiny buttons, tucks, pin tucks, lace insertions, deep cuffs and small stand necks.
The blouse can be on the lines of a formal decorative braided Garibaldi jacket.
It's an old fashioned period look which is girly and marries opulent fabrics from jacquard matelasse and velvet satin to chiffon and silk georgette.
In dark moody black fabric, full tiered Boho skirts easily morph into Gothic influenced Victorian skirts. But the Victorian blouse also looks good with a pencil velvet skirt as shown left.
The Victorian Look was a feature of both the Chloe and Rochas shows where lavish Victorian touches captured the spirit.
Edwardiana looks are really about an hour glass figure and sweeping full skirts that define the waist and hug the hips whilst flowing out into a fuller hemline sometimes frilled, flounced or ruffled. This particular look for autumn depends on an hourglass body - a corset belt is sure to push your figure into the right shape. Capes to the waist highlight the circa 1900 feel.
This look also touches on the Principal Boy effect with jabots, frills and luxury fabrics. Think girl in rich fabrics like velvet and brocade masquerading as handsome boy. Linked to this are Edwardian line double breasted Russian styled long coats.
After fashions set in the film Aviator, the Aviator Look draws from faded distressed leathers, tan riding boots, tea dresses, cashmere argyle and fair isle V neck or chunky cable knits with fur collars and cuffs. Fur trims can be thick and wide to the narrowest of dainty fur trimmings that trim a cardigan.
The Aviator jacket can be in all types of leather or suede or in a wide range of materials from boiled caramel and cream coloured wool, to dyed Shearling or Persian Lamb. The Aviator jacket is likely to be a huge mass hit as it is so casually wearable with narrow skinny jeans or traditional masculine cut check trousers in the mode of Katharine Hepburn.
At Dior the Aviator Look was played out many ways. Full length Aviator style coats to knees were also worked as aviator flying and pinafores dresses with blouson hemlines. This look was worked in taupe colour or natural aviator tan. Dior's jackets and coats had massive collars with huge revers sometimes round or square, but always over sized.
In particular a neat cropped jacket in crocodile leather made up in various colours, including natural tan was set just below the waist with sleeves with a narrow puffed head and the jacket upper side arms had side pockets. With its excessive double collar this just below waist jacket is a key Dior piece for fall.
You will find one of the nicest versions of the Aviator Look by Diesel, who do a Diesel cropped sheepskin jacket at £600. As for jeans get shopping for the newer slim leg styles if you can wear them well. TopShop have some of the long awaited skinniest jeans in stock now in their new Baxter range. Such jeans should be avoided by those with thunder thighs!
Masculine lines in tailoring and cropped to knee shorts and super short shorts will appeal to tomboys. This is the contrasting androgynous look which will vie for attention with Hitchcock Heroines.
Alexander McQueen used 1940s tailoring with masculine touches to great effect. With a British touch this look also uses traditional country style cloth, tartans, plaids and checks.
Look out for rich fabric waistcoats especially those of Regency style c1800. These have curved low front shawl necklines and single button fastening and are also reminiscent of horse and hounds hunt master ivory cream waistcoats.
Sixties
The New Mod
Sixties style focuses on black and white. It is a sharp graphic monochrome noughties version of the Beatnik Look. Black is a used in a 60's graphic pop art way contrasted sharply against white so that it zings New Mod.
This will be a big young look and has been taken up by a lot of manufacturers. Selfridges will patronise the black and white op art influenced sixties look and are devoting a great deal of floor space to it.
Primarily aimed at the 15-25 age group this Beatnik look pays homage not just to the sixties, but also to the finer points of 50s rock, Goth and Punk fashions. Think black and white and slightly space age - a total refreshing contrast to many other looks this year.
Note lots of traditional checks and tartans in black and white - don't be surprised when older women adopt certain elements such as the smart checks teamed with black.
Much of this look has been inspired by the film based on Edie Sedgwick, former 60's muse of Andy Warhol. You are reading an original fashion article by Pauline Weston Thomas© at www.fashion-era.com ©
English Lady is a Fall 2005 classy ladylike look that epitomised a particular kind of cool detached woman seen in films of the 1950s and 60s.
Visualise tastefully groomed ladies mostly with golden blonde locks like Tippi Hedren, Grace Kelly, Lauren Bacall or Kim Novak. Think also of immaculate brunettes like Audrey Hepburn and the exceptional accessorized ensembles. Proper handbags required.
The English Lady is a fashion look of controlled perfection in grooming and will delight those who like neatness in fashion from suits to pert lace fitted 'tidy' cocktail dresses.
This fashion trend is for high maintenance grooming with lots of wearable suits with either pencil skirts or more voluminous full dirndl skirts. These are topped with neat fitted jackets made up in flatter boucles and tweeds as well as traditional tweed.
Simple less textural classic British tweeds like finer lighter weight beautifully tailored modern Harris tweeds are more prevalent too than highly textured deconstructed fray edged tweeds of the past couple of years. The look is smooth tailoring with finesse.
The fitted hour glass look jacket demands a waist when 50's inspired, but has the option of a more relaxed, semi fitted straighter jacket when 60s inspired.
Grown up sophistication is cool, classy and groomed. This look of autumn 2005/6 is ladylike in the style of upper crust British ladies of elegance. Think of a Norman Parkinson debutante of the month, in her various guises - from twin set and pearls to riding equestrian gear - to the groomed sleek hair of a class act chignon and cocktail dress. Add cashmere knits to create a working wardrobe.
This look may be just a bit too formal for many women. However it may find refuge in business wear. Donning a suit is a no brainer first thing in the morning when it comes to fast put together looks for all day grooming.
See and Read more about colours, materials and textures for autumn 2005/ winter 2006 on this page. Read a summary of colour below.
-------v6-------
A Brief Look at Colour and Fabric Effects
No sooner than we all happily adopt colour than some designers (OK the highly regarded Prada) decide to simplify and pare fashion down and design mostly in black again. Black is a useful base and is always in fashion. No wardrobe is complete without a section of items in black. But ask yourself this - having been liberated to wear colour again, question do you really need more sombre black yet, quite so soon after years of wearing it in the minimalist 90s.
Before adding more this winter hold your horses before embracing it. Check out your wardrobe to see just how much classic black you already have and just add a few fresh items that nod to the trend - take advantage of colour whilst it's here.
You'll be hard put to avoid black though as it is part and parcel of the 60s Beatnik/New Mod Look. See the mood board here.
Read more about black in the colours section for autumn 2005/ winter 2006.
Sumptuous rich claret velvet and other deeply coloured jewel tones such as purple and green are hot colours for autumn/winter 2005/6. They were often made even more plush with fur trim. Mood boards.
Fall 2005/6 Main Colours include purple, aubergine, navy, petrol peacock teal blue, raspberry to rich claret, mustard yellow, grey, burnt orange, forest green, moss avocado, peaty earth tones, creamy champagne and flesh tones, all competing against black.
But experiment with bold contrasting colour mixes such as that found at Dior where a lovely warm mauve toned aubergine was worn with red shoes.
Vibrant colour is used especially to invigorate new life into sheepskin and other leathers. Fendi showed coloured Shearling and leather trimmed red coats. Look out for vivid dyed furs and skins.
See and Read more about colours, materials and textures for autumn 2005/ winter 2006 on this page.
Expect to see lots of contrasting fabric laid side by side in one garment.
There will be rich deeply coloured plush velvets, Shearlings and corduroys. Panne velvet is back in favour and sits beside suede, leather skins, boiled wool, suitings and tweeds of many types all contrasted with fluffy real fur and faux fur, dull crepes, lace, satins and silk, graphic and Pucci style prints. Lace trim and lace looks abound this winter.
Graphic abstract prints become more prevalent as florals move through organic patterns and paisleys into more abstract and op art influenced imagery.
Distressed leather, crocodile effects and fur are used abundantly and combined with hardware buckles, lace eyelets, grommets, pompoms and embroidered braids.
British Country Style Tweeds have been out in force for several seasons, but this year's tweed is moving toward checks and a flatter smoother less textural knobbly finish. Tweed tailoring is becoming finer.
The new (still lighter) tweeds reflect more traditional tweeds like Harris tweeds, flat plaids or old familiar checks such as black and white puppy dog, dog's tooth and hound's tooth checks and herringbone wools. They are most often in the basic monochrome black and white scheme that can be sharp and smart and is the mainstay of the New Mod Look. You are reading an original fashion article by Pauline Weston Thomas© at www.fashion-era.com ©
Read more about colours, materials and textures for autumn 2005/ winter 2006 on this page.
(Page Date 5 August 2005)
If you like this page then please share it with your friends
---
For more information on women's and teens fashion trends go to:-
Custom Search
About Fashion-Era.com
Fashion-Era.com looks at women's costume and fashion history and analyses the mood of an era. Changes in technology, leisure, work, cultural and moral values. Homelife and politics also contribute to lifestyle trends, which in turn influence the clothes we wear. These are the changes that make any era of society special in relation to the study of the costume of a period.

Fashion-Era.com can take no responsibility for any information on the site which may cause you error, loss or costs incurred from use of the information and links either directly or indirectly. This site is owned, designed, written and developed by author: Pauline Thomas and Guy Thomas. This site is designed to be viewed in 1024 X 768 or higher.
ALL RIGHTS RESERVED. Fashion-era.com reserves the right to add or delete information, graphics and links. Copyright © 2001-2014 on all content, text and images in Fashion-era.com. Images and text in this website may not be used on other websites.
Before you write to me for costume/fashion help or information please, please consult the extensive sitemap which lists all our pages. If you still cannot find the answer after searching the site, then before you email me, please consider if you are prepared to make a donation to the website.
Donations
Reader's donations help this site flourish, in particular donations encourage me to write more articles on fashion history as well as current trends. PayPal allows anyone with a credit card to donate easily and securely. You may donate any sum you feel appropriate.