Spring 2006 Trends in Occasion and Bridal Event Wear
Frank Usher Occasion Wear
On this page I show a selection of occasion wear from Frank Usher with some images in plus sizes lower down the page. You can read more about plus sizes of other brands too on site. Many of the outfits shown on this page would suit members of the bridal party or guests at an occasion event. All images are courtesy of Frank Usher. Click thumbnails.
Dusk, Coterie and Frank Usher, are all brands of the Frank Usher group. Telephone in the UK is 020 7629 9696. Coterie is a range of clothes perfect for any mother of the bride who range from a UK size 10 to 22. Dusk has styles that expose more of the body and range from 10-18, whilst the original Frank Usher range has some garments that stop at size 18, some that finish at 20 and others that go up to size 22. You can see all of these ranges on the website above. Frank Usher is a division of Slimma PLC. Quintesse which has figure flattering plus sizes, ranges through UK size 16 to 26.
This spring summer will see many special occasions come and go and you may well be seeking an occasion wear outfit to match the mood of just one special event. Sometimes you get a year full of engagements with weddings, bar mitzvahs, exclusive garden parties or special decade birthdays and then other years there is simply nothing extra special to buy for.
Buying an occasion outfit can often be an expensive purchase if the item is never worn again or more than 3 or 4 times. But buying a lesser outfit may make you feel so out of place or uncomfortable at the eventual occasion, that its best to realise this at the outset and get something that makes you feel sensational.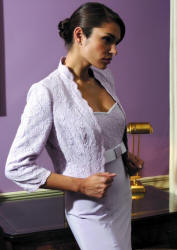 Left and below, Frank Usher Coterie range dress and jacket duo at £755 complete. This empire line dress and lace bolero jacket left would fit no end of special occasions. It would be perfect to wear as a guest or for a marriage ceremony. In years to come it will look classic in photos and you won't think why did I wear that. Nothing is extreme about it, yet it would be ideal for a wedding starting at 4 pm that moves into an evening reception.
The lace bolero would make it a very wearable two piece for a ceremony or a blessing. For later glamour at the dining table or buffet, the jacket could be removed to reveal a glamorous ankle length gown as shown on the right. The length makes it very suitable for all sorts of special and more formal events.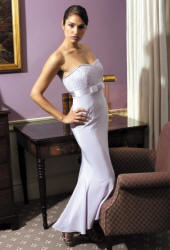 If you hate your arms as older or less toned women often do, then a jacket provides a perfectly acceptable pretty cover up and adds a layer of warmth if conditions are cooler than hoped. Such an outfit of a low neckline dress and jacket also gives you the choice to bare more. Choice is especially important if once at an event, you feel everyone else has opted for skimpier looks and you want to meld in.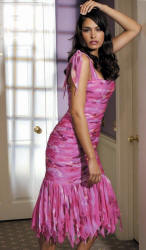 The vibrant dress left would show off a great figure on the dance floor and the brilliant colouration would be dazzling on continental holidays where strong colours look spectacular set against a tan.
Right pink Frank Usher Dress £440.
So whether it is a spate of fashion conscious weddings as a guest, or as a less formal full works bride with veil, Ascot, a graduation ceremony, annual golf, rugby, cricket or May balls, once you become aware of an event, you'll have a moment of fashion panic. You will start to ponder what to wear and so the search for a perfect vogue moment begins.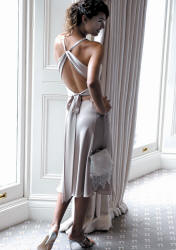 Buy too soon before you've picked up on the current fashion mood and you may get it wrong and misjudge the event. Shop too late, then find the best garb has left the rails or at least the best items in your size have sold.
If you are a daring type you may want a scene stealer dress like this sophisticated satin backless dress from Frank Usher Dusk range shown right and at £259.
Remember that whilst the dress left is a show stopper it may not be suitable without some cover up jacket if part of the happening takes place in a religious building. No one would throw you out these days, but some people would tut-tut because without the bare back covered up it would be inappropriate dress and is discourteous to the hosts. BUT, with a cover up lace shrug, bolero, stole or fur for the duration of any religious element, it would be a great dress and look stunning later swishing around a dance floor.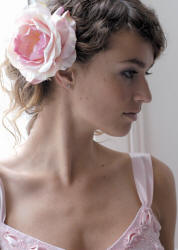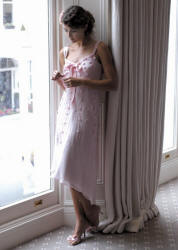 You may like this pretty ultra feminine ribbon trimmed slip dress also by Frank Usher.
Left - Frank Usher Dusk range dress at £360. This gal is going somewhere very special, yet she looks modern in a classic way. Another dress that will look classic in pictures in years to come.
An alternative to a hat is a faux flower corsage in the hair or a simple feather fascinator. This corsage fits the bill exactly and such flowers can usually be obtained from all good millinery departments.
The best way to shop for occasion wear items is to mentally prepare by first looking around and shopping frequently. This way you get to know what's in store and judge what's moving. This will also give you a ball park figure of what might be needed to be spent on the ideal outfit.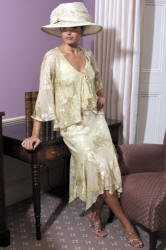 Soft, silky and floating chiffon might be your main requirement as in the lemon two piece right. If you are mother of the bride and want to make a statement this would do it. Dress and Jacket from the Coterie range by Frank Usher at £630. The loos nature of the top would also be very forgiving.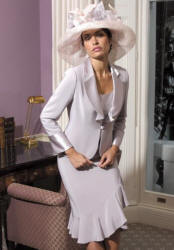 If you need something with a different type of formality then a tailored jacket over a dress or a skirt suit in interesting more structured fabrics like these others may be suitable. To left - Coterie range at Frank Usher 3 Piece suit £630 and the hat is £139.
The crêpe/satin combination like this ensemble or the bark textured fabric like this cream jacket below offer a very different final look. Not wearing a hat also changes the look. Even a simple outfit cane become more formal with a magnificent headpiece.
§
Coterie by Frank Usher 3 Piece Suit £615.
If your budget is limited you may need to think thorough the best options for you. This could mean wearing something good you have in your existing wardrobe, but zapping it up with wonderful accessories or one special finishing touch touch such as a swansdown bolero. Or, you may already have great accessories, or can borrow a good hat, but just need the garments.
If you see something you love and it looks great check my ticks rule before purchasing. Do remind yourself why you are buying the ensemble and at the same time ask yourself will you feel comfortable wearing it. There is no doubt that for years to come you will be glancing of photographs of yourself at the event so take time to buy that special outfit or just acquiring the perfect accessories which complement an outfit just so. You may be glad too when you are mingling with other guests that you went the extra mile searching for the ultimate occasion outfit.
If you are a plus size take a look at these items also by Frank Usher Quintesse range in UK size 16 to 26.
All images are courtesy of Frank Usher. You can find a list of stockists, item numbers and agents at the Frank usher site. My thanks to Viv for her help. Click thumbnails.
§
Read more about hats for weddings for summer and plus sizes and specialist shops. General shopping advice in my TICKS rule. Check out a local shop Lynn Craig in Worcestershire which sells clothes for any occasion.

Page added 6 March 2006

Click here and download your Full Version of the Fashion Drawing Female Outlines eBook for only $9.95.

If you like this page then please share it with your friends
---
For more information on women's and teens fashion trends go to:-
Page added 15 Sept 2005