Fashion Trends 2006
Fashion Accessories Spring Summer 2006
Shoes and Small Accessories
Women and girls are craving not only for bags, but also for other status driven accessory items. Most have not taken to following the fad of some celebrities who have exchanged their brains for the ultimate bimbo accessory, the undersized miniature dog. Others teeter on their Jimmy Choos or Manolos designer shoes, which are far more desirable accessories and unlikely to ruin an oversized designer handbag. Accessories now include what I think of as techellery - the latest wearable technology. Even top hairstylist designer haircuts, brand name hair extensions, bleached teeth, cosmetic injections and breast and buttock implants, are now considered merely a different kind of personal accessory.
The average mere mortal might simply choose from the latest style of belts, shoes, sandals, sunglasses, scarves, watches or jewellery in an effort to upgrade their look. Fortunately, the high street retailer is hot on the heels of any celebrity 'must have' as information is disseminated so quickly these days.
Make no mistake how important accessories have become. They can be the ultimate one off status symbol without buying into fashion racing of garments, which can be hit more easily by climate fluctuations. Some accessories like a flower corsage or charm filled kilt pin are very inexpensive, but provide an instant update. You don't even have to wear corsages or scarves in the traditional way, just fix them to your handbag for an immediate fashion reviver.
This season in addition to huge bags and tiny bags, belts are the biggest accessory story along with ribbon bows and ribbon work rosettes.
Shoes by the great designers of our time like Patrick Cox and Manolo Blahnik may be beyond your budget, but the authority imbued by designs styled by these artistic shoe designers is soon translated into high street examples that try to capture the essence of the novelty. Sometimes they succeed, but sometimes the only way to get that ultimate style is to splash out on these revered top names. So important is the work of Manolo Blahnik that the word Manolos or Jimmy Choos are now an accepted dictionary words for highly esteemed footwear accessories.
Other shoe designers also contribute new ideas. Prada for example offered bamboo stilt style wedge stacks and wedges by Alaia and Louboutin offer other interesting footwear options.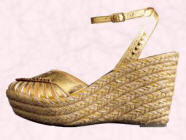 Alexander McQueen showed denim rope on skirt hems and this influence can be seen sandals and shoes in parts traditionally covered with leather. These great deep wedges shoes with gold leather uppers are from John Lewis. In fact, all the wedge images here courtesy John Lewis.
There are wedge shoes with solid wedges, but some forward looking high street wedges have large cut out pieces aping ideas from Miu Miu.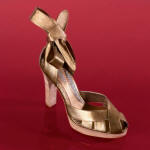 For wearable elevation check out wedges or heels that are not spindly, but have thicker stacked heels. Thicker stack heels are most usually layered wooden, cork or fabric covered.
Miss Selfridge metallic gold platform shoe, image to the left, is from the Xmas/Winter range. Image courtesy of Arcadia.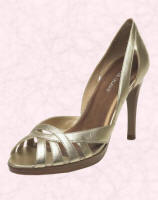 Definite shoe trends to note for 2006, include the platform sole shoe and the return of patent leather. At least one pair is advised as a staple of this season's wardrobe. Some platforms are comparatively gentle as these gold platforms shown here, whilst other are heavier and chunkier in appearance, more reminiscent of the styles of circa 1974/5.
To the right are River Island Womenswear Spring Summer 2006 Metallic Shoes £49.99, and just below the pump style is also from River Island Spring Summer 2006. Pumps £24.99
Get the 1950s couture debutante look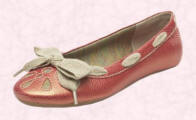 by wearing either formal court shoes or round toed flat ballerina pumps with satin or brocade coats, skirts or dresses. Zac Posen featured rosettes on shoe heel backs and others have shown footwear with bows and peek-a-boo toes. Round toed ballet flat pumps often come in strong colours and have contrast trims as these shown right also from River Island illustrate. Many ballet pump styles are super flatties decorated in a similar way to the shimmering coral red and cream version above.
For a little lift add a bit of extra height choose a pair with a more flattering tiny heel of 2 cm or more. This height will take you out of the dumpy doldrums, so if you are short, but want the round toed ballet look that is so good with full slouch skirts.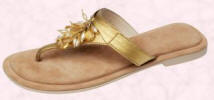 Roman influenced Gladiator sandals are frequently more complex than a simple flip-flop thong sandal so popular last summer. This lovely golden leather and bead Roman sandal is courtesy of John Lewis. Others have decorative bows or brooch ornamentation.
Shoes are also in fabrics such as brocade and compact tweeds. Shiny patent shoes make a reappearance along with patent handbags. The latter accessories look modern and young as patent has not been in fashion for 10 years.
Mary Jane style bar and TBar shoes are sturdy selections that stay on the feet and can be more comfortable than winkle picker toes so are sure to be winners. Laced thirties style courts are another good option.
‡‡
Belts have moved up from the hip and are now on the waist and mostly waist cinching statement pieces too. For interest, choose coloured patent belts in singing colours, this will add life to sombre plain clothes especially red belts teamed with the neutrals like beiges.
Handbag hardware and styling appears to have moved onto belts so look for buckles, studs and deep cuffs set as one belt on another. Some belts are made from grosgrain ribbon and they provide a new look for a long established material.
Skinny scarves which elongate the body when worn long and flowing can double as belts. Accessorize has some youthful versions.
Scarves are back for both young and older. Great scarves are an instant way to add extra dynamic now fashion colour that can jazz up or soften a more sombre outfit. Wear them as a belt, as a hair accessory or cover up a doubtful neckline.
Finding a glamorous scarf is not difficult, but choosing from the huge variety available can be bewildering. Pay a bit more and choose one in a ravishing material, wonderful complexion enhancing colour with good craftsmanship.
Ribbon belts in quality satin ribbon give a 70s touch when used to streamline a fitted rib knit sweater or cardigan. Add your own belts and braces to customize your own pants styles.

Flower forms especially worn in the hair Geisha style with decorative hair sticks are perfect for evening and weddings. If that's too fussy for you just pin a flower corsage to your summer straw bag. These two examples are both from John Lewis.
§
In summer, no handbag is complete unless it contains a pair of sunglasses artfully strung around the handle. Big Jackie O sunglasses are an easy way to give a 60s fillip to your look. Check out Miu Miu's white-framed sunglasses.
The big buzzword phrase of 2006 is 'Wearable Technology'. Levi Strauss launched Redwire DLX jeans and they integrate iPod plug and play technology. One wonders if decorative iPod cases and costly mobile phones, worn as a necklace or across the body as a form of jewellery, are accessories or clothing.
Already I think of these various forms of wearable technology as techellery. Jewellery trends will be discussed on another page.
Even gloves have made a big comeback as three quarter sleeve jackets leave bare arms that need a utilitarian smart option. Three quarter leather gloves are now more easy to obtain from stores such as Debenhams and John Lewis.
(Page Date 15 Feb 2006
If you like this page then please share it with your friends
---
For more information on women's and teens fashion trends go to:-
Custom Search
About Fashion-Era.com
Fashion-Era.com looks at women's costume and fashion history and analyses the mood of an era. Changes in technology, leisure, work, cultural and moral values. Homelife and politics also contribute to lifestyle trends, which in turn influence the clothes we wear. These are the changes that make any era of society special in relation to the study of the costume of a period.

Fashion-Era.com can take no responsibility for any information on the site which may cause you error, loss or costs incurred from use of the information and links either directly or indirectly. This site is owned, designed, written and developed by author: Pauline Thomas and Guy Thomas. This site is designed to be viewed in 1024 X 768 or higher.
ALL RIGHTS RESERVED. Fashion-era.com reserves the right to add or delete information, graphics and links. Copyright © 2001-2014 on all content, text and images in Fashion-era.com. Images and text in this website may not be used on other websites.
Before you write to me for costume/fashion help or information please, please consult the extensive sitemap which lists all our pages. If you still cannot find the answer after searching the site, then before you email me, please consider if you are prepared to make a donation to the website.
Donations
Reader's donations help this site flourish, in particular donations encourage me to write more articles on fashion history as well as current trends. PayPal allows anyone with a credit card to donate easily and securely. You may donate any sum you feel appropriate.