Fashion Trends 2006
Fashion Bags for Spring Summer 2006
Bags this spring 2006 are busy, busy, busy, with lots of stitch detail. Busy, grossly oversized bags are the latest 'it' bags of the season. Don't worry if you can't afford a top of the range designer bag, because the high street has done it's best to accommodate everyone. Last season's craze for a bag such as the Fendi Spy, Chloé Paddington, Silverado or Marc Jacobs Stam, means that you will be able to find high street gear that has similar elements.
In both designer and high street shops look out for larger handbags than you have ever had before. Examine bags with extra buckle down straps, edges wrapped with leather thonging, plaited areas and plait handles. Other textural techniques include studs, padlocks, frills, gathers and tassels. Most of all, check out the metallic finishes, including inexpensive fast fashion bags, such as those shown in the header at a Marks and Spencers Per Una section.
Bags for spring have plenty of interesting accessories, for example, pockets, tassels, dangling charms, leather appliqué, free form logo attachments, key rings, and metal ornament as buckles. Then there are neat finishing touches in the form of gold and steel tone studs, crystal beads and leather rouleau bows. You are reading an original fashion article written by Pauline Weston Thomas© at www.fashion-era.com ©
‡‡
These two pocketed bags, images below are courtesy of Debenhams and both are very attractive examples of pocketed bags. They retain an element of neatness missing on some bags smothered in oversized locks and bulky extra end pockets. The pink bag is a Designers at Debenhams model by Jasper Conran and is one of my favourite summer bags this year, it is also affordable at £55. This bag would work well with all the tones used in the colours of Blush Looks for spring.
The red bag image is also courtesy of Debenhams - they have a fine range of leather fashion bags. Debenhams Red Herring studded shoulder bag £22 - Debenhams Stockist enquiries: 08445 61 61 61
Printed bags are very much the current vogue, as is the new deeper taller bag shape and deep tote styles. Ogle the variety of decorative trimming on bags from sailor rope, bamboo, beading, gold studs or silver studs. Frequently, headscarves or gold chain are slotted through its eyelets. Handles may incorporate chain in twists with leather or be simply made of chain. Many handles are made of plaited leather pieces and of course, seek out woven leather bags as shown below and in imitation of those made popular by Bottega Veneta.
The latest bags are so very busy that they are textured and embellished, even when inexpensive. Raffia is over embroidered, studs and stones like turquoise are embedded in the extremities or even the main body of bag materials. Leather and suede is frequently presented as washed and distressed, tie dyed, tool impressed, cut-out, frilled, made into rose trims and generally made of huge proportions.
Debenhams Spring/Summer 2006 - Bags
This spring the current seasonal fashion trend is for the slouchy bag. In 2006 it has fully integrated itself with the masses as a major fashion. This fashion owes much to the Gucci Hobos, the Fendi Spy bag, the Chloé Paddington and the Silverado. Oversized large squashy outsized slouchy hobo bags complete the fashion look of spring 2006.
The contrast to all this is the sleek clutch bag. One of the nicest most streamlined examples that I have seen is at Russell and Bromley and made in suede. Watch out for the reaction to this over-sizing of bags and observe the already developing trend for undersized small bags and tiny bags worn like jewellery. This clutchbag below is perfect for evening or an occasion event. The Oscar clutch bag below is £35 and the image is courtesy of Accessorize Spring/Summer 2006. You are reading an original fashion article written by Pauline Weston Thomas© at www.fashion-era.com ©
The simple frame beaded clutch bag dripping with coloured beads is just £30 from Debenhams Spring Summer 2006 Accessories range. Star by Julien Macdonald Designers at Debenhams.
§
Consider investing now in a bag with a chain handle as this look is destined to be a strong one next autumn.
Hardware and ironmongery on bags are reaching a new peak and many bags have studs in rows, or bands of extra metal trimmed leather over the body of a bag. White bags are set to be popular, but please make sure it's not a cheap looking bag as white bags can look tacky quickly. They also mark very easily whatever they cost, so avoid using pens near them. This white studded example is from Debenhams.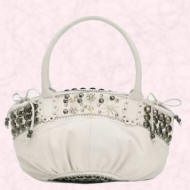 Butterfly white button circle shoulder bag, £55 by Matthew Williamson for the Spring/Summer 2006 range of Accessories at Debenhams.
This is also the year of the metallic bag that shimmers and glistens with silver gunmetal, gold, copper or bronze tones. This photo below is of a metallic bag by Julian MacDonald and is courtesy of Debenhams. Notice the metallic grey gunmetal finish and the tassel feature. I rather like this bag too, as it is not OTT for a metallic finish. Grey will also be a strong colour contender next autumn. This design below courtesy of Debenhams, is Star by Julien Macdonald - Gathered Small Shoulder Bag Spring/Summer 2006 - £30 at Debenhams.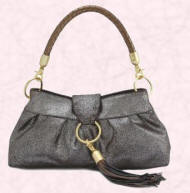 Right now large bags drip with detail such as the Burberry chain insertions. One of the latest trends in accessories is of texture on bags. The texture first included use of furs and tweeds but now also includes knitting, macramé, Suffolk patchwork puffs, lace or crochet, leather gold studded surfaces, woven and plaited leather insertions or tweed bodies. This raffia crochet bag is a nice high street example of a useful all purpose large summer bag. You are reading an original fashion article written by Pauline Weston Thomas© at www.fashion-era.com ©
The Oatmeal crocheted raffia bag below is courtesy of Laura Ashley - please call 020 7880 5262 for further details on price.
The very dark brown leather tote bag is from Marks and Spencer has surface texture created by weaving panels of leather strips. (See above picture, right hand bag). It very much pays homage to Bottega Veneta bags and the bag can be ordered online from Marks.
These felt Doctor bags from Buckles and Bows in UK are also great fun. They neatly marry the idea of a handbag with that of a clutch bag. This could be a good bag for a wedding as the flowers make the bag ideal for the woman who dislikes wearing a hat or corsage. It looks roomy, but is uncluttered and would team well with the neat Debutante Look.

Other bag looks include western saddle bags such as those by Toast and look out for new uses of old fabrics for bags such as the thick felt bags above from Buckles and Bows.
Women are cramming more and more unnecessary items into their bags! They need to learn to judge the occasion and to pare down a little choosing a smaller bag where appropriate. Decoders know that more structured lines of traditional 1950s styled handbags and tall totes are the way to go.
‡
For some time, I've noticed that bags are showing a trend to change shape growing taller, sleeker, cleaner and more structured and this is without the lumpy untidiness of excessive bulky outside pockets on every available surface. Many have interesting trims such as studs, piping lines and tassels, but retaining a less fussy more streamlined look. The lines of some of the hobo bags are gradually being morphed into newer taller more pyramid handbag styles, which follow the lines of fuller skirts.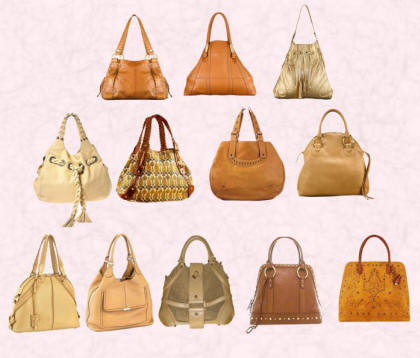 x
Notice the shape relationship between all these styles. See too how these bags all follow similar lines to the Novak bag seen in the centre of the bottom row. Many underarm handles are also being shortened, as a result, the handles can only be used in the hand this gives a totally different, less cluttered, cleaner overall look to the silhouette. Imagine the silhouette with the short handled bag compared to the untidy line the body gets with an underarm or shoulder bag. The neater looking, better proportioned bag will become a crucial part of getting the fifties and sixties looks well tuned. You are reading an original fashion article written by Pauline Weston Thomas© at www.fashion-era.com ©
Read more about my purchase of a Dolce & Gabbana handbag and check my tips for avoiding fake designer bags and bag aftercare.
Status driven habits mean that women pursue the designer handbag dream. One reason they like the designer handbag is that the rest of the body may well be quite dressed down. A woman can don jeans to feel relaxed, but they still want an item of cachet to tell the world they are making it. The item of cachet is the European designer handbag.
Bags are incredibly important accessories for every season. 'It' bags have driven the market to such an extent that many high street retailers have upped their bag styles a notch and added higher priced bag ranges. Naturally the high street bags pay homage to copies of 'it' bags. The bags are upgraded and so sold complete with dust bag.
Designer bags have become a must have fashion so read my tips here to avoid being ripped off with fake bags
Read my new pages about fake bags.
Those ahead of the pack already know know that after 5:00 pm, small bags work best in the evening. Since cargo pockets moved off pants onto bags, we have seen a plethora of over weighted bags whose contents overflow into already bulging sacks. I am with Tom Ford on this one.
Ladies, girls, teens please take a reality check on the haversack look, time to shake off the over burdened bags some have you have adopted. Yes a large bag like the Paddington can be desirable when a person needs a holdall bag to trip into town straight from work, but for an evening, a large bag takes points off elegance. Besides, there are so many fakes and look alike copies around, who wants a bag so over copied and distanced from its original. Not me. You are reading an original fashion article written by Pauline Weston Thomas© at www.fashion-era.com ©
(Page Date 18 August 2005)
If you like this page then please share it with your friends
---
For more information on women's and teens fashion trends go to:-
Custom Search
About Fashion-Era.com
Fashion-Era.com looks at women's costume and fashion history and analyses the mood of an era. Changes in technology, leisure, work, cultural and moral values. Homelife and politics also contribute to lifestyle trends, which in turn influence the clothes we wear. These are the changes that make any era of society special in relation to the study of the costume of a period.

Fashion-Era.com can take no responsibility for any information on the site which may cause you error, loss or costs incurred from use of the information and links either directly or indirectly. This site is owned, designed, written and developed by author: Pauline Thomas and Guy Thomas. This site is designed to be viewed in 1024 X 768 or higher.
ALL RIGHTS RESERVED. Fashion-era.com reserves the right to add or delete information, graphics and links. Copyright © 2001-2014 on all content, text and images in Fashion-era.com. Images and text in this website may not be used on other websites.
Before you write to me for costume/fashion help or information please, please consult the extensive sitemap which lists all our pages. If you still cannot find the answer after searching the site, then before you email me, please consider if you are prepared to make a donation to the website.
Donations
Reader's donations help this site flourish, in particular donations encourage me to write more articles on fashion history as well as current trends. PayPal allows anyone with a credit card to donate easily and securely. You may donate any sum you feel appropriate.