Fashion Bags 2006 - Designer Handbags
Tips for After Care of Quality Bags
On an earlier page I described tips for actually buying a designer bag. When it costs an arm and a leg it's worth taking the time to think about caring for it.
Follow or at least consider these tips when you use your handbag. Your priority is to keep your bag looking good and stain free, yet to enjoy using it.
Look after your bag and store it in its dust bag cover or use a natural fibre soft pillowslip.

Handle your bag, especially lighter bags with clean hands.

Avoid handling the designer bag after applying beauty products, face foundations or hand creams.

If the weather is really bad and raining consider using a less special handbag.

Be careful when you visit a hairdressers with your bag, as hair products can easily splash onto handbags left on the floor at your feet. Clippings of chemically treated hair can land on the bag and leave marks.

When carrying a light coloured bag consider using pencils rather than Biros - biro can be difficult to remove. Don't use your bag as a rest to place paper and write notes. Pointed pens can leave impression tool marks through paper rested on firm leathers.

If your bag has a chain handle, store the chain inside the bag to avoid scratching the outside leather when the bag is resting.

For storage, use bubble wrap to stuff your bags as it does not attract moths in the same way as tissue paper does.

If you are doing a big weekly shop then unless you are planning to impress a prospective Mr Right, avoid taking your special bag to the supermarket! Trolleys can scratch your bag and mark it permanently, as can spillages from foodstuffs such as yoghurts, cream, dips, squashy fruit, milk and even leaking cleaning products.

For long term storage, undo strap buckles so that impressions are not created. Then if you wish to wear the strap across the body messenger style and need maximum strap length or need to shorten it to wear underarm style at a later date, this unbuckling of the straps before storage will stop areas becoming impressed and unattractive. You are reading an original fashion article written by Pauline Weston Thomas© at www.fashion-era.com ©
‡‡
Today even high street handbags come with dust bags so use that dust cover well to protect your treasure whether it cost £50 or £5000.
Store your bags in dust bag covers or pillow cases. Don't use plastic bags to store your best bags. When your precious bag is not on display, protect it with the dust bag. There is no reason why you cannot just drop your handbag into your dust bag even when you are at home and the bag contains your worldly goods. This way, a bag is less likely to get scuffed or scratched by pets and family or have odd spots of coffee dripped on it as others pass by.
If you have to store your bag in your desk or filing cabinet at work, check the drawer first for rough splinters or sharp edges that could damage and scratch your bag. Consider keeping a spare pillow case in the drawer to cover your bag.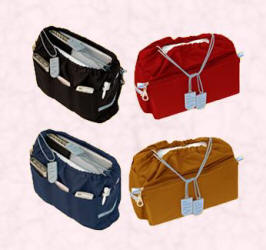 If you constantly change handbags consider buying a handbag liner made especially for the job. Purpose made handbag liners such as these shown right enable you to change your handbag contents quickly moving everything in one go. You can shift essential items such as keys and mobile phone in one smooth operation. This is a good way to tackle contents if your designer bag has a special lining that you wish to protect from make up and other lotions. Each range is in several colours.
Bag liners can be especially useful when on holiday. The version of a special holiday bag liner, is designed to enable ease of access to extra items such as sun lotions. Since the original banasoup.com site that gave me these images is no longer online I suggest you search Google for VIP hand bag liners. You will quickly find a bag website selling them at around £22 and £25.
There cannot be a woman who has not had a spillage of some kind in her handbag in her lifetime. I used to have a spillage of some type small or large and ruinous about once a year. I have become more careful in the past decade as it just became annoying. Now I have got into the routine of using small easy view make up style bags within my bags to compartmentalise my must have items. I have to say I do have my eye on one or two of these bag liners above as they do look perfect for the job.
However, don't be obsessive with your designer bag. It cost you a lot of hard earned money so use your bag and enjoy it. If it cost you £400 and you use it everyday for a year that is good value compared to buying a special event dress that costs £400 that you wear no more than once or twice.
Likewise buy a top end bag because you like it, not simply because it is the latest 'it' bag. Why pay £700+ for a bag style everyone else seems to have fake or real? Just choose a bag you personally like and if you buy at the start of a trend or when a trend like studs is in full swing like now, you should at least get 2 seasons use out of it. Then it can be packed away for a revival of the style at a later date. At least if you buy at the start or middle of a fad style then use the bag to death for six months, when you abandon it you will have had your money's worth. You are reading an original fashion article written by Pauline Weston Thomas© at www.fashion-era.com ©
§
Care of your bag is a very personal concept. I contacted the John Lobb company direct to enquire about caring for both my Dolce and Floto bags.
They wrote to me 'The jar of polish costs £13.62 + VAT 17.5%. The package will weigh about 300g, price for postage will be about £5.00 if we send anywhere in Europe. We would recommend the neutral polish as it will not spoil your clothes.'
For any cleaning you undertake, I suggest an assortment of quality soft non-abrasive cleaning dusters, plus a roll of quality soft, non-scratchy quilted kitchen paper.
Some people do nothing more than wipe their handbag with a damp cloth, whilst others pre-treat with anti stain and waterproof sprays such as Scotch Guard. Many bag owners also suggest using products such as John Lobb Lotion.
Always apply leather conditioners to a cloth rather than directly onto the leather. Only use the rain repellent after firstly conditioning the bag. Then apply the repellent in smooth continuous sweeping motions to avoid concentrated areas of product, which if uneven could stain a bag.
You may also like the restoration handbag services provided at Lovinmybags.com. Lovinmybags - specializes in handbag leather aftercare. They have developed their products for the delicate handbag leathers and they offer full handbag restoration services. They say they are seeing a lot of repairs needed because people have been using car leather polishes. Car leather polish has too high a pH and it strips off the finish on some leather bags. Anything to do with car or furniture care is not the best for today's handbag leathers. Years ago it might not have been such an issue.
Follow the product instructions to the letter.
I must warn you never to inhale any stain repellent spray products. Always use a well ventilated area and wear a mask. I have to say after my head and neck cancer experience, I would never now use an anti repellent stain as I believe certain products sometimes contain carcinogens harmful to the body - just my opinion. I am particularly thinking of old cans of stain repellent product you may have tucked away in a cupboard, but which were bought 4 or 5 years ago in UK before new recommendations were introduced. Play safe if in doubt.
Other treatments that people recommend, include using baby wipes on coated canvas, and hairspray on cotton buds to remove stubborn marks.
Saliva is also also a suggested method by museums to clean leather, particularly carved leather in panels in ancient homes. Such carved leather panels may be dirty with age and smoke. So this 'spit' technique should also work on leather bags.
Saliva is used too by those who sew, to remove a fresh blood stain from a pin prick stain mark that can happen when sewing. But you do need to act quickly so the saliva can in effect digest the blood. So you can see where this idea is coming from - it's a very old method which may seem distasteful, but which can work when all else proves futile. Always trial any cleaning or repair method on an inconspicuous part of the bag and make sure you do not get bits of lipstick in the mix if you do try the saliva method!
Many bags today have a great deal of hardware. This ironmongery can be an integral part of the design of a bag and if it is looking a little tired it may need a clean. Some people use Silverware cleaner or Brasso wadding for the hardware, but if you do use any of the metal cleaning products be sure you completely cover the leather or other material of your bag with a protective layer of material. By inserting layers of kitchen roll, you can protect any Brasso or silver cleaning fluids going on the bag cloth or leather bag materials.
If you are not sure what I mean, test the idea on an old bag you have no care for. You will see how black marks can be left if you are not super careful. Also watch where you do this cleaning as it's very easy to also stain a pale kitchen work surface with these products as well as your hands! I suggest laying things on an old towel kept for household jobs. Tiffany silverware cleaner is also used for chains and locks. These cleaners do all work, but you must be very careful and even more careful to remove every last bit of residue in a thorough final buffing. You are reading an original fashion article written by Pauline Weston Thomas© at www.fashion-era.com ©
Contralto cards are important extras that come with your top range designer bag. Keep the contralto cards, original tags and authenticity cards inside the dust bags. Some manufacturers will not repair bags without this proof of authenticity.
‡
If you carry mineral water such as Evian, make sure the top is screwed tightly after you have had a sip. Leaks can leave water marks. I had about 300 ml of Evian leak out into my Floto bag last year, annoyingly it left a watermark to half way. Despite finding the problem quickly and wiping the residue out of the bag with tissues, the residual water continued to gradually seep up the bag leather by capillary action. I left the Floto bag to dry naturally for 2 days as I didn't know what else to do.
Once dry I was hugely disappointed. The watermark ridged mountain like darker stain was very noticeable. So having nothing to lose I dunked the whole bag for a few minutes in a bath of lukewarm water rubbing the water into the bag with my hands. Then I drained it dry on an oven rack over a sink. I stuffed it with kitchen roll paper and let it dry naturally. When dry I must say it seemed to have evened out the stain ridge and I was able to use the bag again although it did take a couple of weeks use to soften up again. The inside striped fabric was a little wrinkled, but was not awful. The bag does look acceptable again and suits the careworn distressed look it develops with time, but frankly I preferred it pristine new.
My point is that the bag looked much better before the accident. I now make sure the bottle cap is secure on any container stored in my bag and in every other bag!
If you need to send your bag anywhere do make sure it is well packed and the box has padding around the bag. Put dangling metal logos or charms inside the bag or cover them with bubble wrap. Chain handles should be padded and if possible also placed into the body of the inner bag to prevent scratching the bag outer material.
You don't want the box being damaged like this one I had on arrival.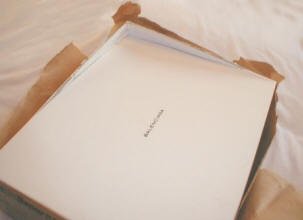 You may wish to consider bag insurance. Most household policies only cover goods to a small specific limit. Therefore check with your insurer that the handbag and its contents are covered by your policy. This may mean adding a small extra premium to cover bag Insurance. Specialist item extra insurance may be costly. Whether or not you take up insurance is your business, but be aware of the monetary factors.
Consider these facts - The average designer handbag may be worth anything from £300 to £1500. Even if your bag cost £50 it will probably be filled with items of value such as cash, cards, keys, leather gloves and make up. A few lipsticks, gloss, a mascara, face foundation, shadow, blusher, pencils, brushes, perfume etc., at just £10 a go on average your bag contents will soon add up to £100 - £200.
These days we also have technology in our bags. I'm not even thinking of a laptop here in a business brief bag, but just everyday techie items we now take for granted and cart with us everywhere.
Add in a mobile phone, a digital camera and perhaps an iPod, a Blackberry device, emergency hair straighteners and other personal items like a costly 3 month season ticket. To this add some harder to replace items in terms of time, inconvenience and sentiment - £300+ spectacles (needing half a day to sort out a replacement), plus a couple of pieces jewellery, perhaps just a spare gold necklace and earrings to revamp to evening looks and you will see that your bag if stolen is quite a loss.
-------v6-------
So look after your bag at all times. For safety on a day to day basis, always choose a bag with a full zip closure and inner zip pockets so random thieves cannot rifle through it in a moment. Open bags are easier to lose items from as well as attracting pickpockets. How often have you seen someone with their bag a gaping? If you noticed it then so will an an unscrupulous chance thief. Probably often enough to know that care is not just about keeping your bag clean, but also preventing others from stealing it.
If your bag has short handles hold the bag in the crook of your arm or by fully gripping the handles. Avoid carrying any bag by the finger tips so if someone tries to tug at it, you can at least attempt to whack them one with the bag, than let it slip away from your fingertips. If you are out and about in what you know to be a less safe area and your bag has a shoulder strap version, consider wearing the bag across the body, messenger style. You can hold it at the front of the body where you can keep a real eye on it.
Think I'm over cautious - not really. I left my bag on a train one morning 30 years ago. I still recall the sick feeling in the pit of my stomach at losing my nice new black patent bag as I knew it contained valuable and sentimental items. By the end of the day that bag, found by the guard, was returned to the station lost property. The purse had been rifled of money even of pennies, with everything else left in the handbag.
So if you lose your bag in a hotel or restaurant, or similar place, always tell the staff immediately. Your bag may be lying around in another part of the building with just cash and the most desirable valuables (cash and credit card) removed, but the bag may be intact and still have the items that are valuable to you. These days chances are you'll need to cancel your credit cards and maybe change locks at home, but you will have the bag itself back. Alert anyone at your home that the bag was in someone else's hands so they can take safety precautions.
Ah and one more place I once left a bag was at work, on the back of the lavatory door hook just before leaving the building. I bet you are thinking to yourself 'the times I've almost done that too.' Fortunately I was able to return to work within an hour and retrieve the bag with everything intact. The latter result may not have been the same if it had been a public place such as a restaurant or nightclub. You are reading an original fashion article written by Pauline Weston Thomas© at www.fashion-era.com ©
Take care of your bag in more ways than one.
Updated 26 February 2009.
Read more pages about the problems of buying designer replica, mirror image and fake or counterfeit handbags.
If you like this page then please share it with your friends
---
For more information on women's and teens fashion trends go to:-
Custom Search
About Fashion-Era.com
Fashion-Era.com looks at women's costume and fashion history and analyses the mood of an era. Changes in technology, leisure, work, cultural and moral values. Homelife and politics also contribute to lifestyle trends, which in turn influence the clothes we wear. These are the changes that make any era of society special in relation to the study of the costume of a period.

Fashion-Era.com can take no responsibility for any information on the site which may cause you error, loss or costs incurred from use of the information and links either directly or indirectly. This site is owned, designed, written and developed by author: Pauline Thomas and Guy Thomas. This site is designed to be viewed in 1024 X 768 or higher.
ALL RIGHTS RESERVED. Fashion-era.com reserves the right to add or delete information, graphics and links. Copyright © 2001-2014 on all content, text and images in Fashion-era.com. Images and text in this website may not be used on other websites.
Before you write to me for costume/fashion help or information please, please consult the extensive sitemap which lists all our pages. If you still cannot find the answer after searching the site, then before you email me, please consider if you are prepared to make a donation to the website.
Donations
Reader's donations help this site flourish, in particular donations encourage me to write more articles on fashion history as well as current trends. PayPal allows anyone with a credit card to donate easily and securely. You may donate any sum you feel appropriate.