Fashion Bags 2006 - Designer Handbags
Tips When Purchasing Designer Handbags
The only way be totally certain about the designer bag you buy is to purchase one from the real sellers. If in doubt about those who say they are official sellers, then contact the designer named house for verification.
I purchased this Dolce & Gabbana handbag (right) directly from an official London retailer of Dolce & Gabbana goods. The bag came with the contralto hologram card of authenticity and care instructions. Most importantly I know it was bought from a trusted designer goods supplier at the reliable source Browns of South Molton Street, London.
You must seek a reliable and trusted supplier for your Dolce and Gabbana handbag.
In the UK, buy from Browns as above, or shop at Harrods, Harvey Nichols or the designer boutiques. Net a Porter, Yoox (end of line designer items) have online designer brands for purchase. In the USA reliable on and offline suppliers of women's handbags include Nordstrom, Bergdorf Goodman, Neiman Marcus, Bloomingdales or Saks Fifth.
Anyone who has ever had a quality bag before, will recognise how high end bags literally stand up on their own because the quality of leather is so good. The bag shown here is not physically collapsing under its own weight, as many cheaper bags do. Dolce & Gabbana took care when hiring craftsmen to make the bag and you will notice that thanks to the high quality leather and construction, even the handles don't collapse.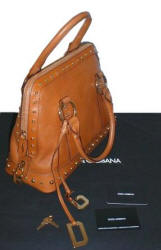 There is no ugly end tab to the zip, which is sometimes visible on handbags of lesser quality. The inside is finished with exceptionally neat stitching. The inner zipper has a Dolce & Gabbana engraved surface and so does the lock. Obviously this is not foolproof, but look for spelling errors and smudgy font reproduction.
Look for evidence of quality features such as protective base feet.
The outer zip on my bag, shown on the left, is well designed with a leather tab pull, also the design enables it to form and integral part of the lock closure. Neat. The handles are well designed so they look just as good when the handle is down as when they are in holding position.
Look for Shoddy Workmanship - Tell tale signs of fake women's handbags include poor quality leather, basic YKK zip pulls and shoddy rough ironmongery/hardware. You should expect the highest quality from a designer bag. Even a bag from a beauty purchase, such as an Estee Lauder will have a zipper slide pull with the Estee name.
On fakes, look out for clumsy overhanging zipper tape ends, crudely contrasting zip colours and an over abundance of tags to authenticate it. All are warning clues.
‡‡
Fake Logo Fabrics - With logo fabrics check for obvious misplacement of the letters incorporated into the seams. Well designed women's bags with logo fabrics never run the lettering into the seam lines. Design features such as LV lettering are never obliterated by for example, the image of a cherry. The whole design is carefully worked out so that fabric placement looks aesthetically pleasing. Observe how the cherries would intertwine in a controlled way with the lettering, which may be of 30 plus different colours, but certainly not as few as 8 colours.
Always check the placement of the hardware and the distressing on bags. Many designer bags have vintage effect distressing and if the design is intentionally soft, the bag will slouch in a certain way. If the bag is more formal, it will probably stand up on its own as my Dolce & Gabbana bag below does or as a McQueen Novak does, without any inner stuffing support and without kinking in the straps. The straps will be even in length and placement.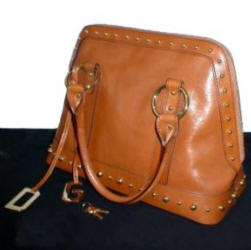 You can also see in this final photo of my Dolce & Gabbana bag that when the straps hang down the design elements of the handles are as well crafted on the back as on the front. Look for good design elements. This bag has the Dolce & Gabbana name engraved into the rings.
Look for Shoddy Workmanship/Materials - On genuine bags, straps don't have kinks, zippers match the skin colour well and the designer run of bags may only truly come in a very small range of colours. Very smooth and over shiny highly processed leather is often a sign of a fake.
Tell tale signs on unauthorized copies comprise minor differences such as the use of cheaper leather or left-over scraps and inferior, easily abraded hardware. Often the bags are made in colours and even designs never ever originally a part of a seasonal collection.
Look for Shoddy Workmanship - Poor uneven stitching is a dead give away on a bag that is supposed to be hand stitched by a craftsman. Bags of high quality made with natural tannin methods also often have a wonderful leather smell which softens down naturally with time.
Online sellers frequently start with a low opening price. All too often this is also an indication of a fake. What seller in their right mind is going to offer to open the bidding on a bag at an online auctions site for £9.99 without a reserve; then in the same breath, declare the bag an authentic bag worth £1200.... Use your intelligence. Be wary, even a high price could be a con. These days even fake sales receipts are easily bought online as are fake authentication certificates. Caveat Emptor - Buyer Beware. You are reading an original fashion article written by Pauline Weston Thomas© at www.fashion-era.com ©
Look for Ridiculous Pricing Cost
Some people really don't care if a bag is a fake as long as it looks like the real bag. As in all walks of life, there is no such thing as a free lunch. Pay too little (thinking you have a bargain) and you may get a bag in return, but the chances are it will be lower quality than you would hope for, worse it may not impress your friends. In fact all you do is waste money. You may spend £150 at an online auction thinking you have secured the bargain designer bag of the century, only to discover the bag looks so inferior that you won't even use it and could instead have put that £150 toward the genuine official outlet bag.
Stamps inside labels on real bags are usually deeply embedded. Remember that counterfeiters will make fakes of any popular desirable brand name designer. China is notorious for not enforcing trademark laws, so factories are inclined to reproduce whatever item they choose. However, with the Olympic Games of summer 2008, China may be forced to protect its own official Olympic products and this may all be the start of a non Confucian attitude toward copying goods.
Made with cheap labour, but sold at authentic prices Super bags are generally the highest quality mirror bags that are sold by the handbag underworld. In Hong Kong, grades of replicas vary, so that Super A means really good whereas A grade is good and counter intuitively, AAA less good.
Just what does this mean to the unwitting consumer - it means an unscrupulous seller can simply say their bag is super A, 5 star, 7 star, triple A or whatever the current phrase is for the best replica phrase to mean quality. You are reading an original fashion article written by Pauline Weston Thomas© at www.fashion-era.com ©
§
Believe nothing.
The upgraded replica terminology may be employed by many counterfeiters, but few have the quality replicas that fool company staff.
Many sellers use the terminology, but don't have the goods to back it up! The picture you are shown online may well be of an authentic bag, but online auction forum members regularly state how they have been duped and do not receive the actual bag in the online photo.
This is a bait and switch scam
For example. a photograph of an original LV bag might be used in a scam, but the bag you get would be a poor relative. LV bags have as many as 33 colours used in the printing of certain styles, but fake bags may have as few as 8 colours. Good replicas may well have 33 colours, but just as easily they may not. Buyers have reported that on receipt there are sometimes important differences such as missing eyes on cherries and overprinting on initials in some styles. On some LV replica bags bought over the internet, sometimes the texture of the canvas used doesn't feel quite right to experienced LV store buyers. The glue on many fake LV bags is the incorrect colour and too orange toned. It is thought that this is because LV glue has cherry wood powder mixed into the base to create a distinctive colouration.
There are NO Guarantees
All too often when sellers are asked by a prospective purchaser if they can guarantee that the bag they will receive is the exact bag in the picture shown, the enquirer never gets a reply back. This speaks for itself.
I have also been observing specific sellers on online auction sites. They make half a dozen sales of innocuous items like DVDs and books then offer an expensive bag such as an Hermès or Dior. One I recall with just a few sales and the briefest of feedback sold an alleged Hermès bag. I noticed the same seller had unregistered within a day of the sale. One can assume the feedback was self generated enough to make a quick sale on the bag and then scarper never to be heard of again.
But there are plenty of Sob Stories!
Look out also for online auction 'sob story sellers' who always have to 'part with the item due to ....' no end of dubious reasons!! Or they insist the bag was their own personal bag, and now they are saving for their wedding or holiday so must sell it. Yet somehow they are managing to sell 15 other similar or identical handbags when you check their online store.
So just be careful when you buy a designer handbag such as Dolce & Gabbana. The only guaranteed way to know your bag is authentic is to buy directly from designer stores or stores long established in selling designer ranges. You are reading an original fashion article written by Pauline Weston Thomas© at www.fashion-era.com ©
Read more my tips for purchasing spring bags and avoiding fake designer bags and bag aftercare.
If you like this page then please share it with your friends
---
For more information on women's and teens fashion trends go to:-
Custom Search
About Fashion-Era.com
Fashion-Era.com looks at women's costume and fashion history and analyses the mood of an era. Changes in technology, leisure, work, cultural and moral values. Homelife and politics also contribute to lifestyle trends, which in turn influence the clothes we wear. These are the changes that make any era of society special in relation to the study of the costume of a period.

Fashion-Era.com can take no responsibility for any information on the site which may cause you error, loss or costs incurred from use of the information and links either directly or indirectly. This site is owned, designed, written and developed by author: Pauline Thomas and Guy Thomas. This site is designed to be viewed in 1024 X 768 or higher.
ALL RIGHTS RESERVED. Fashion-era.com reserves the right to add or delete information, graphics and links. Copyright © 2001-2014 on all content, text and images in Fashion-era.com. Images and text in this website may not be used on other websites.
Before you write to me for costume/fashion help or information please, please consult the extensive sitemap which lists all our pages. If you still cannot find the answer after searching the site, then before you email me, please consider if you are prepared to make a donation to the website.
Donations
Reader's donations help this site flourish, in particular donations encourage me to write more articles on fashion history as well as current trends. PayPal allows anyone with a credit card to donate easily and securely. You may donate any sum you feel appropriate.