Fashion Trends 2006
Beauty Thoughts for Spring and Summer 2006
Beauty & Make up
This spring make up is more glamorous and flawless and the complexion to aim toward is a peaches and cream skin. Pale pre Raphaelite creamy flawless make up looks, paler lips and apricot to peachy pink rather than to rose pink blush, complement the sixties revival clothes ranges. Blush is back in fashion shades in fabrics and it's also back on the cheeks. Try for soft blush tones such as Dior's Fresh pink 809 to a warmer Sheer Blush no 10 by Armani.
The Geisha influence creates Oriental Fusion looks in make up with the palest of skins and understated eyes (see Selfridges below), but boldly painted red lips, and a move toward bolder corals for lips in the red range. A look that will surely appeal to Goths.
Along with these flawless looks of perfect skins, tattoo body ornamentation has lost ground.
Lips & Eyes
Look out for the May launch of Chanel's newest small accessory to be seen about town with - the luxury lipstick Rouge Allure.
Red is back so in the meantime try Chanel Rouge Hydrabase in a classic red called Fire. You may also like an intense pillar box red from Christian Dior Rouge lip colours in Indian Red at £15.50. YSL have a pure shine lipstick in colour 17 that is bold and powerfully red. There'll be strong competition in the Luxe packaged ranges from Tom Ford's new lipstick designed for an Estee Lauder range. For all day staying power Max Factor Lipfinity is impossible to beat.
Fashionable make up colours for spring eyes include light lavenders and violet eyes shades. Choose from Dior addict 591 gloss at £14.50 or Lancôme Petite Nymphe Juicy Tube at£12.50/
This season eyes will shimmer just as much as fabrics. Shu Uemura have a new eye jelly in gold which gives a glimmer of gold shimmer to the eye lid. Stila have a pale gold eyeshadow pot at £14 and if silver tones are more you try L'Oreal Paris Colour appeal platinum eye shadow in real silver. Lancôme too have a bronze eyeliner Le Crayon Kohl Waterproof 10 Gold with a metallic shimmer that will brighten day or evening looks.
Eyelash extensions are the latest beauty buzz must have accessory. Experts first demanded we had professional brow plucking, now the next craze is professional eyelash extensions. At around £80-100 an application this is a new competitor for salon fake tan treatments and botox injections. I'd go for the eyelashes any day. But watch you keep the eyebrows bold with a Brooke Shield strong brow shape. Brow templates are useful to achieve new brow looks.
Good Beauty Products
Good beauty items seem to find their way to most loving homes! Getting our make up off not only quickly, but effectively is what we all want. Good products to have in your bathroom for speedy easy and effective cleansing, include Eve Lom Cleanser at £45, Lancôme Bi-Facil Eye Make up remover to the somewhat less expensive Neutrogena Facial Wipes at £3.99. The latter wipes are very effective after a hard night out when you just need all the 'instant' help you can get to make the job easy.
For a skin boost try Champneys Spa Skin Care Chamomile and Rose Moisture Miracle Mask. This mask is wonderful for hydrating soothing and revitalising super dry skin over a 24 hour span. Most of all after using it your face is scented lightly with the aroma of a fresh summer rose and it will feel peachy silk smooth. The smell of this one is just delightful and leaves you feeling pampered and special.
Hands are often neglected until you get ready to go out and suddenly realised that you have been doing too many quick household chores without reaching for latex gloves. For hands that need an instant pamper try shea butter based La Source Hand Recovery at £12.50 or Hand and Nail Treatment cream by Clarins. This is also shea butter rich. From the Anew range by Avon order over the internet the Ultimate Hand and Nail cream at £8. For everyday maintenace keep up a routine with Neutrogena Norwegian Formula hand cream or L'Occitane shea butter hand creams.
This Spring Summer, look no further for all the latest new beauty products than the largest beauty hall in Europe at Selfridges. From surgical skincare that doesn't require a knife, to customised beauty products plus the newest fabulous fragrances first, Selfridges is the one stop beauty shop.
For more information on the latest beauty products from Selfridges read below.
‡‡
Hair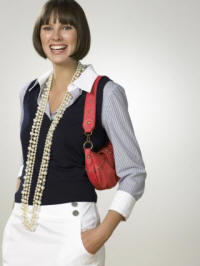 This sleek hairstyle almost reinforces the neatness of this crisp preppy style from River Island making the whole look work well together. Note the accessorizing of long rows of bead, chains and pearls all very late 60s and the nice contrast of the red bag against the clean lines of the navy and white separates.
Image left is courtesy of River Island Women's Wear Spring Summer 2006
NAVY TANK TOP £16.99 / €28.50
STRIPE SHIRT £24.99 / €42.00
PENCIL SKIRT £24.99 / €42.00
STUDDED BAG £19.99 / €33.50
PEARL NECKLACES FROM £9.99 to £12.99 / €16.50 to €22.00
Asymmetric bob styles look classy in a modern way and the asymmetric cut of substantially longer hair cut on one side than the other has taken off.
The groomed bob look is a fashion hairstyle has returned with a vengeance. The current most fashionable bob to have is the stylish cut that Sharon Osbourne has adopted. Add a former no no - just a little backcombing for a fuller more bouffant bob look, or opt to use jumbo rollers to give the look lift if you don't have time to get it blow dried at the hairdresser.
Choose a fringe as in the great healthy looking bobbed hair cut shown in this image from River Island.
I love my bob cut as it is so easy to manage and if I caught in the rain in still looks good as my hair is basically straight. If your hair frizzes easily this may be more of a problem. The secret of sleek bob is a great cut and youcan also use products like John Frieda's Frizz Ease to help smooth the hair cuticles so the hairs lie more parallel. My advice is find a hairdresser who knows how to cut a hair well, Ask around perhaps in a good designer shop in your local town, or ask a woman wearing a really good bob cut where she had her hair styled. Voila. You too can instantly update your fashion image.
Personally I prefer my bob with a more asymmetric look, but many people such as Erin O'Connor have a great dramatic bob cut with a fringe. The latter works especially well for brunettes. Now blonde is so back in fashion that even Erin O'Connor has said she may go blonde. I like her fine as she is.
Please note the Croydon facelift where a ponytail is scraped back hard and cruelly strained is a chav look, again well past its moment of glory.
§
Another pampering item I like which I have not used particularly for the inch loss effect, but simply as an aid to making my body skin feel nicer, fresher and relaxed is the Shape Changers' Detox Wrap Kit. Again being a fan of pure scents of heady Bulgarian Roses I especially like the Shape Changers' Aromawrap Rose Damascena detox clay version. The orange scented and original clay wraps also have good fragrance and are not at all synthetic smelling.
A Shape Changer's Detox kit is a good way to buy this if you don't want to visit a salon for a treatment. I have had this treatment done locally at a salon previously, but I investigated the kit for readers to discuss its availability and contents.
The kit I bought from QVC cost around £34 and came with a DVD explaining exactly how the detox was used. The kit price compares well with the price of a one off salon treatment. Vanessa Feltz has raved about this treatment and her resultant inch loss. I did measure before and after and did notice some small inch loss, but felt the most benefit was the therapeutic pampering effect it had on me.
The kit contained 10 sachets of clay in 3 aromas and also had 4 large clinging crepe style wide bandages. The Shape Changer's detox kit was described as enough for 10 partial treatments. Yes, it is enough for 10 treatments if you do either your abdominal area or your thighs. If you choose to do both then the kit is only enough for 5 treatments. Even so it is good value at around £6 each for 5 full treatments as you can do it easily in the privacy of your home. Once you are wrapped in the clay impregnated bandages you just need to relax and stay warm for an hour resting, reading a book or watching TV whilst the clay takes effect.
Some people are using these clay detox kits for girly evenings and hen parties when female friends help each other out with salon style treatments such as waxing and spray tans. Such treatments often require a helping hand. I'm not sure though how a glass of Champagne would affect the inch loss effect!!
Selfridges beauty hall sells more beauty products than any other beauty hall in the western world and it is the third most successful beauty hall in the world. Selfridges houses one of the world's largest selection of beauty products - from big name brands to niche ranges and also world exclusive brands - Yves Saint Lauren, Decleor, Miss Dior, MAC, Bliss, Prescriptives, Benefit, Stila, Origins, Jemma Kidd all sell more products in Selfridges than anywhere else in the world.
‡
Here are some new ideas from Selfridges for this season for Spring Summer 2006
LipFusion – a breakthrough phenomenon in lip enhancement that uses a patented technology that delivers a revolutionary collagen 'injection' that is absorbed into the lip tissue. The result is a remarkably full sexier mouth and all the beauty boosting benefits of collagen minus the injection. Available at prices that start at £18.50.
Colorlab – a customer blend line of make up bringing the cosmetic lab to the counter where hand-crafted, custom blended, fresh-made cosmetics are created. The range includes foundations, lipsticks and eye shadows. All products are botanically infused and are mineral based. Available from £15.
Scott Barnes Cosmetics – Celebrity make-up artist Scott Barnes brings his unique vision of natural beauty to every woman with his first make-up line exclusively at Selfridges from May 2006. The range will include treatment products and unique colour cosmetics including the star of the range, a shimmering body bronzer called Body Bling, Eye Ice, a shimmering loose powder eye shadow, gel like lip liners, a lip slick and Flossy Glossy lip glosses as well as cream foundations, pressed powders and a chic palette, a unique three colour- in-one blush compact.
Ice-Source – A revolutionary skincare system brings the Ice-Source cream's temperature close to zero degrees in under two minutes. The temperature drop leaves your face visibly enhanced, radiant and younger looking – primed and ready for make-up. Price £125.00.
StriVectin – a powerful anti-ageing facial cream with highly performing ingredients. Available from £10.
Floris Natural Benefits – a combination of naturally derived ingredients carefully blended to create a beautifully luxurious range of skincare products for everyday use. The range includes an energising body wash, a soothing skin balm, a nourishing hand and nail cream, gentle cleansing hand-wash, an invigorating body polish and a shine boosting conditioning shampoo. Available from Selfridges in London prices start at £13.50.
Zelens – an advanced line of cosmeceuticals formulated by leading expert in skin cancer and ageing issues, Dr Marko Lens, with packaging designed by Anouska Hempel. Zelens skincare range contains key ingredient Fullerene C60, a carbon molecule whose discovery was awarded a Nobel prize. Available now with day cream priced at £135 and night cream at £150.
Malin & Goetz – a new skin and hair care range for both men and women. The formulations are extremely kind to the skin, perfect for very sensitive skin and suited to all skin types. Available now with prices starting at £8.
Makebelieve - a revolutionary new product that allows a uniquely indulgent self tanning experience. A truly beautifully presented premium product, it offers skincare benefits together with the desired self tanning properties all this and a dreamy fragrance. Available from mid-March with prices starting at £25 for the face cream.
Also find this season's fragrance-firsts from Burberry London, Marc Jacobs Splash, McQueen Kingdom Summer, Stella Summer and Missoni in the beauty hall of Europe.
Eastern Influence
The launch of Memoirs of a Geisha has increased the interest the West has with Geisha Girls and Japanese tradition. With their combination of beauty, style and pose, the Geisha girl style is set to become the vogue. Yohan Sigfusson make-up artist for Japanese cosmetics company Shiseido at Selfridges has studied the Geisha look and recommends the following products.
Pale and interesting – bow down to the greatness of the Geisha look - the pale faced look is perfect for January in Britain. Just add a layer of Shiseido Sheer Enhancer Base in White £22.50 for a radiant liquid base that will great a translucent finish, and then apply the Accentuating Colour Stick Blush S4 £21.00 to cheek bones to soften the look.
Oriental eyes – With celebrities such as Charlotte Church opting for liquid lined eyes, the Geisha girl eye lined look is set to be the top style for the season. Try the Shiseido Liquid Eyeliner in Caviar Black £17.50 and the Hydro Powder Eye shadow in White £14.50 to add a glaze of intense colour to eye lids.
Budding looks – if the Geisha tradition of flower arranging isn't to your fancy then instead opt for rose bud lips, try the Shiseido Perfecting Lipstick in Real Red £15.00 and Lip Pencil in Red £11.50.
An Oriental Air – for a finishing touch to give a truly authentic aura add a spritz of Kenzo Oriental Flower £37.50 for 50ml. For a truly oriental treat try the SK-II eye and facial treatment masks launching 6th March exclusively at Selfridges. Developed by a Japanese Monk who recognized the powerful skin benefits of 'Pitera', a nutrient-rich liquid, the latest additions to the range will help preparing the skin for a clear almost translucent complexion. Sk-II Box of 14 Signs Eye Masks £45, SK-II Box of 6 Facial Treatment Masks £45
Press Report information courtesy of Selfridges.
(Page Date Feb 2006)
If you like this page then please share it with your friends
---
For more information on women's and teens fashion trends go to:-
Custom Search
About Fashion-Era.com
Fashion-Era.com looks at women's costume and fashion history and analyses the mood of an era. Changes in technology, leisure, work, cultural and moral values. Homelife and politics also contribute to lifestyle trends, which in turn influence the clothes we wear. These are the changes that make any era of society special in relation to the study of the costume of a period.

Fashion-Era.com can take no responsibility for any information on the site which may cause you error, loss or costs incurred from use of the information and links either directly or indirectly. This site is owned, designed, written and developed by author: Pauline Thomas and Guy Thomas. This site is designed to be viewed in 1024 X 768 or higher.
ALL RIGHTS RESERVED. Fashion-era.com reserves the right to add or delete information, graphics and links. Copyright © 2001-2014 on all content, text and images in Fashion-era.com. Images and text in this website may not be used on other websites.
Before you write to me for costume/fashion help or information please, please consult the extensive sitemap which lists all our pages. If you still cannot find the answer after searching the site, then before you email me, please consider if you are prepared to make a donation to the website.
Donations
Reader's donations help this site flourish, in particular donations encourage me to write more articles on fashion history as well as current trends. PayPal allows anyone with a credit card to donate easily and securely. You may donate any sum you feel appropriate.