Fur Fashion Trends 2006
Fur Fashion Designer Looks for Spring 2006
Fake and real fur is still important in Spring Summer 2006 collections. The worlds top acclaimed present day design houses all use fur to enhance their designs. Dolce & Gabbana, Fendi, Calvin Klein, Lanvin, Ralph Lauren, Michael Kors, John Galliano for Dior, Roberto Cavalli and the notably, Giorgio Armani all incorporate fur trim in the latest fashion styles.
Fur items of note include handbag accessories and bolero shrugs. Whether real faux or frankly fake fur is here to stay for 2006 as opulent ladylike looks continue.
This page includes a Spring Summer 2006 press report plus Spring Summer catwalk show fur images from IFTF. Read more about autumn winter 2005/2006 fur fashion here.
International Designers Give Fur A Subtle Sophistication for Spring / Summer 2006
White and Neutrals Dominate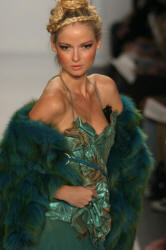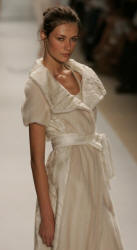 Spring 2006 is really a tale of two seasons for direction in fashion: Silhouettes were either soft or structured, shapes voluminous or lean, detailing embellished or minimal.
But clearly, it's a season of grown-up clothes and statement pieces. Shapely, tailored coats take inspiration from couture. Texture and handwork, inspired by looks from the '40s and '50s, replace pattern and colour, mixing Modernist concepts from the '60s, in slim, pencil skirts and spaghetti-strap sundresses, lean and less embellished.
Designer furs for Spring 2006 reflected the move to more subtle sophistication.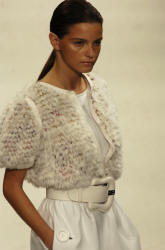 Fendi sent a sexy and sensual collection from Karl Lagerfeld down the catwalk: A chic, layered, black georgette dress was accented with trimming of pink fox fur, while an off-white, knitted fox jacket used fabric trim to accent rounded sleeves, and was worn open with a white round-neck top.
Fendi off white knitted fox jacket.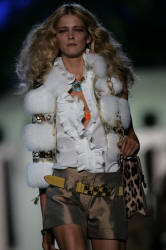 White and metallic accents also figured at Roberto Cavalli, in one of the more eclectic looks of the season: White fox fur alternated with gold metallic leather trim in a snap-front vest. Worn with satin shorts and a stencil-printed leopard print bag with gold link straps.
Horizontal white fox vest gold leather trim Roberto Cavalli.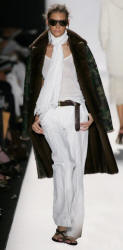 Optimism filled the Michael Kors collection, where rustic romanticism contrasted with an elegant severity in crisp black and white, and warm shades of ecru, sand and hemp. A clear winner was Kors' knee-length mink balmacaan, worn over the shoulder, backed by hand-painted camouflage.
Knee length mink balmacaan with hand painted camouflage by Michael Kors.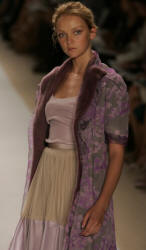 An urbane dream of chiffon and silk tulle set the scene at J. Mendel. Custom-coloured and sheared mink felt soft as velvet and as light as suede.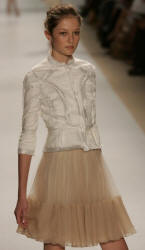 Traditional longhaired mink combined with organza and chiffon to create weightless, airy coats and jackets, such as a natural pearl mink coat with oversized off-the-face collar, rounded sleeves, silk satin trim, and a large satin belt.
Amethyst stencil mink coat by J Mendel.
White karakul jacket with satin fur trim by J Mendel.
‡‡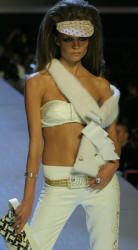 Baby Phat turned catwalk into theatre with a very glam, but very pretty collection that used touches of lace and bows on the fur pieces. A standout item was a white mink sash adorned with white satin bows, a trend in many of the collections.
Baby Phat white mink fur sash with white satin bows.

Spring/Summer 2006 was a season that showed many sides of international style, from sexy to sophisticated, from classic to novelty, fur was the element that made it fun, fashionable and feminine.

End All Fur Thumbnail Images Courtesy IFTF (Page added 14 January 2006)

If you like this page then please share it with your friends
---
For more information on women's and teens fashion trends go to:-
Custom Search
About Fashion-Era.com
Fashion-Era.com looks at women's costume and fashion history and analyses the mood of an era. Changes in technology, leisure, work, cultural and moral values. Homelife and politics also contribute to lifestyle trends, which in turn influence the clothes we wear. These are the changes that make any era of society special in relation to the study of the costume of a period.

Fashion-Era.com can take no responsibility for any information on the site which may cause you error, loss or costs incurred from use of the information and links either directly or indirectly. This site is owned, designed, written and developed by author: Pauline Thomas and Guy Thomas. This site is designed to be viewed in 1024 X 768 or higher.
ALL RIGHTS RESERVED. Fashion-era.com reserves the right to add or delete information, graphics and links. Copyright © 2001-2014 on all content, text and images in Fashion-era.com. Images and text in this website may not be used on other websites.
Before you write to me for costume/fashion help or information please, please consult the extensive sitemap which lists all our pages. If you still cannot find the answer after searching the site, then before you email me, please consider if you are prepared to make a donation to the website.
Donations
Reader's donations help this site flourish, in particular donations encourage me to write more articles on fashion history as well as current trends. PayPal allows anyone with a credit card to donate easily and securely. You may donate any sum you feel appropriate.