Fashion Jewellery 2006
Jewellery is something we all love and the opening up of global markets means we are seeing wonderful examples of low cost jewellery. This ranges from costume jewellery, chunkier Boho casual ethnic jewellery and luxury lines of estate jewellery. There are also limited edition designer pieces at affordable prices when metals and plastics such as titanium and acrylic are used instead of the more obvious gold or silver.
Many gem set pieces use the fine metals of gold and platinum. Premium estate jewellery is using a wide range of gemstones especially coloured gems like pink or yellow sapphires as well as the highest grades of diamonds. A jeweller friend of mine recently showed me two beautiful diamonds which were one grade off flawless. They sparkled like no other diamonds I had seen close up, but at £30,000+ one would expect a lot of sparkle!
As well as a demand for better quality diamonds the colour of yellow metal gold is back in fashion in a big way. Many master craftsmen are opting to use higher carat weights of gold with 18k, 22k and 24k gaining ground as the demand for Luxe products is met for those demanding the satisfaction of the ultimate beyond luxury product.
Kiran Nirankari is a master of designer jewellery. She melds traditional designs with a contemporary design aesthetic using the highest quality materials. Kiran uses her artistic skills to create modern, timeless designs worked in 24K and 22K.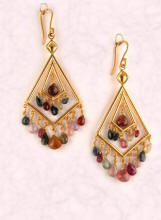 A visual artist, Kiran understands global trends marrying both eastern and western influences seamlessly with the skills of the traditional master craftsmen. She produces desirable pieces that look just as good for a dress up or dress down look.
Her website has a select range of gold and gem set necklaces, bangles and earrings. My favourites are these Biwa stick pearls to the far right and these lovely 24K gold multi coloured sapphires.
‡‡
Now some of my favourite jewellery has the look of handcrafted beaten gold found long ago in some treasure trove.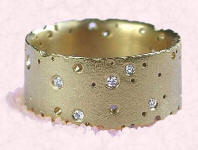 I especially like these handcrafted items made with diamonds and gold from love2have.co.uk.
These handcrafted items need to be ordered a few weeks in advance of needing them. This beautiful 18ct gold spotty ring is scattered with diamonds to create sparkle and add dimension. It is 10mm wide, but is also available a little narrower at 7mm wide and both can made up in 18ct white gold on request. Prices are from £665. As the ring is handcrafted here in the UK. you must allow 2-4 weeks for delivery, but email enquires at love2have will give a better idea of the actual time for the order to be made for you.
There are also matching bangles, and several earring styles. All are highly desirable and they are on my would love to have list.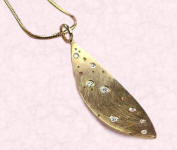 This pendant far right is from the same concept at love2have.
This is an 18ct Gold Diamond Curved Pendant [KS-P2] priced at £495.00. It is paired with a gold snake chain. The pendant has a scattering of diamonds which add sparkle and dimension. Again allow 2-4 weeks for delivery and as the item is handcrafted in UK you can check for white gold details. All the love2have range is just so pretty and I am very taken with the stick earrings and the earrings that match the pendant exactly and shown on their site.
This bangle is rather desirable too. This fabulous 18ct gold diamond bangle is 11mm wide and also scattered with diamonds. It is handcrafted in the UK and costs £1825. Again being hand crafted the same conditions apply.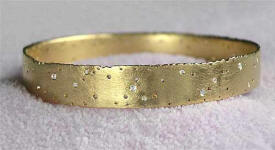 Now if £1825 is too much for your budget, love2have have lots of other ready crafted pieces including interesting silver jewellery and lovely titanium pieces like these contemporary titanium hearts on chains or chokers. There are also affordable titanium earrings.
With three quarter sleeves in fashion the wrist will continue to be very visible and so there are opportunities to draw attention to a ladylike manicured hand with decorative watches, charm bracelet timepieces and bangles in every imaginable material. Perhaps one of the most interesting items to emerge as a fashion statement is the cuff a deep slip on bangle well suited to three quarter and shorter sleeved garments.
This lovely acrylic cuff is by a jewellery designer called Laura Tabor who works from London. Laura has range of gold and other attractive pieces that are hot on the heels of current trends. She also does a bespoke service.
eLuxe jewelery sells fine gems and have a wide range of quality estate pieces that pick up on couture trends. This beautiful gemstone bracelet below is by eLuxe and is a multi gemstone Sapphire Bracelet made of faceted round sapphires and gemstones set in classic white gold settings at $4,595 (Item Number: CuBM01).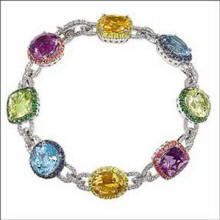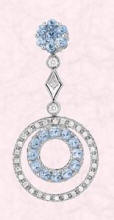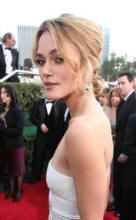 These earrings right are a good style to buy if you are seeking something similar in style to those worn by Keira Knightley in this image below and courtesy of the 63rd Golden Globe Awards. Earring image right is courtesy of eLuxe.
COUTURE Swiss Blue Topaz and Diamond Circle Hoop Earrings. These circles of diamonds are set in white gold and interlock and float with Swiss blue topaz. Retail Value: $1,025.00.
‡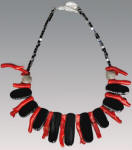 Let me tell you about some great jewellery for plus sizes as well as average size necks. Maria H Spector is a Peruvian painter and jewellery designer living in London.
She sells jewellery for women who have problems in getting necklaces for a larger size neck. She produces unique one of a kind pieces working mainly with semi precious stones. This necklace to the left is one of her fascinating original pieces and at her webpage you can see many more fine examples plus a page on various handbag charms which can be used to zap up a handbag or purse.
Mother of pearl features heavily on clothing and accessories this season. It is also made up in seasonal low cost necklaces and bangles. Another affordable material being used is turquoise.
These ethnic inspired necklaces come from craftsinternational of India and I think they would also look wonderful on large women with presence. Crafts International also sell a wide range of loose beads.
Crafts International is a leading manufacturer and exporter of beads, jewellery and accessories. They specialize in glass beads, horn beads, bone beads, brass/metal beads, terracotta beads, and ceramic beads. They are the ultimate source of Indian Beads and also carry leather cords, wax cords and supporting accessories used in making jewellery. In 2004, they launched their export unit. They work with over 1000 artisans in nearby villages working under their close supervision and guidance. All their products are hand made with an emphasis on superior art work, high quality standards and with reasonable prices. I think you will agree these few example shown are attractive interesting pieces. You can see many more fine examples at their website.
All in all there is a vast range of great fashion jewellery to choose from this season.
Colour and Brilliance - Read all about spring 2006 colour, fabrics, texture, prints.
Read all about the main trends for Spring Summer 2006 fashion looks, styles and silhouettes.
(Page Date 27 Jan 2006)
If you like this page then please share it with your friends
---
For more information on women's and teens fashion trends go to:-
Custom Search
About Fashion-Era.com
Fashion-Era.com looks at women's costume and fashion history and analyses the mood of an era. Changes in technology, leisure, work, cultural and moral values. Homelife and politics also contribute to lifestyle trends, which in turn influence the clothes we wear. These are the changes that make any era of society special in relation to the study of the costume of a period.

Fashion-Era.com can take no responsibility for any information on the site which may cause you error, loss or costs incurred from use of the information and links either directly or indirectly. This site is owned, designed, written and developed by author: Pauline Thomas and Guy Thomas. This site is designed to be viewed in 1024 X 768 or higher.
ALL RIGHTS RESERVED. Fashion-era.com reserves the right to add or delete information, graphics and links. Copyright © 2001-2014 on all content, text and images in Fashion-era.com. Images and text in this website may not be used on other websites.
Before you write to me for costume/fashion help or information please, please consult the extensive sitemap which lists all our pages. If you still cannot find the answer after searching the site, then before you email me, please consider if you are prepared to make a donation to the website.
Donations
Reader's donations help this site flourish, in particular donations encourage me to write more articles on fashion history as well as current trends. PayPal allows anyone with a credit card to donate easily and securely. You may donate any sum you feel appropriate.