Women's Fashion Trends 2006
Major Spring Fashion Looks Spring and Summer 2006
This page examines the main FEMALE trends and looks for the Spring and Summer of 2006
N.B. Latest Fashion Trends for Winter 2012
Major Fashion Trends & Looks Spring Summer 2006
There is now a major shift in designer inspired fashion trends. That new look implies more serious grown-up fashion trends of elegant womanly dressing. This in turn moves toward a streamlined, disciplined, figure defining glamour or minimal space age look. In the spring of 2006, the shift is leading away from the eclectic ethnic roots of the first half of this decade toward a less casual, more classically establishment appearance. This new look is cleaner and more ordered than the fussiness of the Boho trend.
I see this desire for groomed orderliness as a reflection of our mental assimilation of a world in chaos. There is a sense of high speed change which we cannot control. But in the western world, we are fortunate to have choice in the way we dress and groom ourselves and in what fashion trends we decide to follow.
This new gracefulness in dress will also suit those tired of the concept of fashion racing.
Dissemination of information via the internet, emails and mobile phones means that fashion is too often racing ahead of itself, the result is some fads survive for no more than a weekly cycle. 100 years ago in Edwardian Britain, fashion had speeded to an almost yearly cycle, by comparison we are bombarded with new fashion ideas daily, with many fads or ways of wearing an item living no more than a week. A return to a more classic way of dressing will suit many who feel as if they are constantly striving to get it right. Some will think it far more beautiful and timeless. The looks actually focus more on garment types themselves, such as dresses, coats and the silhouette, rather than the global mood of ethnic styling and pile-it-on embellishment, which was so popular in the first half of the millennium.
For several noughties seasons the more classic ladylike look has been progressing very slowly to a new trend of refinement. It has brought with it a gradual acceptance of softer more feminine tops, fuller skirts and lush higher quality fabrics. The fashion eye has become tired of flesh exposure and yearns for ladylike polish. The trend toward decorum has firmed up into more elegant clothing styles.
Recently, one seasonal look has been morphing into another. We move through masculine tomboy looks of tailored shorts and cropped trousers to equally functional practical groomed preppy styling. Boho and Russe looks are still around in the way of the Herrick poem 'A sweet disorder in the dress kindles in clothes a wantoness' and this carefree look that women have loved is slowly morphing into softer more feminine, but neater lines. Those lines are of ruffled graceful blouses, softer styles of easy wear dresses, fuller skirts, modern snappy duster coats, ultra feminine whitework goods and brocade jackets. All are in my picture of Spring Summer 2006 fashion trends.
Dresses, Duster Coats, Draping, Drainpipes and Debutante inspired designs are part of the line up for the latest fashion trends for 2006.
‡‡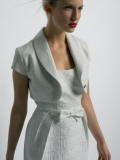 The new noughties opulence will require your investment in the very richest materials. Choose thick luxurious fabrics such as duchesse satin, complex jacquards, richly textured brocades and gorgeous heavy, but sheer silk gazar fabrics. Translucent shimmering Organza moirι, silk jersey, taffeta, mother-of-pearl luminescent finishes, all play a part in developing the 2006 look. (Image courtesy Debenhams plc, thumbnail enlarges)
The rich fabrics lend themselves to simple lines as shown in this feminine Debut Lurex brocade shift dress £70 (tbc). There is also a Debut Lurex brocade shrug £40 (tbc) with waistline bow from Spring/Summer '06 Womenswear at Designers at Debenhams. It looks perfect for a special event.
Most designers featured white, neutrals and pink nude buff tones in their fashion catwalk collections. These barely there tones indicate a new path toward expensive colourations, where tonal values play an important nuance in separating the chic from the cheap. White will move many women into more girly looks especially with lace effect and eyelet fabrics. After the silver finishes and iridescence of the new millennium, as opulence continues to define fashion in both clothing and interiors, the mid and later noughties will be remembered for its golden and copper shimmer.
Unlike the darkness of the 90s minimal look, women are confident enough in their own self for the new direction to have colour. It is a modern, but quirky look where order and grooming rules gain importance along with the desire to dress up again and to experience luxury. This noughties look aspires to having a couture feel and uses more luxurious fabrics combined with good cutting to create shape, form and figure.
Designers send new ideas down the catwalk every season, yet only a few main looks make it to the wardrobes of most of us. Those looks we hone in on have often been influenced by celebrity choices. Currently celebrity led cowgirl looks are hot on the heels of Boho as a style of mass casual dress. But there is only one look to follow and that is the look that flatters you enough to make you feel like a celebrity yourself.
You are reading an original fashion article by Pauline Weston Thomas© at www.fashion-era.com ©
§
Red dress image is courtesy Debenhams PLC

Three silhouettes will sit side by side in 2006.

1. The Hourglass Silhouette - the waist is back

2. The 60s A-Line Silhouette

3. The Volume Look

Volume fullness has been slowly gaining acceptance during the past season. Now the noughties trend is for even more volume in skirts, dresses, duster coats, boxy loose jackets and wide full sailor trousers. Some dresses are being worn with leggings or cropped trousers, such as the red dress in the image to the left, courtesy of Dorothy Perkins. Note that 'volume' as a mass fashion trend has the potential to increase still further.

Image left is a GS by Gharani Strok red Grecian dress £55, Pineapple black leggings £18 all from the Spring/Summer '06 Womenswear at Designers at Debenhams. Stockist telephone number in UK: 08445 616161.

The uncluttered, clean, space age, Sixties-style silhouette of simple clean necklines will ensure an easy and transforming fashion update.

Sixties style clothing and haircuts are inspired by Sienna Miller as Edie Sedgwick in Factory Girl. Look out for Mod influenced swinging mini dresses and short skirts

Think of the modern, crisp, space age fashion silhouette, shapes of Andrι Courrθges and Paco Rabanne. These simple designs make up well in opulent, rich, fashion fabrics that have a surface quality, which is destroyed when cut with too many seams.

The shorter A line dresses all help focus on the legs as a statement.

This is a minimal, barely there, modern look, where graceful dressing is an art. No fuss, no frills, no clutter, just an elegant 60s silhouette with good design and top quality fabrics. The materials should be opulent and rich combined with good well cut tailoring without trim or embellishment.

Brocade is a trend to watch.

I estimate that by this autumn, brocade, brocatelle and damask jacquard textures will seriously rival tweed and makes this material a good choice for carry through investment pieces.

Acquire this minimal fashion look with ease when you concentrate on combining gracious coats in straight or A-line duster shape, simple A-line skirts and easy shift dresses.

Strong graphic prints and baby doll looks are part of 60's Mods look, all moving toward a new fashion direction and a new sartorial mood.

You are reading an original fashion article by Pauline Weston Thomas at www.fashion-era.com ©

The duster coat looks ultra modern and is the perfect cover-all coat for spring dresses. The duster coat was a 1950s and 1960s fashion mainstay. It was a perfect lightweight, easy wear cover-up for not only spring, but also for a chilly summer evening. In effect a coat tidies everything up and helps create a clean and groomed finish.

This fashion look owes much to Burberry and Dior. House of Dior created double breasted 60's coats with a wide set collar in pure Jackie Kennedy style. Many of the new style coats shaped with a 60s cut, have the fashionable three quarter or seven eighths sleeves. Some styles are a little more fitted, but the fabrics are the trademark of a good duster coat.

Sleeves are a strong fashion statement again in other looks too.

Fashion designer Christopher Bailey, captured for Burberry the nostalgia of Princess Margaret. In her hey day she looked youthful, worldly and sophisticated. To cap this, she also owned a couture wardrobe and it is elements of this that have crept into his range for Burberry Prorsum shown last September. Left a look from Burberry.

Fabulous print duster coats were also shown at Dries Van Noten, sumptuous silk dusters at Alberta Ferretti and Burberry opted to go with brocade coats. Duster coats soon became a strong directional trend. Burberry's princess/debutante coat was magnificent in both silhouette and lush gold brocade fabric. The overall fashion look means swishing full skirts, wide shoulder enhancing collars and bertha necklines, all in marvellous fabrics.

The looser comfy duster style sat easily over fuller skirts and fuller dresses and is about to do the same again as the more voluminous lower silhouette needs a fuller, easier elegantly cut coat. Simple in cut and often edge to edge and with three quarter sleeves, these coats easily lend themselves to lavish sumptuous fabrics such as rich gold brocade, duchess satin, tapestry style brocade, ribbed ottoman silks, cloque, twilled silks, plisse and textured cotton pique.

Debutante dresses worn under the duster coats have clean lines, but it is the rich materials that create the princess/ royal/debutante/real lady effect. So to achieve this look make sure the garments you select are in interesting material.

What female doesn't want to feel like a princess?

You are reading an original fashion article by Pauline Weston Thomas at www.fashion-era.com ©

Belted Trench Coats

A fashion staple, the belted trench coat comes in many lengths and acts as a versatile easy throw on coat or Mac suitable for many occasions. The trench coat is a practical cover up fashion garment for the season. Other trenches are more voluminous in the lower skirt.

Jackets are short and skimming with modern clean boxy, sixties lines. (Original sixties sketches and here) They are easy to team with wide cut leg trousers creating an overall effect of snappy elegance.

Look out for more bolero versions, matador jackets and Kimono wrap looser line jackets. There are also short belted trench coats and wrap style jacket coats with turn back lower lapels, but no back collar stand. Many of these styles are easy to make and customise yourself.

‡

Annabel dress in cornflower blue £75 Monsoon Women Spring/Summer 2006. Image courtesy of Monsoon.

Click thumbnails.

The dress is back and is one of the most the dominant fashion stories. The dress is an all solution item and with such variety may get adopted with as much gusto as the gypsy skirt did last year. There are many different styles. Some dresses have fuller dropped waist skirts and empire bra shaped slip tops, which could easily be teamed with a shrug or denim shirt or jacket to make it more casual, for example, this pretty dress from Monsoon, (See Annabel dress to the left.)

Look out for shirtwaisters. Note the shift, empire lines, baby doll dresses, tent dresses, wrap dresses, gentle puffball skirt dresses, slip dresses, dropped waist dresses. Watch out for draped gowns with a touch of the goddess about them.

Cap sleeves of all lengths, including cuffed bloused sleeves have re-emerged. Sleeves will be most welcome to those who hate strappy dresses that reveal less than model toned arms and chicken wings of flesh. The dress has become functional daywear again rather than just the wispy bare-all strappy slip of the past decade. Think dresses, think pretty dresses.

The wrap dress has been popular for years, but now many wrap dresses have a much higher waistline, making them look more up to date than the standard on-the-waist wrap dress. Regard the wrap dress as a classic basic piece rather than high fashion. They also look acceptable over jeans or leggings and make those skinny items easier for all to wear.

In contrast to comfortable easy wrap and baby doll, loose empire and tent dresses, think about the tightly cinched waists of Roland Mouret pencil slim dresses the Galaxy and the Titanium lines at around £950 as above or choose the high street alternatives at £40 -£90.

A much sought after fashion look by those slender enough to wear it, is the slinky, figure hugging, designer Roland Mouret hour glass style sheath dress left. There is a waiting list for the original dress at stores like Browns and Harvey Nichols, but no doubt imitations of the Mouret Galaxy and Titanium dress will soon be on the high street.

I know Marks and Spencer has an interesting black finely pinstriped fully lined version in the Autograph range (01714050) at £89, as I bought one recently - shown right. I acknowledge it is not identical, but it it shows that manufacturers and retailers are influenced by celebrity dressing in their design choices and they are aware the consumer will seek similar items. Tesco has a similar dress for much less at about £35.

Wherever you are in the world, I am sure some manufacturer will be working hard to create their own versions. For evening the neckline, corners are ripe for dressing with quality decorative earring clips in the style of 1940's Rita Hayworth or Wallis Simpson glamour.

This slinky black fitted dress £40/€60 dress below is from the Dorothy Perkins Spring Summer 2006 range. It also pays homage to the dress left. The Green bow bag is £12/€17. Note those bows are everywhere this year. Image here and in header courtesy of Dorothy Perkins

The original Mouret designs had strong mesh tummy support panels, but you may have to adopt the appropriate underwear instead.

Imagine too, wonderful knee length full skirted 1950s dresses as the red dress pictured above, alongside the elegant pencil slim dresses and suits. You will soon be looking for a frothy net 50s petticoat and for comfort under a net petticoat you will need the tailored figure hugging petticoat slip - see below. These full skirted dresses are real summer dresses that make women feel like girls again and girls feel like women. You are reading an original fashion article by Pauline Weston Thomas at www.fashion-era.com

-------v6-------

Spring Summer 2006 image right courtesy of Dorothy Perkins - White shirt with black polka dots £25/€40, Black pencil skirt £25 / €40, Red bow shoes £25/€40

Enlarge thumbnail to view the waist detail.

Belts have moved up from the hip and are now on the waist. These belts are waist cinching almost like waspies and help create the handspan look. As an area of interest, the belts are statement pieces too. Belts often seem to be one deep belt overlaid with another buckled and fastened belt.

Satin ribbon bows will emphasise waists and will appear on dresses, jackets and knitwear as cardigan belts or as jacket trims. Vibrant contrasting colour belts in zingy fruit colours can add a new interest to practical beiges and taupe coats.

Shiny belts in patent capture the mood. Waists are high making it the new erogenous zone. Whereas in previous seasons highlighting the waist was dropped in favour of the pelvic line, now women have become more used to the idea of waist importance again.

Fitted jackets teamed with fitted pencil skirts or fuller skirts reinforce the ladylike feminine 1950s feel.

Handbag hardware and styling appears to have moved onto belts. Wide belts with deep cuffs or made of one belt on top of another

Read about the slip of the 1950s and its demise in 2003 here

Think of a bygone era - can you recall old films like Elizabeth Taylor in Cat on a Hot Tin Roof or in Butterfield 8. In these films she wears beautifully cut lace slips which cover her totally, yet reveal enough to make her doubly alluring as a woman. A new generation is about to discover the slip which will be major trend this summer especially as the dress returns. The film King Kong shows its female lead spending much of her time half dressed in an attractive lace trimmed silk slip just like your great aunt may have worn.

A slip is an excellent under foundation base for dresses and fairly diaphanous top layers such as organdie blouses and semi sheer dresses. It is a much better foundation for a dress than a separate camisole and separate half slip or waist petticoat that may ride up.

A crochet dress is almost impossible to wear with decency without a good slip. Without a slip it may be fine for clubbing, but no one in their right mind would consider wearing a crochet dress to the office without a slip. But with an underslip it is an acceptable item of non clubbing clothing.

You are reading an original fashion article by Pauline Weston Thomas at www.fashion-era.com ©

Click thumbnails.

Image above courtesy of River Island Tulip Dress £49.99 / €84.00, Platform T-Bar Sandals £39.99 / €67.00, Beaded Necklaces from £12.99 to £14.99 / €22.00 to €25.00

The tulip shape has already been seen at catwalk collections for next autumn. I really like this dress shown left from River Island Spring 2006 Womenswear collection. According to retailers women are snapping up the tulip style. Only the other day I thought how fresh a fashion look it is when you see it on a clothes rail. It can be difficult for some figures to wear, so try on many versions of it, as good fit and line is crucial to how it looks.

For the more adventurous the puffball and other full skirted voluminous shapes are gaining customer approval.

Many summer skirt shapes are A-line or set on a hip yoke with full gored or pleated skirts.

Whilst countless skirts are plain, just as many will be patterned or in lace eyelet broderie fabrics.

Also look out for bold wallpaper prints, oriental fusion Geisha influenced prints, patchwork prints, oversized painterly rose stencil styles prints.

Note that fashion skirt lengths are so very varied that they are minis to maxis, but many skirt lengths settle for the knee line. The pencil skirt will also be seen in elegant slim line dresses and is best around the knee.

You are reading an original fashion article by Pauline Weston Thomas at www.fashion-era.com ©

Whites & Neutrals

Several fashion designers showed crisp clean white shirts and whitework looks. For this look concentrate on very fine delicate soft fabrics such as lawn whitework goods.

Eyelet white cotton is well stocked in all the shops and will be everywhere, especially as the little pretty white dress (LWD) or in a pretty summer skirt. To use an old chestnut - White becomes the new black.

Muslin ladylike Victoriana, often combined with areas of guipure lace, laser cut-out lace or crochet panels, applied ribbon braids and trims, pin tucks, tiny frills, big flounces and lace inlays, smock shirts and dress shirts in the purest whites all speak of another age. This white is a clean sharp white, rather than creamy ivory tones.

Although white is a key fashion trend for spring, blushing nude buff tones will compete. Blush is a strong colour for spring clothes.

The blush nude range refers to a range of colours in the whole pink-toned, nude spectrum. Blush takes in tones from creamy buff, frappe through to rose. Often this look uses semi transparent layers of barely there pink tones to create multi-layer effects.

Closely aligned to volume is draping, which combines graceful goddess gowns with swathes and folds.

Pleats are exploited in innovative ways. Pleats are also invoked in standard ways such as in skirts and Alexander McQueen used sunray pleats in his fashion collection. Sunray pleats are a good choice for fuller late fifties early sixties inspired skirts and can also be found layered or used as fan insertions from the side waist.

Pleats are revived in ways not seen for decades. Pleats are used as ruffle and flounce trims or as textured fabric panels; from the finest Fortuny style pleats found in ruffle edgings, to slightly larger pleats, which are in effect tucks.

The pleat tucks are often used running in panels on garment sleeves and as whole panels of garments. Giorgio Armani created finely tucked collars and whole jackets are made of pleat textured fabrics.

The Can Can Latin Look

Designers want to put women in ruffled chiffon blouses with shorts.

Playful billowing ruffles that flow down dress fronts, hiplines and necklines all lend themselves to swishing on the dance floor as Britain becomes even more wrapped up in the ballroom revival.

The tiers of the Boho skirt live on in ruffled blouses or billowing bell sleeves and necklines all trimmed with ruffles that puff and flounce. Watch for Lord Byron Poet Blouses, note the shoulder width increasing with the fullness of billowing flounces.

These rows of falling ruffles and quite OTT frou frou frills, are in total contrast to the quieter pared-down minimalism that is on the horizon as a reaction to Boho.

This flounce, ruffle and puff concept is a look to add cautiously. Just add the right touch, paying heed to the trend without being swamped by it. Little touches rather than big overwhelming statements will speak volumes.

Bows are everywhere and if they are not on your garment add a bow yourself if it will update your look with a new twist.

Ribbons are used instead of belts. Try ribbons and sash belts with either waist or under bust emphasis. Ribbons finishing off knitwear with a bow at the waist. Bows as belts are made in richly dyed double sided thick satin ribbons, grosgrain ribbon, crisp silk taffeta and soft metallic leathers

Ribbons used instead of neck chains for pendants. Bows decorate handbags.

If you are over 25, think twice about wearing dresses with bows that tie at the back like a little girl might wear.

Wide Legs

Image above courtesy of Matalan Women, Spring Summer 2006 of Gold button jacket £28, Linen tie waist trouser £14, Metallic clasp bag £12.

Ship ahoy wide-leg trousers with or without turn-ups, work wear dungarees, tuxedo pants in mannish matador style all vie for attention.

Wide trousers like these shown here will suit those who cannot stand, nor wish to wear skinnies or leggings.

Right - Laura Ashley Spring/Summer 2006 Fashion Atlantis blue swing jacket, white cotton blouse & blue & white cotton trousers. Jacket £55, Blouse £65 & Trousers £60. Click thumbnails.

These practical knee shorts above are from NEXT UK. It consists of a practical cool summer shorts suit. Ecru cotton jacket £59.99, Ecru cotton shorts £26.99, Black stretch shirt £26.99, Metallic lattice shoes £39.99.

For those young enough to carry off the high fashion look, super short tailored and cuffed shorts, higher waisted shorts and hot pants are a thought to ponder for spring.

Other main styles are baggy cropped trousers, cropped turn back cuff jeans, tailored knee shorts and buccaneer pants with side bows. Of the various types I believe tailored knee shorts will be popular as those shown left from NEXT UK.

This short shorts look right is perfect for young women and great tanned legs.

Right - River Island Spring 2006 - Womens wear Floral Chiffon Blouse £29.99/€50.50, White Vest £6.99/€11.50, Lemon Denim Shorts £19.99/€33.50, Platform T-bar Sandals £39.99/€67.00, Corsage £4.99/€8.00

You are reading an original fashion article by Pauline Weston Thomas at www.fashion-era.com ©

River Island Spring 2006 Womenswear Rock vest £19.99 / €33.50, Stripe trousers £29.99 / €50.50, Patent peep toe shoes £49.99 / €84.00, Fabric beads £14.99 / €25.00, Chain and pearl necklace £19.99 / €33.50.

Skinny jeans have been around for a while and are at last in most high street shops. As they have gained mass accessibility so they start to lose 'latest' fashion credibility. They fashion race against now against baggier boyfriend jeans for those who feel too curvy for skinnies.

Skinny jeans from River Island right a snip at £34.99.

Watch out for very narrow trousers and cigarette pants like these striped trousers shown left and from River Island Clothing Co. Ltd.

The skinnies are also leading to many fashionistas adopting not only skinny jeans, but also leggings

If you want to wear skinnies whether leggings, legwarmers or sprayed on zipped side leg skinny jeans, but are alarmed by your thunder thighs in the mirror, adapt the skinnies by adding a cover all to knee dress as a top layer as in the header.

About 2% Lycra is the optimum amount of stretch fans prefer otherwise skinny jeans can lose shape if they are too stretchy. Ankle zips are not only a fashion feature, but also help large feet pass through small openings.

Read more about how to wear skinnies to flatter your figure here.

Utility is a functional fashion look that focuses on belts, bibs and braces worn with no end of cropped trouser or shorts variations or as dungarees and pinafores. This look often has plenty of hardware with kilt pins and the like.

This is traditional variation of the preppy look. Neat and tidy shirts, pleated knee length skirts and ties or cropped trousers make for a sporty college girl look. Colours are traditionally nautical - red and navy with white and maybe some teal and tan.

Marc Jacobs is a reliable predictor of trends and, for spring, he focused on a wholesome, American preppy look of slouchy trouser, tailored shirts and streamlined blazers. The feel is one of preppy campus, preppy sailor, boho buccaneer and sophisticated schoolgirl.

The preppy nautical look has cropped trousers worn with flat shoes and short waist-length/cropped jackets. Expect to see pinafore dresses, 'V' neck primary coloured sweaters. His orange satchel bag or any other satchel bag can easily help bring this look together.

Kenzo touched on this nautical pirate look too. It would hardly be spring without someone addressing the cruise/nautical theme!

Over 21? 15/50 - Fifteen from the back, 50 from the front. Are you well over the odds for thigh-high, preppy, schoolgirl pleated, mini skirts, yet your legs are race horse fit. The shortest of mini skirts is a look that women giving themselves a personal fashion makeover should just say a silent no to themselves. However, there may be other elements of preppy you can easily wear.

Military has moved right through to majorette with patriotic bandstand appearance combining white with areas of red and blue. Military carries on from last season. Linea have a wonderful bandstand look cream summer jacket in their range.

Jacobs also pursued the military bandstand theme.

Call it what you wish, Chinoiserie, Oriental or Geisha; fashion trends this spring summer 2006 will reveal that east meets west or China meets Japan in Oriental Fusion. Fortunately, the all embracing term Oriental comes to our rescue and defines a look that will see us into next year as brocade becomes the fashion fabric of fall 2006.

The film 'Memoirs of a Geisha' is a movie that opened in Britain in January 2006. The scenes are set with lavish silk Kimonos revered in the film for their artistry and value.

The Oriental elements in fashion now have a freshness and elegance which has been missing from Boho. Boho has never been elegant, but it was well accepted because it was comfortable and not difficult to pile on the items to get the mish-mash look.

Oriental Fusion is such a refreshing change from the Boho ethnic Indian, Mongolian, Peruvian and Russian influences seen in recent seasons, that high street designers are pursuing it as a fashion theme.

Think cherry blossom prints, chrysanthemums flora prints, obi belts, butterfly sleeves and rich brocades. Like any look don't do the whole show, but team it with softeners like jeans or dresses. If you feel the wrong colouring for this look if you are very blonde and pale just add a very minimal directional amount as an oriental inspired bag. You will pay homage to the look and capture the essence of the fabric in one flamboyant gesture.

Hermθs, Dries Van Noten, Alber Elba at Lanvin have all played homage to Oriental Fusion Fashion. At Lanvin there were obi belts and this is one piece of drama in dress easy to translate without adopting too much of a look. By autumn expect to see handbags with oriental embroidered handles.

Studs are everywhere on both accessories and now on garments. The jangle of metal and hanging objects is on Kilt pins with charms used to tie knitwear and other ties or ribbons with bells that tinkle.

Oversized buttons and decorated charm kilt pins give a youthful look as so often they are in funky off-the-wall edgy designs. Straps as in bar shoes such as Mary Jane pumps and buckles and 3D flowers, are a feature of footwear and bags. Corsage flowers, ribbon flowers, barrettes and hair sticks go Oriental Fusion with Geisha.

Bags grow larger and larger as more and more focus is placed by designers on these high profit items that don't require a diet, a good figure or youthful face. Think every colour and texture under the sun, but for summer think especially of bags that are white or textured, have a metallic sheen, have studs or textured weave areas or chain insertions. Spring Summer 2006 Bags are busy, busy, busy. Read more about bags and by using the side menu.

You are reading an original fashion article by Pauline Weston Thomas at www.fashion-era.com ©
All in all, spring summer 2006 promises to be an interesting season with some really fresh fashion looks.
A sweet disorder in the dress
Kindles in clothes a wantonness:
A lawn about the shoulders thrown
Into a fine distraction-
An erring lace which here and there
Enthrals the crimson stomacher-
A cuff neglectful, and thereby
Ribbands to flow confusedly-
A winning wave, deserving note
In a tempestuous petticoat-
A careless shoe string in whose tie
I see a wild civility-
Do more bewitch me then when thou art
Is too precise in every part.
This page above looks at the main FEMALE trends/looks. Colours, fabrics, wardrobe tips etc., are on other pages.
For Colour Trends for 2006 Wardrobe Tips Sp/Sum 2006 Fake Bags
You are reading an original fashion article written by Pauline Weston Thomas© at www.fashion-era.com ©
Page Date Added 15 January 2006
If you like this page then please share it with your friends
---
For more information on women's and teens fashion trends go to:-
Custom Search
About Fashion-Era.com
Fashion-Era.com looks at women's costume and fashion history and analyses the mood of an era. Changes in technology, leisure, work, cultural and moral values. Homelife and politics also contribute to lifestyle trends, which in turn influence the clothes we wear. These are the changes that make any era of society special in relation to the study of the costume of a period.

Fashion-Era.com can take no responsibility for any information on the site which may cause you error, loss or costs incurred from use of the information and links either directly or indirectly. This site is owned, designed, written and developed by author: Pauline Thomas and Guy Thomas. This site is designed to be viewed in 1024 X 768 or higher.
ALL RIGHTS RESERVED. Fashion-era.com reserves the right to add or delete information, graphics and links. Copyright © 2001-2014 on all content, text and images in Fashion-era.com. Images and text in this website may not be used on other websites.
Before you write to me for costume/fashion help or information please, please consult the extensive sitemap which lists all our pages. If you still cannot find the answer after searching the site, then before you email me, please consider if you are prepared to make a donation to the website.
Donations
Reader's donations help this site flourish, in particular donations encourage me to write more articles on fashion history as well as current trends. PayPal allows anyone with a credit card to donate easily and securely. You may donate any sum you feel appropriate.
Ω
---
---
For superb Victorian or Edwardian
re-enactment costumes in USA, try the reproduction costume range at:
recollections.biz
---
G
G