Fashion Trends 2006
Miss Selfridge Fashion Trends for Spring Summer 2006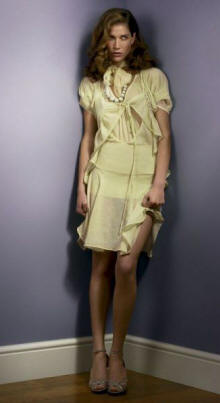 This page features elements and press images from the spring 2006 Miss Selfridge collection. Miss Selfridge is owned by Arcadia in UK. These fashion looks are much softer than previous collections and reflect the trend for more ladylike styling. Despite this there are plenty of urban chic elements that make for city wearability.
Click thumbnails. See more images from this group on the Topshop, Wallis, and Evans pages. Images courtesy of Arcadia Miss Selfridge online
Miss Selfridge
Sheer ruffle cardigan £28 €42
Fluted sheer dress £45 €67
Platform sandal £50 €74
Belle Epoque
This collection embodies the artistic refinement of bygone eras meets modern day dressing with cotton ruffles and fluid jerseys dripping alongside work-wear denims and dramatic knitwear.
The grandeur of the late 1800s where Court fashion was all about decadence, volume and wear-ability, all provide a strong influence for SS06.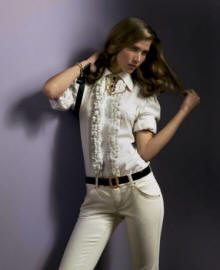 Novelty shapes and fabrics are toned down with cleaner, architectural lines and dresses sit pretty with understated sportswear shapes.
Colours combine frosted greys, greens and mineral tones which are highlighted with silver and metallic finishes.
Miss Selfridge
White ruffle blouse £30 €45
Sand skinny jean £35 €52
Black skinny belt £18 €27
Images courtesy of Arcadia Miss Selfridge online
‡‡
Sunset Couture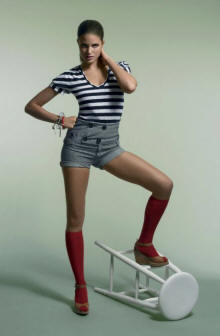 A touch of masculinity makes an entrance in to the most feminine of seasons softened with a preppy prettiness and a confident nod to Pop Art.
Modern sportswear gets mixed up with pleated pants, stripes and florals and poplins and gabardines, while acid tones lend texture to staple shades of navy.
Polo shirts, yokes and jogging pants are kept politely feminine with shirt collars, fine knits, and gingham.
Miss Selfridge
Jersey stripe top £18 €27
Ticking stripe short £30 € 45
Knee socks £7 €10
Tan peep toe wedges £45 €67
Summer Love-In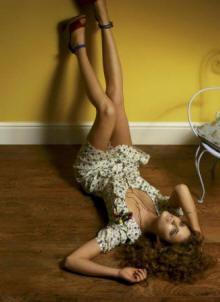 Wrap yourself in braces and patchwork with an eclectic collection which proves you don't have to be matching to be chic.
Miss Selfridge
Floral print chiffon dress £40 €59
Red peep toe wedge £45 €67
Oversized shirts are worn with wide leg pants whilst delicate knits create a soft line under masculine dungaree shorts and the little girl in us all is given a voice with flirty dresses and floaty cotton and voile.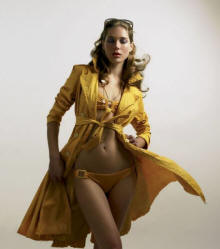 Miss Selfridge
Cotton Metallic mac £50 €74
Metallic triangle gold bikini top £12 €18
Knot top £18 €27
Khaki blouson short £30 €45
Beaded toe post £25 €37
Images courtesy of Arcadia Miss Selfridge online
Jet Setter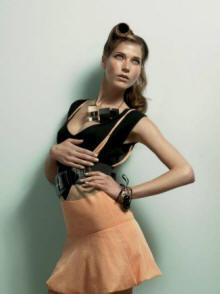 A modern take on the cruise wear style of the 1950s sees crisp, pretty pieces with clean cut blousons and boxy jackets. With red, white and blue forming a core palette mixed in with sunny yellow and grass green for a flash of graphic inspiration. Prints are mixed and layered the pencil skirt is modernised with pinafore braces and denim is raised from the hips to sit firmly on the waist.
Miss Selfridge
Cute cap sleeve top £18 €27
Sheer fluted dress £38 €57
Vintage wasp belt £18 €27
§
Haute Hippies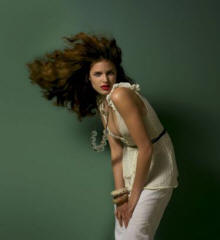 Bohemian chic is given some summer loving with rock star metallics and fondant fancies. Camisoles and petticoats, washed denim and tailored jackets keep silhouettes simple and reminiscent of the coquettish style of the 70s. Colours are soft and muted and summer dresses are strapless and puffball or wrapped and belted worn with cardigans and beads.
Miss Selfridge
Fluted camisole £30 €45
Victoriana maxi skirt £40 €5
Supernova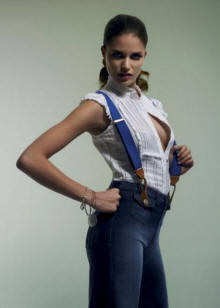 Miss Selfridge
High waist jeans £38 €57
Braces £12 €18
White cotton blouse £25 €37
The season's need for a masculine touch is viewed through rose tinted glasses with the collection mixing shorts with sashes and tailoring with trimmings. Watercolour prints in muted tones sit with vintage skinny denim and lurex knitwear and ruffled sleeves give character to cleaner lines. Think soft and dreamy, a collection for running away……
For further information www.missselfridge.co.uk
Page added 23 Jan 2006
All images including the header are courtesy of Arcadia/Zoom Miss Selfridge online
To Top of Page
If you like this page then please share it with your friends
---
For more information on women's and teens fashion trends go to:-
Custom Search
About Fashion-Era.com
Fashion-Era.com looks at women's costume and fashion history and analyses the mood of an era. Changes in technology, leisure, work, cultural and moral values. Homelife and politics also contribute to lifestyle trends, which in turn influence the clothes we wear. These are the changes that make any era of society special in relation to the study of the costume of a period.

Fashion-Era.com can take no responsibility for any information on the site which may cause you error, loss or costs incurred from use of the information and links either directly or indirectly. This site is owned, designed, written and developed by author: Pauline Thomas and Guy Thomas. This site is designed to be viewed in 1024 X 768 or higher.
ALL RIGHTS RESERVED. Fashion-era.com reserves the right to add or delete information, graphics and links. Copyright © 2001-2014 on all content, text and images in Fashion-era.com. Images and text in this website may not be used on other websites.
Before you write to me for costume/fashion help or information please, please consult the extensive sitemap which lists all our pages. If you still cannot find the answer after searching the site, then before you email me, please consider if you are prepared to make a donation to the website.
Donations
Reader's donations help this site flourish, in particular donations encourage me to write more articles on fashion history as well as current trends. PayPal allows anyone with a credit card to donate easily and securely. You may donate any sum you feel appropriate.