Spring Summer 2006 Fashion Trends Extracts from Topshop Press Report Spring 2006
Topshop is owned by Arcadia UK and is a prime mover of translating new fashion trends in the UK. Topshop's progressive collection is called UNIQUE and is designed by its in-house design team. Unique has been produced since 2001 and is now in its tenth season. Nick Passmore is Head of Design and graduated from University of Lancashire
This page features some Topshop pictures and some text of the spring summer 2006 Topshop fashion press report. Click thumbnails. All images courtesy of Arcadia www.Topshop.co.uk/. For purchases visit www.Topshop.co.uk/. You can see more Miss Topshop images from spring/summer 2005 showing here at fashion-era.
Extracts from Spring Summer 2006 Topshop Press Release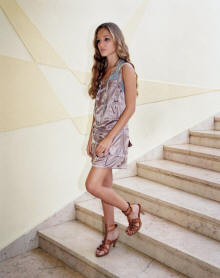 Directional silhouettes are softened with deconstructed, oversized shapes for this modern, feminine collection.
Topshop
GREY VEST£10 €15

GREY SATIN DRESS

BROWN HEELED GLADIATOR SANDALS
£45 €68
Voluminous blouses and dresses are pulled in with belts and straps. Traditional floral 'tea' prints and table-cloth checks on crisp cotton, mix with sophisticated technical fabrics. Casual military-inspired jackets are thrown over pretty, chemise dresses and bubble-hemmed skirts to bring a masculine depth.
Balloon-sleeved shirts and rolled-up shorts are teamed with gladiator sandals and simple slip-on plimsolls.
‡‡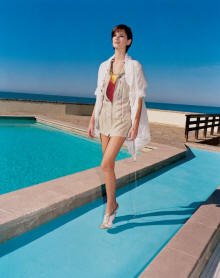 Topshop
CREAM ZIP UP DRESS/TOP £40 €61

WHITE PARKA £70 €106

YELLOW VEST £6 €9

RED TOP, UNIQUE LACE UP SHOES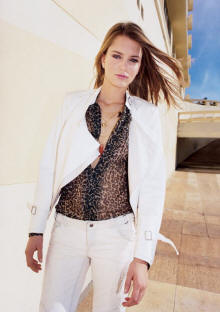 The predominantly white colour palette is lifted by pale rose, grey and tan and is highlighted by saturated marigold, coral and metallics.
Topshop
WHITE JEANS £25 €38

LEOPARD PRINT SHEER BLOUSE £40 €61

WHITE CROPPED DOUBLE COLLAR JACKET £50 €76
For spring summer looks visit www.Topshop.co.uk/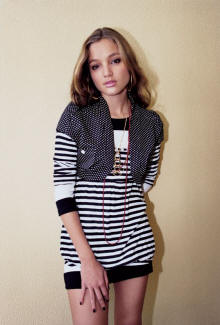 Downtown cool meets patrician posh for this new take on a classic 1960s look. Think Edie Sedgwick and the Velvet Underground's Nico and you're half way there, as candy stripes and geometric op-art tees provide a preppy, uniform-like touch.
Topshop
BLACK AND WHITE STRIPE TOP £20 €30

NAVY POLKA DOT CROPPED BOLERO JACKET £35 €53

Straight poplin shift dresses and cutwork lace-trimmed pinafores strike a clean silhouette, maintained by box-waist suits with stand-up collars and tulip skirts.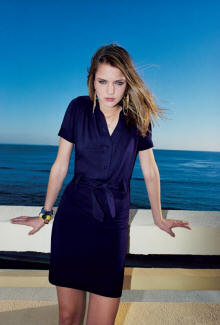 Capri trousers are worn under Brocade and taffeta frock coats or short summer trenches while Princess Margaret-style heels and flat patent sling-backs are topped off with newsboy caps.
Topshop
NAVY DRESS £35 €53
Dresses are studded with beadwork while outerwear has large, flat buttons and disc-shaped belted fastenings. Pale nudes are paired with navy, pistachio with dark mustard and black with white.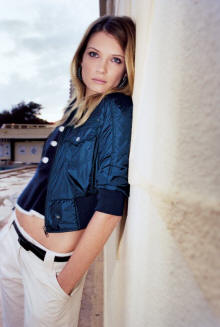 Topshop
NAVY KNITTED TOP WITH WHITE BUTTONS

BLACK SKINNY BELT £16 €24

NAVY COTTON JACKET £30 €46
For seasonal items visit www.Topshop.co.uk/
Click thumbnails.
§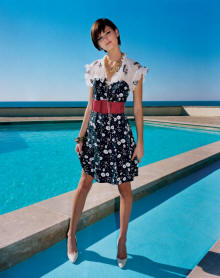 Topshop
BLACK AND WHITE FLORAL PRINT DRESS £75 €114

RED WAISTED BELT

CREAM POINTED COURT SHOES £50 €76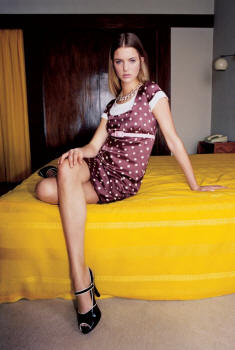 Topshop
BROWN POLKA DOT SATIN DRESS

WHITE S/S TOP £6 €9

BLACK CHUNKY HEELED PLATFORM SHOES

PINK SKINNY BELTS £7 €11
For seasonal stock information visit www.Topshop.co.uk/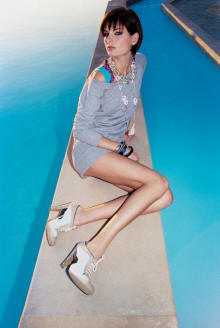 This is a glamorous, excessive look, gorged on extravagant beading and flamboyant metallic trims.
Topshop
TURQUOISE VEST £6 €9

GREY LONG SWEATER DRESS £25 €38

UNIQUE LACE UP SHOE
Dark figure-hugging dresses with plunging necklines and striking hemlines are piled with strings of chunky gold jewellery. Look out for slinky black jersey in simple silhouettes that makes way for over-the-top accessories. Twisted and draped fabrics are cut to fall to the waist creating sultry backless shapes.
Platform heels, curved-wedge shoes and sandals of gold chain puncture block-coloured looks of mocca, tan, sage and mushroom. Throw in a chain strapped leather bag to finish this decadent look.
End of Press report.
For seasonal images visit www.Topshop.co.uk/
You can see more Miss Topshop Images from spring/summer 2005 showing here
Click thumbnails - All images courtesy of Arcadia
This page addition on 21 Jan 2006
To Top of Page
If you like this page then please share it with your friends
---
For more information on women's and teens fashion trends go to:-
Custom Search
About Fashion-Era.com
Fashion-Era.com looks at women's costume and fashion history and analyses the mood of an era. Changes in technology, leisure, work, cultural and moral values. Homelife and politics also contribute to lifestyle trends, which in turn influence the clothes we wear. These are the changes that make any era of society special in relation to the study of the costume of a period.

Fashion-Era.com can take no responsibility for any information on the site which may cause you error, loss or costs incurred from use of the information and links either directly or indirectly. This site is owned, designed, written and developed by author: Pauline Thomas and Guy Thomas. This site is designed to be viewed in 1024 X 768 or higher.
ALL RIGHTS RESERVED. Fashion-era.com reserves the right to add or delete information, graphics and links. Copyright © 2001-2014 on all content, text and images in Fashion-era.com. Images and text in this website may not be used on other websites.
Before you write to me for costume/fashion help or information please, please consult the extensive sitemap which lists all our pages. If you still cannot find the answer after searching the site, then before you email me, please consider if you are prepared to make a donation to the website.
Donations
Reader's donations help this site flourish, in particular donations encourage me to write more articles on fashion history as well as current trends. PayPal allows anyone with a credit card to donate easily and securely. You may donate any sum you feel appropriate.