Fashion Trends 2006 - Spring Summer Fashion Trends 2006
Trends in the Fashion Silhouette - Wardrobe Tips 2006
Choosing New Fashions for this Season's Wardrobe
I suggest that you read my pages on fashion trends and fashion colours as well as scrolling this wardrobe tips page.
Don't be caught panicking with 'nothing to wear'. Consistently review, clear out the failures and rebuild your wardrobe basics, that way you are ready for every climatic change. Maintaining your image is one way to develop self esteem and feel more confident. If you want to look like those you admire, then you must do what those people do - work at it.
You don't have to be pin thin, but you must review your haircut, make-up and footwear choices before analysing the general fashion looks that will appeal and take you into a new season and to a new you.
Frocks are back. Women are buying them. I'll tell retailers a secret we women all know - it's that manufacturers have added sleeves to dresses. Look out for cap, short, three quarters and long sleeves that adorn many of the 2006 styles. A dress can then be a useful piece in a wardrobe. This is truly good news for women who like the choice of dressing in a more feminine way when the mood takes them, but are beyond spaghetti straps for daily work wear dressing.
Details are below, but KEY silhouette and theme trends to consider adding to your wardrobe for spring summer 2006 include:
White shirts, whitework blouses, white eyelet broderie anglaise decoration...
Blush neutral tones
Tulip and bubble silhouettes in skirts and dresses
Sharp tailored knee shorts or cropped trousers
Worn with snappyboxy cropped jackets
60s duster coats
Fuller skirts - slouch and puffball styles
Hour glass waistdresses
Shorter A-line tent trapeze style minis
Wide deep belts and ribbon bow focus on waists
Square necks and newer cap sleeves
Exotic print wrap dresses with high or dropped waistlines
Volume sleeves with deeper cuffs
Frills and flounces
Belted dresses and belted trench coats
Maxi skirts and maxi dresses
Oriental fusion and GEISHA LOOKS gaining momentum to autumn
You are reading an original fashion article written by Pauline Weston Thomas© at www.fashion-era.com ©
‡‡
Increase the volume on one half of your body only. The rules for successfully wearing the volume look are still the same. So, to avoid hippo proportions and photographs, that you only want to burn, this what you should do.
When you select the more voluminous bottom half, whether a skirt, dress, coat or trousers aim to have a neat or close fitting top half. Alternatively, a looser more boxy top half should be teamed with a narrow more slim line bottom half, otherwise you may appear to have the silhouette of a pudding.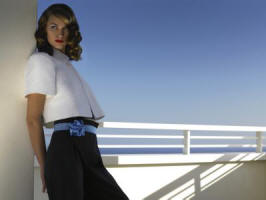 The photo to the left is courtesy of Dorothy Perkins. I love the whole outfit. Its snappy clean cut boxy jacket, the bow at the waist belt and the navy trousers, which make a great fresh spring smart outfit.
I think this particular look will be a winner, as it is clean, streamlined and fuss free. You are reading an original fashion article by Pauline Weston Thomas at www.fashion-era.com ©
Click thumbnails.
Image courtesy of Dorothy Perkins Spring Summer 2006 Womenswear. This is a white cropped jacket £45/€70 Navy and lime striped vest £8/€12, worn with navy striped slouch trousers £28/ €45.
A simple clean look, like this, will make you appear far more sophisticated than you might in the latest puffed sleeves or shorts. If you hate your arms, cover up with a jacket or one of the new Duster Coats.
60s dresses were often A-line, smock like or frequently tent like. They were attractive because they were short and revealed a formerly much hidden erogenous zone the legs. Now 60's A-line dresses are set for a huge revival
A-line dress stylesalso lend a youthful air and very much suit the younger woman and teen girl. But if you can get away with youthful, and ask yourself honestly if you can, the look is worth a try. A sleek modern A-line shift with low shoes, and a sharp bob haircut will instantly revamp you.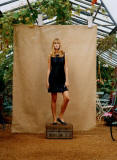 Fabric is very important this year and helps create the princess debutante, more elegant streamlined look. So look for crusty broderie eyelet lace, brocade, shimmer and glimmer, black and white oriental fusion Geisha inspired prints. Fabrics described here. You are reading an original fashion article written by Pauline Weston Thomas© at www.fashion-era.com ©
This black broderie lace shift dress photo right is
from Laura Ashley and the lace dress costs £80.
§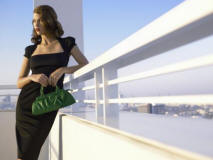 Cap sleeves have made a welcome reappearance for those who just cannot wear sleeveless frocks. This gorgeous sheath dress in the image to the left, is courtesy of Dorothy Perkins. The design pays homage to elements of the Galaxy dress designed by Roland Mouret. Pure Glamour for spring 2006. This little black dress is so classic that you will have it in your wardrobe for a long time.
Dorothy Perkins Spring Summer 2006
Black fitted dress £40/€60
Green bow bag £12/€17
Tulip line skirts are also set to be a winner with women. Whatever your size try on lots of tulip style variations, as a good fit is crucial to the skirt looking correct and flatter curves rather than making you appear lumpen and bulgy.
The tulip line is especially suitable for pear shaped women who cannot normally find dresses to fit because they spill out of the hipline. They may find the bulbous nature of tulip skirts will accommodate this, but still you need to be careful to get an exact fit as otherwise the shape can be ugly. Bubble skirts draw attention to the legs so be sure you have great legs below the knee.
But for those who can reveal more, perhaps choose an asymmetric cut. A one shouldered, draped, goddess dress, leaves just one bare shoulder and covers all the bust. These leave lots of room for the imagination with the nakedness of a bared shoulder.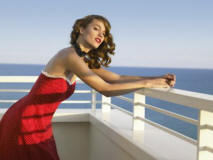 Or totally expose the shoulders whilst emphasising the waist with a fitted bodice and fuller skirt as in this lovely photo of a Dorothy Perkins red and white spotted dress.
Dorothy Perkins Spring Summer 2006 Womenswear
Red and white spotted 1950s dress £40/€60

Click thumbnails.
From this look move to halter necks that again totally cover the bust, but leave toned bare shoulders visible.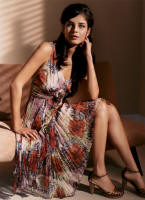 Long floor and ankle length dresses in soft silky materials that move with the body work well with either one or two shoulders bared.
The Empire Line is a very feminine line and in this image from the Principles collection at John Lewis we see a lovely summer sleeveless empire version with a swirl fine pleated sunray style fuller skirt. This is such a romantic pretty dress and suitable for holidays, special occasion wear and romantic evenings.
Empire lines will be a definite silhouette feature of 2006 in fashion history terms.
‡
Fashion Racing means certain styles are sometimes said to be so over even before they have been worn by many. Fashion racing means its almost impossible to stay ahead so I say get to know your own body shape and go with the flow of what suits you and looks good on you. The wrap dress has been a hit for several seasons, but this year it will reach a new mass peak, as dresses in all forms take on a new importance in dressing quickly and easily. Since most will have sleeves, they will suit all ages. The transition to the spring summer look, will for many, be made easier by wearing these jersey Wrap Dresses or other lace dresses over jeans or leggings. Alternatively wear thick textured tights or lovely legs!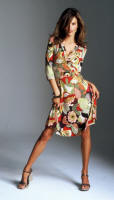 The cinched waist and fuller skirts to this summer's dresses should suit pear shaped women. This year, mass manufacturers have taken the wrap dress to heart and you should be able to purchase one in any solid colour. Choose the right dress and you have elegant comfort wear in one item. Click thumbnails.
The bold all over energetic print flattering wrap dress
image left, is courtesy of NEXT UK and is available
from the online NEXT online catalogue.
NEXT Jersey printed dress 964611 at £36.99.
Teamed here with 972579 Bronze soft plait wedges at £19.99.
Available in UK sizes 6-22 plus and petite sizes.
Unfortunately only 8% of women today have hourglass bodies. A recent study suggests that designers like to ignore this fact, which is why so many of us have to buy separates. For many of us, buying a dress is therefore a nightmare, but you will find wrap dresses, for example in the above dress a more tolerant experience. Observe how forgiving jersey and A-line dresses have a little size leeway as you control the degree of wrap. Others have fixed wraps and are often high waisted or drop waisted and will be welcomed by those who are aghast at fashions current passion with hour glass waist emphasis.
A classic wrap dress like this can be a comfortable alternative to travelling in trousers when your holiday destination is many degrees warmer than home. For warmth on an air conditioned cool plane, you can add other layers such as skinnies or leggings with a cashmere shrug and then remove the layers at your destination. You are reading an original fashion article written by Pauline Weston Thomas at www.fashion-era.com ©
Feminine, modern and nostalgic are all words that describe the dress of today. Summer sees softness in antique effect white lace and whitework effects used alone or mixed with washed floral faded prints. Eyelet fabrics are everywhere. White dresses can be simple shifts or more complex designs like the French Connection frock below.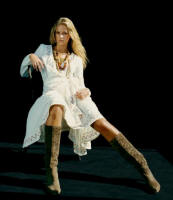 Look for girlie white and neutral broderie anglaise and the PLWD (pretty little white dress). Choose to wear a dress over skinny jeans and thus get away with the skinny jeans that you thought you could never wear. Make a summer white dress have a very different look by wearing boots to style it in an unexpected country manner.
Picture left is of French Connection Spring Summer 2006
White embroidered wrap dress £110,
Khaki silk camisole £55, Orange and amber necklace £30,
Gold chain and bead necklace £26,
Brown cut out boots £155.
Image courtesy of French Connection
As you can see, lengths can be mid calf, on the knee, maxi or mini. I prefer those images that show the dresses on the knee - they look so much more snappy, but being of average height, I feel clothes at the knee often balance me better, so I think we are attracted to outfits we can see ourselves wearing. You may feel longer or much shorter skirts suit your shape better.
Isn't it wonderful that we have so many options to pick and choose.
-------v6-------
Remember white comes in a range of tones from icy cool white to more creamy ivory white. Hold white items white against your face to see which tone suits your skin best. If you can't wear it near your face, because it drains your colour, opt for a skirt, trousers or cropped pants in white. Then you can add a darker top as shown in the image of wide trousers right.
The outfit left is from Matalan Women
and is available only directly from Matalan stores.
Spring Summer Spring Summer 2006 range.
Gold button jacket £28 Linen tie waist trouser
£14 Metallic clasp bag £12

It's not just the face that can be balanced with white on the lower half if white is too harsh for you. Whilst a lot of UK women have a pear shaped or hour glass body, some of our visitors to the site are like myself - an inverted triangle body shape. So the bottom half is slender and the top half is sometimes a size or two larger for a broader or bustier upper body.
Styles that draw attention to the narrower hipline measurement of this body type include pencil skirts, dropped waist skirts, slim line skinny and cropped trousers. These bottom garments when worn with a cropped jacket draw the eye to the proportionately slimmer lower half. Fuller skirts gathered from the waist may hide the best bit of this body type, so avoid these unless the skirt is set on a low hip basque.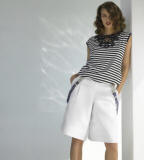 These shorts shown on the right, are from Dorothy Perkins and are perfect for sightseeing. If you need something more formal, but still want to wear shorts, then a longer pair of knee shorts teamed with a jacket may be a better option.
Dorothy Perkins Spring Summer 2006
Black and white stripe top with crochet trim £22/€35
White linen shorts £25/€40
Braces £6/€10

Click thumbnails.
White also works very well this season with the preppy and nautical looks that team white with red and navy. The result is a very easy to wear look that always gets compliment for its crisp, but relaxed jaunty air.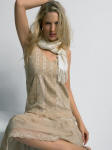 If white seems a fragile choice consider one of the neutral blush tones made up in lace and semi sheer fabrics. If you are fair, the blush tones may be difficult to wear. Try different weights of blush tones against your skin, until you find a blush tint that suits you.
Left is a Spring/Summer 2006 Womenswear
John Rocha antique lace and pintuck sundress £60,
for Designers at Debenhams Rocha.
The scarf is a J by Jasper Conran pashminetta £18.
Image courtesy of Debenhams PLC.
In keeping with that girly look, consider two alternatives such as fresh summer style ginghams or tablecloth style madras checks. You are reading an original fashion article by Pauline Weston Thomas at www.fashion-era.com ©
Shapes for summer also include the soft lines of the tulip and the bell styles. A crisper more minimal look is that of the A-line shaped sixties skirts. These modern skirts all finish around the knee so be careful to keep the length on the knee for that trend setter factor.
Pencil skirts have been in for several seasons, yet until this season, they have been quite hard to get hold of; much in the same way as skinny jeans have proved difficult to find until now.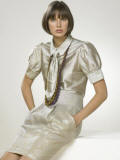 Tulip Skirts
Tulip skirts are being sold quickly across the UK. This tulip skirt is from River Island and the top features puff sleeves a very young look. The bob haircut looks pretty good too. See another here.
River Island Spring 2006 - Womenswear
Metallic shirt and tie £29.99/€50.50
Metallic linen tulip skirt £39.99/€67.00
Beaded necklaces £9.99/€16.50
You can wear the softer looks, which men love, when you adopt a fuller high waisted tulip shaped skirt and draw the waist in with a waist cinching belt. If your waistline can tolerate the look of increased volume, then the tulip skirt can draw attention to a neat waist and to good lower legs, whilst disguising the hip heavy. Remember that theory of men seeking lifetime partners, the ratio they subconsciously look for is (0.7), small waist to round hips. Need all the help you can get - then this is your chance to show off your contours.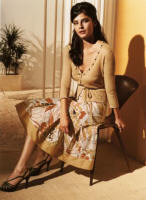 In this new fashion era, fashion trendsetters everywhere will love wearing these comfortable and fashion trend setting shapes. This year the fuller skirt will take on a fresher look as individuals start to wear colourful contrast net petticoats to show just at the pushed out the hemline can can style.
Accentuate lower skirt fullness with a neat cropped jacket or a belted fitted cardigan as shown in the outfit available from 2006 Spring women's wear at John Lewis and from the collection by Principles.
The line which has proved to be growing in popularity in the past season is the full slouch skirt with fullness set from the hips. Most women now have much thicker waistlines than in the 50s, so this fullness dropped to the hips is more flattering to wear than a skirt gathered directly from the waistline area.
This skirt style is also much more luxurious looking when made up in rich taffetas. Some versions of the full skirt are softly pleated as the one below, whilst other skirts are gored in panels giving lots of hem width only. These styles that get fuller from the hip can really increase the lower volume without adding too much waistline bulk.
Being fuller, these style variations are also very comfortable skirts in wear. I am sure they will be worn everywhere this summer, and at last will overshadow the gypsy skirt as a practical easy moving skirt for most women.
Other variations of the full skirt include sunray pleated skirts and these could be a good investment as metallic sun ray skirts should be part of autumn looks.
Bubble and swag skirts that look like Austrian blinds are a new style fined down from the puffball, but this last look may seem strange to many. The latter garment would have to look just perfect on you to make it a wise purchasing choice. Celebrities have been seen wearing puffball skirt gowns in rich satin fabrics, but mainly to awards ceremonies, rather than as about town day silhouettes. So far most stars are confining the puffball look to event wear. You will find puffball and bubble skirt variations at ranges like that of Linea at House of Fraser. You are reading an original fashion article written by Pauline Weston Thomas© at www.fashion-era.com ©
In general, hemlines are higher in keeping with the new simple A-line silhouette. Many skirt hems have opaque or semi sheer bands which create an illusion of a hem. It becomes hard for the onlooker to decipher if the hem effect makes the dress short or not.
This year, one aspect of fabrics that is worth note, is the way in which designers have layered different fabric weights. Look out for garments with transparent or semi sheer areas and optical illusion effects such as dresses which give both an illusion of being shorter because for example a hem panel in semi sheer or sheer fabric has been used. From a distance the dress seems shorter yet this method of banding hems makes the wearer feel the dress is longer because it physically is longer.
Banded insertion hems of several inches depth were a feature of mid 1960's dresses and was one way that women were encouraged to gradually adopt shorter clothing.
One similar look is that of refined puff hemlines.
Although the gypsy skirt is supposed to be dead, the varying lengths of last year meant designers hedged their bets on lengths and every length from maxi to way way above knee mini is available for 2006. The plain maxi without its gypsy frills looks like it might gain favour with die hard Boho fans. Look out too for maxi empire line dresses. You are reading an original fashion article by Pauline Weston Thomas at www.fashion-era.com ©

So you think you need some skinny jeans.... or even leggings. If you look as slim as this model in this photo courtesy of Matalan Women Spring Summer 2006 then they will look great.
Matalan Stripe stretch 3/4 length sleeve £8
Black skinny jean £14
Some think skinnies are on the way out already - another factor of fashion-racing. I say just do your own thing. If they look good on you wear them, if not choose from many alternatives.
Stop and consider that Miss Average is not Miss 6 foot Model and so remember there are plenty of other trouser styles to choose from apart from skinny jeans, including full capacious sailor stride styles as well as baggier boyfriend style jeans, knee length shorts, cropped trousers and culottes.
Choose those pants that flatter your figure not those that make a skinny model look even skinnier. Be realistic and choose a fashion that flatters not fattens.
Skinnies are now in most shops yet this style is less flattering to a great many women. The best skinny jeans are said to be from Sass and Bide. Many consumers are happy with affordable skinnies from high street stores such as Topshop, Dorothy Perkins or The Gap.
If you are larger than you feel looks good in skinnies, but you long to wear them, why not wear skinny jeans under a dress that perhaps goes to mid thigh or with a long white shirt.
Try several styles of dress over the skinny jeans. For you it may be a wrap dress that looks best, for someone else a baby doll empire line dress, for another a shirt and for another a smock top. Find the style that flatters you and you too can wear skinny jeans. The biggest factor in choosing jeans once you have found a pair with a reasonable body fit is then just trying about seven or eight pairs of the same style until the perfect fitting pair emerge. Be fussy about fit.
For most people the problem with skinny jeans will be visible bulge thighs wider than the hips, so any dress that pitches mid thigh or longer should do the trick. This look can also be used with opaque or patterned tights.
Choose black, grey or dark blue skinnies or stop fretting and just buy equally fashionable very wide linen pants and look like a groomed continental lady.
Black jeans need to be black - nothing looks worse than washed out black jeans.
Expect to see more deep semi square necklines and wide set collars in keeping with boxier jackets lines. Scoop and V necklines still abound as do bra slip dresses and halter styles. Deep low Grecian looking cowls are a change from the minor flippy higher cowls of the turn of the century. Deep low V necks remain popular on shrugs in particular.
With the waist really back in fashion and nipped in looks becoming more popular, it may be that some of you will need some Spanx style underwear, a few weeks of pumping iron or very good posture! You will have to stay off the biscuits though to keep that hour glass figure that the 50s fashion with its fitted bodice and cinched waist requires. The image of the bow tie cardigan right is courtesy Laura Ashley Spring Summer 2006 Womenswear ran

Satin ribbon bows will emphasise waists and will appear on dresses, jackets and knitwear as cardigan belts or as jacket trims and this is a good and easy way to update many items.

Loose airy and flowing sleeves are a feature of dresses and of fulsome blouses. Draw attention to shoulders with bare shoulders or

shoulder lines that are puffed with fulsome airy voluminous, often semi sheer sleeves.
Bell and puff sleeves are appearing on blouses and tops. It's not difficult for someone over 22 to look ridiculous in short puff sleeves, but the same women may get away with fuller blouson sleeves and deep cuffs. Many of the sleeves are full at both the top and the bottom and are reminiscent of romantic gigot and beret sleeves.
Cap sleeves have also re-emerged and will be most welcome to those who hate strappy dresses that reveal less than model toned arms and chicken wings of flesh. The dresses we have this year are for grown ups who long to have the freedom a dress can bring to a wardrobe, but who would never wear an arm revealing spaghetti strap number.
Three quarter or seven eighths sleeves have been around on jackets for a while and Duster coats generally have three quarter sleeves for summer styles. Yet few manufacturers have addressed the need for a longer length leather glove that does not cost an arm and a leg. I did manage to locate a reasonably priced pair this winter in Debenhams and now Marks and Spencer will be adding a longer glove to their leather gloves range. I think we will be seeing much more of longer length gloves by autumn. You are reading an original fashion article written by Pauline Weston Thomas© at www.fashion-era.com ©
Oversized buttons were featured by Burberry and this is a truly 50s look that can help capture the style of the moment.
Platform shoes, wedge heels both high and low, bamboo cut out wedge heels, ballet pumps, Roman sandals, red shoes, pink shoes. Mary Jane strap pumps, buckles and flowers are a feature of footwear.
This is the season of the oversized bag and any tone of metallic bag There are also many oversized white bags, textured bags, tall tote bags and tweed clutches.
Update a bag this spring by adding a scarf to the handles or loop the scarf through any rings. Or buy one with a corsage trim or tassels or bobbles already attached.

I really like these bags shown left, image courtesy of Debenhams PLC Spring/Summer 2006 Accessories Preview. Star by Julien Macdonald Designers at Debenhams bronze gathered ring shoulder bag £30, and gold gathered ring shoulder bag £40.
Metallic Bags
See my pages on general accessories and choosing a designer bag tips and aftercare or consider the problems of buying fake and replica bags here.
Tousled Boho hair is out, but bobs with a bit of lift a la Sharon Osbourne or Sienna Miller or Erin O'Connor are back in vogue. Getting the hair right is the very easiest way to move easily into spring trends. If you have long hair wear it in a chignon or dress it in oriental style with decorative sticks like Kelly Osbourne does.
Whisper light translucent shimmering Organza moirι, silk jersey, taffeta, brocade, duchesse satin, fine cotton lawn and textured materials such as plisse are the fabrics to choose when selecting garments and accessories.
Metallics bring glimmer and shimmer to many materials.
Fabrics are quieter with more subdued greyed shades, but with a few clear colours like lily green and skyblue. The dazzle really comes from the metallics that compliment less zingy tones.
Keep anything you already own and in the sandy beige, cappuccino, pewter, taupe, off white, light grey, black, indigo and navy colour range and anything made of brocade, velvet and organza. Read more about fabrics here.
Be ruthless as you go through that wardrobe rail for out of date fashion trends. If a garment is 12 months old and still taking up space, but unworn, reassess the item and relocate it fast to the Salvation Army. If you have not worn if for a year, the chances are 95% certain you will not wear it this year. My image planning tips and TICKS RULE may also help you.
We wear only 20% of our wardrobe whilst 80% languishes waiting for that rare day when the weather is just so, or our weight hovers on the correct part of the scales and the occasion can match it. One problem is our wardrobes probably contain too much seasonal stuff that has had its moment, but we feel it is too good to ditch because
a) we delude ourselves we still could look great in it on days we don't feel bloated
b) it cost an arm and a leg
c) it's really brand new (may even have a tag still attached) because it never really felt right whenever we went to put it on.
Spring 2006 fashion buys should include lighter weight wool mixes, some heavier cottons and linen items for warmer days, plus a raincoat such as a fashionable trench. These are all useful basic items as the weather moves from cooler and damp to milder and warmer.
As far as the fashionisti were concerned Boho had had its day by autumn 2005. As there are still so many influences visible in mass fashion shops you will have a hard job though to avoid it.
The easiest way to move on in fashion and wean yourself off too obvious Boho 2005 is to scourge your wardrobe of the tiered layered gypsy peasant skirt or just keep it for the beach as a swimwear cover up to pad up to the ice cream hut.
A transitional look is to adopt a full skirt as shown in the styles above and which is set on a yoke or stitched to hip, but with just one to knee tier softly pleated or gored rather than multi tiers of lower fullness. You could also opt for a maxi skirt, but minus the tiers.
Functional slips such as those by Spanx have been back in fashion for sometime by those in the know. The latter are not pretty pretty and mysterious, but they do perform the job of making a sleek foundation for the slimmest of sheath dresses.
Read about the slip of the 1950s and its demise in 2003 here.
If you are still hanging on to that suit with a long low hip or to knee jacket a la mid nineties/turn of the millennium, add it to a charity shop bag now.
Whilst we review our wardrobes spare a thought for your spectacle frames. Do yours need updating. Check out modern frames easily by browsing online sites such as Vision Express, Dollonds and Boots.
I thought you knew this last one - that belly flab is so passι. But still we see what I think of as slabflab when we are out and about and worse, certain celebrities in the know still refuse to give this up.
I've mentioned the slabflab look the last few seasons, but this look really is so past its sell by date that I shouldn't have to mention it again. Yet still I see the odd person slavishly revealing all. So I will repeat once more that jeans hanging down exposing the pelvic line is not a good fashion look right now!!!
Why? Because not only has this look had its day, but the majority of people cringe when they see it on another. More importantly the bulge of flesh seen hanging over a low cut jean now has now officially entered new vocabulary. Teen girls frequently describe this bulge as muffintop. Both mean slabs of flab, both descriptions are most apt.
Slabflab overhang bulges are long gone and smooth contoured body curves a must have. No bulges are allowed over waistbands. All the best design houses are making lingerie ranges with slips this year. Take a look at Figleaves and see slips by La Perla and others. Now that you know a ladylike slip is in, let's hope you'll agree that that the death knell to slabflabber fashions has been tolled for good.
The other equally irritating fashion faux pas is the visibility of a thong above the waistband and this has been defined by the same teen vocabulary as 'whale tail'. Yes put those backsides away please. Both these fashion faux pas are the most commented on hated fashions on my forum. You are reading an original fashion article written by Pauline Weston Thomas© at www.fashion-era.com ©
Sharp tailored knee shorts or cropped trousers
White shirts, whitework blouses, white...and more white
Blush neutral tones worn with snappy boxy cropped jackets
60s duster coats worn with fuller skirts
Hour glass waist dresses
Shorter A-line tent trapeze style minis
Tulip skirt and bubble skirt silhouettes and belts
Exotic print wrap dresses with high waistlines
Belted dresses and belted trench coats
Maxi skirts and maxi dresses
Square necks and cap sleeves
Volume sleeves with deeper cuffs
Preppy looks
Cowgirl looks
Military on the wane --> bandstand
Be careful with
Frills and flounces - moderation may be best
Oversized puffed sleeves
Overdoing the cowgirl look - moderation, moderation!!!
Hair extensions - great when freshly done, but nasty when past their sell by date.
You are reading an original fashion article written by Pauline Weston Thomas© at www.fashion-era.com ©
If you like this page then please share it with your friends
---
For more information on women's and teens fashion trends go to:-
Custom Search
About Fashion-Era.com
Fashion-Era.com looks at women's costume and fashion history and analyses the mood of an era. Changes in technology, leisure, work, cultural and moral values. Homelife and politics also contribute to lifestyle trends, which in turn influence the clothes we wear. These are the changes that make any era of society special in relation to the study of the costume of a period.

Fashion-Era.com can take no responsibility for any information on the site which may cause you error, loss or costs incurred from use of the information and links either directly or indirectly. This site is owned, designed, written and developed by author: Pauline Thomas and Guy Thomas. This site is designed to be viewed in 1024 X 768 or higher.
ALL RIGHTS RESERVED. Fashion-era.com reserves the right to add or delete information, graphics and links. Copyright © 2001-2014 on all content, text and images in Fashion-era.com. Images and text in this website may not be used on other websites.
Before you write to me for costume/fashion help or information please, please consult the extensive sitemap which lists all our pages. If you still cannot find the answer after searching the site, then before you email me, please consider if you are prepared to make a donation to the website.
Donations
Reader's donations help this site flourish, in particular donations encourage me to write more articles on fashion history as well as current trends. PayPal allows anyone with a credit card to donate easily and securely. You may donate any sum you feel appropriate.