2a. Colours, Fabrics, Textures, Print & Knits
Fashion Trends for Autumn 2005 and Winter 2006
Fall/Winter 05/06 has some of the most gorgeous deep rich vibrant colours and equally plush fabrics. Accents of colour combined with regal fabrics add touches of sophistication and glamour to new trends. Current colours are deep rich violet purples, wine reds, burnt ginger tones, moss greens, mustard, and teal. To that list add black and white plus greys and oyster shell tones.
Mustard never fares well as a main fashion colour, but often appears purely as a gold trimming and is attractive in that form. The burnt gingers are perfect for natural leathers, furs and skins and lend themselves well to metallic coppers and bronze effects. Whilst there are some lighter tones of the main colours, depth of colour and deep dyes are the current colour trends for Autumn Winter 2005/6.
All of these colours have tones which move off them and jewel tones are the main trends in fashion colours for Fall 2005 - Winter 2006. This is a richly dark vibrant palette rather than a pastel palette, however, I predict that next spring you will see powdery pastels flowing through from this range.
Autumn 2005 - Winter 2006 colour palette includes :-
purple, aubergine, navy, midnight blue, hyacinth, ultra violet...
teal blue, peacock, turquoise, duck egg, azure ...
rose raspberry red to rich ruby wine, cranberry, scarlet, rich coral red...
red oxide through to ginger to burnt orange, caramel, copper, mustard yellow...

.... note the sludge like colours of avocado, olive, forest green, moss green, limed khaki green, to clear colours like palest chartreuse green to emerald....
rich warm browns and autumnal chocolates, peaty earth tones, creamy champagne, white pepper, oyster grey and flesh tones.
Finally black can stand alone again or is mixed with white or grey, perhaps simply trimmed with red or black items styled with navy items. See 3 main colour fashion mood boards here.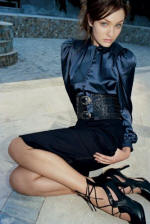 Purple from every hue to aubergine toned navy is predicted to be a major colour this autumn.
Purple often on the verge of navy is featured by many main stores. UK outlets of Phase Eight have gorgeous purple velvet and enamel shoes and you can find other similar items at Debenhams' Designers. Fendi have taken purple right through from Shearling to purple watch bands. Even Tesco's Florence and Fred range have velvet jackets in purple.
Midnight blue and midnight black evening dresses make red carpet statements.
Victorian Gothic can be dark and mysterious. This midnight navy satin blouse, velvet skirt and corset belt above are from the Topshop AW 05/06 collection. Note the depth of the waist cinching corset belt.
‡‡
Subtle expensive creams through greys and oysters vie with myriad metallic colours. Dior showed a taupe grey creamy colour which was a very expensive looking colour that seemed to come from the inner shell of an oyster.
Saddle stitching in white or cream has been seen again on coats. Creamy white, pure white and softest grey or white flecked with grey makes for lively fur trims. You are reading an original fashion article by Pauline Weston Thomas© at www.fashion-era.com ©
Metallic gold glamour moves through coppers, bronzes, pewter and silvers in the coming months. Burnished soft metallic colours figure strongly especially on satins, silks, footwear and belts. Leathers and satins shimmer gold, silver, pewter, copper and bronze.
Bronzed, burnished gold and silvered effects are predicted to be big fad and not only for fashion clothing, bags and footwear, but also for interiors too. Glitz with precious metal and bejewelled looks create an opulence not seen for decades.
You may already have noted that black has returned, but this is the not the pared down austere black of the 1990s. The best use of black this season is when created in velvet or lace. The new black often has subdued and subtle decoration. This is black with texture and structure.
Plush Black Velvet

Black Sheen

Black Lace
Designers used a range of divine luxury fabrics from black silk, black gauze, Persian lamb, black taffeta, black velvet, panne velvet black denim, black cashmere, black jet, corduroy, black suede and Shearling. For evening there are strapless and spaghetti strap little black lace dresses of feminine tulle and lace.
The decoration may be as simple as a metallic button trim, or it may have contrast fabric such as velvet layered on other fabrics or it may be subtly printed or contrasted with silks and satins. Look out for touches that say updated black. Watch for self colour and contrast Soutache and rich cord trims or regalia, embroidered emblem badges and epaulette touches.
Black lace will be especially popular and leans toward gothic when in Victorian mode and also features strongly in lace underwear ranges. Black may be textured as in Persian Lamb skins. Other names of this are Astrakhan, Karakul and Broadtail. It's not flat and dull, but glistens with texture.
This black is not minimalist black as in the 1990s, but uses a range of opulent and luxurious fabrics that lift any recollection of 90's sombre minimalism. Rich deep plush velvet, black satin, black lace and black just accented with white or red is the look that claims 2005.
Just remember that black in 2005 is no longer the only look to wear. To do so would be truly dull when you can shine in rich deep berry and gem jewel colours that may do far more for your colouring than black ever might. Berry colours and purples will be a wonderful choice instead of black or as an accent to black. You are reading an original fashion article written by Pauline Weston Thomas© at www.fashion-era.com ©
If black is too draining for you there are plenty of alternative choices especially within the Russian Look which is richly colourful and often more flattering to many women.
Subtle expensive creams through greys and oysters vie with endless hints of metallic colours and can all be a nice soft foil for the harshness of black. Older women should ask themselves does black flatter their skin as much as it did 20 years ago.
So should you think yes black is for me, don't just rush out and buy any black item, look carefully at what is around before you purchase. You may already have some black basics in your wardrobe that can easily be updated by the right accessories or addition of this season's line of cropped jacket.
Tailored items flatter most figures so it's hard to go wrong with the purchase of a neater leaner jacket this autumn compared to a full on matching suit. Choose black and invest in one figure flattering special remarkable zingy piece that fits to perfection, such as a Russian braided military jacket that has a cropped feel.
Expect to see lots of contrasting tones of black fabric laid side by side. Fabric colourists know there are about 42 shades of black, which is why when you buy a black item you must match the item with the garment with you, or buy from the same range.
See black and white fashion mood board here.
Wearing navy with black is no longer considered a faux pas, but just as I never desired wearing patterned Wellingtons this is one thing I can't ever imagine adopting, although circa 1962 dark brown was often mixed with black to great effect in check fabrics.
Update - New Colours and Fabrics fall 2006
§
Luxurious rich fabrics and antique brocade fabrics, metallic lustre and rich satins and the plushest of velvets bring a new opulence to winter.
Rich colours are often interpreted with Ombre dyed materials like velvets that move through related colours. Imagine burnt orange merging with reds through to claret in Ombre dyed velvet. Such a velvet is then over printed in toning colours or textured with embroidery. Velvet as well as being plush and deeply rich can also have texture and appliqué and is generally gorgeous this winter with an antique vintage feel.
Think of highwayman maxi length claret velvet coats worn with soft light aubergine shoes so one colour flows to another equally rich contender for attention. If shoes are not velvet, they may just as easily be made of suede another über luxury material.
In addition to rich plush velvet there will be panne velvet, corduroy, suede, Shearling, leather reptilian skins, boiled wool, suitings and tweeds of many types all contrasted with fluffy fur, dull crepes, lace, satins and silk, graphic and Pucci style abstract and paisley prints.
See rich colour fashion mood boards here.
The rich pattern of paisley prints featured at DKNY and it certainly suits the folkloric look. Cubist paint techniques as prints will lead us into Spring 2006 and stencil print effects will gain in popularity.
British Country Style Tweeds have been out in force, but this year tweed has the often less textural flatter finish. It looks more like Harris tweeds, flat plaids or old familiar checks such as black and white puppy dog, dog's tooth and hound's tooth checks. In the basic monochrome black and white scheme it can be very sharp and smart exuding a powerful look. Boldly vibrant coloured checks, colourful tartans and tweeds are all used in coats, dresses and skirts.
Expect to see not only tweed capes, tartan mini skirts and argyle knits, but also Prince of Wales checks, herringbone tweeds and pinstriped man suiting trousers. Look out for Donegal tweeds in browns and creams and coloured tartans such navy blue Tartan and green plaid kilts as shown by Paul Smith.
Escada show black and white checks of many types for day, but the look continues into night with sequins used to create the contrast. They also feature a lot of purple tones in tartan skirts, fur coats and also boucle tweed suits in 50s mode. You are reading an original fashion article written by Pauline Weston Thomas© at www.fashion-era.com ©
‡
Distressed leather, crocodile effects and fur is used abundantly and combined with hardware buckles, lace eyelets, grommets, pompoms and embroidered braids.
Shearling dyed red, moss green and brown gives an exotic unexpected appearance to skins.
Sheepskin is predicted to be a huge trend because it's comfortable, warm and practical. But the sheepskin look has been around a few seasons and is now 'tired'. However, sheepskin can have the effect of making you look like Mr Blobby or Michelin man so go easy on this look and choose carefully and wisely. Check with trusty friends if you look like a human teddy bear before parting with cash.
Read more about element of the changing fashion silhouette trends for autumn 2005/ winter 2006.
Embroidery continues to decorate skirts and is mostly combined with appliqué or follows new looks with Romanian/Russian influence of cross stitch peasant bandings and old traditional rustic designs. Embroidered Austrian ribbons are often applied to square yokes. Embroidery patterns translate into knitted shrugs with a Peruvian colour mix. Feathers are often combined in craftwork to create innovative textures.
Designer shoes frequently have lace and beading. Deep pearl trims feature around armholes and on pockets at Chanel. Feathers are also used to decorate items.
Many knits have over long sleeves and some have hardware belts and buckles in pairs on jacket sleeves at the lower hems of sleeves.
Long cardigan jackets and coats are repeatedly trimmed with fur collars or dressed with a narrow fur edge. The oversized cardigan jacket and asymmetric cardigan wraps are an interesting diversion from traditional knitwear.
Textured 1940s knits such Aran knits, not especially in the traditional cream but in richer deep colours such as creams, teal and rust feature in many collections. These cable knits are in colours of gingers and greens and often have extra dimension with crochet motifs added.
Argyle cashmere cardigans and sweaters have a new fresher feel.
Intarsia in knitwear is back again. Pringle for example feature a vivid rich turquoise and pink rose intarsia knit sweater in their autumn ad campaign. This sweater is exceptionally feminine with its 50s feel.
Striped Pompom scarves and pompom decoration is a designer look and very easy to make yourself. This is the sort of look that Accessorize and Per Una adapts well.
Pattern in knit is used by all the major manufacturers and expect to see a great deal of fair isle, ikat, bold abstract and paisley arrangements.
In the main, this autumn has a great deal of emblematic decoration such as epaulette and hemline edge trim. Naval styling and brass buttons from bright gold to antique finish add interest to pea jackets and military styles. Hobbs do an excellent pea jacket.
Retro footwear has tassels and hardware such as Rivet studs are frequently used wherever leather appears.
Corset lacing is used in a decorative way not only on corsets, but especially on boots, bags, sleeves. Saddle stitching and 8mm Topstitching in contrast white or cream all start to appear on coats and jackets.
Interiors are using feathers and this has filtered into fashion looks. Upcoming trends in home styling for 2005 are metallic accessories and rich plusher fabrics. The return of velvets and brighter patterned grand wallpaper with ornate patterns is paralleled in fashion clothing.
Gilt is frequently used on wallpaper to give an air of opulence. Burnished matt, shiny and lustre finishes all vie and complement each other. Gold and silver metallic cushions, chocolate cocoa and coffee all give schemes pizzazz. Baroque and French style furniture with a gilt touches add an ornate quality which can be accent stark minimal features. Ornaments are returning to interiors. Minimal looks are fading. These new ornate looks in interiors can be compared to our fascination for more elaborate footwear, handbags and decorative embellishment on dress in general. You are reading an original fashion article written by Pauline Weston Thomas© at www.fashion-era.com ©
Read more about looks for autumn 2005/ winter 2006 on this page.
All Fur Thumbnail Images courtesy IFTF
(Page Date 7 August 2005)
If you like this page then please share it with your friends
---
For more information on women's and teens fashion trends go to:-
Custom Search
About Fashion-Era.com
Fashion-Era.com looks at women's costume and fashion history and analyses the mood of an era. Changes in technology, leisure, work, cultural and moral values. Homelife and politics also contribute to lifestyle trends, which in turn influence the clothes we wear. These are the changes that make any era of society special in relation to the study of the costume of a period.

Fashion-Era.com can take no responsibility for any information on the site which may cause you error, loss or costs incurred from use of the information and links either directly or indirectly. This site is owned, designed, written and developed by author: Pauline Thomas and Guy Thomas. This site is designed to be viewed in 1024 X 768 or higher.
ALL RIGHTS RESERVED. Fashion-era.com reserves the right to add or delete information, graphics and links. Copyright © 2001-2014 on all content, text and images in Fashion-era.com. Images and text in this website may not be used on other websites.
Before you write to me for costume/fashion help or information please, please consult the extensive sitemap which lists all our pages. If you still cannot find the answer after searching the site, then before you email me, please consider if you are prepared to make a donation to the website.
Donations
Reader's donations help this site flourish, in particular donations encourage me to write more articles on fashion history as well as current trends. PayPal allows anyone with a credit card to donate easily and securely. You may donate any sum you feel appropriate.