Image Courtesy Arcadia

Designers Armani, Moschino, Versace and Vuitton all favoured the pencil skirt, but this is another fashion that seems women often reject in favour of more comfortable, less formal options.

Of course all the skirt styles this season are also made as mini skirts as shown in this Topshop version left.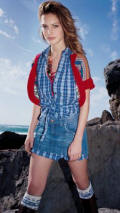 The denim mini skirt right worn over a check mini dress is part of Topshop's AW05/06 fashion range and called Tibetan.
BLUE COTTON SHORT SLEEVE CHECK SHIRT DRESS
£35 €53

MID BLUE DENIM MINI SKIRT
£30 €46

FAIRISLE MULTI COLOURED KNITTED SHRUG
£30 €46

CREAM AND BLUE FAIRISLE SOCKS
£15 €21

BROWN LEATHER FLAT KNEE HIGH BOOTS
£90 €137
We seem to be wearing trouser styles that we feel suit us rather than adopting one main style. But trouser shapes are changing and this autumn the skinny jean should become more popular. Narrower trousers are needed to push into boots to get the right look. Skinny black or grey drainpipe jeans will be just the ticket for the lean Tomboy Look. Gap skinny jeans have great fit and are not expensive and Topshop and River Island both have skinny jeans in stock now.
At Topshop seek out their Baxter line.
Embellishing and personalizing your own jeans with decorative touches is also a great tip for autumn and great for those who like to create individual customized clothing.
Skinny riding jodhpurs also look good tucked into boots with a cropped or Aviator line jacket. The skinny jodhpurs look especially good with traditional British tweeds giving country/Equestrian styling.
Other styles include wider Oxford bag shapes Aviator style. The masculine style of tailored trousers have a Hepburnesque touch and can be glamorous when worn by well groomed woman.
Cavalli's trousers have a hint of Katherine Hepburn turn ups and the space age 60s version by Balenciaga has the skinniest of button front trousers that flare low down are another possible style for many.
Some designer trousers such as Galliano at Dior showed decorative button areas or button cuff inserts at the ankle of trousers especially on narrower trousers. This was an interesting novel new touch and may well be a really innovative look that filters into mass produced goods.
The recent fashion for shorts from tailored and cuffed to short shorts may only make it through winter if wearers adopt textured tights and some of the wonderful boots on offer.
But there are also items called a SKORT (yes you read skort correctly) a new concept of a short skirt with modesty shorts beneath. Skorts are available from Milletts in UK and are suitable for active holidays.
Raised high empire waists offer an alternative to the fitted cinched in 1950s Screen Starlet Look of the Hitchcock Heroine variety.
At Dior there was a move from halters to 2 straps emerging from the centre of a bust yoke as a V shape. Asymmetric straps and itsy bitsy straps are still popular for red carpet events.
The dress is important in fashion now since women rediscovered how versatile an item a dress can be. Look out for slender 1960's shifts and ethereal empire offerings. You are reading an original fashion article written by Pauline Weston Thomas© at www.fashion-era.com ©
Colour and Brilliance
Read all about autumn/winter 2005/2006 colour, fabrics, texture, prints.
From the wide range of autumn winter 2005-2006 looks available make your own personal fashion statement. Only a few items will emerge as key looks from those detailed here. Note again that the big fabric trends are velvet, flatter tweeds often with fur and embellished skirts and all usually in strong rich deep inky jewel colours. Tailoring has structure and form and whilst the rolled under hem may create a pouff effect, so far the uptake is slow for this pouff skirt fashion.
Velvet and crushed velvet can be worn day or evening If you think you might feel overdressed in velvet then opt instead for shoes, bags or scarves. Suede velvet gloves can also add allure.
As predicted earlier this year closer neater shorter jacket have become even more cropped to the ultimate snug cut of the Spencer jacket stage. Little knit shrugs like the Topshop Tibetan one shown above add a welcome extra layer of warmth to a brief top. Monsoon has lots of styles of shrugs, tie front wraps and little cropped cardigan spencer lines and bolero cardis.
The Noughties Beatnik Look.
Obviously black is the main feature of this Beatnik New Mod autumn 2005/ winter 2006 look. Black skinny jeans worn with a short skinny fitted Sgt. Pepper military jacket can be teamed with a long tunic that is not so long and that it can easily double as a mini dress when required.
High street shops that will do this look well include Topshop, Miss Selfridge, George at Asda. Marks and New Look.
Autumn has a beatnik air and for this you need pastel pale make up. This look of course is only complete with make up that is pale and interesting with smoky kohl lined eyes and pastel pale lips. In the sixties to get this look, lips were wiped out with Max Factor pan stick makeup or smothered in a lipstick Max Factor made and called strawberry meringue. You are reading an original fashion article by Pauline Weston Thomas© at www.fashion-era.com ©
Women over 30 who want a sixties vibe in their wardrobe can either add throwaway touches like Baker Boy caps and scarves or opt instead for the full on glamour look of the Hitchcock ice queens. For this you need an hour glass figure and a desire to embrace grooming and style with the generous full skirts of 1950's debutantes. Look out for appliqué and dull copper and pewter sequins that glimmer as these circular skirts move. Or opt for the slick pencil skirt of Hitchcock heroines.
Difficult Looks Autumn 2005
If you are not sure as its such a new look, then avoid puff ball skirts as well as bulky voluminous tweed skirts. Tweed skirts are fine, but stick to the flatter less cumbersome versions. Try on half a dozen styles in finer tweed suiting and recognise which flatter and which do not. Don't forget to check that mirror to see the back view.
The Beatnik Look is aimed at daughters, not mothers, so be careful if you adopt this look as it may make you look like mutton dressed as lamb especially if you saw this fashion with first hand experience. Forget fake tan with the noughties beatnik look unless the chav touches are essential to your existence! But some long willowy sleek hair extensions might capture the Julie Christie hairstyle look.
Modesty in fashion is the order of the day - forget exposed bellies and vulgarity in dress. Happy autumn shopping. You are reading an original fashion article by Pauline Weston Thomas© at www.fashion-era.com ©
Read all about autumn/winter 2005/2006 colour, fabrics, texture, prints.
Read all about the main looks in fashion trends for fall 2005/6.
If you like this page then please share it with your friends
---
For more information on women's and teens fashion trends go to:-
Custom Search
About Fashion-Era.com
Fashion-Era.com looks at women's costume and fashion history and analyses the mood of an era. Changes in technology, leisure, work, cultural and moral values. Homelife and politics also contribute to lifestyle trends, which in turn influence the clothes we wear. These are the changes that make any era of society special in relation to the study of the costume of a period.

Fashion-Era.com can take no responsibility for any information on the site which may cause you error, loss or costs incurred from use of the information and links either directly or indirectly. This site is owned, designed, written and developed by author: Pauline Thomas and Guy Thomas. This site is designed to be viewed in 1024 X 768 or higher.
ALL RIGHTS RESERVED. Fashion-era.com reserves the right to add or delete information, graphics and links. Copyright © 2001-2013 on all content, text and images in Fashion-era.com. Images and text in this website may not be used on other websites.
Before you write to me for costume/fashion help or information please, please consult the extensive sitemap which lists all our pages. If you still cannot find the answer after searching the site, then before you email me, please consider if you are prepared to make a donation to the website.
Donations
Reader's donations help this site flourish, in particular donations encourage me to write more articles on fashion history as well as current trends. PayPal allows anyone with a credit card to donate easily and securely. You may donate any sum you feel appropriate.
If you have any comments, or if you see any broken links, then please email with details of the page url or problem.