4a. Accessories - Fashion Trends Autumn 2005 Winter 2006
Make the season your own and wear Aviator jackets with skinny jeans, perhaps personalized with Slavonic or fur trim boots and a hat of your choice. Choose from a Baker Boy cap to Cossack Fur to pompom decorated knit, Beanies or Berets.

If you are a hat lover, this winter sees magnificent fur Cossack hats like this grey hat below.
The Mink hat is by Jean Paul Gaultier and is a form of elongated Toque hat with Cossack overtones. Read more about head wear here.
All Fur Thumbnail Images Courtesy IFTF
Hairstyles and Head Looks are changing. Not only is black as a fashion garment colour back, but so too is blonde as a hair colour. Some of us never gave up being a blonde and never will.
The look of the cool screen starlet blonde needs glamorous groomed hair. The tousled Boho look is moving on to glossy slick smooth hair with chignon dressing. Grow your hair so you can wear it ballerina style in a classy chignon or even a more adventurous split Butterfly chignons. Think Grace Kelly and Lauren Bacall and mix smooth untangled voluminous abundant curls at shoulder level with sleek crowns with side partings.
Concentrate on getting a sleek little updo as flaunted by Nicole Kidman, Kate Hudson and the ever glamorous Gwen Stefani. Think sleek, shiny and long. If long is your ideal remember it is likely to take 2 years to grow hair so consider adding real extensions or clip in extensions. Or opt for the more tousled look of 60's icon Brigitte Bardot - even a little bouffant is acceptable and it will balance that puffball look should you decide to follow the fashion.
‡‡
Bobs
Asymmetric bob styles look classy in a modern way and the asymmetric cut of substantially longer hair cut on one side than the other is set to take off.
Simple bobs like that worn by Erin O'Connor with her glossy black bob is perfect if you cannot see yourself as a pouting blonde. Instead be a 20s screen siren Louise Brooks style. There are 60s fringes and blunt cuts.
Hair style trends change all the time and much of the change is how an individual's hair reacts to a particular celebrity cut in a different manner as no stylist is constantly retouching the style. So the street version is always slightly different.
Hairbands and Barrettes
Pretty up your hair with hair accessories, combs, barrettes, decorative bobby pins, clips, butterflies and hair bands. Yes hair bands. Claire's Accessories are selling hair bands in suede effects although these are wider than usual. They are worn 60s style with some hair height at the crown.
Bags are incredibly important accessories now every season. Bags are the designer's means to make long term sales. Many accessory sales form the backbone of a designer's profits. A great bag like the Kelly or the newer Roxanne just evolves into new colours and can sell long term. Designer rip offs are therefore frequent and because of this many designers are now taking action and suing those who copy.

The must have bag is this Novak bag right - expect to part with around £600 to £6000 dependant on the skin used if you can get one.
Price generally fluctuates dependant on the skin/hardware used for the most expensive versions.
There are so many companies competing for your money for a bag that even River Island has abandoned plastic in favour of well made leather bags. A recent browse round one of their shops was surprising and there were many bags that looked like they were very similar to those in Russell and Bromley. The difference is the price. A River Island leather bag is around £40 whereas a Russell and Bromley bag is priced around £150 to £300. Read about 'cheaper, less expensive' fashion here.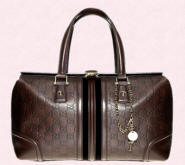 If you want a 'name' a Mulberry leather Bethany bag is around £350 and a Mulberry Roxanne is £595 or over $1000. A Marc Jacobs luxury leather Tote bag costs even more at £795/$1150.
(Read about hand bag inflation in 2007.)
Gucci has been reinventing the famous Gucci logo on bags. Right the $1600 Gucci's new Guccissima is a bag with a skin impressed with the Gucci logo. Notice how large bags are becoming.
Another bag strap of note is the horse brass embellished strap from Stella McCartney. As the recent married mum Miss McCartney lives within the same county as me, I suspect she has been strongly influenced not only by her own love of animals but also by the number of race horses exercising one cannot fail to see when out in the Worcestershire countryside.
Elsewhere the equestrian touch is evident in other areas this autumn again, such as in belts and leather hair ornaments as well as expensive looking country influenced clothing. By next year expect to see lots of stirrup buckles on saddle bags and also stirrup necklace pouches.
The staples of equestrian are the finest cashmere knits, subtlest tweeds and plaids and checks, distressed leather, oiled leather, suede, moleskin and corduroy. Fall colours of deep aubergine browns, burnt caramels through olives really favour this country look.

Consider also opting for a shoulder bag which looks fresh and new. However avoid digging out an old shoulder bag as new shoulder bags have a different look to them and are like envelopes turned sideways so they are long and narrow. Check out your local store for the latest variations. Marks and Spencer has a very nice leather deep brown tassel bag in its limited collection at £89.

Tweed bags are also abundant and here in this image below, tweed is combined by Boden to create this slouch bag.
§
After flip flops we had the wedge and now we move onto winter boots. Boots are such important pieces this season that I advise you to buy a pair early and forego waiting for the sales. Not only will you get the autumn style you want and the best choice of boots, but you can happily wear them all fall and find you capture this autumn's look twice as fast as without boots.

Look out for boots with laces, stud eyelets, knee boots, crocodile boots, wearable pirate/highwayman cuffed boots that stop at the knee, boots with fur cuffs, boots with fur up the sides, moccasin slouch boots with ikat and Inca designs, boots with grommets and biker buckles, Shearling and fur topped elegant boots.

Suede boots come in in rich brown, leather boots in metallic effect with chocolate, bronze, copper or pewter tones.
Skin textures such as pony skin are also available.
Flat boots, heeled boots, wedge boots are all out there.
Take your pick, but always remember the average woman wears boots a few seasons. So unless they are a ridiculously good buy, priced between £69 and £75 as Marks and Spencer styles, then most of us will want them to blend in with next years fashion too. The more you pay for boots the more you should opt for a safer style.
If rivet boots are what you seek then L K Bennett have rivet stud leather boots at £199.

Alternatives to the ugg boot are Inca styled boots with Aztec and ikat embroidery of diamonds and zigzags. Peruvian style trapper boots with embroidery and ties with pompoms in fur or leather thong work take over from Uggs.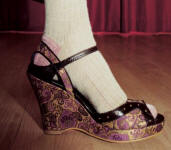 Some shoes are in tweed or other fabrics such as brocade as these shown right are courtesy of Topshop.
Many shoes are in velvet or suede creating sumptuous footwear with a decadent feel. Velvet shoes also have diamante. Evening sandals have feather and decorative jewel trims.

Exotic satin coloured evening shoes with diamante or crystal trims from Versace can make a pair of jeans a wow factor. You can find other similar items at Debenhams' Designers.

Pump shoes have platforms, whilst retro shoes have lots of lavish fur or are laced thirties style.
Some styles have chopped off points on toes of shoes making them long and sharply cut at about 1 inch across the toe line. Ballet pumps are also very ladylike. Footwear Images courtesy of Boden
‡
In the last few seasons, jewellery has made a welcome return after those dull minimal days of nothing, but tiny diamond ear studs. After a summer of vibrant ethnic inspired jewellery, Dior in particular showed massive ornate jewellery and extensive long chandelier earrings for Fall 2005/6. Exotic colours in jewels are perfect for the rich autumn colours we will mostly be wearing so read more about jewellery trends on the next page in Part 2 of Jewellery Accessories for Fall 2005/6.
You are reading an original fashion article written by Pauline Weston Thomas© at www.fashion-era.com ©
Colour and Brilliance - Read all about autumn/winter 2005/2006 colour, fabrics, texture, prints.
Read all about the main trends for autumn/winter 2005/2006 fashion looks, styles and silhouettes.
(Page Date 18 August 2005)
If you like this page then please share it with your friends
---
For more information on women's and teens fashion trends go to:-
Custom Search
About Fashion-Era.com
Fashion-Era.com looks at women's costume and fashion history and analyses the mood of an era. Changes in technology, leisure, work, cultural and moral values. Homelife and politics also contribute to lifestyle trends, which in turn influence the clothes we wear. These are the changes that make any era of society special in relation to the study of the costume of a period.

Fashion-Era.com can take no responsibility for any information on the site which may cause you error, loss or costs incurred from use of the information and links either directly or indirectly. This site is owned, designed, written and developed by author: Pauline Thomas and Guy Thomas. This site is designed to be viewed in 1024 X 768 or higher.
ALL RIGHTS RESERVED. Fashion-era.com reserves the right to add or delete information, graphics and links. Copyright © 2001-2014 on all content, text and images in Fashion-era.com. Images and text in this website may not be used on other websites.
Before you write to me for costume/fashion help or information please, please consult the extensive sitemap which lists all our pages. If you still cannot find the answer after searching the site, then before you email me, please consider if you are prepared to make a donation to the website.
Donations
Reader's donations help this site flourish, in particular donations encourage me to write more articles on fashion history as well as current trends. PayPal allows anyone with a credit card to donate easily and securely. You may donate any sum you feel appropriate.