4b. Jewellery Accessories - Fashion Trends Autumn 2005 Winter 2006
In the last few seasons, jewellery has made a welcome return after those dull minimal days of nothing, but tiny diamond ear studs which do exude quality, but can be a bit boring day after day. If you are like me I still find them great and keep a pair in my bag for those days when I find somehow I forgot to add my earrings. Nothing looks worse than pierced 'bare' holes in the lobe. Wearing earrings is a finishing touch for everyone and if you do forget yours it's a great excuse to buy a new pair!
After a summer of vibrant ethnic inspired jewellery, Dior in particular showed massive ornate jewellery and extensive long chandelier earrings for Fall 2005/6. Exotic colours in jewels are perfect for massive dress rings almost like men's signet rings. Morganite, amethyst, tsarvorites and aquamarine sometimes mixed together with diamonds all feature in jewellery by Dior.
Some jewellery that is popular right now is Talismanic jewellery especially products thought to have healing or sentimental properties. Semi precious stones like quartz, blue lace agate and citrine are deemed to offer therapeutical properties.
Cameos and hearts on chunky chains will appeal to lovebirds as tokens of affection.
Jewellery has texture - carved flowers are everywhere. An example is shown with the Pearlsplus pendants below. Carving is on cabochon set rings and earrings especially.
Even chunkier necklaces with stones 5cm or more across are no longer unusual. Below are two examples of ethnic styles jewellery from treasurebox.co.uk. The example on the left is a wonderful example of a Palawan necklace. Rows of shaped wood, blacklip, citrine, African turquoise and many more semi-precious stones make this fantastic necklace with a very large mother of pearl leaf pendant. This is from the designer Nature.
The necklace to the right is the Bora Bora Plastron Necklace and is of multi-coloured lumbang seeds strung together with pendants of blacklip, mother of pearl, wood and beads.
‡‡
In keeping with the natural materials popular with ethnic and Boho styling, Mother of Pearl pendants are also fashionable. Here in this image from Pearlsplus in UK natural freshwater pearls are embedded in the natural shell and the pendant is carved from the shell to incorporate the pearl. The contrast of texture creates an interesting and natural effect, perfect for casual wear and ethnic styling if you feel traditional pearls are too formal for you.
Note the Chinoiserie carved mother of pearl pendant and the jade carved pieces in the second image. Chinese and Japanese imagery and traditional oriental gem materials like green and lavender jade with carving will be popular next year as designers lean toward the orient for fashion inspiration. Pearlsplus in UK does great affordable freshwater pearls and pendants.
As stated previously in the Accessories page, hair ornaments are big fashion news this year and next year.
This Pearlsplus freshwater pearl and Swarovski crystal bridal barrette below is a beautiful way to dress wedding or special prom, or evening occasion and Christmas hair styles.
It can be used alone or with an extra long freshwater pearl lariat 45 inches in length if further tress dressing and intertwining is required. Look at the lustre on those lovely baroque pearls. Perfect for the ladylike look so in fashion now. Marilyn makes these hair ornaments to order and each one is very slightly different, so you have to tell Marilyn what you want in the piece. Coloured pearls and crystals are another option. You can also buy lariats, forehead drops and flexible brow bands plus freshwater pearl and Swarovski crystal tiaras at her site. Contact her at her website Pearlsplus
The fashion for wearing 2 or 3 necklaces together wrapped and twisted together continues. For example a strand of Biwa stick pearls wrapped with round freshwater pearls and seed pearls then interspersed with rough, carved natural chip or fine cut crystals or semi precious stones all set against different shaped pearls such as flat square quad pearls or flat coin pearls.
‡
If you can't run to authentic diamonds take a look at some of the lovely affordable pendants like these on offer at www.erjewellery.co.uk which sells well designed cubic zirconia or crystal pendants. These two below have a touch of the Nicole Kidman Chanel No.5 ad about them.
As always new fashion colours mean consumers seek matching gem jewellery. Garnets are back in fashion and will look rich and elegant set against the deep ruby colours of reds through burgundy wine this autumn 2005/6. Garnets come in a wide range of reds and will match ruby colours and are not so expensive as rubies. They also have that rich winter feel and of course are the birthstones of January Capricorns. These pretty earrings below from Treasurebox come in at around £10 yet capture exactly the autumn colours you can see in my mood boards here.
Amethyst, Garnet & Ruby Coloured Stones in Fashion

These images are courtesy of treasurebox.co.uk/

‡‡
You can also see how Pearlsplus uses velvet ribbons in the same deep wine tones for attractive choker necklaces. This will instantly bring this season's velvet into your wardrobe with little effort whatever your size.
Other trends in jewellery include the return of the pendant and in particular the briolette cut pear drop. This is sometimes called a teardrop and is frequently the cut shape of choice for chandelier style drop earrings too.
Armani has great examples of briolette cut earrings.
Briolette cuts have been in use since the Romans and are currently featured in all the latest magazines such as Vogue. These cuts were also popular before and after the French Revolution era. Their attraction is that they twinkle and glimmer with intense colour in the round. Because they taper to a fuller bottom the weight makes them hang very well especially in drop earrings. Usually the teardrop stone is drilled at the top. Without the distraction of a precious metal casing, maximum light passes through the stones making them show lovely even colour, rather than sparkle from one direction only as gained from a brilliant cut stone.
The briolette cut is used for not only important coloured gems like pink and yellow diamonds or sapphires, but also aquamarine, amethyst and citrine. Briolette cuts were used in the Victorian and Edwardian Art Nouveau and Art Deco eras. Today lovely examples of this stone are often found in antique and precious estate style jewellery.
You are reading an original fashion article written by Pauline Weston Thomas© at www.fashion-era.com ©
Briolette cut Swarovski crystal is more affordable than precious gems and is often used to create lovely occasional use fashion jewellery chokers in the Edwardian or Victorian style.
Butler and Wilson are masters at recreating costume jewellery retro pieces with or without teardrop effects. The choker shown below has smooth oval opal moonstone effect cabochon style jewellery combined with crystal. This would look stunning with a rich burgundy aubergine toned velvet outfit for that special winter event.
Victorian/Edwardian Style Choker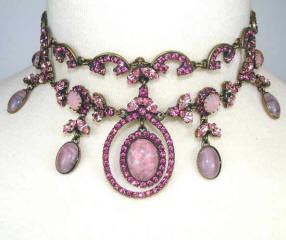 Many Butler and Wilson styles like this pink crystal choker can be had at treasurebox.co.uk .
Look out then for high choker necklaces and also ornate Victorian and Edwardian styled lavaliere pendants.
The ethnic theme remains strong in fashion and next year expect to see more eastern and oriental influence in prints and styling.
It's clear that some designers are taking their cue from the ornate and intricate work found in Bollywood style jewellery. These examples are part of a collection of handcrafted Lac jewellery from India by Venkatramana Jewels of Jaipur.
Colour and Brilliance - Read all about autumn/winter 2005/2006 colour, fabrics, texture, prints.
Read all about the main trends for autumn/winter 2005/2006 fashion looks, styles and silhouettes.
(Page Date 7 September 2005)
If you like this page then please share it with your friends
---
For more information on women's and teens fashion trends go to:-
Custom Search
About Fashion-Era.com
Fashion-Era.com looks at women's costume and fashion history and analyses the mood of an era. Changes in technology, leisure, work, cultural and moral values. Homelife and politics also contribute to lifestyle trends, which in turn influence the clothes we wear. These are the changes that make any era of society special in relation to the study of the costume of a period.

Fashion-Era.com can take no responsibility for any information on the site which may cause you error, loss or costs incurred from use of the information and links either directly or indirectly. This site is owned, designed, written and developed by author: Pauline Thomas and Guy Thomas. This site is designed to be viewed in 1024 X 768 or higher.
ALL RIGHTS RESERVED. Fashion-era.com reserves the right to add or delete information, graphics and links. Copyright © 2001-2014 on all content, text and images in Fashion-era.com. Images and text in this website may not be used on other websites.
Before you write to me for costume/fashion help or information please, please consult the extensive sitemap which lists all our pages. If you still cannot find the answer after searching the site, then before you email me, please consider if you are prepared to make a donation to the website.
Donations
Reader's donations help this site flourish, in particular donations encourage me to write more articles on fashion history as well as current trends. PayPal allows anyone with a credit card to donate easily and securely. You may donate any sum you feel appropriate.