5a. Fur Fashion Designer Looks Autumn 2005 - Winter 2006
Fake and real fur has been included by many well-known fashion designers in their Autumn/Winter 2005-2006 collections.
Fur then is likely to be popular this year and although many designers use real fur in their collections, many high street faux fur versions of high fashion garments are available to those who prefer not to use real fur. Putting up commentary about fur can be controversial, but this is a fashion site and I am reporting the fashion information I have. If you do not wish to wear real fur, do as I do and opt for a quality faux fur trim or use a textured knitted trim alternative instead - so please don't write to me about this issue especially as I am a vegetarian.
This page includes 2 press reports plus fur images from www.iftf-fashionmediacenter.com
New Faces Bring Fresh Direction to Fur
Trend Highlights of the International Ready-to-Wear Collections for Autumn/Winter 2005-2006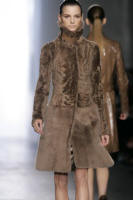 In the wake of last season's deepening love affair with all things fur, this year even more international designers are discovering its versatility and beauty, taking fur in fresh and exciting directions.
Some 40 notable new faces presented fur in their collections for the first time, including Francisco Costa for Calvin Klein and Jennifer Lopez at Sweetface.
All Fur Thumbnail Images Courtesy IFTF
From New York, Milan, Paris and London, international designers reinforced fur as the Autumn/Winter 2005-2006 season's fashion essential with dramatic new shapes, bold new colours and treatments and a spectrum of sensational styles ranging from linear modern coats and jackets to embellished looks infused with romantic and bohemian influences.
Above Louis Vuitton - Pearl mink leather trimmed officer's coat and Zac Posen's feathered fox vest. Below Roberto Cavalli's fox trim studded embellished Russian jacket at around $11,700. Julian Macdonald mahogany mink jacket on the far right directly below shows drop crystal bead decoration when the thumbnail is enlarged.
All Fur Thumbnail Images Courtesy IFTF
‡‡
Inspiration was drawn from the romantic era of the Russian Revolution, from tsarinas and bohemians. Decorative embroidery and lush fur trims evoked passion and pleasure in Roberto Cavalli's opulent dyed fox trimmed brocade jacket. Romantic ruffles and frills also give a bohemian notion to this season's fur jackets, as in Marc Jacobs' mink collared, tiered and ruffled A-line black karakul coat.
There was a dramatic turn towards darkness this season with black and white emerging as a major story. In Milan, Roberto Cavalli's slim black crocodile coat with black fox border and trim was a study in subtle opulence while at Dolce & Gabbana a black karakul blazer made a more dramatic statement.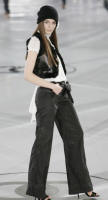 As a counter point to black, white and other natural shades or fur returned to the runways –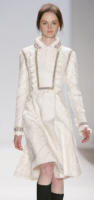 in Milan, a collarless knee-length lynx coat with a karakul trim dressed jeans at Dolce & Gabbana while in Paris at Jean Paul Gaultier a white lamb kimono jacket was edged in badger.
Designers set the shape of fashion on a new path this season. Lean, linear, unembellished shapes in short-haired and sheared fur offered a modern alternative to the long-haired fuller, more decorative silhouette.
Fur garments on the catwalk were sleek with refined sharp cuts and sculptural stand-up collars. Many of the slender, minimal looks evoked the Mod 60's as in Prada's sleek collarless black karakul coat and the severe, but shapely white wool toggle coat with natural fox collar by Nicholas Ghesquière for Balenciaga.
At the opposite end of the spectrum, a rounder, more voluptuous direction inspired by 1940's and 50's couture made a shapely statement for autumn. New cuts and treatments lent controlled volume and softness to Chado Ralph Rucci's lush bias-cut Russian sable coat and Lanvin's sumptuous fawn mink trench coat.
End of IFTF Press Report 1. All Fur Thumbnail Images Courtesy IFTF
§
Designers Experiment with Fur's Versatility
Innovative design directions for Autumn/Winter 2005-2006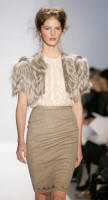 In all four of the major fashion cities designers used the latest design techniques to further explore the ever-extending uses of fur in fashion design. These innovative techniques enabled them to play up fur's weight, volume and add texture to garments with geometric shapes and patterns.
Three key trends to look out for this Autumn/Winter are: Mixed Media, Oversized collars and Geometry lessons. All Fur Thumbnail Images Courtesy IFTF
In the mix this season designers combined furs with leather, velvet, chiffon or stretch jersey or joined a number of fur treatments together in one piece. Clements Ribeiro created depth and movement to a sassy bolero by mixing short-haired white mink with a long-haired black fox. Hermes took a more conservative approach pairing tweed and black sheared mink to create a sleek bomber.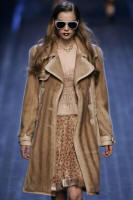 Shape and texture is also key for the coming Autumn/Winter. Chevrons, zig-zags and bias cuts added dimension and curves to fur garments. Marc Jacob's used natural mink chevrons to accentuate the cinched in waist of an oversized coat and at Calvin Klein, designer Francisco Costa textures a black sheared mink coat with a boxy grid pattern, creating a streamline figure hugging look.
For fans of the 70's be aware that the oversized collar is making a comeback. Dsquared2 adorned a tan cropped jacket with an exaggerated sheared fox collar. Other designers to follow suit included Alexander McQueen who gave a slim mid-brown mink cardigan coat a horizontal collar and Christian Dior added an amplified notched collar to their cognac mink trench coat. All Fur Thumbnail Images Courtesy IFTF
Whichever you prefer, from big collars to geometric designs there is a style to suit everyone.
End of IFTF Press Report 2 (Page Date August 2005)
If you like this page then please share it with your friends
---
For more information on women's and teens fashion trends go to:-
Custom Search
About Fashion-Era.com
Fashion-Era.com looks at women's costume and fashion history and analyses the mood of an era. Changes in technology, leisure, work, cultural and moral values. Homelife and politics also contribute to lifestyle trends, which in turn influence the clothes we wear. These are the changes that make any era of society special in relation to the study of the costume of a period.

Fashion-Era.com can take no responsibility for any information on the site which may cause you error, loss or costs incurred from use of the information and links either directly or indirectly. This site is owned, designed, written and developed by author: Pauline Thomas and Guy Thomas. This site is designed to be viewed in 1024 X 768 or higher.
ALL RIGHTS RESERVED. Fashion-era.com reserves the right to add or delete information, graphics and links. Copyright © 2001-2014 on all content, text and images in Fashion-era.com. Images and text in this website may not be used on other websites.
Before you write to me for costume/fashion help or information please, please consult the extensive sitemap which lists all our pages. If you still cannot find the answer after searching the site, then before you email me, please consider if you are prepared to make a donation to the website.
Donations
Reader's donations help this site flourish, in particular donations encourage me to write more articles on fashion history as well as current trends. PayPal allows anyone with a credit card to donate easily and securely. You may donate any sum you feel appropriate.