7a.Consumer Mood & Fashion Trends Fall 2005 Winter 2006
Trends Affecting Fashion Purchases
The merging of fashion and image creates the look, but consumers are bloated by luxury and now expect nothing less than luxury when they even seek ordinary. High street retail by necessity has risen to the challenge and consequently it is the middle section of retailers who are losing ground as consumers opt for cheap and cheerful or top end designer goods.
Fashion one upmanship today, relates to savvy fashionista consumers having the knowledge and ability to find a better bargain than a friend through using cheapskate clothing stores. Copying the look and styling of one celebrity is now outmoded. The look to achieve is the look of individuality and this is being achieved by mixing high and low end clothing in the same outfit.
Ultimately the acceptance of low cost retailers as fashion forward enterprises has led to the rising popularity of UK based stores such as Primark, Matalan and New Look who provide the lowest of low cost retail clothes shopping and very often to consumers who can easily afford to pay a lot more.
The sleeping tigers of the east awake and surge forward in the thrall of the new century. Both China and India flood the western market with well crafted goods that tempt consumers by their often high quality and low cost. This has ultimately driven down profits for old high street suppliers. Consumers are mixing low cost fashion items with luxury top of the range goods. It's not unusual in the UK now to see a woman sporting a cheapskate jacket or skirt (items often under £12) accessorized by a very expensive recognizable, but exclusive 'brand label' handbag at around £500 to £600.
Shopping has become much less precious, yet is also now a competitive activity with waiting lists for luxury must have items. As long as the consumer can find what they want and actually like it, they will buy a low cost item if it fulfils their criteria then splurge the balance of cash on an item they see worthy of long term use.
‡‡
For example a good handbag often gets that long term daily use and so when the price is divided by the number of outings the item has it may well work out far less costly than a pastel suede designer jacket worn only on a minimum number of occasions. Using the concept of 'wear for wear', the bag may have cost more, but if at £500 it gets a year of daily wear the purchaser can self justify that it is more valid to spend lots of cash on the bag purchase than an evening top that is likely to have no more than half a dozen wearings if that. Bags are also instantly recognisable so it can be meaningful even to anonymous onlooker.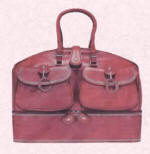 According to the Consumer Price Index, in 2005 clothing in UK is now 40% less costly than it was a decade ago. I've been telling my husband this for several years!!!
At the turn of the millennium, designer bags were almost always for the elite with plenty of cash flow. Now it's commonplace for a woman to own a top range bag such as this popular Dior detective Bag and wear it with a high street outfit.
A woman will use the bag in a semiotic way in front of knowing assistants to get serious attention. Mulberry bags and in particular the Roxanne bag have been at the forefront of this change in bag buying habits. Shopping democracy means that consumers now shop vertically moving up and down the scale of goods as takes their fancy, rather than shopping horizontally at one type of group of retailers directed at a specific spending group. You are reading an original fashion article written by Pauline Weston Thomas© at www.fashion-era.com ©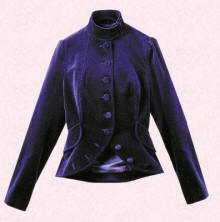 The middle retailers like Monsoon, Laura Ashley, Marks and Spencer and others are feeling the pinch, but the sales in low cost UK shops and supermarkets such as Asda (George brand), Tesco (Florence and Fred), TK Maxx, Peacocks, Primark and New Look are all flourishing.
This £45 velvet jacket is from the Autumn/Winter 2005/6 Tesco range Florence and Fred.
Compared to the turn of the century in 2000 the low cost sector has jumped a massive 5% to account now for some 20% of the UK clothing market. This particular clothing market is almost now throwaway.
Many view items bought in such stores as disposable throwaway fashion. The last time this attitude was popular was back in the 1960s. Although no longer now active in the UK since May 2001, then C&A, in the sixties, sold dresses for £3 or so and frankly if it flopped into a limp rag when it was washed when all the dressing and starches left it an insignificant worthless textile - the attitude then was 'so what' as long as it had one good night out.

How do consumers of fast fashion goods see it? Well an item might cost as little as £10. Rather than return it if they change their mind many consumers now weigh up wearing the item a couple of times if only around the house with the comparative cost involved in time and effort to return an item. Time is money. It's virtually impossible to go into your local town without spending at least £5-£10 by the time you have a coffee and pay a car park or pay for a taxi. Result - £10 is not seen as a huge mistake, but a £100 item, a 'considered purchase', would warrant a return journey if the item was only so, so.
§
It's not only adult fashion sales that Primark in UK are winning, but also children's wear purchases. Primark is expected to gain a market share in 2005 along with Next and others. Next is now the UK market leader in children's wear. Marks and Spencer now sells less children's wear than Woolworths. Even so the quality and value of Marks and Spencer children's wear is still outstanding.
Competition for this market is strong among Asda, Tesco, Next, and Woolworths. Other substantial players include Primark, New Look, BHS and Peacocks. By its very nature there is an element of throwaway fashion in the purchase of a garment for a child who as we know grows rapidly. So purchasing for children at low cost and then the child wearing it a lot when new, to a couple of weeks later moving onto a fresh fashion item is important to fashion aware children too. Primark is wisely making inroads into this market as well as getting a good name for low cost adult fashion.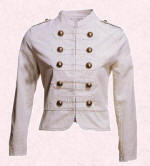 In the same way as Topshop has been a long term leader at creating hot off the catwalk inspired fashion, Primark has suddenly become great at copying designer catwalk looks.
Sales really made their mark when Vogue featured a snappy little neat cropped military jacket in the May issue.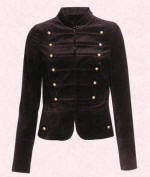 The jacket that cost £12 was featured amid designer items that looked rather similar, but at many multiples of the £12. Now its happening in a wide range of fashion magazines. Expensive sits next to inexpensive and is given equal cache.
Above left white Sergeant Pepper/naval styled jacket at £12 from Primark. Right Primark military velvet jacket at £15.
‡
So less expensive, but quirkily stylish items from Primark the fast cheap fashion shop of the moment, are often mixed with more pocket emptying purchases from Burberry et al. Primark is a national chain started up in 1969. Last year Primark sales took off beyond expectations. Primark all but changes fashion items daily. Associated British Foods the owner of Primark has bought 120 stores that were part of the old Littlewoods cohort. It plans to convert 30 of them into Primark outlets, increasing by 50% current high street presence.
The fact is most individuals no longer hang on to clothes they don't want. Internet image planning advice pages, female forums and also image makeover television shows like What Not to Wear have educated women into clearing out their wardrobes more frequently, all in an effort to hopefully look younger by thinking and dressing more youthfully. Only limited numbers of people can recall the clothing rationing of the 1940s and even those who can, hope to never see that happen again.
Disposable consumer goods are thrown away as we tire of them. Nowadays this applies as much to clothing as any product. Ask yourself just how many charity bags have you filled this year with clothes you know you will never wear again? You are reading an original fashion article written by Pauline Weston Thomas© at www.fashion-era.com ©
According to Churchill home insurance the average UK woman spends more than £31,000 on shoes during her lifetime with most owning 25 pairs in their wardrobe at any one time. Many women claim to own over 30 pairs, but if those women are like me, rather than Imelda Marcos, they wear to death the same few pairs they love for their comfort as well as appearance.
Owning 10 handbags is the norm for 6 out of 10 women and some women own more than 25 bags. I did a quick count about my house and found 13, but frankly I tend to rotate only 4. I'm not sure why I keep the others – maybe just in case….
One in 5 women are said to keep their purchases hidden from their partner and just as many lie about their spending. Hmmm I can believe that fact!
They are certainly economical with the truth and I have been told by shop assistants more than once, that women will frequently pay for half a higher priced item with cash and the rest by card. Have you ever done this? Creative accounting is alive and well among women everywhere.
Ecommerce is changing the way many shop. I'm sure the handbag figures above have soared as a direct result of internet shopping and eBay auction purchases! The formerly hard to obtain handbag is now accessible to many no matter where they reside even if it does mean going on a waiting list.
-------v6-------
The Chav Dynamic has also affected consumer purchases in UK. Many women do not wish to follow fashions adopted by Chavs. Nor do many wish to look like the characters in Footballer's Wives in manners, dress or appearance. The new style icons do NOT include Victoria Beckham, but favour Gwen Stefani and Kate Moss. These latter 2 women have been the fashion role models of young women in UK for the past year. Aping already jaded pop stars such as Britney or Victoria is considered quite passé.
It has become quite clear to me in the past year on my forum that Gwen Stefani is much admired for her pleasing inventive fashion sense and that the 'now viewed as' vulgar fashions worn by some celebrities, really offends many individuals who feel they have moved on from baring their all. Mischa Barton from the OC is also fancied as the next media style icon. Desperate Housewives lead in the new style stakes for the Ms 40 something fashion role models.
It may seem hard for some to believe, but since she married Prince Charles the heir to the British throne earlier this summer, the new Duchess of Cornwall's wardrobe has been attracting attention from a variety of fashion editors.
Since she and the Prince of Wales visit the United States for their first official foreign trip in fall 2005 the bet is on that she will wow her audience with some understated, but stunning autumnal ensembles. Her favourite hat designer is the renowned Philip Treacy.
Now that fashion is many faceted with so many choices there is a look for everyone. Stylish women know that beauty is nothing compared to impact. Think of women who have stunned in the past and you will soon realise how likely the Duchess of Cornwall will slortly have a flock of fashion followers just as the former Princess of Wales, Diana did.
Thongs now thought to be strongly associated with chavs have become instantly passé as sales have fallen by a whopping 20% in the last year. Being associated with chav tendencies is the last thing someone aspiring to appear classy wants. Only a small group of women mainly 25-35 year olds now favour them and younger teens and older women consider them naff.
One major factor here is that many women have simply found them far too uncomfortable for long term wear and larger boy shorts have found new fans. Many women disregard others and have simply continued to adore their Bridget Jones knickers. Men may not much like them, but after all who wears the pants – the man or the woman.
As an aside to that, women purchase feel good luxury lace underwear especially for the bedroom. Balconette uplift bras are frequently referred to as the 5 minute bra by those who sell them, because that is about how long most stay on. Now the trend to move to more ladylike wear is also being noticed in the abandoning of over the top literally push up bras with everyday ordinary clothes, when they are intended to draw attention rather than give the right type of foundation line to the top clothing.
And belly buttons are now not even passé, but totally beyond the pale as the more ladylike look emerges. Crop tops are now equally taboo. Tans are also out of fashion. Autumn has a beatnik air and for this you need pastel pale make up. Should you decide to wear the beatnik look you will spoil the dramatic effect of ghostliness intended.
No need to be a slave to fashion concentrate on looks that you like and that suit you and you'll be comfortable with yourself whilst not looking ridiculous. There is nothing worse than adopting a new fashion fad simply because everyone else does. Think function and personal suitability for 80% of your wardrobe and just think of the rest as experimental now fashion pieces that add a twist you can manipulate to your own sense of style. Those that don't clear their wardrobes can adopt the attitude of shopping from their own clothing racks.
Style staples like exquisite cashmere knits or a great basic white top and well cut trousers or jeans and a snappy this season jacket are important because these are often the items your hand reaches for when you open the wardrobe door.
Invest now at the start of autumn in a really good classic suit of the new season. It will be pain free dressing and make it a winner in black, or choose other dark colours like navy, greyed claret, pewter or olive green. All are practical and suit urban life. If the suit feels easy and good on, you'll soon find it pays for itself wear for wear. Look carefully at the 1950s and 1960s collar styling on jackets and coats. Mandarin collars are this season's choice as are oversized revers and fur trims.
Belted coats and jackets are also currently fashionable so look out for the great short kimono wool coat with wrap belt Marks and Spencer has in its Limited Collection at just £80. Belted coats are great if you have a waist, but if you are like me and don't like your thicker waistline you'll probably leave that belt off or just leave it hanging. How often do you really do up a jacket anyway. The dress with bracelet sleeve jacket is a tour de force and remember wearing Cashmere over silk underwear means the wearer exudes quiet confidence.
You are reading an original fashion article written by Pauline Weston Thomas© at www.fashion-era.com ©
If you like this page then please share it with your friends
---
For more information on women's and teens fashion trends go to:-
Custom Search
About Fashion-Era.com
Fashion-Era.com looks at women's costume and fashion history and analyses the mood of an era. Changes in technology, leisure, work, cultural and moral values. Homelife and politics also contribute to lifestyle trends, which in turn influence the clothes we wear. These are the changes that make any era of society special in relation to the study of the costume of a period.

Fashion-Era.com can take no responsibility for any information on the site which may cause you error, loss or costs incurred from use of the information and links either directly or indirectly. This site is owned, designed, written and developed by author: Pauline Thomas and Guy Thomas. This site is designed to be viewed in 1024 X 768 or higher.
ALL RIGHTS RESERVED. Fashion-era.com reserves the right to add or delete information, graphics and links. Copyright © 2001-2014 on all content, text and images in Fashion-era.com. Images and text in this website may not be used on other websites.
Before you write to me for costume/fashion help or information please, please consult the extensive sitemap which lists all our pages. If you still cannot find the answer after searching the site, then before you email me, please consider if you are prepared to make a donation to the website.
Donations
Reader's donations help this site flourish, in particular donations encourage me to write more articles on fashion history as well as current trends. PayPal allows anyone with a credit card to donate easily and securely. You may donate any sum you feel appropriate.