9a. Female Fashion Trends 2005 - The Boho Gypsy Skirt Phenomenon
It's unlikely that you missed it, but in the past year eclectic ethnic has swept the nation with a phenomenal speed, reaching a peak in summer 2005 with the ultra feminine Gypsy Boho skirt. In 2005, women began to wear skirts for the first time in years. This revived 1970's tiered 'Hippy Skirt' has been a worldwide success and because of the easy fit with mostly elasticated waist/drawstring and lots of hip room it is ultra comfortable. In addition this makes it very easy to manufacture with one size often adjusting to fit many.
Ethnic touches had been around for some time in the noughties, but no one could have truly forecast just how they would come together to culminate in the huge and how universally adopted Gypsy Boho Look. Yet now, with fall 2005 upon us we find the time has come to move forward. This is easily achievable with the Rich Russian Look which will take you through the transition from Boho to Babushka with ease.
After a decade of trousers or trouser suits, women of every age group have now successfully completed their skirt training! Skirts now easily compete with jeans, trousers, cropped pants and shorts for attention. So if you've loved Boho don't despair, with just a few key wardrobe additions you will move smoothly through to the newer Russian Look.
Boho gypsy skirts have swept the world. Global communication means that fashion ideas translate quickly from one country to another. Never mind imports, this skirt is as easy to make in Manchester as in India or in San Francisco.
Whilst pondering on the popularity of gypsy skirt in UK this year and how my forum readers really went overboard for skirts in general this year, I recently came across this Press Report about skirts of 2005 at PR Web. This was the first time though that I had read that it has no name. In the UK we mainly call it a gypsy skirt. But I have to say, I do recognise other confusing terms here such as Boho, tiered, peasant and crinkled all terms most used in UK. So with gypsy that makes about 5 terms I've been using to describe it on various occasions. I've checked out some mass market retailers in UK and most describe it as a Gypsy skirt, or as a Boho skirt or as a tiered skirt.
Strictly speaking most skirts are named according to the cut such as flare, straight, box pleat, accordion pleat, panel, princess seamed, wrap over, circular and so on.
So it follows that technically such a skirt should really be called a long or short tiered skirt or a flounced skirt.
Just to make sure we are all visualising the same skirt this is how I think of Boho skirts, although teens have worn them as much shorter minis with just 2 tiers.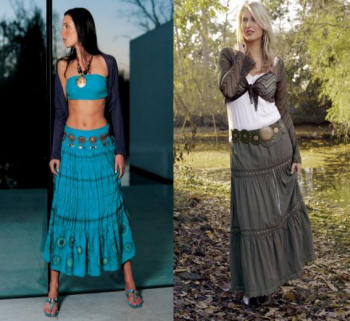 Boho Images from Topshop and Evans - Courtesy Arcadia
What hope is there to get an accurate name now so many names are circulating? Very little. Just look at my listing in the coats and cloaks section of names used for the same basic item of a cover up coat or jacket.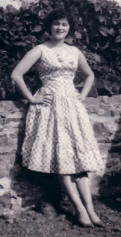 It's already a lost cause as far as I am concerned and variety of description is what makes the naming language of dress rich and interesting - a bonus for fiction authors who love to use costume description to make one character stand out from another!!!
I could if required make an argument that inspiration for this skirt style stems from Laura Ashley and her late 1960s-1970s long floral cotton tiered skirts or just as easily cite Spanish dancers with castanets as the inspiration! But to me this summer 2005 will always be the summer of the Gypsy Boho skirt. Oops the same skirt line also appeared in the 50s when the film Carmen was popular. Here is my elder sister wearing such a dress circa 1958.
To read the article go below here.
The reprinted Press Report (American origin), directly below is courtesy of PR Web.
‡‡
Start of Press Report
Global Fashion Alert:
Tiered, Flouncy, Bouncy, or Boho? The 'Skirt With No Name' has become a linguistic wonder since, unlike most mass-merchandized products with apparent global appeal - it has no name.

San Diego, Calif. (PRWEB) August 5, 2005 - The 'Skirt With No Name' has become a linguistic wonder since, unlike most mass-merchandized products with apparent global appeal - it has no name, or rather none generally accepted by the consumers, who have come up with a plethora of names to describe it.

"It's as if Motorola has introduced a new model of its popular 'Moto' phones or Toyota a new Lexus sedan only to have the consumer ignore the names bestowed upon them by their respective marketers and insist upon using their own particular favorite," said Paul J J Payack, President and the WordMan for the Global Language Monitor.

Preliminary analysis using the Global Language Monitor's (www.LanguageMonitor.com) proprietary Predictive Quantities Indicator (PQI), have come up with the top names used to describe the apparel. Using this analysis, 'tiered' seems to have settled in as the most popular description followed by 'peasant', 'gypsy,' and 'flouncy'. The PQI tracks specified words and phrases in the global print and electronic media and on the Internet. The words and phrases are tracked in relation to their frequency, contextual usage and appearance.

Apparently the skirt is selling well around the globe. It has been suggested that the skirt originated in Mexico, was inspired by the burgeoning Bollywood studios, is a throwback to California '60s Hippie Culture, or the sudden 'coolness' of all things Gypsy.

"There has been a global groundswell of demand for The Nameless Skirt, after having been by-passed on the runways of Milan, Paris and New York," said Millie Lorenzo Payack, Director and Fashion Correspondent of The Global Language Monitor, "And the fact that the 'tiered skirt' comes in such an unusually large number of variations that might be worn to work, dinner or dancing seems to account for the wide variation of names accorded the product".

The complete list of names, and commentary, associated with the skirt follow.

1. Tiered - Though it's not always tiered only adds to the confusion surrounding the name.

2. Peasant (sometimes Pioneer) - Throwback to California '60s Hippie Culture.

3. Gypsy - A tribute to the current popularity of All Things Gypsy.

4. Flouncy - A favourite of teenage girls who favour the short, circle cut.
(From 'flounce' meaning fringe, frill, trim, edging, and furbelow.)

5. Boho - The 'Oh so cool' description (from Bohemian).

6. Crinkled - Actually meaning 'crinkle' as in 'wrinkle'.

7. Voile - Many 'high-end' shops favor the French mystique.

8. Gauze - A thin or transparent fabric with a loose, open weave.

9. Bollywood - As in 'Hollywood,' the Mumbai-based film industry in India.

10. Indian - As in Bollywood, though some associate with a Native American influence.

For more information, go to http://www.LanguageMonitor.com or call 1.925.367.7557.

About the Global Language Monitor
California-based Global Language Monitor analyzes and catalogues the latest trends in word usage and word choices, and their impact on the various aspects of culture. A worldwide assemblage of linguists, professional wordsmiths and bibliophiles, supports the GLM to help monitor the latest trends in the evolution (and demise) of language, word usage and word choices. End of Press Report.
Sewing Pattern for a Tiered Peasant Boho Gypsy Flounced Skirt!
If this look still interests you, you can make a similar skirt in the gypsy style using this Simplicity sewing pattern with tiers. Image of pattern courtesy of Simplicity.com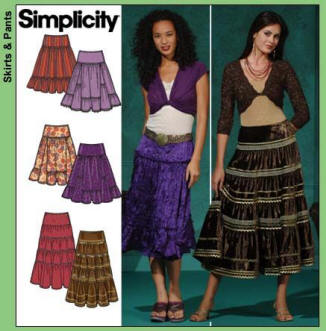 §
Boho Skirt Update June 2006
This Boho skirt won't go away. I still see it everywhere although some of the frills now walk vertically up the skirt's side! I think it won't die for a couple of years yet because it's a useful skirt and in a drab understated colour can be perfect for sightseeing, holiday wear, beaches, sitting on the floor or just relaxing. It may even be the go anywhere skirt version of jeans. It is often easy launder by being wrinkled and crinkled allowing you to wash it and tie it in a knot to dry. That's a far easier life for skirt than one in pristine pressed linen demands. It's the perfect modern travel skirt and doesn't have to be a man made fibre either.
If you like it, I say why shouldn't you continue to buy variations of the Boho skirt. It can be a wardrobe staple for holidays especially. But please do ditch the circular disc belt of 2005. Just revise the skirt name and if you need to refer to it, call it the classic folkloric look!
If you like this page then please share it with your friends
---
For more information on women's and teens fashion trends go to:-
Custom Search
About Fashion-Era.com
Fashion-Era.com looks at women's costume and fashion history and analyses the mood of an era. Changes in technology, leisure, work, cultural and moral values. Homelife and politics also contribute to lifestyle trends, which in turn influence the clothes we wear. These are the changes that make any era of society special in relation to the study of the costume of a period.

Fashion-Era.com can take no responsibility for any information on the site which may cause you error, loss or costs incurred from use of the information and links either directly or indirectly. This site is owned, designed, written and developed by author: Pauline Thomas and Guy Thomas. This site is designed to be viewed in 1024 X 768 or higher.
ALL RIGHTS RESERVED. Fashion-era.com reserves the right to add or delete information, graphics and links. Copyright © 2001-2014 on all content, text and images in Fashion-era.com. Images and text in this website may not be used on other websites.
Before you write to me for costume/fashion help or information please, please consult the extensive sitemap which lists all our pages. If you still cannot find the answer after searching the site, then before you email me, please consider if you are prepared to make a donation to the website.
Donations
Reader's donations help this site flourish, in particular donations encourage me to write more articles on fashion history as well as current trends. PayPal allows anyone with a credit card to donate easily and securely. You may donate any sum you feel appropriate.