Reprinted Press Releases of Female & Male Dolce & Gabbana shows
Dolce & Gabbana Women's Collection Fall/Winter 2005/2006
All press releases on this page reprinted courtesy of Dolce & Gabbana, Milan, February 2005.
Images courtesy of www.iftf-fashionmediacenter.com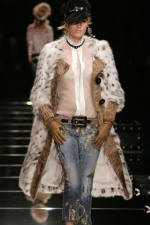 The Dolce & Gabbana Women's collection for Fall/Winter 2005/06 marks the return of a personal, sophisticated elegance, which blends and mixes the Dolce Vita style (typical of the fashion duo) with the inspirations of the Swinging London.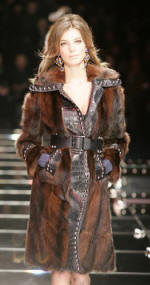 The photos of Jean Shrimpton, that David Bailey used to take in the Sixties, are the starting point to revisit that unforgettable era in a luxurious, lavish way: lines become softer, and the elegance of the clothes is played around a perfect cut, and around a new accord of proportions, accessories and personality.
Proportions: mini and maxi lengths characterize several looks.
Mini skirts are worn under maxi coats in fur, trimmed wool or cashmere; long skirts are sported with short, extremely elegant jackets, perfectly cut; maxi fur collars and very light chiffon shirts create unexpected, dynamic volumes, defining a new silhouette perfect for the most fatal divas.
‡‡
Accessories
Accessories: with studs and crystals, in snake skin, crocodile, fur or astrakhan, bags are declined in an extraordinary variety of styles, which always keeps a delicious coherence. A masculine-style squared bag with a triple chain is realized in extremely feminine variants, to become the must-have of the season. Shoes have a three-centimetres or an eleven-centimetres thick heel; high boots are realized in unique combinations of crocodile and astrakhan, snake skin and fur, leather and mink.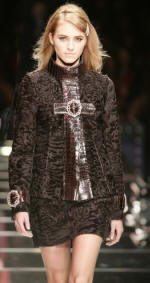 Personality: the Dolce & Gabbana style is always innovative, at the forefront of sensuality and elegance. And this collection really breaks new ground in terms of personal style. The peculiar combination of masculine fabrics (like maxi Prince of Wales or tweed) with ultra-lavish furs, laces, precious leathers creates extraordinary pieces, that can be worn and sported in many creative ways for a look which is always unmistakably sensual, refined and glamorous.
Fur is worked in new, young and refined ways: skirts, jackets and coats are extremely soft and light, are dubbed in chiffon and assume a sensual, pure yet rich line which floats around the body as if fur were velvet, assuming opulent reflections.
Huge Surrealism-inspired buttons embellish coats and blouses, a touch of Russian de-constructivism is as well visible in the jewels, in the high hats with logoed-stirrups and in some remarkable finishing, or essential lines.
Precious and handmade details define and embellish each look: mohair embroideries, tulle flowers, chiffon touches, fur linings give an unmistakable, elegant, lavish concept to the collection. Sophisticated accords of dark blue and black determine the palette of colours, which includes as well camel, purple and grey.
For the spectacular evening, the glamorous style is declined in ultra precious one-of-a-kind pieces in white fur, white chiffon and white feathers, lighted by the sparkling reflects of diamonds.
The collection was opened by Chloé Sevigny. The actress who was nominated for an Oscar in 2000, at age 25, for her performance in 'Boys Don't Cry' has also made a name for herself as a world recognized style icon. She can been seen in a number of famous films, including Woody Allen's 'Melinda and Melinda'. Milan, February 2005
§
D&G
Women's Fall/Winter 2005/06 Collection
The D&G Women's Fall/Winter 2005-06 collection exposes the impossible and incorporates the feminine look and feel of the Napoleon empire with the eccentric wardrobe of the 70's bohemian and vintage chic.
The icon for this collection is a modern day Paolina Borghese Bonaparte, the glamorous sister of Napoleon, who, via D&G, becomes a glittered rocks star from the 1970's via the London underground.
This D&G woman is created with key pieces like empire-cut chiffon tops and dresses; to create a clear statement that today's new sensuality enhances and romances the breast and shoulder. She also has discovered along her dressing timeline a luxurious fascination of vinyl and velvet, as well as studded and gold painted denim.
Ninth century romance and unprejudiced glam rock begin a waltz of bountiful velvets and chiffons in the form of baby doll dresses pared down with round-toe Mary-Jane heels and knee-high boots.
Victorian accents are added in the shape of bright lace-up ties, cameo pins and fur accents. Key looks are romanticized and modernized by pairing a red brocade jacket with Mourmansky fur and sheepskin Shearling trim with a denim mini and red python stacked heels.
This era's mix unravels the stuffiness of corsets and instead mixes pieces like a pastel and floral baby doll dress complete with puffed sleeves and fox fur trim with a pair of rubber-soled leopard print Mary-Jane heels or a gold brocade barely-there mini with a ruby red cropped motorcycle jacket lined and trimmed in lapin fur.
Madame Bonaparte sashays down the runway accompanied by the music of The Killers, Roxy Music and Velvet Underground, with an updated version of her classic empire-waisted bustier – this era it is accented in violet, fuschia and orange sequins and pailettes, topped off with a cameo brooch and worn with cigarette skinny jeans. She continues to adapt her new look with a fitted lace blouse paired with a shrunken blazer and thigh-high leather and suede motorcycle boots worn over fitted jeans.
Another focus is the hourglass shaped waist, D&G impresses with an extremely tailored double-breasted black coat with Astrakan detailing on the collar, cuffs and hem. A dandy touch is added in the form of white lace oversize cuffs and collars peaking from underneath a black lambswool blazer, paired down with a skinny denim pant flanked with velvet buttons down each leg and zebra print wedge heels. A pink pinstripe pantsuit with brocade vest, tie and cameo pin pays homage to David Bowie, the hero of Velvet Goldmine.
And don't forget the classic romantic era accessories…jewelled baguettes, mini bags so small that the handles doubles as a bracelet. Classic Mary-Janes are updated in ponyhair, prints and brocades. And motorcycle boots come studded, in a classic style and modernized in an over-the-knee version.
This glam rock collection featured the glittering and glamorous side of 70's rock that would have titillated Paolina Borghese Bonaparte even today. Milan, February 2005
‡
Dolce & Gabbana
Dolce & Gabbana Men's Collection Fall/Winter 2005/2006
Now more than ever men feel the need and the wish to have the most suitable look for each moment of the day. With six different sets of clothes, ranging from the early-in-the-morning sport-inspired looks to the most lavish and spectacular outfits for the night, the Dolce & Gabbana Men's Fall/Winter 2005/06 collection is meant to present in the most precise and luxurious way the whole selection of looks that a man may want: six style worlds that create an interesting and appealing balance of sportswear, formal wear, jeans and suits.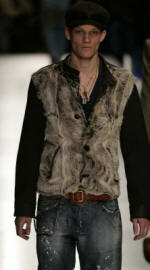 'Gym' - The first part of the collection is dedicated to 'Gym', which should be the first and healthy activity that a man does when he wakes up: a wide selection of pieces made for all sport disciplines (kick boxing, footing, tennis, football…), for training, for practising, but that can as well be used for a trendy city wear. Technical materials and light cotton are declined in eye-catching colours and fitting shapes.
The office wear for the young professionals is presented in the 'Nine to Five' part, which is composed by perfectly cut pinstripe suits, with a fitting waist point and structured shoulders. With single-breasted or double-breasted jackets, these suits are styled in a 'Clark Kent' look which is fully accessorized with trendy glasses and crocodile details, such formal shoes, belts, briefcases.
For men that prefer to go to the office by motorbike, the formal pinstripe jacket changes into a leather blouson with a double zip, to be worn with impeccable white shirt, tie and formal trousers, cut in a more energetic way.
Free time: light and deconstructed alpaca jackets are built on the trompe-l'oeil concept of 'double': two jackets sewn one on the other with a special technique, that are worn on painted and ripped jeans, or on camouflage trousers with metallic studs. Fox coats and jackets with camouflage details make the perfect look for the relaxing hours at open air, completed with motorbike boots and weekend bags in crocodile or snakeskin. Jeans and trousers are enriched with a double metal chain, that is really the key-accessory of the season, hooking the wallet or keys into the jeans; t-shirts are worn out or asymmetric, always perfect on the body.
Night: perfectly cut velvet jackets with torched silk piping, and silk/cotton shirts create a monochrome effect in black, blue and purple; and, for a man who wants to feel like a superstar, here are the T-shirts with three super heroes made in sequins – Batman, Robin, Superman. Brooches, two belts, rings and necklaces complete the look, which is enhanced by crocodile coloured shoes or boots and by a huge range of sneakers in the most precious fabrics (tweed, tartan, astrakhan, crocodile, lizard).
Denim: thirteen different kinds of jeans are worn on the catwalk by bare-breasted models, with details such as neck chains and double bracelets. Studs, pins, precious leather inserts (snakeskin, crocodile, pony skin) create unique pieces. Jeans are always a key part of the Dolce & Gabbana collection: very special and peculiar, each one of these models requires a careful hand-working, and a precise cut that gives it its unmistakable style.
Evening: a precious, beautiful selection of velvet tuxedos is proposed for the most sparkling and shiny night. White jackets with black piping on the lapels are worn on black velvet trousers; blue, green, deep red jackets are alternated to the classic black ones, with a silk scarf attached. Silk, velvet and brocade are the crucial fabrics that define the look for these "red carpet" tuxedos, young and sensual, which are completed by broaches and refined details.
Masculine, sleek, appealing and complete, this collection really offers a wide, luxurious, balanced range of perfect looks, thus making it easy always to have the most suitable look for each moment of the day. Milan, January 2005
-------v6-------
D&G
Men's Fall/Winter 2005/06 Collection
D&G Men's Fall/Winter 2005-06 collection leaves home the good guys of dressing and invites everyone to dress up for a never ending night of rock music in the ballroom of their choice.
Rockstars and fans' closets collide together in a collection driven from legendary influences like playboy Michael Hutchence from INXS while toying with an edge of danger with fashions typical of Depeche Mode elegance and the glam rock of the Sex Pistols. All in a skinny silhouette and worn with long, skinny and often lurex scarves.
Black leather jackets and colored paisley brocade blazers combine perfect dressing partners that can be mixed with skinny jeans and long lurex scarves or dressier black jeans. This season D&G presents a rockstar who, no matter what, is always a seducer who likes to enhance his virility with black leather trousers worn alone with just a scarf or paired with a chocolate wool overcoat adorned accessorized with leather belts and cuffs. He also procures a more romantic style, like a Latin lover who beautifies himself with a denim tuxedo shirt unbuttoned to the navel and tucked into fitted jeans, comically worn with oversized fur moon boots.
D&G's rockstar also reinvents the dandy fascination of luxurious velvet blazers in dark jewel tones like garnet and emerald that can be chic when worn with a studded belt, leather jeans and sneakers or Saville Row-worthy with ultra lean tailored black jeans and a ruffled tuxedo shirt. This addiction to elegance, after learning the dandy lesson, is revealed in a smoky grey blazer with navy velvet lapel, denim tuxedo shirt and jeans in leather and denim.
'Rock' which is studded on leather belts and in screaming red on T-shirts allows the attendees of D&G's ballroom to mix up a macho attitude with leather blazers and sleeveless leather jackets with tie-dye denim jeans. Romance is evoked in the form of a classic argyle print complete with red and black hearts on a cashmere sweater, worn with pinstripe trousers and book smart eyewear.
For the more luxurious fascination into glam rock, forest green or smoky grey cashmere sweaters, ribbed tank tops and jeans are covered with crystals and embroidery. And to make a classic cashmere blazer extraordinary, D&G adds light in the form of beads and crystals to enhance this simple piece worn with dress trousers, a denim button down and sneakers.
The finale is star-wattage suitable for anyone walking the red carpet: dark, clean-line tailored blazers underneath black shirts with embroidery or Lurex in a thin silhouette. An added elegance includes soft velvet blazers, satin tuxedo lapels and tuxedo stripe pants. And, as a final touch, a single red rose to throw onto the stage to the fashion rock god that inspired you. ROCK ON! Milan, January 2005
All press releases on this page reprinted courtesy of Dolce & Gabbana, Milan, February 2005.
Images courtesy of www.iftf-fashionmediacenter.com
Review of my purchase of a Dolce & Gabbana handbag
If you like this page then please share it with your friends
---
For more information on women's and teens fashion trends go to:-
Custom Search
About Fashion-Era.com
Fashion-Era.com looks at women's costume and fashion history and analyses the mood of an era. Changes in technology, leisure, work, cultural and moral values. Homelife and politics also contribute to lifestyle trends, which in turn influence the clothes we wear. These are the changes that make any era of society special in relation to the study of the costume of a period.

Fashion-Era.com can take no responsibility for any information on the site which may cause you error, loss or costs incurred from use of the information and links either directly or indirectly. This site is owned, designed, written and developed by author: Pauline Thomas and Guy Thomas. This site is designed to be viewed in 1024 X 768 or higher.
ALL RIGHTS RESERVED. Fashion-era.com reserves the right to add or delete information, graphics and links. Copyright © 2001-2014 on all content, text and images in Fashion-era.com. Images and text in this website may not be used on other websites.
Before you write to me for costume/fashion help or information please, please consult the extensive sitemap which lists all our pages. If you still cannot find the answer after searching the site, then before you email me, please consider if you are prepared to make a donation to the website.
Donations
Reader's donations help this site flourish, in particular donations encourage me to write more articles on fashion history as well as current trends. PayPal allows anyone with a credit card to donate easily and securely. You may donate any sum you feel appropriate.